All set to put all your creativity and innovation into motion? From Animated Collage to Liquid Motion, here are the top motion graphics animation trends BuzzFlick has predicted for 2023.
In the past few years, the landscape of motion graphics has experienced a huge boost. In the midst of the worldwide pandemic, video producers turned to stock footage and animation and started experimenting with motion graphics to find new yet engaging ways of delivering all the content to the audience.
In today's world, motion graphics rule the roost. Motion graphics are unmatched in their adaptability and creativity, whether it's for a small animation within an app or a full-length commercial movie.
There's no wonder that motion graphic trends are always altering and evolving because of their close connection to technological advancement.
Visually arresting color palettes and lively animations were among the most popular motion graphics trends in recent years. But what about the year 2023? This year's top 24 motion graphics trends, ranging from 3D animation to self-drawing lines.
However, we believe it would be great if you learn how to make motion graphics animation before you start exploring the popular motion graphics trends of 2023 so you can fully capitalize on them.
Before we move on to the motion graphic trends, if you are seeking for a video production company to produce extremely engaging and excellent motion graphic animation videos for your business, then you are at the correct spot.
Check out our motion graphics services together with our motion graphics video cost to get your hands on some of the finest videos ever.
Why Motion Graphics Are The New Norm?
Motion graphics give your audience a breathtaking visual experience of your product or brand. Regardless of how tedious the product or service might be, motion graphics tend to take them to a whole new level by amplifying the message behind the video, making it unforgettable.
With trending graphics like 3D and 2D animation, you can connect with your audience in real-time. Also, videos can generate up to 1200% more shares than text or images so, here's another reason for incorporating motion graphics. Now that you know the details, let's explore the motion graphic animations trends in 2023.
24 Top Motion Graphics Trends in 2023
So, without any further ado – let's start exploring the latest motion trends that will make 2023 super-exciting for brands and their audiences.
As we know, nothing remains the same forever, and so the animation trends are. They're always changing, which is why you need to be completely aware of what's trending in the market.
However, some trends are to stay for longer than you think; there is a high probability that what's working in 2023 could also do well in 2024.
Now it's time to take a look at top motion graphics trends to get a clear idea of what the digital market is anticipating:
1. 3D Everywhere
We think it's appropriate to start off this motion graphics trends list with 3D Everywhere. Even today, all motion graphic artists are highly emphasizing incorporating engaging 3D elements everywhere, from internal communication to game design.
Take a look at an outstanding example of a 3D animated short film:
2. Combination of 2D & 3D Animation
In 2019, the mixing of 2D and 3D is still in the process of gaining momentum. The researches show that people claim to love those videos or films that are made with a mixture of 2D and 3D animation.
Some instances include combining 2D and 3D animation, as well as introducing 2D overlayers with movement. Whether it's a short online ad or commercial film, motion graphics are becoming increasingly popular.
3. Kinetic Typography
Kinetic typography is a form of motion graphics that incorporates text and typefaces to a new level. Kinetic typography is ideal for advertising, websites, music videos, and movie and TV program title sequences because of its ability to capture attention and convey a story.
Fonts and pictures are normally not stretched or manipulated in unexpected ways by us. The rules can be broken sometimes, and amazing benefits can still be achieved.
Stretching, bending, and distorting letters are all part of the kinetic typography, and it's proving to be a hit with the public.
4. The Glitch Effect
Allowing video-makers to add defects that they would normally avoid at all costs is made possible through the use of glitch effects. Grits are fantastic for producing a DIY style that pays homage to analog printing presses and hand-drawn animations because of their embracing of disruption, distortion, and digital noise.
Take a look at this teaser video from the K-pop girl group Aespa, which blurs the line between animation and live-action.
5. Go retro
The yellow smiley face of the 1970s and the hand-lettered logos of the 1950s are two examples of popular design approaches that have come to characterize a whole era. Retro motion graphics conjure a sense of the past by repurposing images, styles, and themes that have been ingrained in popular culture.
Tropical palm palms, sunset pastels, and neon cityscapes are instantly reminiscent of some of the most popular vintage TV series, movies, and record covers of the 1980s.
This dynamic background is a celebration of space exploration and reality-bending science-fiction thanks to the addition of a moving grid, shooting lasers, and lens flare.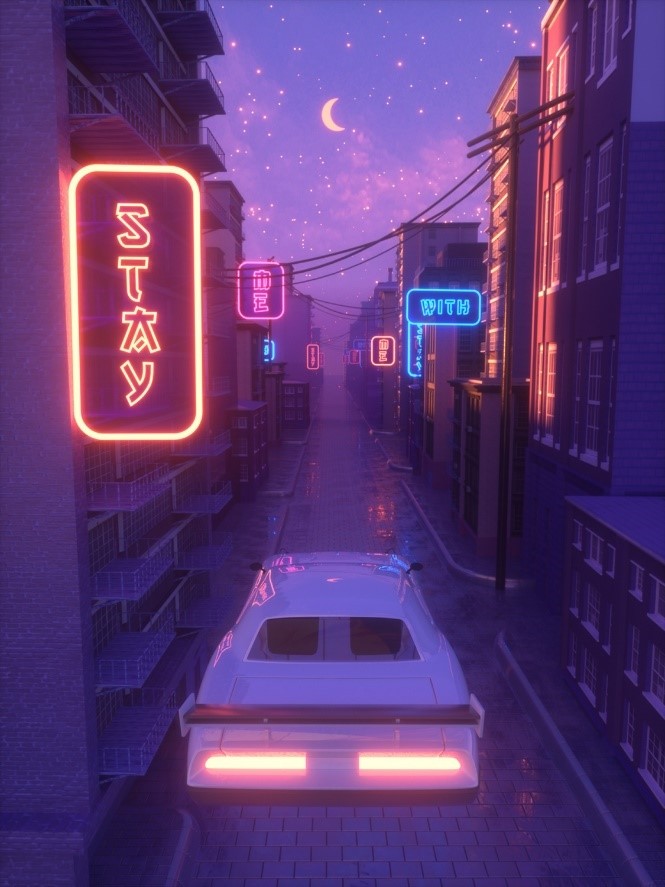 Source: Behance.Net
6. Isometric Shapes
Isometric forms were initially employed in technical drawings, but now they're being used by motion designers to give their 2D animations a 3D feel or to offer their 3D renderings a distinct viewpoint.
One-point projections make objects appear smaller as they become further away from the spectator, although this is not the case with two-point projections. It's like this video opening for the OFFF event in Barcelona.
A great example of two-dimensional isometric motion graphics, this video demonstrates how isometric forms can be given life and character by injecting humor and fun into them.
Isometric shapes in a 3D world may be clearly seen in this sample from Spotify Premium. Pop-up scenes and circumstances depict cartoon characters listening to music as they move from studying to working out.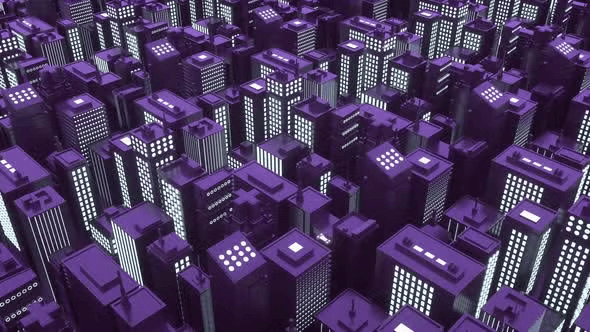 Source: Envato.com
Appearance no farther than these isometric loops for a fluid look and feel if you want to immerse viewers in an exciting 3D scene. Isometric icons from HolyPix may also be used to give depth to any design.
You'll find everything from research laboratories to schools to the business world shown in rich detail and ready to be used in your next project.
7. Grain Effects and Textures
Next, the emphasis is on adding character to images through the use of 'noise' in the form of grain effects and texture, as in this example by the design group Reverse Charades.
This montage, which includes photographs of people and household items, as well as symmetrical forms and squiggles, is a superb example of mixed media in motion graphics, highlighting the grain effect.
8. Liquid Motion
Liquid motion rounds up this look at the latest in motion graphics. Water-like motions and uniformity are achieved with this method. A contemporary take on psychedelic art from the 1960s, these animated ripples and waves flow in and out of one other. Swirly typefaces and fluid design combine to create the illusion of flowing liquid.
This short video by Dutch marketing firm Alfred, for example, achieves a fast-paced impression with the use of liquid motion animation that merges studio footage, illustration and a quick presentation of how the app actually works.
9. Morphing
Animations are seamlessly morphed into one another in this style, as the name indicates. The result is sleek, streamlined, and utterly transportive.
The Eiffel Tower and the Champs-Élysées are brought to life in vibrant motion by this changing display of motion graphics. Several areas in the City of Lights can be seen in a matter of seconds, making it an exciting way to see the city.
10. Animated Collage
Everything from images and artwork to animation and digital footage may be used to create a handmade look and feel in an animated collage. The outcome is a well-chosen collection of images that convey a story.
For instance, have a look at Black is a Beautiful Struggle, which Tony Browne produced, a motion graphic artist based in the United Kingdom. He created this animated collage video to commemorate the United Kingdom's Black History Month.
This animated collage depicts the good and challenging events in the life of a black individual. This video's bright and catchy appeal is enhanced with animated pictures and abstractly textured graphics.
11. Broken Text
These days, motion graphics designers are frequently playing around with texts, especially fragmented text. They use this new emerging trend to give a poetic and aesthetic feel and look that the audience is deeply appreciating.
Many other motion graphic studios are experimenting with this trend, and they are getting pretty good results and feedback.
12. Animated Logos
When talking about animation, the animation giant Disney even has an animated logo. This inspired a lot of huge corporations, and now they're implementing the new idea of using motion graphics logo animation to give a fresh and unique identity to their brands.
Simple logos were being designed to capture your audience's attention – animated logos started attracting the audience and becoming memorable at a faster and more efficient pace.
Take a look at the animated logo we created for Old St. Patrick – a welfare organization providing religious services and charity to mankind:
13. Sophisticated VFX
Looking to create a realistic-looking environment for your context? VFX (Visual effects) are here to turn your imagination into reality. VFX is an impactful real-life representation of your product or brand that delivers your message strongly and robustly.
The eye-catching details, product teasing effects, and integration of firestorms, explosions, or electrical discharges made these computer-generated VFX animations trend in the first place.
We BuzzFlick are proud of collaborating with M'Guphynn Media for the fan-made Spiderman film. We applied the VFX along with the final touch-up to make the whole scene look realistic. Take a look at the video below:
14. Thin Lines
Want your audience to witness such animation graphics that create a connection between your brand's different products or services mentioned in your video? If so, then thin lines are a perfect choice.
Thin lines showcase your audience, the people behind the brand. This best motion animation has sketchy vector lines that reflect handcraft and represent the people behind the brand in a subconscious way.
Also, integrating fun aspects within your Thin Lines animation like bean-shaped heads, curvy characters, and elegant backgrounds instantly make your video cartoonish, which is great if your product or service is for kids.
Let's take a look at a profound example of thin lines created for TIFF: The Canadian Experiment by Polyester Studio:
15. Seamless Transitions
As the name suggests, this motion graphic trend is famous for its seamless, smooth, sleek, captivating, and colorful presentation.
Seamless transitions provide your audience with a stunning representation and unstoppable pace of motion that showcase your product in a smooth flow.
Take a look at the explainer video BuzzFlick created for Room Speculator. Our animated video makers created this animated video with extreme finesse and kept the transition as smooth as possible.
16. Apps and Web Motion Graphics
The modernization of the digital world has given us many opportunities to excite our audience. Today, if you don't have an aesthetically pleasing site – nearly 38% of your audience will skip your brand and hop on your competitor's site. The same goes for apps.
However, with the use of motion graphics, you can retain your audience by integrating an engaging video on your website's homepage or loading screen just so that they can find something appealing that they could interact with.
Take a look at the example of this motion graphic trend created by Tubik: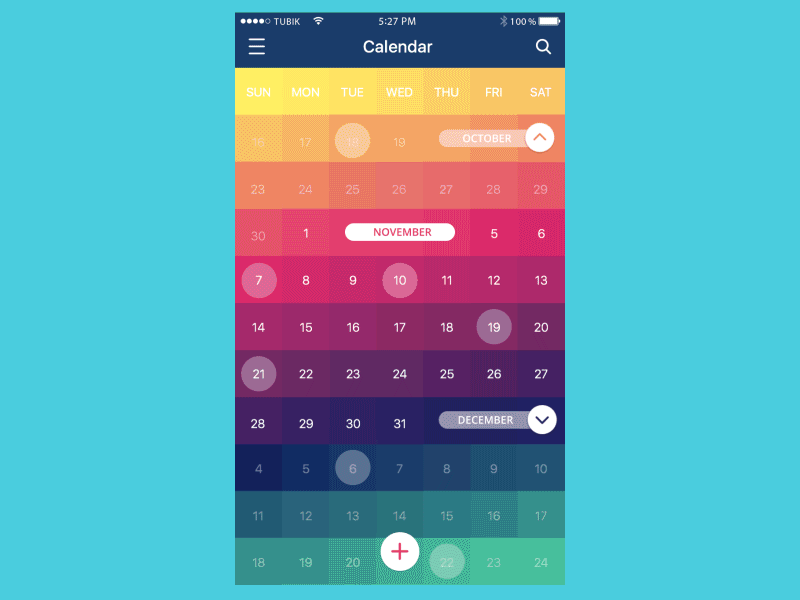 Source: Tubik
17. Bold Typography
Bold Typography based motion graphic videos are a robust way of showcasing your business's highlights. These videos communicate the message clearly and strongly. Also, you get the opportunity to extra emphasize the core message of the video using bold and huge typography styles.
18. Digital-surrealism
Digital surrealism is all about adding spectacular motion graphics animation and giving them a seamless and magical formation, which adds to your product or services' overall presentation.
19. Gradients
Gradients is not an alien trend. It has been around for decades but was known by a name, i.e., color transitions. It's pretty trendy these days as big enterprises such as Stripe and social media communities like Instagram are using it.
They look like vibrant illustrations, UI, and background, which the audience is quite adoring these days.
20. Virtual Reality
Virtual reality graphic animation is the one kind of animation that almost everyone knows about. Leveraging this animation trend that is continuously growing and evolving will enable you to give your audience a real-life virtual experience of your brand, service, or product.
Moreover, virtual reality is super-focused on quality and creativity, so you might convert your viewers instantly.
21. Fantasy
Motion graphics trends have drastically changed, and now the element of fiction is commonly incorporated in videos and films these days.
The prime example of the combination of two is seen in some of the popular Hollywood movies like Harry Potter, Lord of the Rings, Game of Thrones, and Hobbit, to name a few.
All these popular movies are a mix of reality and fantasy-like, showing magical landscapes and mythical creatures.
22. Vertical Animations
The 16:9 aspect ratio has been widely accepted for animation and video over the past few years. However, as the popularity of mobile phones grows, so does people's desire to consume vertically-oriented material. Their time is increasingly being devoted to social media sites like Facebook and Instagram.
As a result, a large number of businesses and well-known animators have begun creating vertical content in order to better establish themselves on social media. In addition, numerous businesses are expected to follow this successful trend in the next years.
Let's take a look at an example of this trend created by TootyMcnooty:
23. New minimalism
New minimalism, as a type of motion graphics, is the evolved form of the general art style that is called minimalism. It utilizes stripped-down text and clean visuals.
Adding textures, loop-able sound, bold representation, fast or slow transition, and several other aspects are made possible with this motion graphic trend.
24. Self-Drawing Lines
Finally, a self-drawing line is the motion graphics animation trend that is gaining over the audience. Nowadays, viewers choose to watch videos that are more somber and composed. A good example of this is the use of "self-drawing lines."
With this sort of motion graphics, viewers may see tiny lines forming diverse pictures, phrases, and logos that aid in their comprehension of the notion.
There is nothing better than this great motion design trend, whether you are working on a new product or need to swiftly communicate a complicated subject.
To see how this new motion graphic animation trend works, check out this video:
Looking for a Motion Graphics Video Production? – Get in Touch with us!
So, now you know about all the latest motion graphics animation trends. You must now be looking for a motion graphics agency that can create a trendy motion graphics video for your brand.
If yes, then you have landed in the right place, we BuzzFlick are one of the top-rated motion graphics studios & companies offering profound video animation and production services.
Animation is our key service. From animated explainer video service to motion graphics services, we offer it all.
We're experts in creating innovative and super-appealing motion graphics for brands, and we would be delighted to make one for you.
We will take you through our animation process, which by the way, is seamless, and you'll have an idea of how beautiful it is to have a visually compelling motion graphic by your brand's side.
If you have any queries regarding any type of animation video, feel free to contact us anytime you want.
Now it's Your Call
That's all for now. Although there are several other types of motion graphics out there, the ones mentioned on this list are super trendy, and they're already setting up the pace in 2023 brand engagement wars.
However, whenever you wish to leverage any or all of the types of motion graphics mentioned above, make sure that you make your video's nature as per your audience's demands and expectations.
For example, incorporating trendy soundtracks, a robust intro, and an appealing call to action will enable you to engage your audience. Still, the message and presentation should be clear and concise.
That said, 2023 is starting with excellent opportunities. With the trending motion graphics by your side – your brand will be unstoppable.