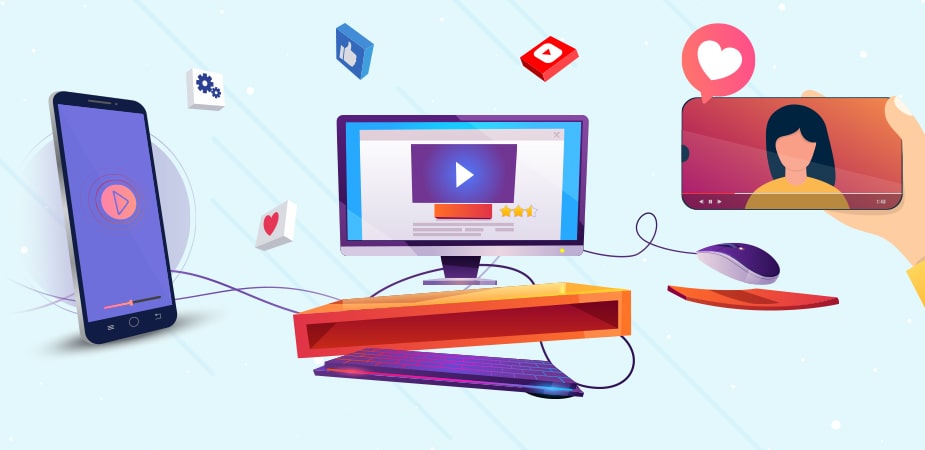 Do you wonder what kind of editing apps YouTubers use to edit their videos? Do you want to find out what is the best video editing app that you can use too?
Most of you would answer, 'yes!'
With the growth of smartphones and social media, the popularity of DIY video editing and production tools has exploded. With so many options, it can be intimidating to find the best, free video editing app to strengthen the impact of your video content.
Best Video Editing Apps [Android and iOS]
Video marketing is on the rise, so why shouldn't you make the best of this opportunity. Here is our list of the top 22 best video editing apps for Android and iPhone users to create videos that everyone wants to see.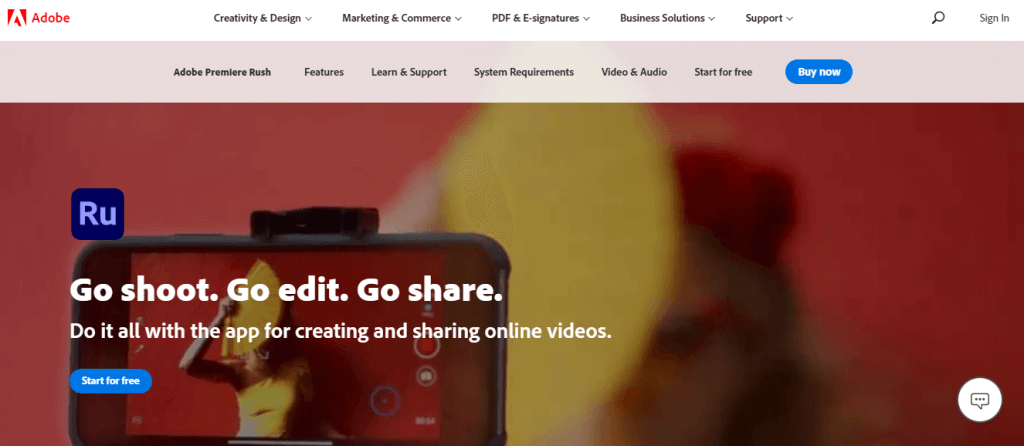 Adobe Premiere Rush is one of the best video editing app for short videos. It comes in a simplified interface with large icons and panels, making the app experience fantastic for touchscreen use. Features like adding videos to the timeline with drag-and-drop or syncing the background music are all intuitive and hassle-free.
#2) Quik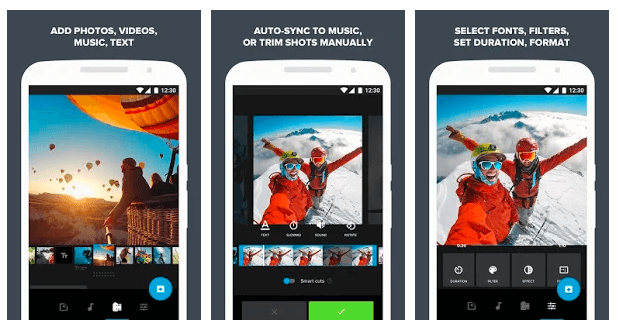 Quik GoPro free video editor helps you by analyzing your video for faces and colors to frame your footage smoothly. The Quik app enables you to add effects and transitions up to a maximum of 200 video clips and images from your photo library.
Trim, zoom, rotate and choosing a range of themes, fonts, filters, and graphics for your videos with Quik.
#3) iMovie

Apple has a knack for creating feature-rich and easy-to-use apps with brilliant functionality. iMovie offers you all features that a video editing app should provide. You just have to import your videos, and you can resize, trim, and add in-built music, animated titles, and effects into them.
#4) WeVideo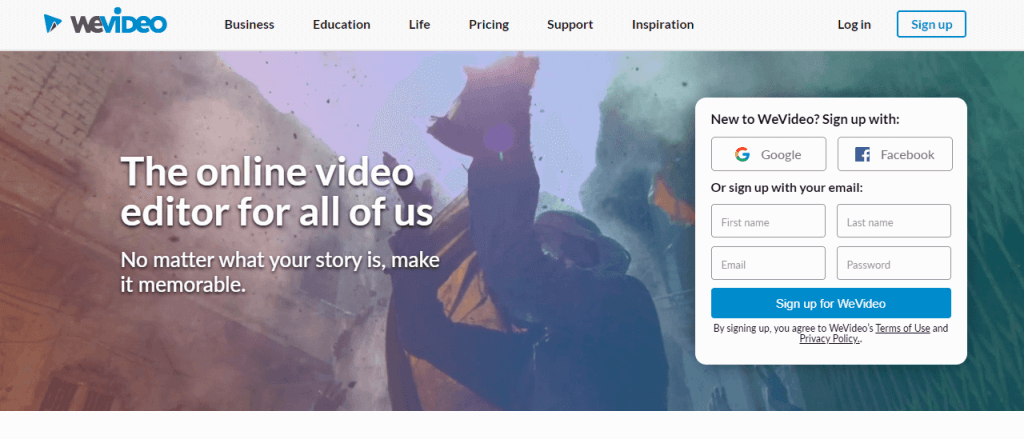 WeVideo makes it to our list of apps to make video edits because it gives the user complete control to create engaging clips for all digital platforms. You can be as creative as you like using WeVideo, from adding transmissions and motion effects to using a basic green screen special effects.
If you purchase one of their plans, you get access to a massive library of royalty-free video clips, photos, and soundtracks to add extra magic into your videos.
#5) Clips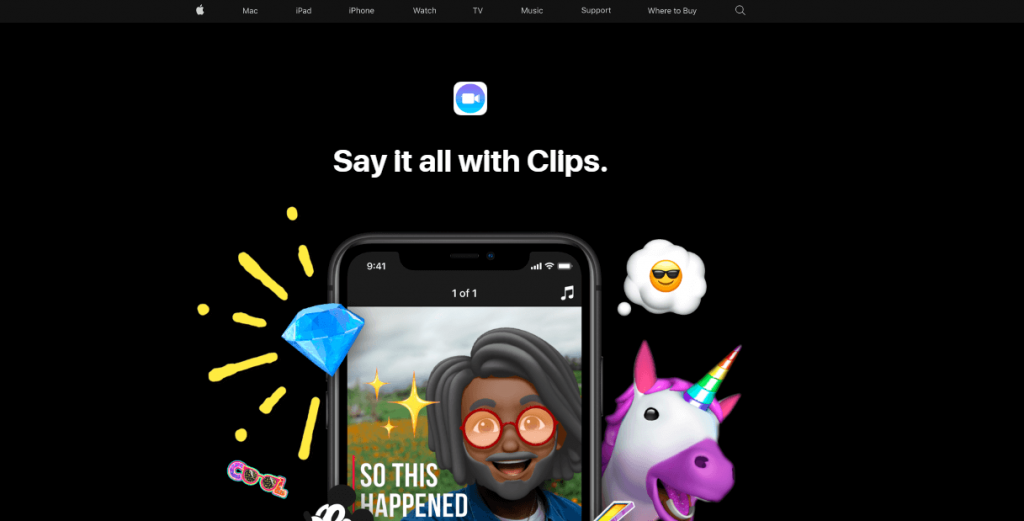 We often overlook the pre-download apps like Apple's Clips. Coming from one of the global tech giants, Clips is a video editing app that offers several powerful features. For example, you can make memojis, add animated emojis, and add fun filters into your video. You can also make your video come alive with soundtracks that intelligently sync in with your entire video.
#6) Splice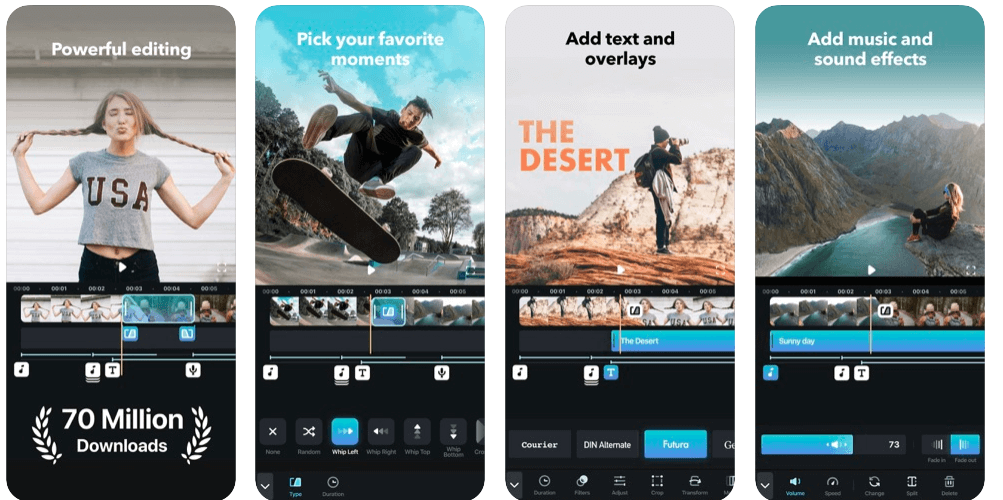 Splice has bagged a few awards for itself, and it is another popular free video editor by GoPro. It claims to provide you desktop level, video editing performance on your mobile devices. It offers the usual editing tools like trimming, cropping, adding titles, adding additional effects, animations, transitions, speed control, and more.
#7) PowerDirector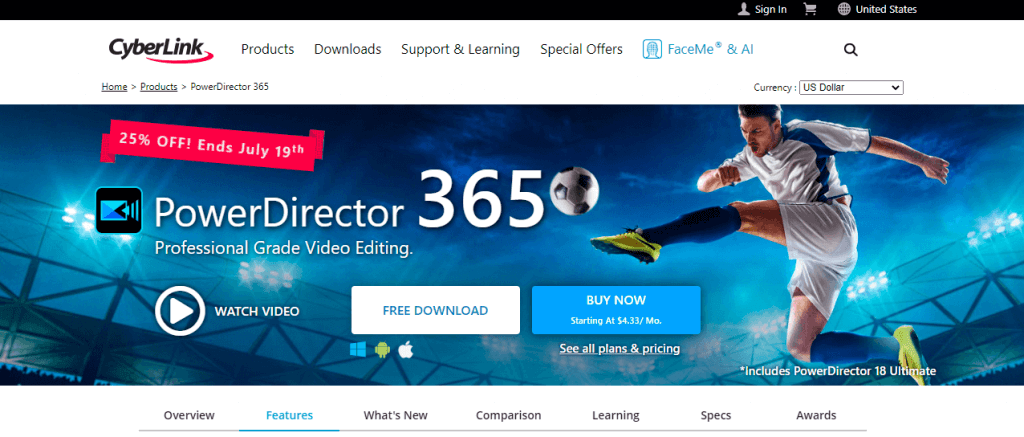 PowerDirector is one of those rare, top-ended, video editing apps dedicated to only Android users. With multiple track timeline editing features, it offers a range of features like FX editing with drag-and-drop control, video effects, chroma key editable green, and blue screen background.
Users can also use slow motion editing, vertical videos for mobile, and basic transitions and video cropping tools.
#8) KineMaster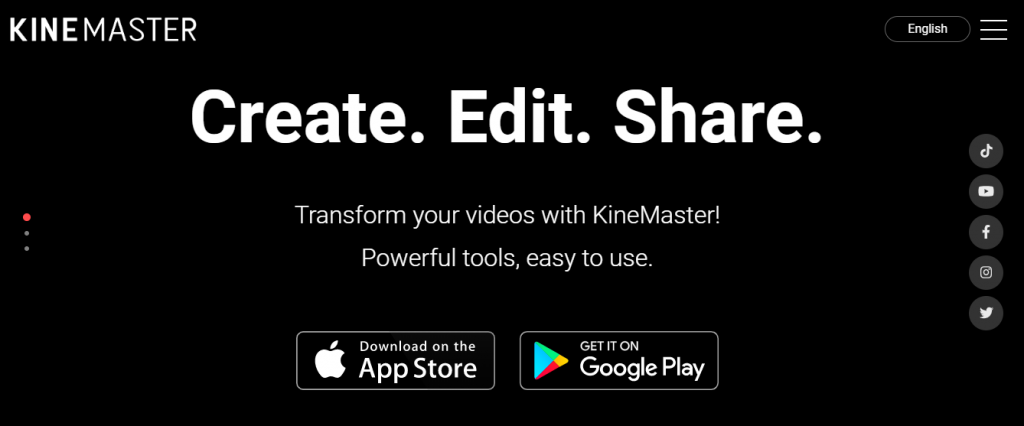 KineMaster is your partner if you want to make it easy to edit videos on your mobile device. It is designed for professionals with more serious editing options, but it easy for everyone to use. It supports up to four audio tracks with unlimited audio clips, and pre-render instant previews.
KineMaster also allows you two video layers, and you can also animate them using keyframe animations, color adjustments, speed control, chroma key compositing, or preset effects.
#9) LumaFusion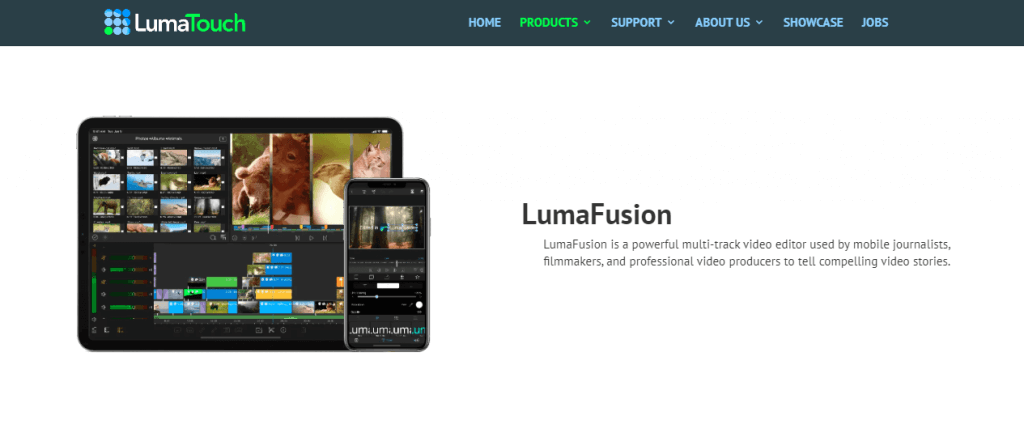 LumaFusion is one of our best video editing apps for mobile and tablet users. With a vast range of features, LumaFusion claims to be used by mobile journalists, filmmakers, and professional video creators. It helps you edit three videos simultaneously along with three additional audio tracks. You can also use several features like video effects, layer effects, five-point color correction editor, sophisticated tilter, and live audio track mixer to take your video game to the next level.
#10) VideoGrade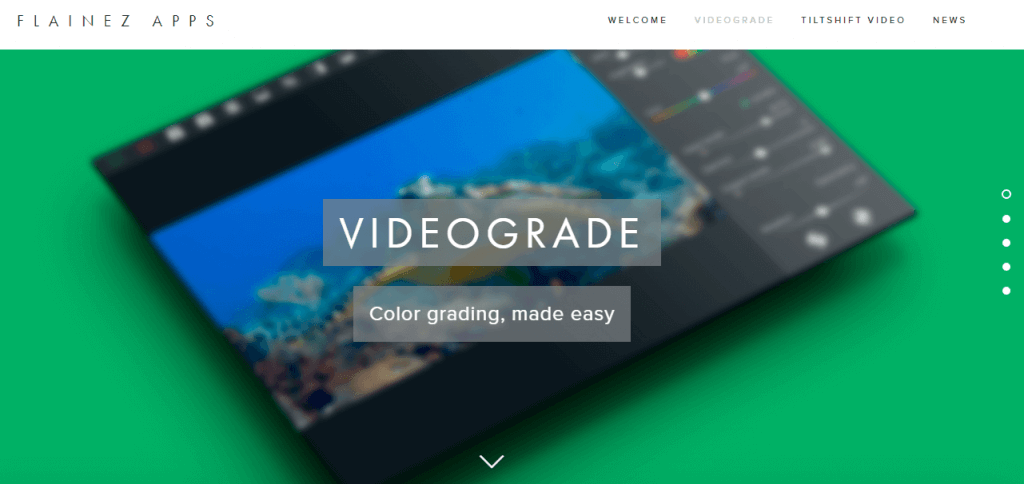 If you are looking for one of the best video editing apps for iPad and iPhone, then VideoGrade is a great option for you. It enables you to filter and recolor your videos while enhancing the impact of your content. You can boost the influence of your videos with filters and other features. You can even review both versions of your video in spilt screen to compare the results.
#11) Pinnacle Studio 23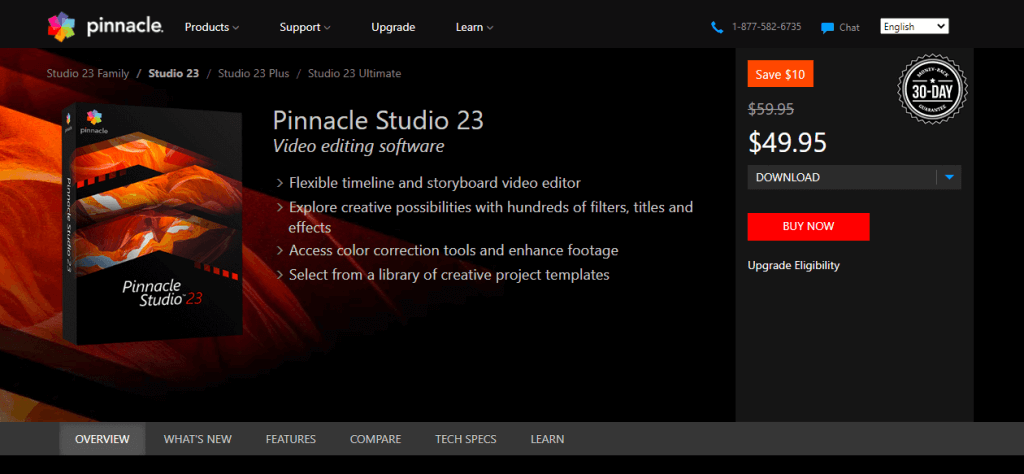 Pinnacle Studio allows you to edit video, audio, and images while on the go. You can set your video clips on the storyboard, make your edits in the timeline, and add high-quality effects and transitions. You can use Pinnacle Studio as your video editing partner for high-end results.
#12) PicPlayPost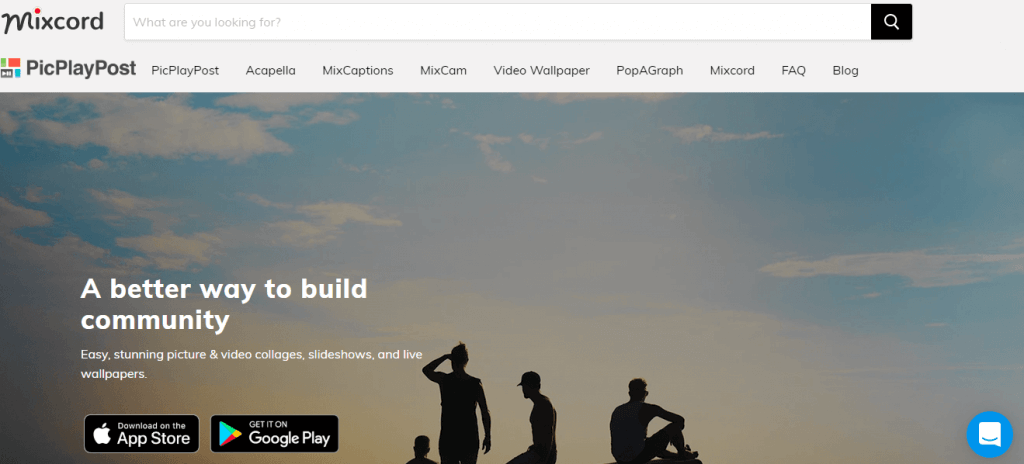 If you are looking for intriguing apps to make video edits, you might have found one. PicPlayPost allows you to use 365 pieces of media to create a 30-minute video content that you can share in 1080p quality.
It offers several personalization features like branded logos, watermarks, and a 9:16 frame ratio for Instagram stories. It caters to the particular needs of mobile-savvy and social media content producers.
#13) VivaVideo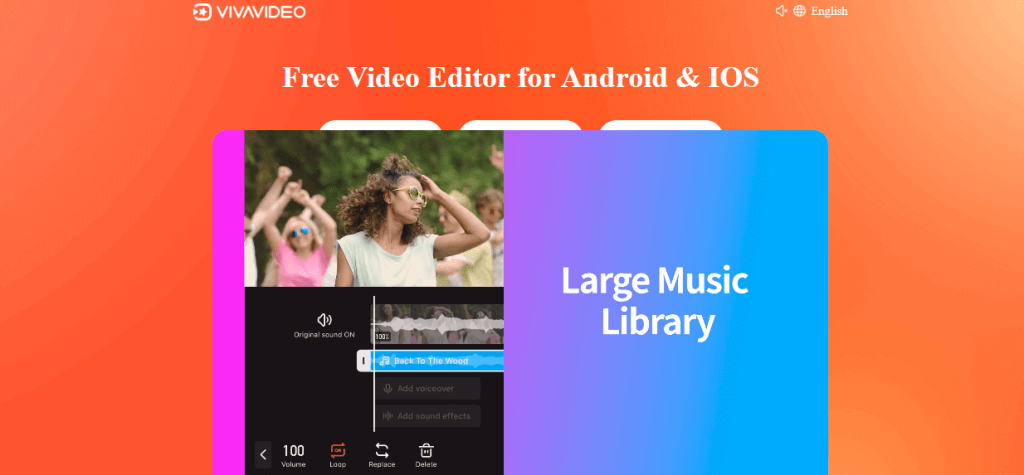 VivaVideo is another video editor for free that you can use to put together your video content with a few taps. You get various special effects, filters, stickers, animated clips, and subtitles to convert your videos into more shareable content.
#14) VideoShop
This is another free video editing app that comes with an outstanding amount of functionality. VideoShop allows you to trim your video clips, add Instagram-inspired filters, transitions, text, and sound effects. You can also create slow-motion animations and rescale shots with the video frame.
#15) Funimate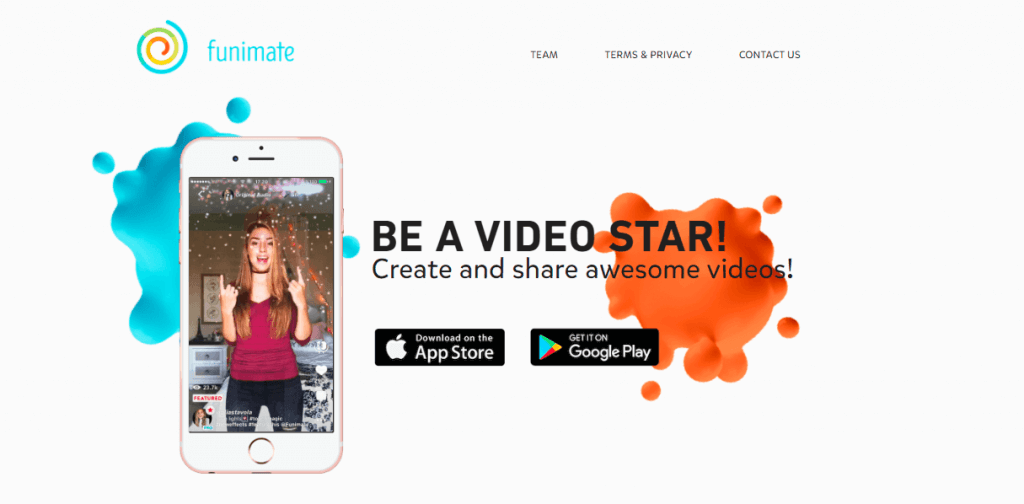 Funimate video editing app is marketed as the fun tool to create your videos for social media channels, such as video ads. With a few taps, you can add cool stuff like FX flourishes, stylized text, and sound texts to your videos.
#16) Magisto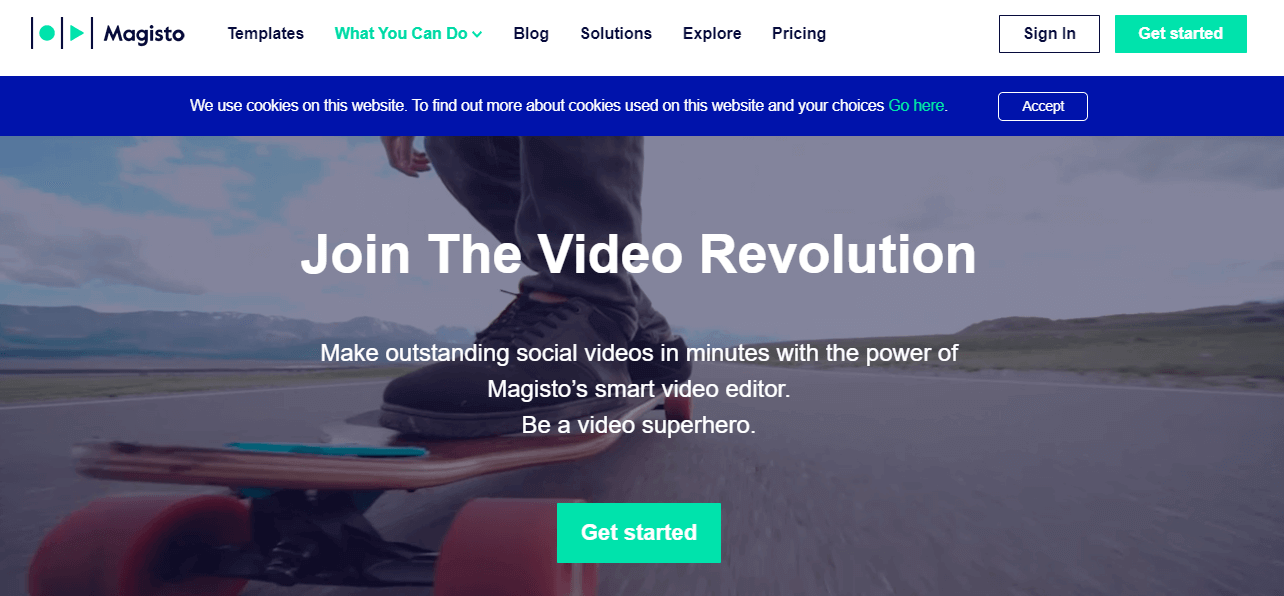 Magisto, as advertised, is bringing a video revolution. It is designed to enable one-tap sharing. It is the ideal tool for mobile video editors working on the go. Using AI, Magisto offers video editing techniques like facial recognition, stabilization, filters, and effect and auto-cropping to create captivating videos.
#17 Vizmato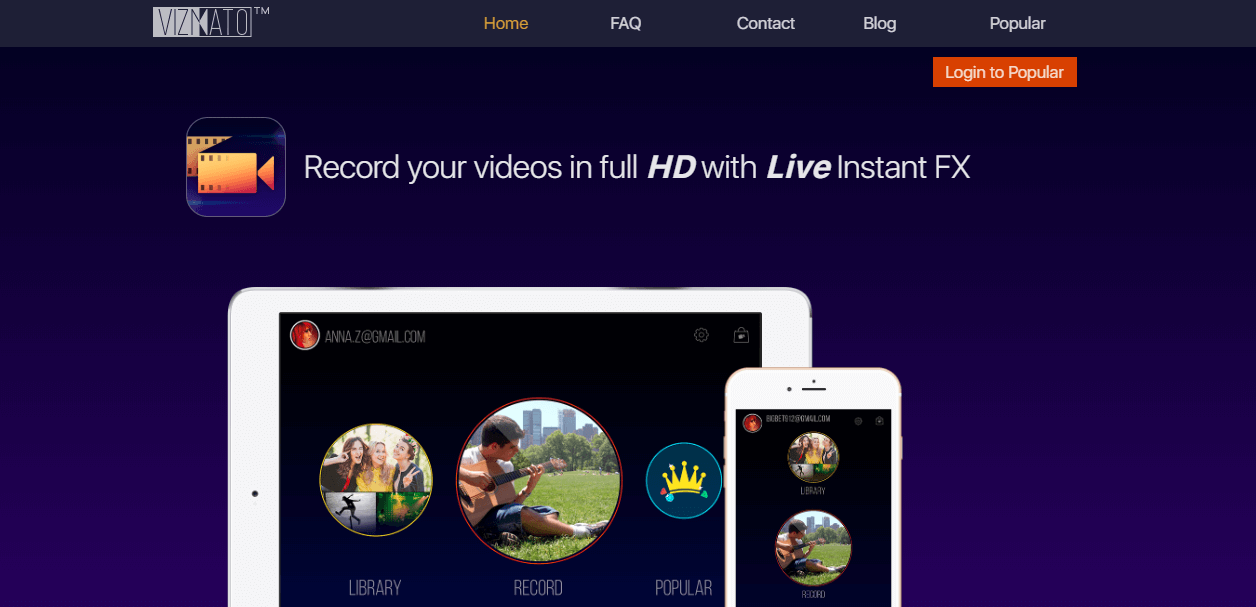 Vizmato caters to video content for social media channels and specifically Instagram. Users get features like trimming, filters, themes, visual effects, editing tools, and a grand royalty-free library for tracks and music. It also gives you the option to insert tracks from your library.
#18) VideoShow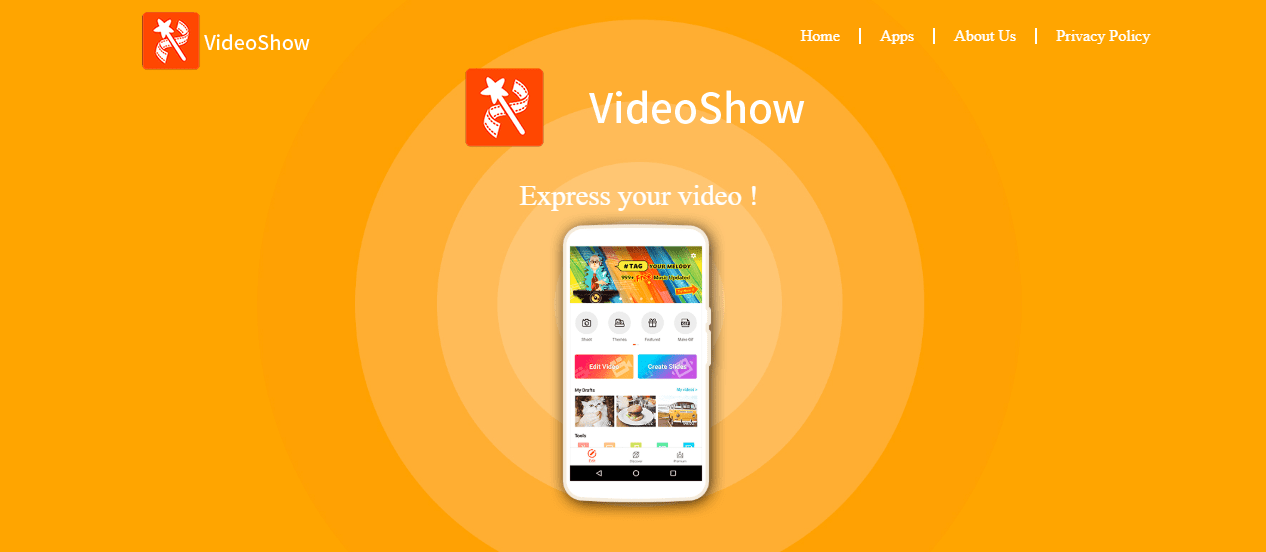 VideoShow is one of our best, free video editors that provides users a broad range of tools, including visual effects, stickers, GIFs, text overlays, multi-track music, transitions, filter, sound effects, and live dubbing. With more than 50 video themes and 30 filters, and a library with hundreds of free music tracks, VideoShow helps you create engaging video content.
#19) FilmoraGo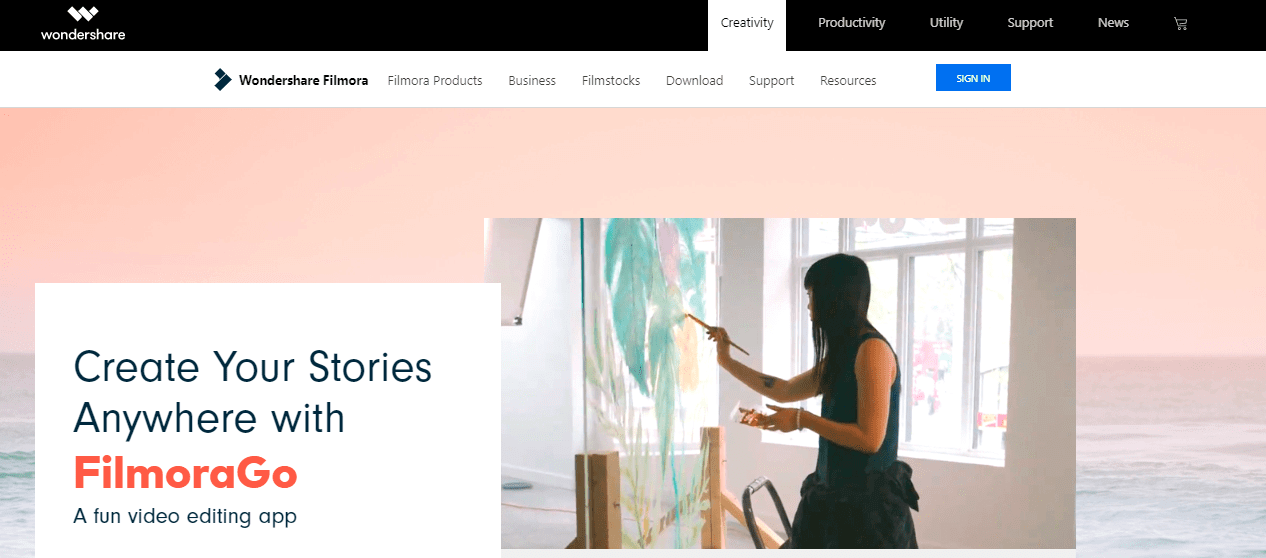 Here is another video editing app that offers an amazing range of editing tools, including classic transitions, video cropping, trimming, slow or fast motion editing, voiceovers, audio mixing, and reverse play. However, their USP is the variety of template themes they offer, which transform average videos into stylish movies.
#20) Vimeo Cameo

Cameo is the video editing app by the video-sharing giant, Vimeo. Camero allows you to make HD videos without much hassle. It offers features like trimming video clips, adjusting audio, adding themes, titles, and soundtracks, and rendering files quickly.
#21) Filmmaker Pro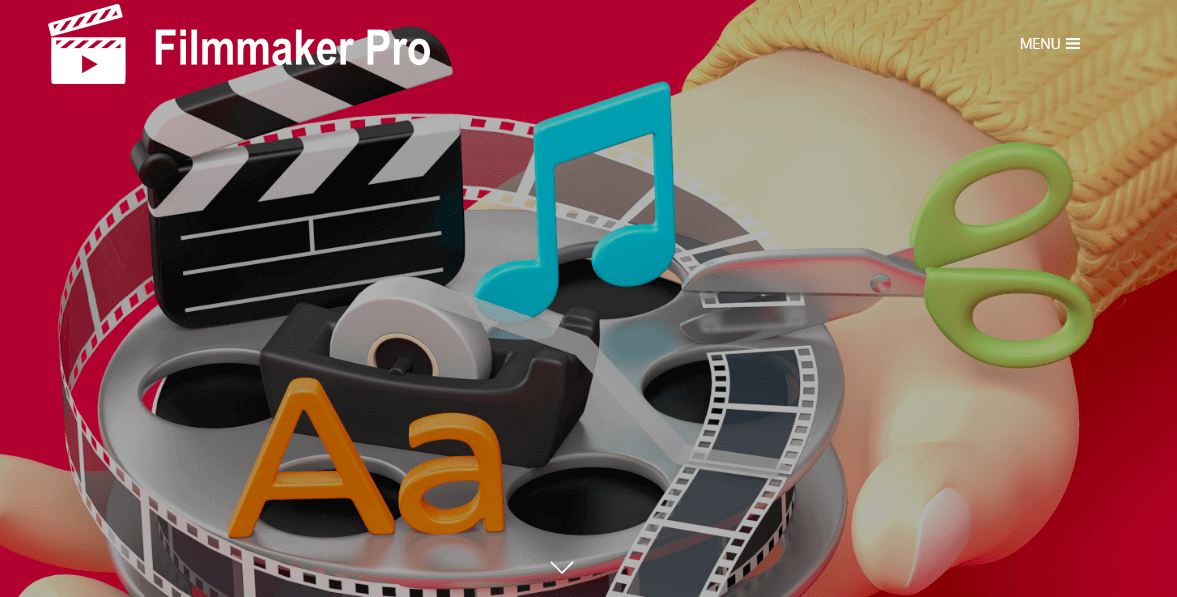 Filmmaker Pro is another video editing tool on our list. It helps you make pro-level videos with vast editing tools like filters, transitions, voiceovers, font styles, green screen support, text overlays, and tools for chroma keying.
#22) InShot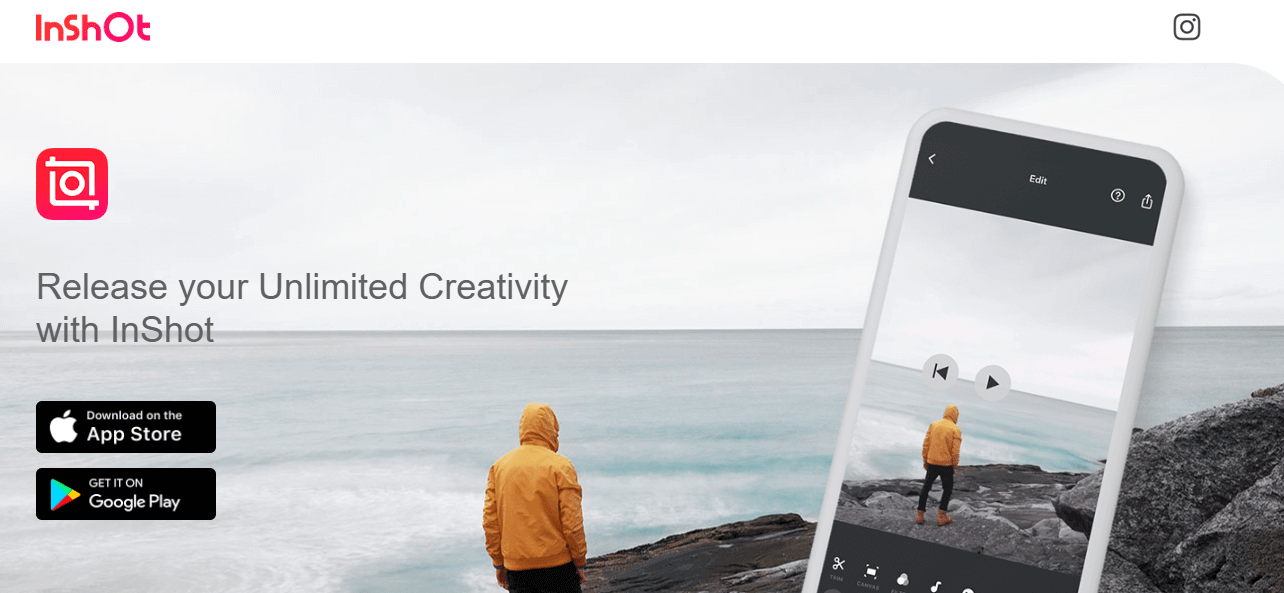 Inshot is another best video editor on our list that offers HD quality results and is known for making social media videos. Users get several edition tools to create engaging videos like trimming, adding filters, stickers, captions, emojis, and sound effects.
In a nutshell
Consistency is the key to success when it comes to video marketing. However, creating compelling video content on daily basis is a challenging task as it calls for a lot of effort and time.
But using video editing apps can make this job much easier. Choose the app that caters all your needs and allows you to create stellar video content that will wow your audience.
However, if you still need some more help to make your video content chicer and engaging, you can always look for the top video editing companies like BuzzFlick, an animation and video production company that offers video production services without burning a hole in your pocket.
Related Articles: