Are you in the hiring process for your company, or have you recently hired a new crew? If your answer is yes for both! Then it's time to train them. After the employee orientation, the next step is to train […]
Are you in the hiring process for your company, or have you recently hired a new crew? If your answer is yes for both! Then it's time to train them.
After the employee orientation, the next step is to train the employees and familiarize them with the work culture.
I am sure another question must be striking in your mind: how can you train your employees?
As the name says: 7 effective training techniques for employees, this blog post will be guiding you on how and with what you can coach your employees for the long run.
Not just freshers, but training is vital for all employees, and it might get challenging for elderly employees to learn new business trends, but trust me, the techniques I am about to discuss will make this process a lot easier for all.
So without any further delay! Let's jump into it!
Technology and Employee Training
Andrew Huberman – the neuroscientist – have stated in one of his podcasts that learning new things is challenging for people who are in their adulthood, and to trigger that process, you will require two factors:
To feel the urgency of learning.
To be highly focused on education.
The conventional employee training methods don't follow these factors. As a result, many organizations don't include technology in their learning activities and still rely on orthodox classroom-based training sessions.
After the digitalization of the world and the evolution of technologies, businesses are actually adopting virtual training methods and amplifying their growth.
If you are one of the companies that follow traditional training methods, then my dear, it's time to evolve and modify your techniques.
Effective Employee Training Techniques
You will learn seven new training methods that will benefit your business. Incorporate them in your training strategy to make them effective:
Types Of Employee Training Methods
#1) Video
#2) eLearning
#3) Interactive
#4) Buddy Training
#5) Implement Culture training
#6) Early onboarding
#7) Revisit Regularly
#1) Video
We live in a world where people prefer visualization over text for education and learning. Video is always preferable for academic, entertainment, or training purposes.
In employee training, video allows the trainee to learn anywhere and whenever he wants. In addition, video enables the viewers to pause it and imbibe the information easily.
Videos are a powerful tool to engage. The Forbes research has stated that 72% of viewers prefer to watch a video over text.
While making a training video, make sure that your video has engaging visuals and creative content. Take a look at this one of the oldest training videos by Pizza Hut, where the trainer is instructing Julie (the trainee) how to cook a pizza.
If you want to learn how to make an employee training video, TechSmith has proper video guidance for you. Check this video to learn five easy steps to create a compelling training video.
While training, show every employee the same video. It will ensure that a consistent message gets delivered to all.
You can make different videos or playlists for the employees of the different departments in your company. These videos will be department-oriented, which will help the employees deeply understand the department's needs and their role as an employee.
If you look at the training video with the businessman's eye, then you will find it very cost-efficient. It has no recurring cost, you can make a video once and keep using it forever.
P.S: You can edit your video whenever you need; otherwise, it is good to go for ages.
If you want some professional assistance, you can avail the video production services from BuzzFlick.
eLearning is similar to any other learning medium, but it delivers knowledge through electronic devices like computers, smartphones, laptops, or tablets.
Due to the world's situation in the past 2 years, learning and education have shifted from campus education to online learning.
For companies, employee training has become easier through eLearning. It allows the employees to learn and refresh their knowledge anytime and anywhere.
According to a LinkedIn report, 57% of learning and educational development organizations are expected to spend more on eLearning near in the future.
Tesco is a multinational grocery company with hundreds of franchises in different parts of the world. It has thousands of employees, making one-on-one training sessions and communication quite challenging for Tesco.
But the company has achieved immense success through eLearning and managed to coach its employees effectively.
eLearning allows companies to deliver compliance training to their employees through engaging and value-adding online modules.
Some eLearning and educational platforms allow managers to keep an eye on the employees who had completed the training and who need some extra help.
Tesco has stated that they have seen 98% of training completion, and 92% of the employees have preferred eLearning over traditional training methods.
#3) Interactive
We cannot ignore face-to-face classroom learning, as we all are the end product of that learning cycle. However, if we talk about face-to-face learning in the organization, it has a different impact.
Everyone learns in their own unique way. There are also advantages to classroom training, such as having all employees in the same room and asking questions in real time.
Despite the advantages, we cannot overlook the disadvantages of classroom-based training. It is more expensive than online and video-based training and has a lower retention rate.
A study stated that face-to-face training has an 8-10% retention rate, while eLearning has a 25-60% retention rate.
Aside from that, classroom training is a terrific method for ice-breaking within employees and showcasing your company's culture.
You can also improve retention by making the experience more interactive. This entails involving everyone and allowing everyone an opportunity to speak, talk and discuss.
#4) Buddy Training
On-the-job training is sometimes an efficient way to learn and grow in the workplace. However, the company should always pair the new hired with someone who is confident and has the work's know-how during on-the-job training.
It is an efficient way to make newcomers get familiar and comfortable with the existing employees – an excellent practice to get all along.
Research says that 87% of companies think that buddy programs help new employees become more proficient.
And buddy training can assist existing employees in transitioning into new jobs and make new employees feel more integrated into their new work environment.
It's an ideal arrangement for the new employee to start and the old employee to adapt simultaneously.
In this manner, the prior employee may train the new employee and pass on all of the knowledge they have gained through time in the organization, which can be harder to convey through traditional training.
For example, a company has hired a new project manager, and to train him, the existing project manager will update and brief about the ongoing projects, tools & techniques used by the team, and the production process they follow for development.
P.S: You can add activities, quizzes, and games, which will make the training memorable.
#5) The Culture Training
It's essential to train people to do their jobs well and increase their productivity, but it shouldn't be the only exclusive focus of your training sessions.
Training should also include a cultural introduction. New employees must be a good culture fit to feel at ease in their new workplace and contribute to their team and organization.
A Glassdoor study says that company culture is the most important factor for employees in the USA and UK. Take a look at this statistic: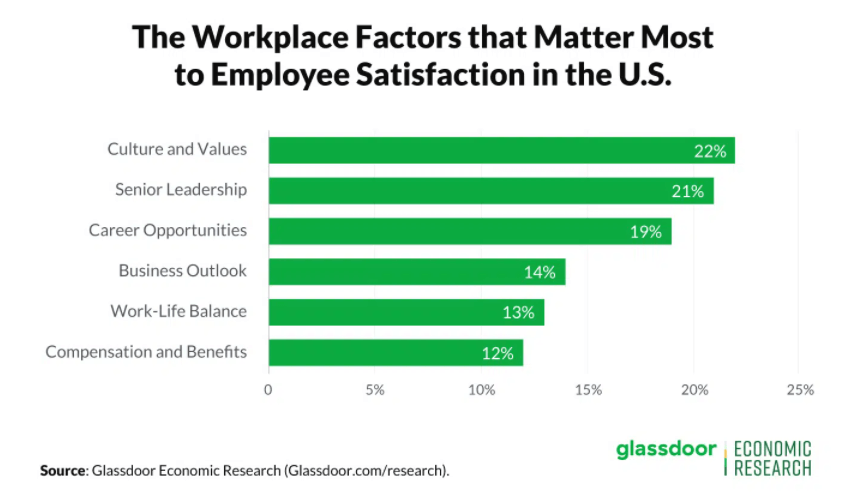 Source: Glassdoor Economic Research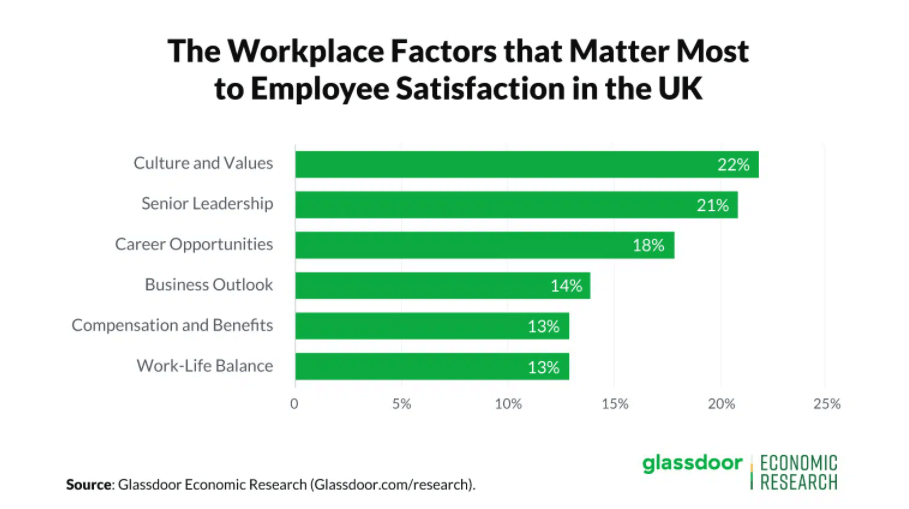 Source: Glassdoor Economic Research
You might think of a large corporation like Google when you hear the phrase "company culture." That's because they've made culture a key component of their corporate identity.
There are numerous articles about Google's culture online, as well as photographs of their campuses and even videos of genuine employees discussing life at the company. Take a look:
Culture training can easily be integrated into your training program using any of the methods we've already discussed, such as eLearning, interactive training, or videos.
#6) The Early onboarding
Another study by Glassdoor stated that a firm spends around £3,000 and 27 days to hire a new employee, making it essential to get things right after investing so much time and money. So why not start training the new hire before they start their first day?
This can be done by providing the simple information such as parking directions, the dress code, or their manager's name. It might also be more extensive, such as providing them with an employee handbook to study before their first day on the job.
Any additional information like this can help new employees get off to a better start so that when they arrive on their first day, they have more energy to focus on their role's training.
#7) The Revisit
Training is an ongoing process in an employee's life, and it should be reviewed often to keep the information and knowledge fresh.
Your employees should go through their training again regularly and continue to study to enhance their productivity for the department and organization.
This not only helps them improve, but it also helps your company stay on top of developing and management trends.
However, training and upskilling your employees regularly can be costly. That's why investing in tools that can be utilized repeatedly, such as video playlists, DVDs, audio podcasts, and manuals, is beneficial.
For example, if you buy videos, you just have to pay once, and you can use them as many times as you want!
You can also check out a comprehensive guide of instructional videos. It will also help you understand how much instruction and training are helpful in one's growth and productivity.
Takeaway
You can implement the mentioned 7 effective training methods in your employee training programs to train them efficiently and make their learning worthy of time.
If you are looking for a video production company that can create an informative training video playlist for your organization, take a look at these 10 best training video production companies that are experts in their own style.
As a company, if it is your first time making training videos, don't get fooled by anyone. Instead, keep the following instruction in your mind:
Look for some training video examples.
Choose one that suits your company's niches.
Show them to the video production studio that you have hired.
Ask them to get this done for you.
And if you are thinking about where you can find examples, then check out the 12 best examples of training videos.
FAQs
1. What methods are used to train employees?
You can incorporate the following techniques in your employee training program to make it more beneficial:
Training videos.
eLearning courses and certifications.
Interactive sessions.
The cultural training.
The early onboarding.
2. Why is employee training necessary?
Employee training helps to improve morale, increase productivity, enhance efficiency, and allow employees to be more confident about their job. A well-trained employee can show quality and quantity performance.
3. Is employee training expensive?
Training employees not only cost money but time and strength. The employees have to make time from their daily routine and take a break from work in order to get trained.
4. How much does an employee training video cost?
The cost range for employee training videos is around $300-$1000 for 1-minute videos without special effects. If you go with special effects and HD-quality production, $1000-$5000 will be the cost.
Final Words
According to a survey, 94% of employees usually stay longer if they see a learning environment in a company.
If the research says that learning helps in keeping the large majority of employees in the company so, would it be a better approach that you should invest in learning and training programs?
When a company seeks a better learning and training program for an employee so you must give them the tools and information they need. For this BuzzFlick focus on providing the latest training program, especially being a 2D animation studio, we keep on upgrading ourselves with the latest trends and technologies. BuzzFlick focuses on creating interactive 2d animation videos not only for its clients but also for the employees for their training program.
Also Check: