A vertical video on your social media? The concept might seem absurd at first, since we have always been told, "don't film vertically." The general perception of a vertical video has always been negative.
Lackluster content has been associated with vertical videos. It's automatically assumed that you lack clarity and don't know the ins and outs of video marketing when you do so. Movies, TV shows, commercials, you name it – every medium has supported horizontal media. It is the traditional way.
Gloves and Boots, a sarcastic video blog, released a public service announcement where they condemned vertical videos and went as far as calling it a "syndrome". The original video has been deleted, but it had secured over 8.5 million views on YouTube alone! The evident dislike for a vertical video is surreal.
The video was released eight years ago, and since then, "marketing" has taken a drastic shift. The change in video marketing is revolutionary, as the industry went digital from conventional means. Back then, mobile users accounted for only 14% of viewership.
Changes are common, and you'd be surprised to know how many brands are preferring vertical video advertising over traditional ones nowadays.
Considering the attention span of users, creating go-to ads is preferred nowadays. Along with "quick" ads, there are other preferences as well. A vertical video being of them. Keep reading as we further discuss why.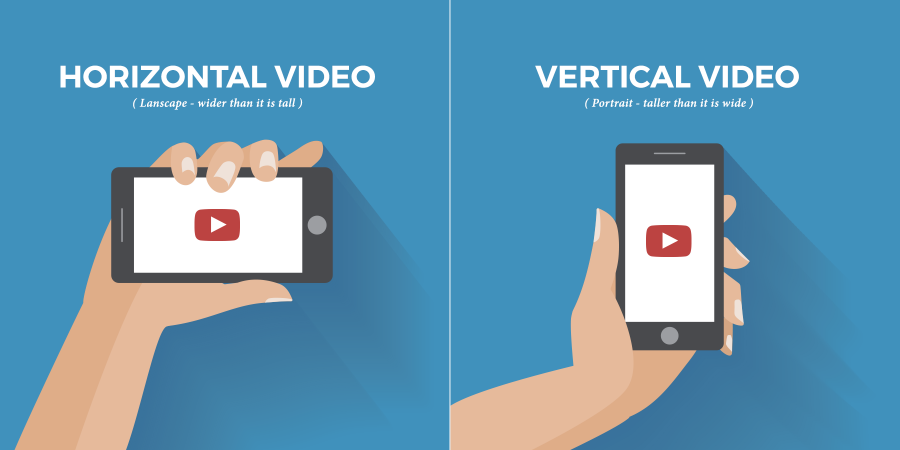 And why shouldn't it be? After all, with the advent of smartphones, marketing has taken a huge turn. Vertical videos are surely on the rise, and brands are noticing them. And it's for the greater good.
Vertical content has always been the easiest to film. If your child takes their first steps, or if it's a loved one's birthday, you immediately want to capture and preserve those moments. So, in a flick of a switch, you take your phone out and start recording in a vertical format! By filming vertically – you are creating raw, authentic, and real memories. As an individual, you played a role in the battle of vertical vs horizontal video.
To efficiently promote your brand on social media, a well-thought-out strategy is essential. Stats show that marketers are setting 51% of their budget aside for mobile ads. You should do the same, considering how lucrative the smartphone industry is.
Vertical video advertising is here to stay for the long term. Let's do a breakdown of why you should enlighten yourself on the benefits of it and use vertical videos in your next campaign!
Vertical Videos Are Ideal For Smartphones
There's a reason why marketers are spending most of their budget on mobile platforms. It's 2021, and over 77% of Americans own smartphones, as most of them can't live without them apparently. Also, 94% of the time, people hold their phones vertically. Whether they are commuting, at a cafe, or just scrolling through social media from the comfort of their home – the phone's in their palm, always.
This is the perfect opportunity from a marketing perspective. When a potential customer is constantly staring at a screen, target them with ads. But what type of format should you choose? A 3D animated video? A 2D animated video? Whichever it may be, make sure that it's in vertical format. It's most talked about these days.
And the concept of a "vertical video" in video marketing is embraced by industry influencers as well. For instance, Jon Steinberg, COO of Buzzfeed – once claimed that vertical videos are more convenient for customers. People are more likely to watch a vertical video according to him.
To elaborate his point, basically, Steinberg stated that viewers would be far more comfortable if they didn't have to tilt their screen every other second. Desktop, laptop, and TV viewers can't rotate their screens obviously, so why's it expected from mobile viewers? So, opt for a vertical format – the next time you're filming around.
Social Media Is Embracing The Change
Surprisingly, platforms such as Facebook, Instagram, Snapchat, and others are open to change and have openly experimented with vertical videos. This "new" format still has a long way to go, but slowly it is being recognized. The feedback has been great so far.
In fact, Snapchat's foundation was based on vertical videos and now according to the Animaker Snapchat generated a 9x increase with its vertical videos instead of horizontal videos. The messaging app was entirely vertical and still is. Snaps, stories, the chats – they all are vertical. How to rotate Snapchat videos? You simply can't.
Snapchat's arrival shook other platforms as the vertical format was looked down upon at the time. But now – Facebook, Instagram, and even WhatsApp have adapted "stories" as a part of their UI. Apart from that, even the ads on these social platforms are vertical. Considering that these are feed-based scrolling apps, this was bound to happen.
Instagram's "story" feature has been remarkably successful and is used by 500 million users on a daily basis. The photo-loving platform preferred vertical videos over others so much that they introduced an exclusive IG TV. This venture allows users to view long, high-quality content in a vertical format! The CEO of Instagram was impressed by vertical videos as well. We are living in a "vertical world" according to Jim Squires.
Lastly, YouTube has made some changes too. The video-streaming platform introduced a unique "dynamic video player". On the player – users can change the aspect ratio from horizontal to vertical at any instant. Also, YouTube removed black bars on vertical videos. Making the user experience more pleasant, and showcasing their support for vertical videos.
Overall, the future is bright for videos on mobiles. Vertical videos in particular are becoming the norm. It's time we all embrace it! After all, social media apps are there to help you and even the customer feedback is satisfactory.
Learn: How Animated Posts Galvanize Your Social Media Marketing
Best Vertical Video Ads Examples
There are numerous facts and figures which show how vertical videos are going to take over the "video" advertisement model, but one can't be sure until they see a real-life example. Well, fortunately, we are going to go through multinational brands that relied on portrait-video for their product.
Experiments aren't rare and companies don't want to remain in a comfort zone either. Whether it be 360-degree videos, interactive videos, virtual reality videos, or any other – companies keep exploring. See for yourself:
#1) Adidas Originals – Superpower
Adidas Originals – Superpower was the first vertical video ad released by the billion-dollar shoe company. The plot revolved around a girl who wanted to embrace her shortcomings and step out of her comfort zone. In the 45-second commercial, we see her roam around the city, as a song plays in the background. Overall, the vertical format helped viewers see the city from her perspective. It opened new boundaries.
#2) Mad Max: Fury Road
Mad Max: Fury Road, a blockbuster movie released in 2015, utilized vertical content to its full extent. The commercial wasn't typically short either. In 2 minutes and 40 seconds, we go through the movie's premise and the video ends with a CTA (call-to-action).
The trailer was the same as a horizontal video since it is the default format. On cinemas, TV, digital billboards – Mad Max was promoted through horizontal-based commercials.
On the internet though, it's a different story. Considering the digital age – Warner Bros, the distributing studio, opted for vertical videos for advertisement. The movie grossed over $375.2 million at the box office – it was a monetary success!
#3) Wattpad
Wattpad, a platform for readers was keen on using vertical videos for their next ad! And honestly, Wattpad needed such an ad. Reading is primarily done on smartphones these days and in a vertical format. So, Wattpad released a short 25-second ad that acts as an explainer video and a demo for other advertisers.
In the ad, we see how other brands can integrate their commercials on the reading platform. The ad caters to business owners, as Wattpad explains how comfortable vertical videos
#4) GoPro Vertical Video
Lastly, GoPro would certainly not miss the opportunity to use vertical videos. In 2016, the tech company released a vertical video ad that was filmed on a GoPro Hero 3+, as a matter of fact. The company didn't go over their budget and opted for their own personal equipment.
GoPro has always had an adrenaline-rushing, inspiring, and being a hero, motto in their ads. In under a minute, we see a first-person view of life. A person hops from one city to another, as if they were a bird. Perfectly depicted the brand's views. This was only possible through a vertical video.
The brands we have listed are multinational giants. Their marketing budget is set aside for bigger-than-expected uses and their research team goes through a lot of effort, in order to craft the ideal video for consumers. Rest assured, if companies like Adidas and GoPro are using vertical video ads – it's a safe investment with a high ROI.
Vertical Videos Bring Better Engagements
It is a given that you need to thoroughly research before applying any sort of marketing tactic yourself. Yes, vertical videos are emerging and they are inclusive to every other brand nowadays, but how lucrative is it? Is it a worthy long-term investment? Keep reading as we discuss in detail:
So, as mentioned – Snapchat has been massively successful so far and the vertical videos on the app have been re-watched far more than their horizontal format competitors. 9 times more than horizontal videos to be exact. Snapchat's user experience was already quite revolutionary and set a new trademark in the industry, but it was the convenience of a vertical format that set it apart from others.
Even brands advertise products through a vertical-based story. Generally, the rate is around $20 for 1,000 impressions. Meaning that brands set $50,000 to $100,000 for marketing campaigns. Furthermore, producing ads for Snapchat is easier and affordable. Amazon, Taco Bell, Vox Media, they all used Snapchat and earned millions in profit.
Meanwhile, at Facebook, the classic social platform, vertical videos are becoming dominant as well. Continuous testing of a "Facebook vertical video" took place and marketers realized that they drive more engagements. Research shows that vertical videos are 4 times more than horizontal ones, in terms of engagement.
Also, Twitter has always been in competition with Facebook and the latter one takes the lead today. Leads on Facebook were 2.5 times more than on Twitter.
A survey concluded that consumers are satisfied too. According to them, vertical videos are innovative and visionary. The majority of the audience has no problem with this emerging format and has gladly accepted vertical-optimized videos.
In Conclusion
So, it is definite that a vertical video will generate leads, engagements, click-through, swipe-through, and it also has a good ad recall rate. Although, before production, consider the "type" of content your brand needs. Can it be optimized vertically? Once you've concluded an idea, and have entirely researched it, use vertical videos on your social media right away.
Related Article: