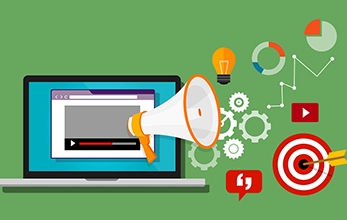 Video Marketing is The Future Of Content Marketing
Content is King!
This is an oft-repeated adage in the digital marketing domain and everyone knows that nothing is truer than this.
If you want to dominate any platform on the digital landscape, whether it's organic search or social media, your content has to be of top quality, highly engaging, and incredibly shareable.
However, in the past couple of years, the meaning of what gets construed as "Content" has undergone a massive sea change.
Now, it's not just content based on just text-based formats like blogs or articles that are considered content, but Video is equally chiming in.
Videos are fast becoming the most engaging form of content there is and brands are noticing it.
From embedding them on web pages to sharing them on social sites, brands are looking into multiple ways through which they can achieve their brand and marketing objectives through video.
This has opened them up towards learning the concepts and process of 2D animation, 3D animation, storytelling and storyboarding and other technical aspects related to video making so that they too can come up with amazing and engaging videos that rule the roost.
Video Marketing – A Lookback At the Numbers, It's Generating
Leveraging videos as part of your content strategy continues to be one of the most effective decisions in terms of marketing and overall business. Being a visual species, people are more receptive to a message when it comes to characters, a story, the backgrounds, and stimulating audios that build feel a sense of connection and empathy directed towards the brand.
Many experts will tell your video is here to stay. However, the sheer volume of video content we see coming from around the world speaks of the exponential growth and significance of video as a segment of content marketing. Let's have a look at a few video trends that will help you understand how far digital content is dependent on this visual medium.
Did you know? According to Tubular Insights, 73% of B2B marketers claim that videos have a positive impact on their ROI.
According to Cisco, by the year 2022, online videos will represent more than 82% of the entire internet traffic, which is 15 times higher than it was in 2017.
People are increasingly watching videos on digital platforms, whether it's through blogs, Facebook, or YouTube. Videos are consumers' favorite form of content to watch from brands on social media channels. Providing more video content is also highly beneficial for companies as the more audiences engage with branded content the more it influences the purchasing decisions.
The consumption of video content on mobile devices is increasing by 100% every year. People are watching videos on their smartphones as a regular practice, which means there is always space for marketers to publish interesting content that grabs attention.
Related Article: The 15 Essential Marketing Video Types
Video Marketing Pros
The growth of video content in the digital landscape and how people react to it is so interesting to watch. With more than 500 hours of content being uploaded to YouTube every single minute, it only brings the situation into perspective. Videos are dominating digital content production and consumption on a holistic level and rightfully so.
The increasing dependency on video content has led to an introduction and use of several types and styles of videos across the internet. Some of the more commonly consumed forms include animated explainer videos, tutorial and educational videos, whiteboard animation videos, demo and product videos, Vlogs, and video interviews, and client testimonials videos.
Now, let's dive into some of the reasons that motivating content marketers to invest time and resource into producing video content.
Significantly Amplifies SEO
If correctly done video content can highly amplify your SEO, precisely because of how Google's algorithm generates search engine results. When Google ranks a website, it mainly focuses on the quality of your content in terms of the purpose of the webpage and the relevance to the intention of someone's search keywords.
As long as your videos cater to visitors' search intent it will help you rank higher on Google. Secondly, by producing SEO-friendly video content you also try to rank within the first ten results on the video section of Google. Lastly, your websites can also add more value to your online visibility as they may be picked as search snippets when users specifically lookup for video content.
When you know the process of 2D animation, 3D animation, or any other type of video, you know that optimizing the video for SEO is an integral part of the overall process.
Besides, the integration of videos on your website can help keep people on your website for longer and make it easy for people to link back to your video or share it on different platforms. SEO-friendly video marketing will generally improve the quality of your overall SEO.
Platform Agnostic
One of the major reasons for this boom in video marketing across industries and markets is how responsive and flexible the content format is over different platforms and digital channels. You can easily embed explainer videos on the homepage of your website describing your brand values or educating about the products or services. Otherwise, companies are also commonly including video content in the form of client testimonials, within blog posts to increase the reader's interaction and the inner page as a product or service demo.
When talking about video content, you cannot miss out on social media channels like Facebook, Instagram, and Snapchat, and video-sharing platforms like YouTube. From stories to basic posts on the feed, video content, whether it's user-generated or from brands, highly dominates these platforms. Furthermore, viewers can also very easily share videos they like with friends, family, and over their own feed.
Device Agnostic
Videos are not only compatible with different platforms, but they are responsive to different devices. Whether you are using a desktop, laptop, smartphone, iPads, or any other device with access to the internet, you are most likely to enjoy your experience of watching online videos. However, with the increasing shift of people using mobile devices to view video content, very subtlety it has motivated the majority of platforms to upload videos in vertical format instead of the landscape to facilitate smartphone users and provide a better experience.
Content Marketing Augmented With Video
It is not hard to realize why video marketing is said to be the future of content marketing. Look around yourself, you will see how people globally are consuming video content like never before. YouTube is the second most-used visited website, after Google, to look up their search queries. Product demos, tutorials, how-to-videos, educational videos, entertaining videos, you name it and it's being searched and watched somewhere. As people are using videos as the alternative of digital content, companies and brands have no other option but to give-in, because video marketing is more than a trend, it's now an integral part of any conversion funnel that you design.
Recent Blogs