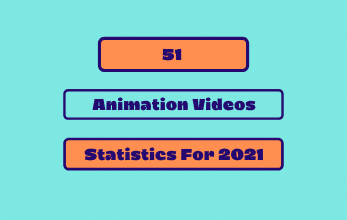 Animation Videos Statistics for 2022
Animation videos have proven to be a highly effective type of marketing video in the digital world. In the year 2022, it's set to become an important element of social media marketing, and for good reason.
Because humans love looking at visuals, we are bound to find animated videos attractive and colorful. They're easy to remember and they can be used to market any type of content. Animated videos never go out of style when it comes to storytelling.
To show you the reason behind this, I've made a list of stats that highlights why animated marketing videos are so effective.
Let's get started.
Animated Videos And Websites Stats
Here's why your website should have a video, in 2022.
Google is 53 times more likely to discover your website if your front page includes a content-related video. (Insivia)
If your website includes a video(s), your organic search traffic is more likely to increase by 157%. (Conversion XL)
A marketing video can attract up to 300% more traffic and possible leads. (MarketingSherpa)
A video on your landing page can give your conversions an 80% boost. (Unbounce)
Approximately, 50% of viewers search for a product and service-related video online before they decide to purchase. (Hubspot)
65% of online researchers visit a brand website and 39% call the brand after watching their videos. (Forbes)
52% of marketers claim that video content can generate the best ROI. (HubSpot)
On average, viewers would spend 2.6x more time on a webpage that has a video than on a page without one. (Wistia)
Video marketing is expected to hold 82% of the internet traffic in this year. (Cisco)
If a webpage has textual and visual content, 72% of viewers will prefer watching the video to understand a product or service. (HubSpot)
Viewers understand the topic 95% from the video and 10% from the text. (Forbes)
Animated Videos And Social Media Facts
Here's how much video marketing has an influence on social media.
YouTube holds 95% of all internet users. (Omnicore)
YouTube is the second most-used visited website (Search Engine Journal)
Users watch one billion hours of YouTube videos on a daily basis. (Tech Crunch)
Social media videos are responsible for generating 1200% more shares as compared to text-based and image-based social media posts. (SmallBizTrends)
Facebook video consumption is 173% higher than image searching. (Puro Marketing)
92% of viewers share interesting videos among their circle. (RENDRFX)
Instagram entertains more than 1 billion users every month. (Hootsuite)
Due to social media video posting, 93% of marketers converted their leads into sales. (Animoto Blog)
Snapchat claims to generate 10 billion video views every day. (The Verge)
64% of social media users make a purchase after watching a branded social video. (Tubular Insights)
Facebook users enjoy 100 million hours of video content on the social media platform. (Blue Corona)
There are approximately 3.78 billion social media users worldwide in 2021. (Statista)
Snapchat generated a 9x increase with its vertical videos instead of horizontal videos. (Animaker)
A Facebook video attracts 135% more organic traffic as compared to a Facebook photo. (Socialbakers)
Tweet videos get 6x more retweets as compare to tweet images. (Wochit)
75% of millennials use their social media accounts to watch videos daily. (Animoto Blog)
YouTube has 1.9 billion active users which are one-third of the internet. (Omnicore)
Twitter generates 90% of video views through mobile devices. (Twitter)
Currently, YouTube has 23,946,561 subscribers which is increasing by the minute. (SocialBlade)
LinkedIn video campaigns have 50% view rates. (LinkedIn)
Video-based social media posts generate 48% more views. (The Marketing Helpline)
45% of Twitter users prefer watching videos from their favorite celebrities. (Twitter)
85% of Facebook videos are watched without turning on the sound and 60% of Instagram videos are watched with the sound on. (Instagram)
Posting social media videos on Facebook can boost the average conversion rate to 9.21%. (thesparkhouse)
Animated Videos And Businesses Facts
Here's what businesses think about video marketing.
Social marketers prefer to use Facebook for marketing. (Sprout Social)
81% of the businesses want to use Facebook for video marketing. (Buffer)
25% of brands post videos every week. (Buffer)
97% of marketers say that people understand the product or service better if the explanation is video-based. (Hubspot)
93% of marketers prefer using videos. (SingleGrain)
88% of marketers are happy with the ROI their video marketing efforts generate through social media. (Animoto)
73% of B2B marketers claim that videos have a positive impact on their ROI. (Tubular Insights)
33% of viewers stop watching a video after the first 30 seconds, 45% after one minute, and 60% after two minutes. (Ad Age)
A business has a 53x more chance of appearing on the first page of Google if they have a video on it – it improves SEO and ranking. (Video Explainers)
84% of marketers rank video creation skills as important when they hire someone for a marketing position. (Animoto)
Animated Videos And Trends Facts
Here are some trends that social media marketers should follow to stay relevant.
A video-based email increases click rates by 300%. (HubSpot)
Explainer videos are 64% more likely to convert a visitor than text alone. And in some instances, explainer videos have improved lead generation by 403%.(breadnbeyond)
50% of the viewers between the ages of 18 and 34 claim to stop what they're doing to watch a video from their favorite video creators. (Google)
85% of online viewers expect more content from brands. (HubSpot)
Videos that are under two minutes encourage more engagement. (Wistia)
71% more people prefer watching videos more than they did one year ago. (HubSpot)
Mobile video views increase by 100% each year. (Insivia)
54% of consumers want to see videos from the business they support. (HubSpot)
Viewers watch a video 1.5 times more on their mobile. (Facebook)
78% of viewers watch videos online weekly, and 55% watch videos online daily. (HubSpot)
6 out of 10 people would rather watch a video online than watch television. (Google)
A Facebook executive predicts that their platform would have more video than text by the end of 2021. (Quartz)
57% of learning and development pros expect to spend more on online learning (or eLearning) in the future. (LinkedIn)
92% of employees agreed that they preferred eLearning to previous training methods. (SpongeLearning)
Retention rates for face-to-face training were as low as 8-10%, while eLearning had a retention rate of 25-60%. (ShifteLearning)
In Conclusion
As per the stats, it's safe to say that video marketing will continue to be important which suggests that the usage will prove fruitful.
Recent Blogs