If you want to captivate your audience, nothing beats an unforgettable video. Look no further than our list of the top 21 video animation services to find the best providers in the market.
As the world of marketing continues to evolve, animation has emerged as a powerful tool for brands to connect with their audiences.
With its ability to capture attention and convey complex messages in a visually compelling way, it's no surprise that more and more companies are turning to animation to elevate their brand messaging.
However, with the rise in popularity of animated content, the competition has become fiercer than ever. To truly stand out and make a lasting impression on your audience, you need to partner with a company that can take your vision and brings it to life in a way that's both innovative and unforgettable.
That's where the true magic of animation lies – in the hands of skilled animators who can transform your brand's story into a work of art.
From stunning visual effects to captivating storytelling, animation has the power to transport your audience to a world where anything is possible.
So, whether you're looking to create an explainer video, a social media ad, or a full-length animated feature, you need a team of experts who can deliver results that are nothing short of extraordinary. And with the companies on our shortlist, you can rest assured that you're in good hands. Get ready to unleash the power of animation and take your brand to new heights!
How to Choose the Best Video Animation Services
In today's fast-paced digital world, businesses are constantly on the lookout for fresh ways to grab their audience's attention. One strategy that has proven to be highly effective is video animation.
With its ability to breathe life into ideas and convey complex messages in a visually compelling manner, it's no wonder that video animation services are in high demand.
However, not all video animation services are created equal. To truly make an impact and create an outstanding animated video that captures the essence of a brand and resonates with its target audience, you need to work with a team that possesses the perfect combination of talent, skill, and creativity.
At the end of the day, outstanding video animation services go beyond just delivering great results; they have the power to transform a brand's message into a memorable experience that engages, inspires, and leaves a lasting impression. So, here's the list of the five most important things that anyone should look for when hiring a video animation services provider: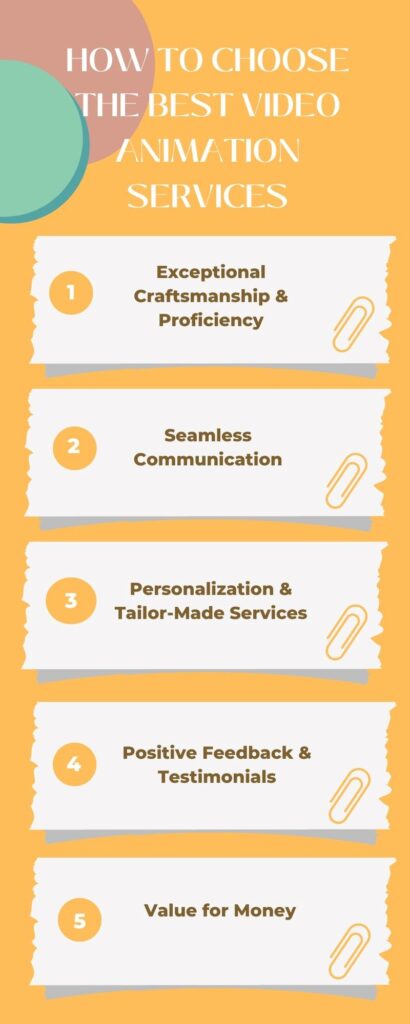 Exceptional Craftsmanship & Proficiency: The hallmark of great video animation services lies in their unparalleled ability to deliver exceptional quality and expertise. Their impressive portfolio is a testament to their creativity and professionalism.
Seamless Communication: A paramount characteristic of outstanding video animation services is their ability to foster seamless communication between clients and providers. Such effective collaboration ensures that there are no hiccups or delays along the way.
Personalization & Tailor-Made Services: In the digital realm, where each brand is unique and distinct, it is imperative for a professional video animation agency to provide customized and tailor-made solutions. Off-the-shelf content is an absolute no-go, and exceptional video animation services understand this fact all too well.
Positive Feedback & Testimonials: Nothing speaks more volumes about the quality of a company's work than its satisfied customers. Exceptional video animation services proudly showcase their clients' testimonials and third-party feedback as a testament to their impeccable track record.
Value for Money: While cheaper animation services may resort to cutting corners in quality, the most expensive options do not necessarily guarantee exceptional results. Therefore, it is crucial to find a video animation service that provides the desired level of quality at a reasonable price point that aligns with your budgetary requirements.
Top 21 Video Animation Services in the Industry
So, finally here's the list of world-class video animation services providers. You better check out the whole list!
1. BuzzFlick
Founded: 2016
No. of Employees: 50 – 250
Pricing: $5,000+
Notable Clients: Indeed Flex, Pi Health, Christian Connection, Hobgood, Avia Shoes, Clubspot.
Hey there! I know what you're thinking, but please hear me out! I promise this won't be a snooze-fest. I'm here to tell you why we're on the bee's knees when it comes to top-tier video animation services.
First and foremost, we're not your average Joe. Every single video we create is custom-tailored to fit our client's needs, because let's face it, one size doesn't fit all!
We believe in offering only the best of the best, so you can expect nothing short of high-quality services from us.
Speaking of quality, we take it seriously! Our video production process is like no other, it's as unique as a snowflake. It's taken years of practice and fine-tuning, but we've perfected it.
We don't make promises we can't keep, and we stand behind our work with a price-quality guarantee that's unbeatable.
We don't just stop at creating a great video for you, oh no! We want to see your business grow and thrive, which is why we offer an integrated video marketing strategy. We're here to help you make a splash in the big leagues.
We've worked with companies big and small, like Avia Shoes, Indeed Flex, Hobgood, Klevu, Clubspot, BlockX, Christian Connection, and the list goes on!
Don't believe me? Hear it out from our clients yourself:
Looking for an animated masterpiece that will dazzle your audience and take your business to new heights? Look no further!
Let's join forces and ignite the spark of creativity to bring your vision to life with a mind-blowing video animation. Reach out to us now, and let's start making magic happen!
2. YumYum Videos
Founded: 2010
No. of Employees: 10- 20
Pricing: $8,000+
Notable Clients: Amazon, American Express, McKesson Corporation, Redbull, Walmart, Vodafone.
YumYum Videos is a premier video animation company that hails from the colorful city of Buenos Aires. Since its inception in 2010, the company has been at the forefront of creating engaging and visually stunning animated videos that captivate their clients' audiences.
What sets them apart is their ability to craft compelling stories that strike a chord with viewers, thanks to their team of skilled animators, designers, and scriptwriters who work in perfect harmony to bring their clients' visions to life.
3. Epipheo
Founded: 2009
No. of Employees: 10-15
Pricing: $10,000+
Notable Clients: Deloitte, Dupont, Epson, SAP.
In the realm of video production, there exists a team of masterful artisans known as Epipheo. Their art is the crafting of videos that, through the power of storytelling, bestow upon their viewers' epiphanies and "a-ha moments".
For each project, they assemble a unique team, custom-tailored to the specific needs of the task at hand. Having blazed a trail as pioneers in their field, they have honed their skills and amassed a wealth of experience since their founding in 2009.
4. Wyzowl
Founded: 2009
No. of Employees: 10-49
Pricing: $5,000+
Notable Clients: AppToPay, Jotform, SalesMath, SessionCam.
In the world of video animation services, Wyzowl stands out for their unwavering commitment to customer satisfaction.
With unlimited revisions and fixed turnaround times at every stage of the production process, they ensure that their clients receive only the best. Their repertoire of video types is diverse and inclusive, encompassing animated videos, product demos, testimonials, and interactive pieces.
5. Demo Duck
Founded: 2011
No. of Employees: 20-30
Pricing: $15,000+
Notable Clients: GEICO, IMB, Weizmann Institute, Zocdoc.
Demo Duck is a team of curious and creative souls who specialize in crafting high-quality animations and stellar scripts, tailored for companies of all shapes and sizes. Their portfolio of services includes explainer videos, customer testimonials, social media content, and brand videos.
With a particular focus on the healthcare and education industries, Demo Duck brings imagination and innovation to every project they undertake.
6. Explainify
Founded: 2012
No. of Employees: 10-49
Pricing: $10,000+
Notable Clients: Bayhealth, DevSquad, MGA Systems, Panasonic.
At Explainify, their clients are treated like royalty with what they dub the "VIP treatment". This means that for every project, they curate a special team, handpicked to bring each vision to life.
The best part is their video animation services are renowned for their ability to meld solid narratives with enchanting visuals, resulting in captivating pieces that leave viewers spellbound. It's safe to say that Explainify's work is nothing short of awe-inspiring.
7. Sandwich Video
Founded: 2009
No. of Employees: 10-50
Pricing: $50,000+
Notable Clients: Flip, Fairmint, Lumos, Playdate
Sandwich Video is the breath of fresh air that the video industry so desperately needed. With a knack for humor and a penchant for creativity, their work is nothing short of captivating.
Live-action productions are their specialty, where they infuse each piece with a delightful and humorous twist. But don't let their live-action prowess fool you, their video animation services are just as impressive and innovative, living up to the high expectations they have set for themselves.
8. Thinkmojo
Founded: 2011
No. of Employees: 10 – 50
Pricing: N/A
Notable Clients: Fico, Jumbo, Lattice, LinkedIn.
With a team of highly skilled writers, animators, and producers, Thinkmojo delivers an exceptional "visual experience" to clients through their stunning and top-notch videos. Their forte lies in crafting explainers and product videos, primarily catering to the IT industry.
9. Switch Video
Founded: 2011
No. of Employees: 10-49
Pricing: $10,000+
Notable Clients: Amazon, Cisco, HP, Nespresso.
Switch Video understands the value of excellent storytelling in driving impressive metrics, be it for an email campaign, social media post, or website content.
With more than a decade of experience, the agency has honed its production process, emphasizing streamlined communication and time management to ensure seamless execution.
10. Studio Pigeon
Founded: 2012
No. of Employees: 10-49
Pricing: $10,000+
Notable Clients: Comarch Fraud Protection, EU Cyber Direct, Little Fund.
Hailing from Poland, this animation video company has recently achieved a remarkable milestone of ten years in the industry.
The company excels in leveraging motion to bring products and ideas to life in the form of stunning corporate videos, captivating explainers, enticing commercials, and much more. Their distinctive approach revolves around portraying brands in a cheerful and amusing way, allowing them to create a powerful connection with their audience.
11. Commotion Engine
Founded: 2011
No. of Employees: 2-9
Pricing: $10,000+
Notable Clients: Move Guides, Trimble, Payscape, Pulse.
Despite being a smaller player in the market, Commotion Engine is a force to be reckoned with. The company has proven its mettle by effectively assisting businesses of all sizes in leveraging video content to augment their existing digital strategies and effectively propel their prospects down the marketing funnel.
12. SPG Media
Founded: 2007
No. of Employees: 50 – 249
Pricing: $10,000+
Notable Clients: Drop Dead Life Insurance, IBU, modgraden, TunnelBear
This top-tier video animation service provider boasts a rich history of crafting soul-stirring works of art for their diverse clientele, spanning across all industries and scales.
Also, their secret recipe for success lies in blending premium-grade content with innovative storytelling techniques, evoking profound emotional responses from their viewers.
Regardless of the project, they never fail to leave a lasting impression on the hearts and minds of their audience.
13. Videorize
Founded: 2014
No. of Employees: 2-9
Pricing: $10,000+
Notable Clients: Cherwell, Cloudwave, Geodis, Tanger Outlets.
This modestly-sized video animation enterprise prides itself on an ardent team of animators and marketers who share our unbridled passion for the art of video.
With an impressive track record in the field of animation, they have honed their craft to perfection, giving rise to a distinctive style that enables them to create visually stunning masterpieces that are not only captivating but also drive results.
Their creative prowess and expertise are second to none, allowing them to deliver works of breathtaking beauty that leave an indelible mark on the minds of their viewers.
14. Webdew
Founded: 2016
No. of Employees: 2-9
Pricing: $5,000+
Notable Clients: DecksGo, Hero Calendar Due, T-Mobile.
This multifaceted studio offers an extensive array of solutions, ranging from top-of-the-line video animation services to sleek infographics, dynamic social media videos, and even cutting-edge kinetic typography.
What sets them apart is their unparalleled production process, which revolves around seamless communication with clients throughout the project's lifecycle.
Their commitment to delivering bespoke solutions that cater to their client's specific needs and requirements is nothing short of remarkable, making them a go-to destination for all your creative needs.
15. VeracityColab
Founded: 2008
No. of Employees: 1-10
Pricing: $20,000+
Notable Clients: Afiniti, Flexfit, Life Happens, tendergreens.
Equipped with the prowess to tackle virtually any animated video style, this company has left an indelible mark on a diverse clientele hailing from various industries.
Driven by an unwavering commitment to cater to the target audience, they specialize in creating tailor-made assets that perfectly align with the brand's image and seamlessly integrate with existing content, resulting in unparalleled outcomes
16. Indigo Productions
Founded: 1991
No. of Employees: 10-49
Pricing: $10,000+
Notable Clients: ATL Private Equity, Buberry LA, QTS Global, Unice.
With an unrelenting commitment to excellence, this passionate company offers a broad spectrum of video animation services catering to a wide range of domains, including creative advertising, broadcast television, feature film, journalism, video games, and social media.
Not only that, but they also specialize in delivering live-action shoots, documentary video production, and even still photography, setting them apart from the rest.
17. Luminoustudios
Founded: 2015
No. of Employees: 2-9
Pricing: $10,000+
Notable Clients: Everytable, Joybird, Phototile, Splacer
This team of talented women who specialize in video animation is constantly seeking out captivating stories that evoke inspiration, impart fresh knowledge, or stimulate the mind. With meticulous attention to detail, they oversee every aspect of the production process from inception to the final output.
18. Oddfellows
Founded: 2013
No. of Employees: 10-50
Pricing: N/A
Notable Clients: Faire, Lunacrush, Tableland, Winer After Coffee
The creative minds at Oddfellows are drawn to unique and unconventional projects, recognizing that a platform for originality is key to breathing life into businesses in extraordinary ways.
Without a distinctive signature style, they skillfully tailor their work to align with each client's distinct vision and aesthetic, resulting in personalized and bespoke productions.
19. mhf creative
Founded: 2013
No. of Employees: 2-9
Pricing: $10,000+
Notable Clients: Egencia, Expedia, Hyve Group, Nubreed Events.
This boutique agency strives to establish genuine connections between brands and their potential customers through visually striking video content.
Setting themselves apart from conventional approaches, they opt for an unscripted video animation production process, allowing for a more natural and authentic feel to their creations. Their method aims to bring brands closer to their audience by capturing the essence of their unique story.
20. Shoot You
Founded: 2000
No. of Employees: 50 -100+
Pricing: $10,000+
Notable Clients: Aggreko, Amadeus IT, State Street, Willis Towers.
Shoot You is a remarkable video animation service studio, where an impressive crew of award-winning producers, animators, editors, creative directors, and camera/sound operators come together to craft masterpieces.
With their artistic prowess, they weave magic using a multitude of techniques such as 2D, 3D, stop-motion, and hand-drawn animation, breathing life into each project. But wait, there's more!
They're not just limited to animation; they can bring your brand to life with podcasts, live event streaming, user-generated content, and other exciting services, all while dazzling you with their creativity and expertise.
21. Social Driver
Founded: 2011
No. of Employees: 10-49
Pricing: $10,000+
Notable Clients: COPD Foundation, Main Street Alliance, UnidosUS.
This is an extraordinary agency that seamlessly blends brand design and video animation to concoct an irresistible video content strategy.
They are masters of their craft, breathing life into a brand's story with a such spellbinding finesse that the audience cannot help but be awestruck.
With their exceptional ability to convey even the most intricate messages in a visually stimulating manner, they inspire action like no other. Akin to us, they are fueled by an unrelenting passion for excellence, always pushing the boundaries of creativity with each project they undertake.
Behind the Scenes: A Look at Our Animation Services
Are you looking for a video production company that doesn't take itself too seriously? Look no further than us!
We know you're unique, just like everyone else, and that's why we're all about tailoring our services to fit your individual needs. No cookie-cutter solutions here!
We'll dig deep into the essence of your company to find out what makes you tick and figure out the best way to help you achieve your goals.
We're all about the details, too. We'll keep a watchful eye on your brand's identity and voice, ensuring that everything we create is a perfect reflection of who you are.
And don't worry, we're not the kind of people who nod along and say "yes" to everything. We want to hear your feedback and collaborate with you every step of the way to ensure that you're 100% happy with the result.
If you're curious about how we work our magic, we've even made a fancy video to explain it all! But if you're just looking for a good laugh, give us a call anyway. We're always happy to chat and see if we can inject a bit of humor into your next project. Trust us, your viewers will thank you for it!
Tried and Tested Video Animation Practices for Businesses
Are you ready to create an animated masterpiece that your audience will love? Then listen up, because we're about to spill the secrets to success!
First things first, you need to define your target audience. Who are they? What makes them tick? By understanding their interests and pain points, you can create a video that speaks directly to them and shows them why your product is the perfect fit.
But don't get carried away! Remember to keep it short and sweet. A video that's longer than 2 minutes risks losing your audience before you even get to the good stuff. So, stay focused on your core message and don't stray too far off course.
And while you may be tempted to go all out with your video animation, less is often more. Too many visuals can clutter your video and distract your viewers from the message you're trying to convey. So, keep it simple and let your core message shine through.
Now, armed with these essential tips, you're ready to create an animated masterpiece that will captivate your audience from start to finish. So, go forth and create!
Closing the Loop
In a world where catching the attention of your audience is more challenging than ever, a high-quality animated video can be the game-changer you're looking for. But where do you start? How do you find the right video animation service company to bring your vision to life?
Don't fret, my friend, because we've got your back. We've scoured the internet, talked to the experts, and compiled a list of the top of the cream companies that will make your search a breeze.
These companies are equipped with the talent, experience, and creativity to turn your imagination into a stunning marketing video that will leave a lasting impression.
So, whether you're looking for a quirky animation that will make your audience chuckle or a sleek, professional video that exudes confidence, these companies have got you covered.
With their help, you can take your marketing game to the next level and stand out in a sea of competition.
So, what are you waiting for? Don't settle for mediocre animations that leave your audience yawning. Choose one of these ten incredible companies, and let them work their magic on your next project.
Best of luck in your search, and here's to creating something truly remarkable!
Related Articles: