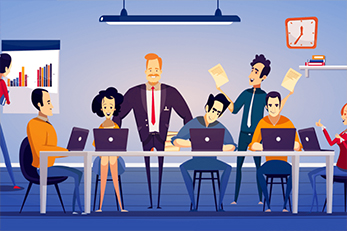 10 Effective Types Of Explainer Videos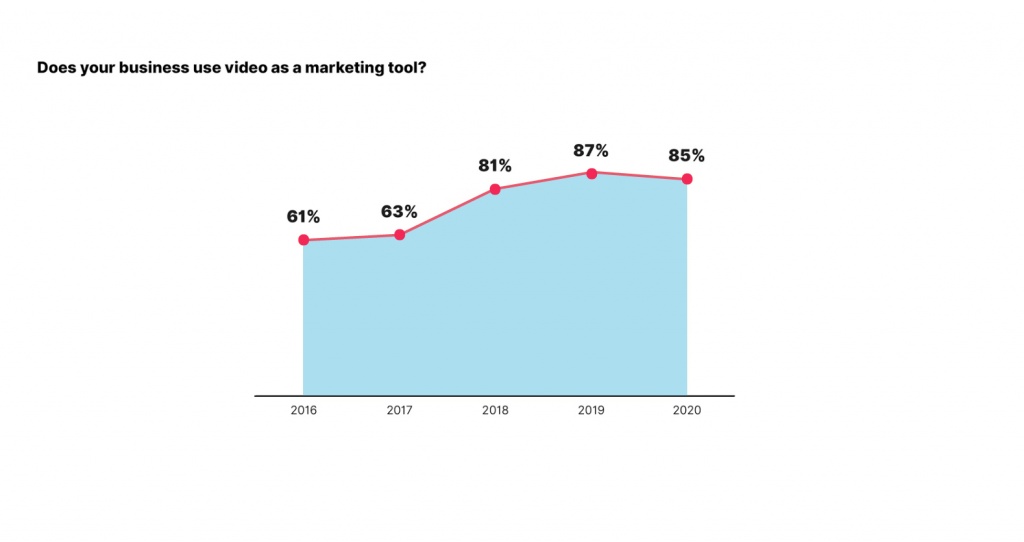 Know that it is essential to get your video produced in the right style. However, still choosing a specific explainer video style is important?
There are plenty of video styles out there, and some are quite famous.
Therefore, I would recommend that you opt for comprehensive research to streamline the right style that may work effectively for your brand and marketing campaign.
Considering the fact that not all of the video styles can work wonders for your brand, the necessity of exploring different styles of explainer videos becomes imperative.
Let's explore as we present the most significant types of explainer videos, and find out how to best use them.
Things To Keep In Mind When Making Amazing Explainer Videos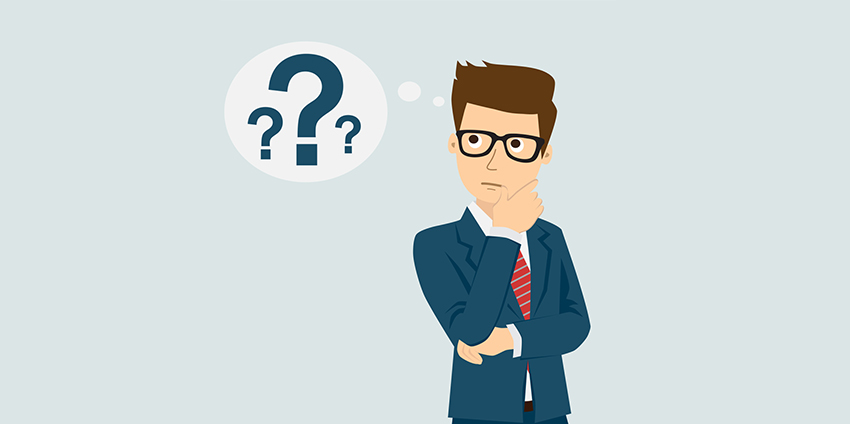 According to a study by Cisco, by 2020, there will be around 1 million minutes of video crossing the internet every second. This means that choosing the correct video style isn't enough to make a great explainer video that appeals to your audience.
There are several important aspects of video animation that you and your video animator should address in one way or another.
Video quality – Making the best first impression with a high-quality video should be one of your main goals. People connect the reliability of your brand with the quality of content you produce.
Target Audience – Generic videos are as quickly forgotten, as they don't generate any major interest most of the time. Making explainers with an active target market in mind is 'Marketing 101' and a great way to be impactful.
Messaging – A marketing video loses its primary purpose and can't live up to your organization's expectations, if it lacks a clear message or if it isn't able to deliver it effectively.
Feel The Rhythm – You want to take your viewers through a journey, which means the pace of the video is very important for the experience it delivers. Timing the action and unfolding of the story are areas to focus on.
Branding – Hustle to build a successful brand, not a product. Color selection, jingles, and characterization are some of the ways to make your marketing videos create powerful brand associations.
Top 10 Types Of Explainer Videos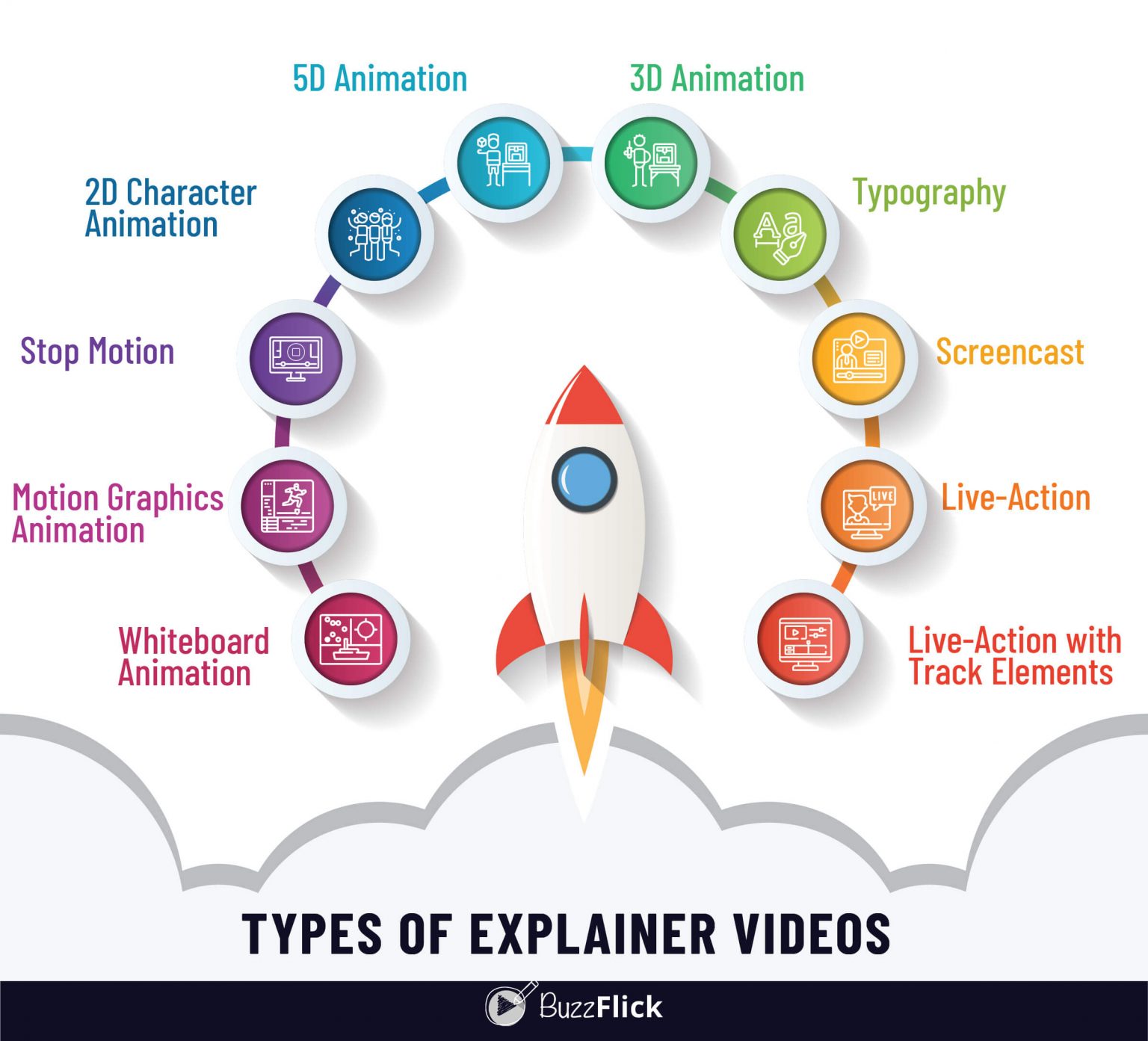 Now that you know how videos are an effective tool for a marketing campaign let's get to the good stuff and talk about ten types of explainer videos that you can opt for to suit a diverse set o marketing and branding needs.
Whiteboard Animation
Motion Graphics Animation
Stop Motion
2D Character Animation
5D Animation
3D Animation
Typography
Screencast
Live-Action
Live-Action with Track Elements
All of these styles of animation and videos are widely used irrespective of the size of the organization, industry, and location. Let's see what each one of them exactly constitutes.
#1) Whiteboard Animation Video
Whiteboard style videos provide a great way to dive deeper into a product, service, or process. It involves imitating black-line graphics over a white background, walking the viewers through the entire concept or ideas. It is also one of the most preferred animation styles used by B2C and B2B businesses.
With a streamlined style, whiteboard animation video allows a more straightforward message delivery. It also does a great job of keeping the viewers engaged with the help of dynamic graphics and animations.
#2) Motion Graphics Animation Videos
Motion graphics animation videos are again known for being engaging and straightforward. It is the best animation style for companies that want to showcase a complex range of products or services.
This video style works amazingly well to present a large amount of information effectively and in a visually appealing manner. Your video animators smartly use graphics to deliver the message without distracting the viewers from the intended marketing objective behind the video. The captivating, colorful, and dynamic motion graphic videos get viewers hooked from the first screen.
Related Article: The Top-Rated Motion Graphics Studios & Companies
Related Article: 18 Motion Graphics Animation Trends In 2021
#) Stop Motion
This video style uses the technique of photographing an object or character as it moves in small amounts, creating the illusion of motion when putting together. Stop motion is most commonly used in animated films.
The major problem of using the stop motion animation style is the cost and the lack of flexibility for making changes in the middle of the production process. Even if you use stop motion within the 3D animation space, the cost and adaptability will still be issued to handle.
Useful Resource: 10 BEST STOP MOTION ANIMATION SOFTWARE FOR WINDOWS & MAC
#) 2D Character Animation Videos
2D animation is presently one of the most popular and globally used animation styles. And rightfully so!
It involves creating the characters and scenes in a two-dimensional environment and with the help of professional video animators, you can add the illusion of depth. Being highly versatile, 2D animation gives you a lot of creative space to include the next level of customization. And when done right, you can create an emotion-evoking video with high relatability and appeal for the intended audiences.
#) 2.5D Animation Video
This type of video animation simulates a 3D environment. It involves layering the objects to develop a more fluid and sophisticated video. Even though elements are designed in 2D, it creates the illusion of watching cutouts in a 3D-like space.
It brings together all the perks of a motion graphics animation with a different visual style, which makes it unique, engaging, and professional video content. It does this without the extra effort and expense that comes with 3D animation.
Related Article: Everything You Must Know About 2.5D Animation
#6) 3D Animation Video
3D animation has created an exclusive space for itself due to its high-end and high-quality finish. The distinctive aesthetics of 3D animation make it easier for audiences to engage with what is being shown in the video with a narrative emphasis on the action.
However, as 3D animation is relatively more expensive and requires more effort to achieve desired results, it is not commonly used for commercial purposes. If you ate under a tight budget or deadline, 3D animation wouldn't be the best choice for you, as it requires longer production time, and making changes or adjustments will be another hassle.
Useful resource:  10 Best 3D Animation Software (Paid & Free)
#7) Typography Videos
As the name suggests, typography is based on the animation of typographic content to express the concept. It may seem simple but, it is a tool that's mostly used and can fit smoothly for particular types of projects.
With clever use of fonts and animation, typography animation can make a video, as it effectively underlines and memorably reinforces the message.
#8) Screencast Videos
Screencast videos are digital recordings of the screen footage that's backed with narration. Yes, it really is as simple as it sounds. It can work correctly as explainer videos for specific digital products.
In the technology world, it is a commonly used tool for startups. It is an excellent option to communicate the process or record a tutorial video.
#9) Live-Action
You can also use live-action footage as a video, where everything is recorded using real people and cameras. This would be a good idea if you particularly want to include some specific individuals from the company in the video.
This video style is commonly used for testimonials, When a company wants to show the human side of the individual in the video has a strong following or network to engage.
Related Article: Live-Action Vs. Animation Videos
#10) Live-Action With Track Element
This style of video combines live video footage with 3D elements that are integrated into the video. The overall idea is to bring the world of graphics and people together with additional expressions of visual display and rhythm building a more enjoyable experience for the viewers.
As we talked about earlier, having live footage in the entire video can give the video a human touch and strengthen the message while at it.
Wrapping Up
The above-mentioned types of explainer videos are highly customizable and now you are even open to the possibility of juxtaposing two different animation styles to create a unique animation video of your own. However, do keep in mind the fact that your video will only produce the desired results if you assign it to a reputable video animation company that has wide-ranging experience of working with top clients across the globe.
Further Read:
Recent Blogs