Explainer videos are 90-120 second long marketing videos used to explain a company's services or products to its target audience.
Videos are human-friendly, interactive, and incredibly engaging. according to Conversion XL, if your website includes a video(s), your organic search traffic is more likely to increase by 157%
For businesses, explainer video production opens new doors toward providing value-driven information to the target audience. Today, you can leverage infotainment instead of the old-school style of providing boring news, and that's the key to successful marketing in 2022.
So let's get started. We'll be covering the following key takeaways in the article:
What is an Explainer Video?
Explainer videos are 90-120 second long marketing videos used to explain a company's services or products to its target audience.
Professional animated explainer videos are used on landing pages, websites (home and service pages), product pages, and social media marketing.
Types of Explainer Videos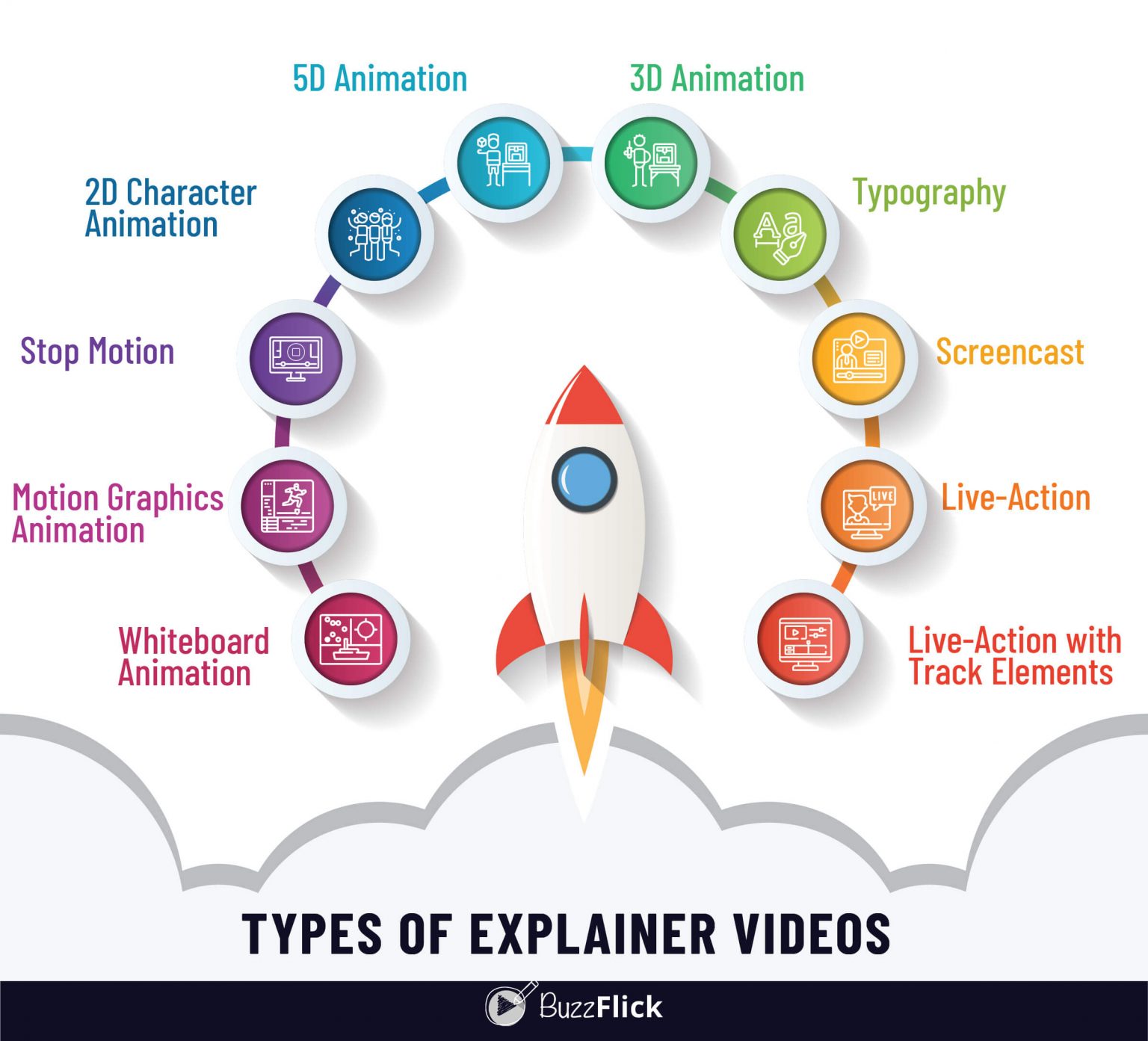 Explainer videos are an incredible tool for business success and an asset in a marketer's toolkit.
But Explainer videos aren't homogenous, and in fact, depending on your brand and target audience, certain animated explainer video types might suit your business better than others.
That is why it is important to know the different types of explainer videos and understand which your brand should leverage.
The popular types are:
Animated Explainer Videos
2D Animated Explainer Videos
5D Animated Explainer Videos
3D Animated Explainer Videos
Motion Graphics Explainer Videos
Whiteboard Animation Explainer Videos
Live-Action Explainer Videos
Screencast Explainer Videos
Stop Motion Explainer Videos
Typography Explainer Videos
Let's analyze these types and their best use cases based on top industry practices.
1. Animated Explainer Videos
Explainer videos, especially animated ones, are quite popular. Animation is a great way to describe services or things that aren't physical, like software. Live-action video is difficult with some services and applications because they lack physical capabilities.
Animated explainer videos are also more readily changed than live-action videos, allowing for greater innovation in the premise of the video.
As a result, a product or service may be easily adapted to suit expected changes in the future.
2. 2D Animated Explainer Videos
2D animation is sometimes referred to as "conventional" animation since it requires producing two-dimensional characters, storyboards, and backgrounds.
Compared to 3D animation, 2D animation is generally a more cost-effective solution. There are exceptions to this rule, however, where 3D animation is required to provide more information.
Make sure you're employing animation in a planned manner at all times. The use of animation can actually hurt some subjects, especially those that require a human touch.
2D animated explainer video example: We Feel
In order to help bereaved families better understand their children's feelings and the circumstances that contribute to their children falling behind in social situations, We Feel is a non-profit organization. As part of their attempts to support parents, they developed an app.
They wanted an emotional yet informative animated explainer video to explain how their app works and how it benefits a special group of children.
Our animation artists saw this golden opportunity. They used the 2D animation style and created characters from scratch to bring their story to life.
3. 2.5D Animated Explainer Videos
This type of video animation simulates a 3D environment. It involves layering the objects to develop a more fluid and sophisticated video.
Even though elements are designed in 2D, it creates the illusion of watching cutouts in a 3D-like space.
It brings together all the perks of a motion graphics animation with a different visual style, which makes it unique, engaging, and professional video content. It does this without the extra effort and expense that comes with 3D animation.
2.5 animated explainer video example: Authlink
Authlink is a one-stop solution for digitized product management. They use the 2.5D animation style to explain their services to their customers. Take a look at their explainer video:
4. 3D Animated Explainer Videos
3D animation is the process of animating things that appear in three dimensions. These three-dimensional objects may be rotated and manipulated much like physical items.
This is a very effective way to demonstrate goods that are still in development or are difficult to capture in real action.
3D animation has created an exclusive space for itself due to its high-end and high-quality finish. The distinctive aesthetics of 3D animation make it easier for audiences to engage with what is being shown in the video with a narrative emphasis on the action.
However, as 3D animation is relatively more expensive and requires more effort to achieve desired results, it is not commonly used for commercial purposes.
If you are under a tight budget or deadline, 3D animation wouldn't be the best choice for you, as it requires longer production time, and making changes or adjustments will be another hassle.
3D animated explainer video example: Innovative Battery Technology
e-Zinc is a Toronto-based company that has pioneered an electrochemical method for storing energy in zinc metal. To explain its complex product and its stellar features, it created a 3D animated explainer video.
5. Motion Graphics Explainer Videos
With animation, visual effects, and other cinematic approaches, motion graphics explainer videos bring static images to life. They are not always narrative or character-driven and may include the animation of abstract forms, logos, or text.
It is the best animation style for companies that want to showcase a complex range of products or services.
This video style works amazingly well to present a large amount of information effectively and in a visually appealing manner. Your video animators smartly use graphics to deliver the message without distracting the viewers from the intended marketing objective behind the video.
The captivating, colorful, and dynamic motion graphic videos get viewers hooked from the first screen.
Motion Graphics explainer video example: The Buy Box
The Buy Box is a community committed to helping you build and support your business at every level. They contacted us for an animated explainer video to explain their service. We created a short, creative motion graphics explainer video for their brand.
Relevant Resource:
6. Whiteboard Animation Explainer Videos
Whiteboard animation is a type of animated video in which a tale is illustrated on a whiteboard, often using hand-drawn artwork.
This form of the video lends itself to techniques that result in inexpensive whiteboard videos, such as handmade videos or videos produced by a corporation that employs automation.
This increase in low-quality whiteboard explanation videos risks giving whiteboard explainer videos a negative reputation as a whole.
A whiteboard animation video might surely be a realistic alternative for businesses with a strong screenplay and high-quality character animation. This is especially true when operating on a shoestring budget.
Proceed with caution and consider the actual cost of a badly produced whiteboard animation video before selecting the lowest bidder. To prevent a dull, forgettable marketing experience using whiteboard videos, it's vital to think outside the box and go beyond the ordinary.
Whiteboard animation video example: Wood Wheaton
Wood Wheaton is a full-service automotive dealer serving Northern BC's drivers since 1992. They help customers to sell their vehicles in an easy, systematic, and hassle-free way.
They contacted us for an explainer video that can explain their whole vehicle selling service in an engaging and informative way. We suggested they should go with a whiteboard animated explainer video since their service was too simple and grey.
Our animation artists put their magic spells and created a compelling whiteboard animated video.
7. Live-Action Explainer Videos
As with animated explainer videos, live-action explainer videos accomplish the same purpose of describing your product or service; they simply use actual people to do it.
Using flesh and blood persons in an explainer video is an excellent option if you're looking to connect emotionally with the audience. This is frequently the best option for products and services that are geared toward individuals.
Live-action explainer video example: Key Ring
Key Ring has evolved from a simple mobile wallet for loyalty cards to a comprehensive shopping solution that connects users to special discounts from their favourite shops and consumer packaged goods manufacturers.
We created a live-action explainer video for Key Ring explaining how their customers can keep all their coupons, vouchers, and discount cards saved in the app.
8. Screencast explainer video
Explainer videos using screencasts combine footage from a computer screen while a website, program, or application is being used. The primary objective is to demonstrate how the application works.
They are extremely successful in demonstrating how to utilize new programs or features without requiring consumers to read several pages of text.
While screencast videos are frequently less expensive to make than animated or live-action videos, this does not mean they should be of worse quality.
Anyone with a computer and the ability to publish to YouTube may create a simple low-resolution screencast video.
This underscores the critical nature of investing in quality when making a film that serves as a representation of your company.
Screencast explainer video example: My Kodak Moments App
By blending graceful animation with outstanding screencast photography, this screencast inspired web video commercial for the My Kodak Moments app elevates itself above a simple screencast video.
9. Stop Motion Explainer Video
This video style uses the technique of photographing an object or character as it moves in small amounts, creating the illusion of motion when put together. Stop motion is most commonly used in animated films.
The major problem of using the stop motion animation style is the cost and the lack of flexibility for making changes in the middle of the production process. Even if you use stop motion within the 3D animation space, the cost and adaptability will still be issued to handle.
Stop motion explainer video example: Tokri
Tokri tells the story of a young girl who was on her way to making amends when she got into an accident on the streets of Mumbai. A tender and heartwarming tale of fatherhood and daughterhood told in a stunning stop-motion video.
Recommended Reading:
10. Typography Explainer Video
As the name suggests, typography is based on the animation of typographic content to express the concept. It may seem simple, but it is a tool that's mostly used and can fit smoothly for particular types of projects.
With clever use of fonts and animation, typography animation can make a video, as it effectively underlines and memorably reinforces the message.
Typography explainer video example: NCLA
NCLA is a human rights and freedom advocacy group. Governments all over the world mandated vaccination following the release of the COVID-19 vaccine.
A typographic video produced by team BuzzFlick for the NLCA challenges the government over this decision.
5 Great Examples of an Explainer Video
All of the best explainer videos ever produced have one thing in common; they are all memorable. Lastly, let's take a look at our picks for the best explainer videos in 2022 that you can take inspiration from for your project.
1. Asana
A visually appealing animation that focuses on exhibiting the value of a product in the life of an employee and a business through striking animation, clear scripting, and immersive visual experience.
2. Slack
Slack makes its message clear, it is a consumer first. "Slack is simpler" is what drives their message and remains the common thread throughout the script and the message is portrayed through an incredibly appealing visual experience. Now that's how you establish conflict and present a resolution.
3. Twitter: Flight School
Concise, to the point, and targeted. That's what the Flight School explainer video is all about. It drives home the message and establishes a Unique Selling Point, to make it stand out from its competitors and showcase the unique value it brings to the lives of its users
4. Practicus
The explainer video from Practicus symbolizes the power of storyboarding and conceptualization mixed with scripting to provide a powerful message using simple design tools.
It's creative, it's effective, and it's engaging, and that's the key to a successful video.
5. Dubai Association Centre
No explainer video quite establishes the persona of a business like DAC's. It's where branding and storyboarding come to life with a shiny outlook that symbolizes class and sleekness, making sure that the visuals support their crisp script that establishes their value proposition in style.
How To Make An Explainer Video in 3 Steps
If you're looking to boost your marketing strategy by making your own DIY explainer video for your business, then you have to know how to make one by yourself.
Animation is a tough job; it requires creative thinking and a lot of work on the technical end. From scripting to working on music and sound effects, it usually takes a team of experts to create a high-end explainer video.
If you're just starting out, perhaps you can use free explainer video makers such as PowToon, but if you're interested in creating high-quality videos, then you can look towards hiring a professional explainer video company.
Nevertheless, here are 3 steps that you can follow to make your own explainer video!
#1) Scripting
A script is the soul of an animated explainer video. It's what connects with your audience; it's what reels them in, and what convinces them that your product or service has value in their life.
You can get the best voice-over, the most dazzling of graphics, and the best quality animation – but if your script doesn't have the impact and the ability to touch hearts, those fancies won't be effective.
The script of an explainer video should effectively highlight the pain points of your target audience, their struggle, the kind of solution they're looking for, and how your products fit that need perfectly.
Obviously, to get that down, you need a lot of research, so I hope you've done that already. If not, you can start right now. The script establishes the pain points (a conflict) and presents your product/service as a solution(resolution) in a way that shows value.
If you start thinking about your script like a conflict/resolution case, you're already halfway there to writing an impactful script.
Here are the 5 most important factors for writing an explainer video script:
Centralize your audience and establish the problem they face that your product solves.
Introduce your product and provide an overview of what it does.
Discuss what makes your product unique from any other in the market and the value it brings to the lives of your customers.
Share a success story, award, or positive client experience to drive home your point with a real-life example.
Add a CTA(Call To Action) to guide your customers into taking action ( that's your ultimate goal). Make sure your audience knows what to do to get your product if they like it.
#2) Storyboarding
Storyboarding is an essential part of the pre-animation process and lays down the groundwork for the flow of the animation, the use of all the visual elements, and provides a pathway upon which an explainer video is made. In essence, it is the framework that will guide your animation process.
#3) Voiceover Recording
Once you have a script and storyboard, you'll need a voice-over. You can do your own voiceovers (if you're a professional or have professional recording and editing equipment), or make use of some of these platforms to hire a professional voice artist.
Voices.com: Voices.com provides you with a large network of professional voice actors to choose from.
Craigslist: We've all used Craigslist to hire professionals with skills we don't have. It's old, tried, and tested that can get the job done for you, including finding voice-over actors.
Fiverr: For as cheap as $5, you can find a professional voiceover artist on Fiverr, although the price is most likely going to be higher. Though, you wouldn't find a more cost-friendly option than the trusted Fiverr.
Explainer Video Production and Animation
Let's take a look at some free explainer video makers and some paid options that you can choose for your explainer video animation and production.
Paid Explainer Video Production
If you've got the budget for it, you can leverage the help of professional explainer video production companies for a show-stopper explainer video. Sure, it could cost you $5,000 – $20,000, but that's the cost for high-end custom production that fits your branding and messaging perfectly, with the help of creative geniuses working at these animation studios.
Though if you're looking for a more pocket-friendly solution, hiring experienced freelancers can also be a great idea. Though you might not get all the services that an explainer video company might give you, freelancers are also much cheaper and can get the job done.
You can find great freelancers on Craigslist and Fiverr for a fraction of the price that a video production company would charge.
Free option
Free explainer video makers such as PowToon can also be a remarkable option if you have no animation experience but want it to give it a try for yourself.
Though Pow Toon has a paid option, it's a free option great for someone with no animation skills and only requires basic computer operating knowledge, and the rest you can learn using tutorials.
You can use Pow Toon to create online explainer videos for free if that's what you're looking for!
Moreover, if you're an iPhone user, using a DIY Explainer Videomaker such as iMovie or Camtasia can also be a solution well worth the look. The only problem with such a solution is that it's not scalable.
If this is a one-time project, then these free products work, but for a long-term video marketing strategy, perhaps choosing a creative partner or a 2d animation studio might be the best bet.
Music and sound effects
If your explainer video needs music or sound effects, then you should know where to get them from. These platforms allow you to source music files, create your own, or edit sound in post-production.
MusOpen: Offers you a database filled with free music resources such as recordings and music sheets.
Audio Jungle: Provides you with royalty-free audio files, sound effects, loops, and a lot more.
Audacity: Audacity helps you create your own sound effects and edit audio and music in post-production.
If you get all these steps right on your own, well, you can produce some dazzling animated explainer videos that will help your brand stand out from your competitors and boost your business' by many percentages.
Though you should remember, even if you choose to go alone, consulting a professional explainer video animator can always help you do a bit more than ordinary, and making an ordinary explainer video can harm your business.
Advantages of Using An Explainer Video
Throughout the article, we've talked about some crazy advantages of using an explainer video. Here's a shortlist of all the benefits you can get by making explainer videos a part of your marketing strategy.
Improved conversions from your Website
Higher social media engagement
Increase lead generation efficiency for your business
Improve your Search Engine Optimization
It makes you stand out and stick out in the memory of your target audience, unlike your competitors.
Gives your brand the character it needs to drive up sales.
How Much Does It Cost to Make an Explainer Video?
Depending on where you're looking in the market, you will find a wide range of pricing options for explainer video production.
Producing an explainer video involves a high level of creativity and the combined efforts of a highly diverse and skillful team of professionals.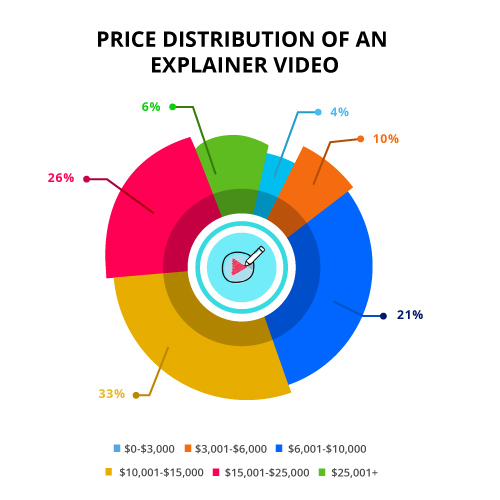 From storyboarding and animation to audio editing, scripting, and voiceover artists – explainer video production requires a wide range of skills.
This is why some explainer video companies charge more than others for their services – they believe their expertise and team are more qualified than their competitors.
The average cost of hiring an explainer video company is $10,000 – $15,000 for a standard 90-second video. Though this price could fluctuate between $5,000-25,000 depending on the explainer video production company you choose, the base cost of the production revolves around this industry average.
This price can go higher or lower, depending on pricing policies with regard to specific companies. Some video production companies charge for each edit run they have to make post-production, while others include that in their initial fee on which we have based the industry average.
These hidden costs are something you should always remember when choosing your creative partner for explainer video production.
Related Article:
Best Practices for Making an Explainer Video
It's crucial to understand that while explainer videos offer a great ROI, satisfying 91% of marketers, not all videos are the same. There are crucial elements to creating an explainer video that contributes to its success.
Let's take a look at some of the best practices for making a successful explainer video:
An explainer video of the length of 60-90 seconds is ideal.
The first 30 seconds of your video should convey your USP and key takeaway. Take a simple and direct approach to your script.
Centralize your audience using 2nd person speech, i.e., "You" and "Your."
Keep your language accessible and simple. It ensures that your brand is easy to understand and engage with.
Keeping a conversational tone is crucial to keep your audience hooked on your story and message.
People like to be entertained more than they like to be informed. Add a touch of humor to your videos to increase engagement, viewership, and social shares.
Ready to Get an Explainer Video for Your Business? – Contact us Today
To put it in simple words, explainer videos facilitate boosting conversion rates because it's easier for people to make a purchase decision when the product or service is accompanied by an explainer video.
However, knowing the types of explainer videos isn't enough to make one. You need to have a certain skill set and tools to make one. If you have neither, don't worry because we have just the right solution for you.
If you're looking for a video animation agency, hire BuzzFlick, one of the best video animation companies offering various video animation and production services.
We have a competent team of animators who are capable of creating different types of explainer videos. Be it explainer medical video production or custom whiteboard video service. We offer it all.
Explainer Videos – FAQs
What are explainer videos?
An explainer video is a type of video that a company uses to introduce itself and its products/services summary yet engaging way.
What are the different types of explainer videos?
The different main types of explainer videos are:
2D animated explainer videos
3D animated explainer videos
Motion Graphics explainer videos
Whiteboard animation explainer videos
Live-Action explainer videos
Screencast explainer videos
What is the cost of an explainer video?
The cost of an explainer video can be somewhere around $4,000 to $25,000. Yet, it depends on a variety of factors, including the animation style, video length, and the company you choose to work with.
Why are explainer videos so commonly used?
Explainer videos are a terrific method to present a subject or concept in a short way. This can be a brief summary of your product, service, or company. Either way, it's a simple point of access for folks who don't otherwise know about your business. (This is why explainer videos are extremely popular among entrepreneurs.)
Related Articles: