Explainer videos are 90-120 second long marketing videos used to explain a company's services or products to its target audience.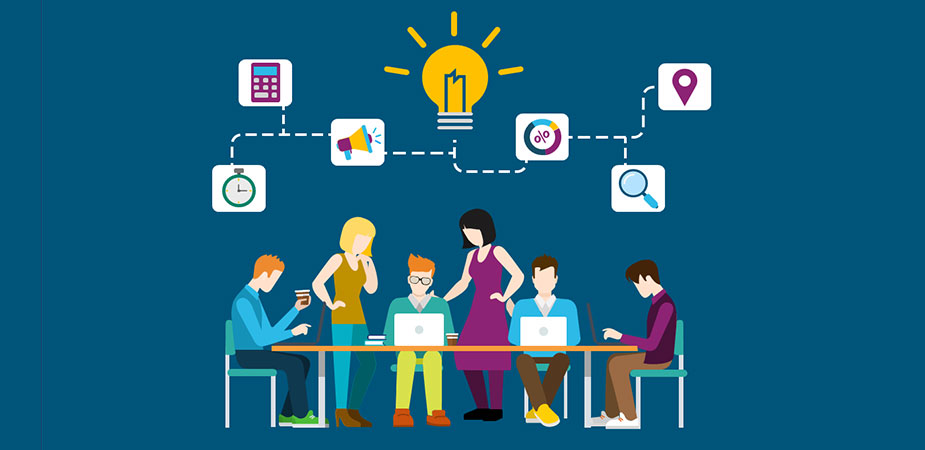 Videos are human-friendly, interactive, and incredibly engaging. according to Conversion XL, if your website includes a video(s), your organic search traffic is more likely to increase by 157%
For businesses, explainer video production opens new doors toward providing value-driven information to the target audience. Today, you can leverage infotainment instead of the old-school style of providing boring news, and that's the key to successful marketing in 2022.
So let's get started. We'll be covering the following key takeaways in the article:
What is an Explainer Video?
Explainer videos are 90-120 second long marketing videos used to explain a company's services or products to its target audience. Professional animated explainer videos are used on landing pages, websites (home and service pages), product pages, and social media marketing.
A video on your landing page can give your conversions an 80% boost. (Unbounce)
Types of Explainer Videos
Explainer videos are an incredible tool for business success and an asset in a marketer's toolkit.
But Explainer videos aren't homogenous, and in fact, depending on your brand and target audience, certain animated explainer video types might suit your business better than others.
That is why it is important to know the different types of explainer videos and understand which your brand should leverage.
The 3 most popular types are:
Animated Explainer Videos
Live-Action Explainer Videos
Let's analyze these types and their best use cases based on top industry practices.
#1) Animated Explainer Videos
Animated Explainer Videos are the most famous and preferred type of 2D animated videos used by businesses across different industries. Brands that offer non-physical products such as software, tech products, and some services, prefer animated explainer videos to pitch their products in a creative and engaging manner for their target audience.
They are a highly dynamic type of 2D animation which makes future edits and changes easy, making them a top choice for businesses.
#2) Live-Action
Live-action explainer videos are used for exactly the same purpose. They are a great tool to explain your businesses' products and services to a potential customer.
The difference in use cases between the two is based on the nature of the product (i.e., physical products vs. digital products) that a company sells or if their services are people-oriented.
Mostly used by car wash companies, law firms, and restaurants – live-action explainer videos use real people to create a real emotional connection and relatability with the audience.
Though most live-action explainer videos are limited to the real world, there's no reason why you can't include track elements to integrate fun animations and 3d interactions into your live-action animation videos.
#3) Whiteboard
Whiteboard explainer videos are a pocket-friendly alternative to animated explainer videos and have risen to popularity amongst startups and small businesses.
A whiteboard animation video includes hand-drawn animations over a whiteboard, giving it the feeling of a classic school class look while ensuring that your audience gets a clear picture of what your product/service is through immaculate story-telling
5 Great Examples of an Explainer Video
All of the best explainer videos ever produced have one thing in common; they are all memorable. Lastly, let's take a look at our picks for the best explainer videos in 2022 that you can take inspiration from for your project.
1. Asana
A visually appealing animation that focuses on exhibiting the value of a product in the life of an employee and a business through striking animation, clear scripting, and immersive visual experience.
2. Slack
Slack makes its message clear, it is a consumer first. "Slack is simpler" is what drives their message and remains the common thread throughout the script and the message is portrayed through an incredibly appealing visual experience. Now that's how you establish conflict and present a resolution.
3. Twitter: Flight School
Concise, to the point, and targeted. That's what the Flight School explainer video is all about. It drives home the message and establishes a Unique Selling Point, to make it stand out from its competitors and showcase the unique value it brings to the lives of its users
4. Practicus
The explainer video from Practicus symbolizes the power of storyboarding and conceptualization mixed with scripting to provide a powerful message using simple design tools. It's creative, it's effective, and it's engaging and that's the key to a successful video.
5. Dubai Association Centre
No explainer video quite establishes the persona of a business like DAC's. It's where branding and storyboarding come to life with a shiny outlook that symbolizes class and sleekness, making sure that the visuals support their crisp script that establishes their value proposition in style.
How To Make An Explainer Video in 3 Steps
If you're looking to boost your marketing strategy by making your own DIY explainer video for your business, then you have to know how to make one by yourself. Animation is a tough job; it requires creative thinking and a lot of work on the technical end. From scripting to working on music and sound effects, it usually takes a team of experts to create a high-end explainer video.
If you're just starting out, perhaps you can use free explainer video makers such as PowToon, but if you're interested in creating high-quality videos, then you can look towards hiring a professional explainer video company.
Nevertheless, here are 3 steps that you can follow to make your own explainer video!
#1) Scripting
A script is the soul of an animated explainer video. It's what connects with your audience; it's what reels them in, and what convinces them that your product or service has value in their life.
You can get the best voice-over, the most dazzling of graphics, and the best quality animation – but if your script doesn't have the impact and the ability to touch hearts, those fancies won't be effective.
The script of an explainer video should effectively highlight the pain points of your target audience, their struggle, the kind of solution they're looking for, and how your products fit that need perfectly.
Obviously, to get that down, you need a lot of research, so I hope you've done that already. If not, you can start right now. The script establishes the pain points (a conflict) and presents your product/service as a solution(resolution) in a way that shows value. If you start thinking about your script like a conflict/resolution case, you're already halfway there to writing an impactful script.
Here are the 5 most important factors for writing an explainer video script:
Centralize your audience and establish the problem they face that your product solves.
Introduce your product and provide an overview of what it does.
Discuss what makes your product unique from any other in the market and the value it brings to the lives of your customers.
Share a success story, award, or positive client experience to drive home your point with a real-life example.
Add a CTA(Call To Action) to guide your customers into taking action ( that's your ultimate goal). Make sure your audience knows what to do to get your product if they like it.
#2) Storyboarding
Storyboarding is an essential part of the pre-animation process and lays down the groundwork for the flow of the animation, the use of all the visual elements, and provides a pathway upon which an explainer video is made. In essence, it is the framework that will guide your animation process.
#3) Voiceover Recording
Once you have a script and storyboard, you'll need a voice-over. You can do your own voiceovers (if you're a professional or have professional recording and editing equipment), or make use of some of these platforms to hire a professional voice artist.
Voices.com: Voices.com provides you with a large network of professional voice actors to choose from.
Craigslist: We've all used Craigslist to hire professionals with skills we don't have. It's old, tried, and tested that can get the job done for you, including finding voice-over actors.
Fiverr: For as cheap as $5, you can find a professional voiceover artist on Fiverr, although the price is most likely going to be higher. Though, you wouldn't find a more cost-friendly option than the trusted Fiverr.
Useful Resources:
Explainer Video Production and Animation
Let's take a look at some free explainer video makers and some paid options that you can choose for your explainer video animation and production.
Paid Explainer Video Production
If you've got the budget for it, you can leverage the help of professional explainer video production companies for a show-stopper explainer video. Sure, it could cost you $5,000 – $20,000, but that's the cost for high-end custom production that fits your branding and messaging perfectly, with the help of creative geniuses working at these animation studios.
Though if you're looking for a more pocket-friendly solution, hiring experienced freelancers can also be a great idea. Though you might not get all the services that an explainer video company might give you, freelancers are also much cheaper and can get the job done. You can find great freelancers on Craigslist and Fiverr for a fraction of the price that a video production company would charge.
Free option
Free explainer video makers such as PowToon can also be a remarkable option if you have no animation experience but want it to give it a try for yourself. Though Pow Toon has a paid option, it's a free option great for someone with no animation skills and only requires basic computer operating knowledge, and the rest you can learn using tutorials.
You can use Pow Toon to create online explainer videos for free if that's what you're looking for!
Moreover, if you're an iPhone user, using a DIY Explainer Videomaker such as iMovie or Camtasia can also be a solution well worth the look. The only problem with such a solution is that it's not scalable. If this is a one-time project, then these free products work, but for a long-term video marketing strategy, perhaps choosing a creative partner or a 2d animation studio might be the best bet.
Music and sound effects
If your explainer video needs music or sound effects, then you should know where to get them from. These platforms allow you to source music files, create your own, or edit sound in post-production.
MusOpen: Offers you a database filled with free music resources such as recordings and music sheets.
Audio Jungle: Provides you with royalty-free audio files, sound effects, loops, and a lot more.
Audacity: Audacity helps you create your own sound effects and edit audio and music in post-production.
If you get all these steps right on your own, well, you can produce some dazzling animated explainer videos that will help your brand stand out from your competitors and boost your business' by many percentages.
Though you should remember, even if you choose to go alone, consulting a professional explainer video animator can always help you do a bit more than ordinary, and making an ordinary explainer video can harm your business.
Advantages of Using An Explainer Video
Throughout the article, we've talked about some crazy advantages of using an explainer video. Here's a shortlist of all the benefits you can get by making explainer videos a part of your marketing strategy.
Improved conversions from your Website
Higher social media engagement
Increase lead generation efficiency for your business
Improve your Search Engine Optimization
It makes you stand out and stick out in the memory of your target audience, unlike your competitors.
Gives your brand the character it needs to drive up sales.
How Much Does It Cost to Make an Explainer Video?
Depending on where you're looking in the market, you will find a wide range of pricing options for explainer video production. Producing an explainer video involves a high level of creativity and the combined efforts of a highly diverse and skillful team of professionals.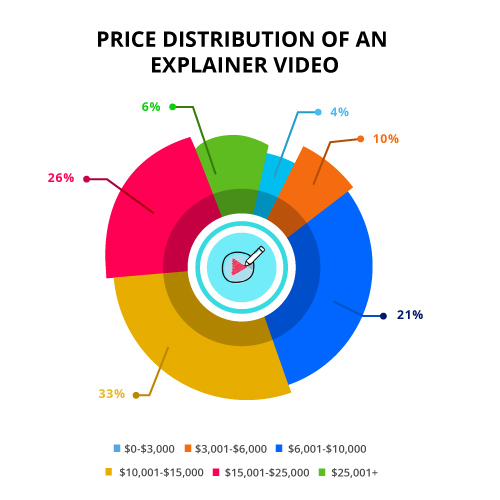 From storyboarding and animation to audio editing, scripting, and voiceover artists – explainer video production requires a wide range of skills. This is why some explainer video companies charge more than others for their services – they believe their expertise and team are more qualified than their competitors.
The average cost of hiring an explainer video company is $10,000 – $15,000 for a standard 90-second video. Though this price could fluctuate between $5,000-25,000 depending on the explainer video production company you choose, the base cost of the production revolves around this industry average.
This price can go higher or lower, depending on pricing policies with regard to specific companies. Some video production companies charge for each edit run they have to make post-production, while others include that in their initial fee on which we have based the industry average. These hidden costs are something you should always remember when choosing your creative partner for explainer video production.
Related Article:
How Much Does It Cost To Create An Animated Video?
Best Practices for Making an Explainer Video
It's crucial to understand that while explainer videos offer a great ROI, satisfying 91% of marketers, not all videos are the same. There are crucial elements to creating an explainer video that contributes to its success.
Let's take a look at some of the best practices for making a successful explainer video:
An explainer video of the length of 60-90 seconds is ideal.
The first 30 seconds of your video should convey your USP and key takeaway. Take a simple and direct approach to your script.
Centralize your audience using 2nd person speech, i.e., "You" and "Your."
Keep your language accessible and simple. It ensures that your brand is easy to understand and engage with.
Keeping a conversational tone is crucial to keep your audience hooked on your story and message.
People like to be entertained more than they like to be informed. Add a touch of humor to your videos to increase engagement, viewership, and social shares.
Related Articles: