Learn when you should use Premiere Pro vs After Effects for your video editing projects to make your video production top-notch.
Adobe After Effects and Premiere Pro are both sophisticated video editing software. Use each program's features to improve your next video production.
Adobe Premiere Pro and After Effects are two video editing programs that can be used to combine video clips into a movie. Nevertheless, despite considerable feature overlap, the two applications are geared for distinct post-production tasks. Each software has its own advantages, but the combination of the two is the most powerful.
Today in this blog, we'll talk about the main difference between Premiere Pro and After Effects, their usage, and which is the more suitable one for beginners.
So, without wasting any more time, let's begin.
The Main Difference Between Premiere Pro and After Effects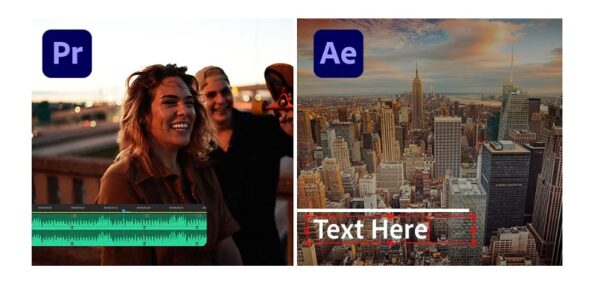 This is one of the most common questions we get to hear every day from new video creators. To put it in simple words, Premiere Pro and After Effects are just like MS Word and MS Excel, created by the same company but for different purposes. However, they can be used simultaneously if you want.
Here is a list of some main differences between Adobe Premiere Pro and After Effects:
Adobe Premiere Pro
Premiere Pro is an application for video editing. Its primary function is to combine video segments. Premiere Pro is the tool to use for editing interviews with bRoll, narrative videos, music videos, and any other sort of video.
Other features of Premiere Pro include inserting text and transitions, manipulating audio, and adding effects.
Premiere Pro's timeline is superior to After Effects' timeline for combining video and audio. It is much simpler to trim clips and move them about your timeline than it is with the After Effects timeline (for video editing purposes).
Adobe After Effects
After Effects is the software used for motion graphics, visual effects, and compositing, it is a useful program for creating titles, shapes, 2D animations, and special effects. However, you can generate motion in text, graphics, and any other layer with Adobe Premiere Pro, and After Effects makes it much simpler.
When Should You Use Premiere Pro
After primary photography is complete, post-production starts. Examine all the captured footage and start arranging it into a video.
Premiere Pro is created for the post-production process of video editors. It provides content producers and filmmakers with a suite of advanced editing tools for organizing and manipulating video files, as well as enhancing and refining audio and image quality.
Timeline Editing
Premiere Pro is designed around the timeline, where you can chop video files and drag and drop them into the appropriate order. While Premiere Pro is used by expert YouTubers and Hollywood filmmakers to edit top-performing social media content and blockbuster films, the software is pretty simple and easy to learn and use for beginners as well.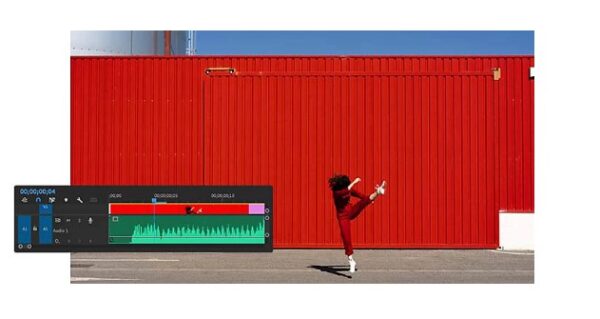 Audio Editing
Premiere Pro can be used to edit or synchronize audio captured on set, increase or decrease sound levels, and add music and sound effects to a video.
Color Correction
While After Effects can be used for color correction, Premiere Pro is typically a preferable option due to its user-friendly color grading, correction, and rendering capabilities, such as scopes and lookup tables (LUTs).
Recommended Readings:
When Should You Use Adobe After Effects
After Effects is the industry standard for adding amazing motion graphics and visual effects to your videos, whereas Premiere Pro is designed for editing, organizing, and improving footage you have previously recorded. With a little time and a few useful tutorials, there is no limit to what can be created with After Effects.
Animation
After Effects is recognized for its motion graphics tools, which designers and animators use to create vector and raster-based 2D and 3D animations, additionally, you can add images and other tangible assets into your animations to make a variety of titles and motion graphics.
Visual Effects
Use After Effects to add a broad range of visual effects (or VFX) to your videos by combining numerous photos to create a unique shot or by utilizing the capabilities of rotoscoping to isolate people or objects in a video and incorporating distinctive touches such as a 3D motion graphic into a scene.
Whether you want to add an explosion to a fight scene, add post-production lighting effects, or create an animation and video motion collage, After Effects is the software you need to make the improbable happen on screen.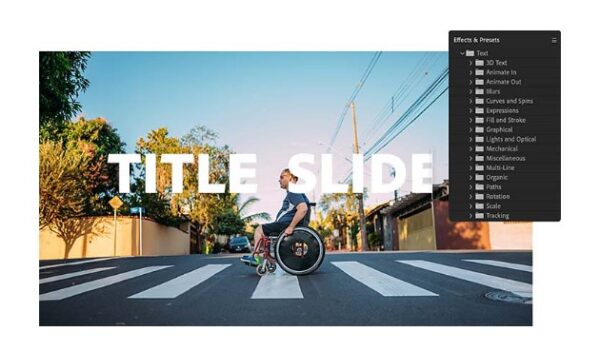 Motion Titles and Text
While Premiere Pro includes a few options for adding text to a movie, After Effects' motion titles and moving text capabilities allow you to build dynamic text layers for creating eye-catching opening credits sequences, lower third graphics, 3D motion text, and kinetic typography videos.
Using Adobe Premiere and After Effects Together
Premiere Pro and After Effects both have their own advantages, but their ability to combine with one another is their greatest asset. Create visual effects compositions in After Effects and import them into your Premiere Pro timeline using the Project panel.
Alternatively, you can utilize Dynamic Link to transport a scene directly from Premiere Pro to After Effects, where you can apply effects that will be instantly updated in your Premiere Pro project.
Premiere Pro and After Effects are much more potent when combined with other Adobe applications. Importing any picture or logo developed in Photoshop or Illustrator into a Premiere Pro or After Effects production, for example, is possible with seamless integration features.
Or, if you need to make exact modifications to your audio, you can choose a clip and upload it to Adobe Audition to use that program's specific sound editing features.
Things After Effects Can Do Better Than Premiere Pro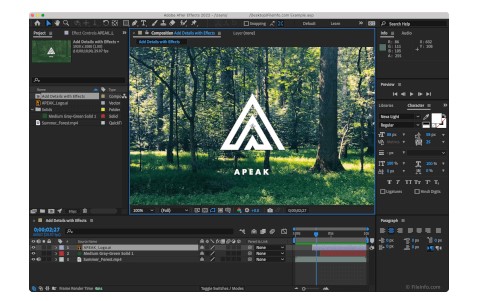 Adobe After Effects is one of the greatest animation applications available. Animators and rotoscopists using After Effects can create true cartoons with the program, although Premiere Pro cannot.
Consider that you wish to add visual effects such as outlines, explosions, movement tracking, or anything similar. After Effects is the undisputed victor. Because it was created with this type of work in mind, the impossible is feasible!
After Effects and Premiere Pro are both capable of video masking. However, After Effects enables greater accuracy, control, and tools for frame-by-frame editing, resulting in a far smoother appearance.
Color correction is available in both Premiere Pro and After Effects. After Effects has always included this feature, although Premiere Pro introduced color-correcting much later. As a result of its association with After Effects, it is typically superior, but the margin is shrinking.
Text animation in Premiere Pro is fairly rudimentary; however, After Effects is quite robust. Adobe After Effects provides you the ability to manipulate and animate each and every text element.
Things Premiere Pro Can Do Better Than After Effects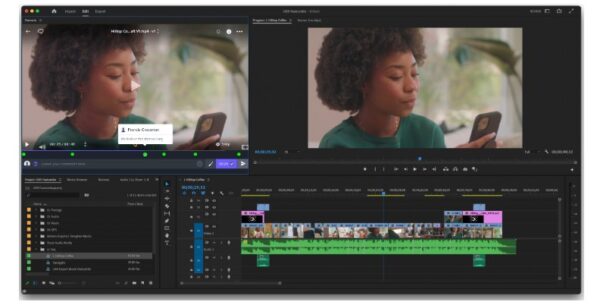 Premiere Pro is superior to After Effects for video editing. The whole training is geared toward video editing. If you are familiar with Adobe After Effects, you will immediately grasp Premiere Pro. This alone is sufficient justification for learning how to utilize it.
After Effects is far more difficult to learn than Adobe Premiere Pro, it features a straightforward and simple interface, making it excellent for novices. Even though industry pros use the application, Premiere Pro's drag-and-drop video timeline remains a favorite feature. Occasionally, less is more!
After Effects requires more time to produce a video than Premiere Pro because it does not need to compute heavy frame-by-frame effects, it will accelerate your video creation procedure.
There are built-in transitions, effects, and color grading options in Premiere. However, if you lack experience with color grading or scene transitions, the default choices included with Premiere Pro are ideal for novices.
Adobe has a standalone audio editing application called Audition, although audio editing within Premiere Pro remains advanced and powerful. You can separately adjust the volume on each channel, add effects, and much more; even After Effects cannot compete here.
Adobe Premiere Pro vs. After Effects – The Better Software for Beginners
Adobe Premiere Pro should be your choice if you're just starting out in video creation. Premiere Pro is a professional application that is straightforward for beginners to use on their own; you can make errors, discover shortcuts, and gain confidence at your own speed.
There are several courses and support groups available online that can assist you in resolving any issues you experience. In addition, it provides a plethora of tools for swiftly improving the quality of your videos.
Need Help with Video Editing? – Consult BuzzFlick
Of course, we know if you're reading this blog, then you must be a beginner who is trying to figure out the main difference between Adobe Premiere Pro and After Effects and which one is more suitable for you to use.
Well, this blog must have helped you to identify the main differences between the two software. However, if you need any help with your video editing project, you can always hire pros like us. As one of the popular video editing studios, we are offering par excellent video editing services.
Apart from video editing services, we offer a handful of other services such as 2D and 3D animation services, motion graphic services, cel-animation services, and stop-motion services, to name a few.
Also, we are not just a video editing company. We are a full-fledged video animation agency. We create different animated videos which are highly engaging and vibrant. If you want to witness our work, then take a look at our portfolio.
Or, if you want to know how much we charge for video animation, then check out our video animation cost guide or simply get in touch with our animation experts.
In a Nutshell
To put it in simple words, in this battle of Adobe Premier Pro vs. After Effects, no one really wins because both are different software created to serve different purposes. You can use them separately or even together. This totally depends upon you.
Both software brings their own benefits to the table. However, the biggest advantage of using the two is they can seamlessly integrate with each other.
That was all for this blog. We hope this will be of great help to you.
Adobe Premiere Pro vs. After Effects – FAQs
Is After Effects good for video editing?
Adobe After Effects is a proficient video editing software that offers different video editing features to make your video stand out.
Is After Effects better than Premiere Pro?
Well, no, Adobe After Effects and Premiere Pro are both powerful video editing applications. Each program is designed with functionalities that will take your video production to the next level.