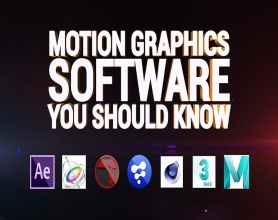 A Complete Guide To The Motion Graphics Software 2021
As the world is revolutionizing and every day a new software is added into the market you might find it difficult to find the right thing for you. Either it is a daily task or any other in fieldwork people are unable to find the correct software for daily purpose
So, here we are providing you a complete guide regarding the best motion graphics software that will help you in starting your career more properly in the field of motion graphics.
Essential Motion Graphics Software
#1) Photoshop

Whenever someone edits any picture so people say that "This Picture is Photoshopped". Adobe Photoshop is considered the first learning step when you are starting to learn motion graphics.
It is said that if you are a Motion Graphic Designer then you should also be having some working knowledge of Photoshop and must be knowing its basic key features as well.
The best part about Photoshop is that it is easy to use if you are a beginner and using it without any assistance.
Once you learn the basics of the design skills designing on photoshop it will now be easy for you to go to the next level and try Design Bootcamp now.
Price
If you are a part of creative cloud then $52.99 per month and a solo account will cost $20.99 per month.
Features
Easily create matte paintings
Texture Editing
Design Boards
Stitch Images Together
Make GIF
Cel Animations Layout
Rotoscope
Much more available
#2) Adobe Illustrator
Adobe Illustrator is much similar to Adobe Photoshop but they both have different functionality.
Talking about Photoshop so, it completely deals with the bitmap i.e., pixel-based editing whereas Illustrator is vector-based editing software.
If you are new to the term vector image so let us, explain to you here that a file can be scaled infinitely without pixelating.
Vector image helps a lot when you are designing a logo or shapes of objects, even if your background is a vector that can be further used in the Motion Graphics workflow.
As photoshop and illustrator are almost so you can also import the files easily into Adobe After Effects for animation.
If you want some of the edits in your logo design and the file is saved in Illustrator then it will be automatically updated in After Effects as well.
Price
If you are a part of creative cloud then $52.99 per month and a solo account will cost $20.99 per month.
Features
Pixel Perfect Designs
Snap to Pixel Capability
Inbuilt Design Templates and Presets
CSS extractor tool
Color Synchronization
Free Transform Option
Image in Brushes
Path Segment Reshaping Options
Perspective Drawing Enhancements
Anchor Point Enhancements Options
Dynamic Symbols
Live Shapes Capability
Shape builder Freeform Mode
Smart Guides
#3) Adobe After Effects
If you are working as a Motion Graphic Artist is necessary that you master the Adobe After Effects software. You can also follow the motion graphic animation trends when you are using Adobe After Effects.
Moreover, Adobe After Effect is a 2.5D animation software that allows you to do any virtual animation you want till it does not consist of any 3D modeling.
As a fact, the After Effect Software is considered as the primary software which is used for making motion graphic videos.
The After Effect software works best when you have designed the storyboard and element on either photoshop or illustrator.
As soon as you are completed editing your project in After Effects, you can easily export the finished video to the other video editing software where the remaining projects can easily be added to it.
Price
If you are a part of creative cloud then $52.99 per month and a solo account will cost $20.99 per month.
Feature
Logo Reveals
Title Animation
3D Compositing
Motion Tracking
Object Removal
Simulation Effects
Template Creation
Slideshow Design
UX/UI Design Mockups
Web Design Mockups
Explainer Videos
Kinetic Typography
VFX
#4) Adobe Premiere Pro
Just like Adobe Illustrator, Adobe Photoshop, and Adobe After Effect you can easily find the Adobe Premiere Pro in the Creative Cloud as well.
Once you are done with the finished video from Adobe After Effects, you can also use software like Final Cut Pro, Sony Vegas, and Avid Media Composer.
Even after the availability of different software Adobe has done great work and introduced Premiere Pro that works together with the After Effect software.
If you are a Motion Graphic Designer or a Video Editor then Adobe Premiere Pro is made for you to make your daily work easy.
Checking the popularity of Premier so it is twice as popular as its competitor that is used by Best Motion Graphics Studios and Companies.
A lot of people search for the best video editing software so, Premiere Pro is the best option for you and you should start learning it today.
Price
If you are a part of creative cloud then $52.99 per month and a solo account will cost $20.99 per month.
Features
Simultaneous Projects
Motion Graphics Templates
Shared Projects
VR Editing
VR Rotate Sphere
VR audio Editing
Effects
Video Titling and Graphics
Transitions
Regional Closed Caption standards
Labels
Lumetri Support
Type Tool
Libraries
Multiple Video Types
Intermediate Motion Graphic software
#1) Cinema 4D
It's time to dive into the realm of 3D once you've got to know the Adobe Creative Cloud. For most Motion Designers, Cinema 4D is the software of choice. It's user-friendly; it's not out of the question that you could sit down right now, follow a lesson, and make anything.
The Cinema 4D is made for Motion Graphics where you can do Modeling, animation, and simulation effects.
While C4D is used by studios all across Hollywood, it's far more typical for industry-level VFX work to be done with tools like Maya.
Cinema 4D also works with several GPU-accelerated render engines, allowing you to create higher-quality 3D models faster on your computer. Octane, a third-party render engine, is the most popular render engine in Cinema 4D.
Price
$59/month
Features
Volume Builder
Fields
Node-based shaders
UV Unwrapping
Improved CAD importer
Alembic Baking
#2) Mocha AE
Mocha AE is also known as the planar-based tracking system. It follows motion beyond a cluster of pixels. This makes Mocha a valuable tool for Motion Artists who want to do screen replacements, object removals, or rotoscoping.
At the start, you may find it difficult to use the Mocha AE but as soon as you are used to its spline-based workflow it will be easy for you to work at any moment.
Because Mocha AE is integrated within After Effects, you can easily switch from After Effects to Mocha to track a shot, then return to After Effects with the tracked camera data. As you begin to work on commercial projects, this motion graphic software will become increasingly valuable.
Price
The license of Mocha Pro will cost you $695 whereas the Mocha AE as being part of Adobe Creative Cloud will cost you $20.99.
Features
Advanced Modules: Lens, Insert, Remove, 3D solve, stabilize
GPU accelerated tracking and object removal
Stereo 360/VR workflows
Export data to industry-standard systems
Cell Animation Tools
#1) Adobe Animate
If you are looking for software that helps you in making 2D animation then Adobe Animate is the right choice for use.
You can easily craft amazing stories by using Adobe Animate as this software is only made for this purpose.
The unique part of Adobe Animate is this once the video is created you can easily publish it to different platforms anytime. Moreover, you don't need to worry about the format or reach of the viewer on any screen.
Price
If you are a part of creative cloud then $52.99 per month and a solo account will cost $20.99 per month.
Features
Adobe Animate Camera
Lip-syncing
Vector Brushes
Design Interactive animations for games, TV shows, and the web
Bring Cartoons and Banner ads to life
Create animated doodles and avatars
Creation of eLearning and infographics made easy
#2) Moho
Previously known as Anime Studio the Moho Pro 13 is an efficient animation tool that helps in maintaining the workflow of the projects.
With the recent updates adding bitmap and freehand drawing capabilities, vector animation tools, and Mohon Proprietary bone rigging system you can easily imagine limitless possibilities.
Price
$399 per user.
Features
Brush Tools
Rigging Systems
Keyframing tools
Photoshop Integrations
Advanced Motion Graphics Software
#1) Unreal Engine
Are you in search of the most advanced and real-time 3D creation tool? Then Unreal Engine might be one of the solutions for your problem.
Unreal Engine is a powerful tool that is used for the real-time 3D creation tool.
The best part about this is that it is completely free and you can enjoy unlimited features of this motion graphic software.
The developers are making complete efforts to update the software which is helping the creators in the industries to create user-attractive videos.
Unreal Engine is not just for gaming purposes it is also used in Television, film, and commercial products as well.
The price tag says it all and it is free to use. So, you don't need to pay any amount only commercial will cost you a royalty fee.
Price
It is free to use but if you want to use commercial products then you need to pay a royalty fee.
Features
Pipeline Integration
World Building
Animation
Rendering, Lighting, Material
Simulation and Effects
Gameplay and interactivity authoring
Developer tools
#2) ZBrush
If your area of work is 3D then ZBrush might help you in digital sculpting and painting.
The feature of customizable brushes will help you in making shapes, textures, and paint virtual clay.
You can also craft incredible artwork in less interval of time.
The use of ZBrush is in film studios, game developers, toymakers, jewelry, automotive/aviation designers, and many other artists across the globe.
Price
$39.95 per month
Features
Base mesh Generation
Sculptris b – Easily add and remove polygons whenever you need them.
DynaMesh
ZModeler
Live Boolean
#3) Blender
You can easily get a free and open-source 3D creation suite in the form of Blender.
The Blender supports a complete 3D pipeline which includes modeling, rigging, animation, simulation, rendering, compositing, and motion tracking. Not only this you will also get video editing and 2D animation pipeline features in it as well.
Price
You don't need to pay any amount to download it for free and avail of its services anywhere anytime!
Features
Rendering
Modeling
Sculpting
Animation and Rigging
Grease Pencil
VFX
Simulation
Video Editing
Scripting
Final Words
Hopefully, after reading this article, you might be able to choose the right motion graphic software that fits your need.
So, know hopefully you find a solution for your problem therefore, don't waste any more time and don't forget to share your valuable thoughts in the comment section below.
Other Articles We've Created:
Top 15 Animated Motion Graphics Video Examples
Recent Blogs