You must know about corporate video production cost before you jump on to video marketing trends. Read this article for an estimation of your corporate videos.
Hey people.. are you wondering how much corporate video production cost is? Well, the cost for corporate video production may range from $2,500 to $25,000 depending on what kind of video you need and how much you are willing to spend. Lots of factors are involved while you estimate the cost of your corporate video. They include ideation, scripting, storyboarding, pre-production, and post-production.
The world of digital marketing is evolving and video marketing has emerged as an effective tool in a short span. Whether SMBs or big corporates, all are using them as their marketing go-to, especially corporate videos. They are really magnetic when it comes to capturing the audience's attention quickly. With professional and strategic video marketing, businesses and brands are experiencing a noteworthy increase in their ROI.
But before you start hopping for corporate videos, you must know the cost of corporate video production and all the factors that influence the pricing. This article will help you find out what actually you should know related to it.
Factors that Affect The Corporate Video Production Cost
There are a lot of factors that influence the corporate video production cost. If you have learnt to produce corporate video in-house, you have to keep the corporate video pricing for the following:
This phase requires you to do market research for your cooperate video including competitor and audience research as well.
You have to hire a professional cinematographer for well-polished video production.
You must need a writer to come up with a compelling and engaging script for your video. You can also DIY by learning how to write a compelling corporate video script.
A storyboard artist will sketch out your video scenes in sequence to give you an idea of the look and feel of your video
A corporate video is incomplete without graphics, animations, and VFX. You must consider hiring a professional and creative team for the best results.
Editing and color grading
You need skilled people to fine-tune your video in the edit. Else, you'll end up spending a lot more to get the job done. You should learn the video editing cost as well to plan your budget accordingly.
Actors and voice-over artists
Corporate videos require you to show real people, and for that, you have to hire actors.
Corporate stock footage options are a must for any corporate video production activity and you must have to check legality and pricing for that.
Coaching talent and blocking
If your actors need training, you have to hire a coach for them to train them on how to act for your corporate video
A corporate video with state-of-the-art, professional-looking result is only possible if you invest in a good camera.
You will definitely need good lighting and related equipment to acquire the perfect shoot you are looking for.
These were some of the things you need to gather and keep in mind while producing your corporate video in-house. However, if you want to get rid of all the hassle, you should acquire corporate video production services.
Feel free to chat about your corporate video production expenses with BuzzFlick. We specialize in crafting ideal corporate videos for your business, effectively reaching your audience with high-quality, affordable content. Don't hesitate to reach out to us.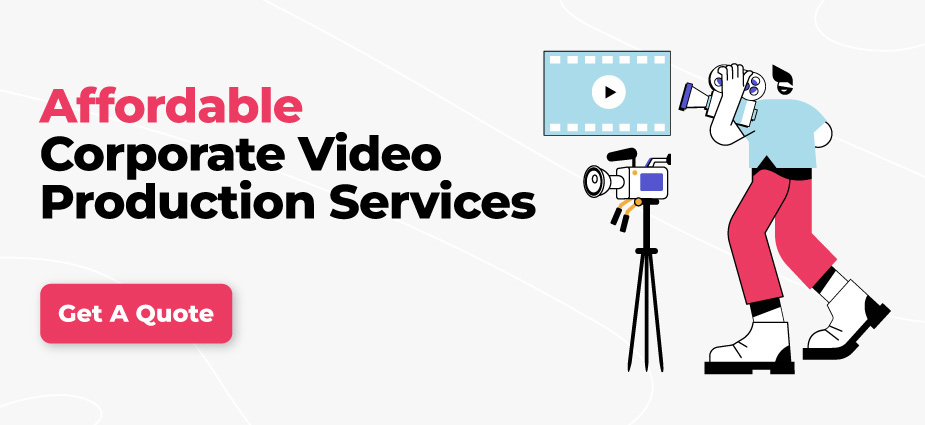 Now we've explained what are the typical costs you might bear while producing in-house corporate video, you must be itching to identify factors that influence the corporate video production cost if you outsource the project. What makes your videos affordable? What makes these corporate videos expensive? What should be the budget for video production? Here they are:
The Time To Create The Video
Have you heard, "time is money"? here this moniker fits perfectly. How much time is required to create the video you want decides the cost of your corporate video. The longer your video takes to be completed, the higher the cost will be, and vice versa.
In fact, any corporate video production company will quote you the corporate video price on the bases of the production time it takes for your video. While you might have an estimated budget in mind, it may fluctuate as you will be paying for the video production time. No hidden expenses, no secret formula.
The Scope For Corporate Video Production Projects
Well, corporate videos are of multiple types and you must have gone through the best examples of inspiring corporate videos. And if you go for a live-action video that involves various actors and a corporate location with creative cinematography, the cost will definitely be higher.
First, you should go for a simple corporate video with lower cost rather than full fledge commercial video. Not only you will not have to worry about actors, presenters, models, shooting equipment, crew, shooting hour scheduling, etc. but also you will get an idea that what kind of video works best for your organization. Therefore, the project scope is the major cost-determining factor in corporate video production.
The Video Length
The time is money formula applies here too. The lengthier your video will be the more it will cost. It is because a 1-minute video will take more time to edit, will have more shots and scenes, and require more resources to produce than a 30 seconds video. Although the implied costs like actors, equipment, crew, etc. are universally the same somewhat for every shoot irrespective of corporate video length, it is editing or other post-production tasks that push the video cost through the roof.
Precision And Clarity Of The Brief
A clear and precise brief is a must to make an action plan for corporate video production. Do keep in mind:
How straightforward and clear your brief is?
Is your brain clear on what you want from your corporate video?
Have you figured out the whole process in your mind from beginning to end?
Make sure to answer these questions positively so that your corporate video production cost is as low as possible. It is because a lack of clarity in the brief you give to a corporate video production company will lead to confusion, which will eventually affect the video production timeline and increase your production cost.
Miscellaneous Video Production Costs
Well, there are a lot of other cost factors involved in corporate video production that can influence your budget negatively. The quotation your get from the corporate video production company is not cast in stone as your video cost may vary depending on what exactly you want in the corporate video you are working on.
Let's assume a scenario where you want your video in several different languages or you want to add subtitles in foreign languages. In this case, the cost will increase. Similarly, travel costs and the license for music you want to use are other cost factors you should keep in mind.
That is why it is of utmost importance to keep in the loop the best corporate video production companies to know all the expenses for your video.
You can discuss your corporate video production cost with BuzzFlick as we specialize in creating perfect corporate videos tailored to your business. Capture your target audience effectively and efficiently right today with our high-quality, and affordable video content production. Don't be shy to say hi….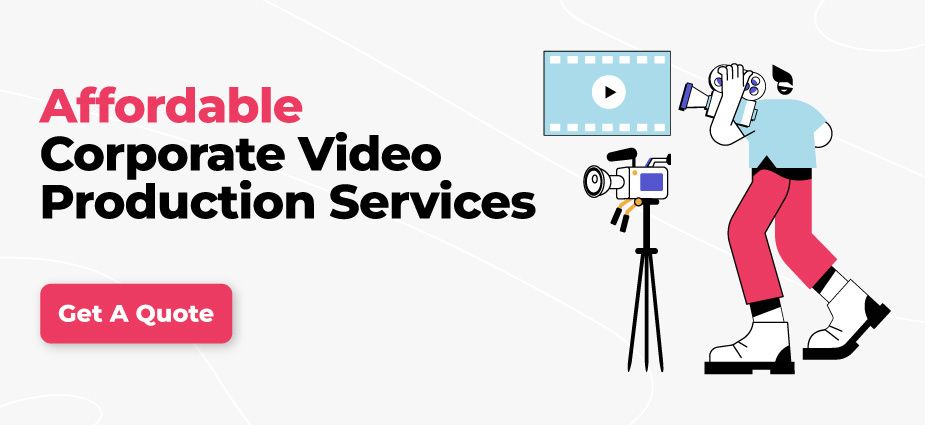 What Is The Corporate Video Production Cost?
There are lots of types of corporates and the video types they want. That is why I cannot answer exactly what will be the cost of your video. However, usually, corporate video production cost can be $2,500 and can surge up to $25,000. As discussed above, your budget and the type of video you want is deciding factor. Also, multiple factors are there to consider to estimate your corporate video cost.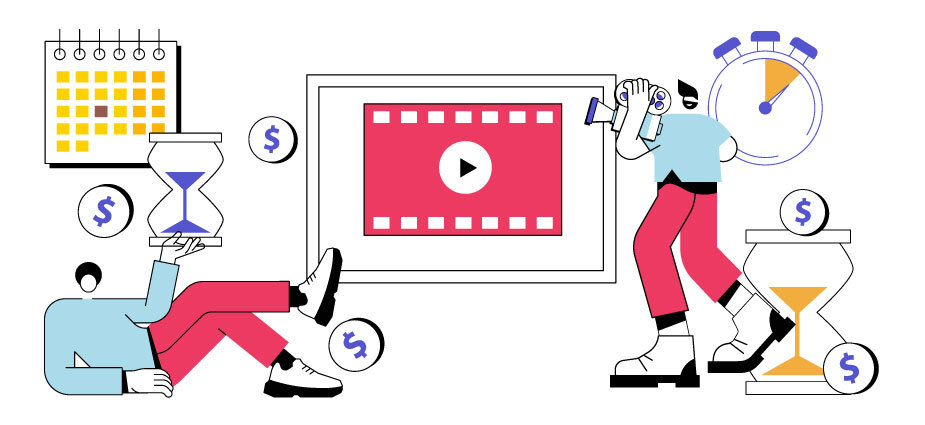 Corporate videos can be commercial and can be educational. Besides that, there are a lot of examples and types of videos corporates choose for them. And that is why, the cost also varies.
Usually, most companies use animated corporate videos to target their audience, and on average animated corporate video of 1 minute can take from $2500-$25000. The cost varies concerning video length, the animation used, and the work complexity of that video.
Just go through the table below to compare corporate video production rates according to the time for your estimation.
| | | | |
| --- | --- | --- | --- |
| Video Style | Video Length | Production timeframe | Cost |
| Corporate Explainer Video | 30-120 seconds | 2-6 weeks | Starts from $2000 to $7000 |
| Corporate Animated Promo Video | 30-120 seconds | 3-8 weeks | Starts from $2200 to $10,000 |
| Motion Graphics | 30-120 seconds | 2-7 weeks | Starts from $2500 to $5000 |
| 2D Animated Training or Educational Video | 30-120 seconds | 3-8 weeks | Starts from $2500 to $25,000 |
The prices stated above are all subjective to corporate video style, and the length of the video. The corporate video production cost fluctuates according to video type mostly because big corporates want live-action and animation combo. That is why it is necessary to keep in mind higher-end corporate videos cost and the estimates we have provided.
Moreover, the prices mentioned above involve videos with graphics and text. Many corporate video production companies are there offering live-action+animated with the price tag of $35,000-50,000.
But, wait, there is one thing we have to tell you.
Corporate videos should be produced with shorter lengths first and test if the video style, length, and theme are suitable for your company or not. It is for sure a strategic move to embrace and target your audience using corporate video. Not only it will save you costs, but also let you know what type of content will be good for your audience and employees.
BuzzFlick is best when it comes to your corporate videos to work perfectly for your business. Get effective and efficiently grabbing videos for your target audience from BuzzFlick. Our corporate videos are high-quality and have diversified content as affordable as you want. Get on a call with us today for a free consultation and discuss your corporate video production cost.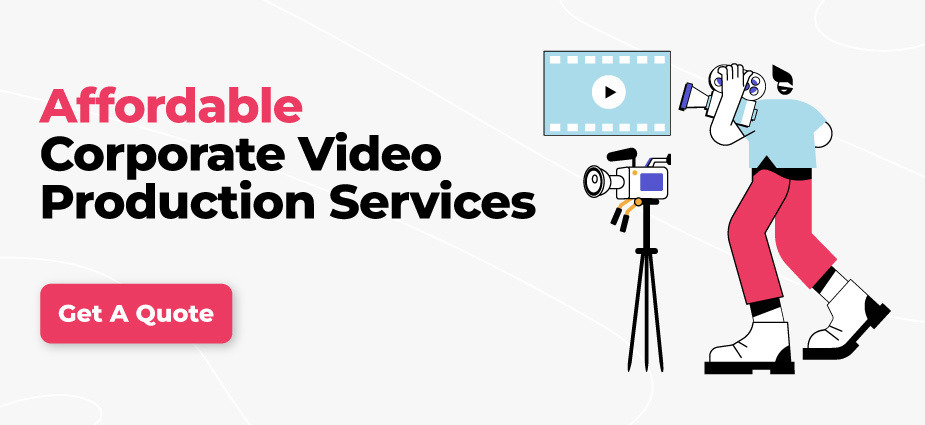 Wrap Up
In this article, we've delved into the intricacies of corporate video production cost, expenses, and variation. As a rule of thumb, these costs typically span from $2500 to $25,000 per finished minute. For top-tier quality, it's advisable to allocate a budget from $3,000 to $7,500 at least for your corporate video production.
You can always discuss with BuzzFlick your requirements as in the end, a professional corporate video company is all you need to reach your goals and objectives.