Want a fantastic educational video? Go through our guide on educational video production cost and related information to allocate your budget efficiently.
Hey fellas, I am back with another exciting topic you were looking for. Have you realized that animated video production of any type whether it's an explainer video for your business or a basic educational video is challenging in terms of resource allocation? It requires three major things to focus on i.e., research, time, and money. But particularly, when it comes to educational videos, the first thing you should know is the educational video production cost.
It is because educational videos are different from all types of videos due to a specific dept and expertise involved in it. The best practice for educational video production is to first evaluate all the factors like time, subject matter expertise, video style, and target audience and then allocate a proper budget for it.
Of course, you have an abundance of time to give any project the focus it deserves as a business owner. And when it comes to other resources like money and budget, well it all depends on the type of video you want and what you want to achieve from it.
So, I am writing this article to explain to you how important educational videos are, how much they cost, what factors are involved in deciding the cost of educational video production, and how to allocate your budget for your educational videos.
What Is The Importance of Educational Video Content For Businesses?
Educational video content for businesses is important because it is like a long-term investment. You gain customer loyalty through educational video production. Your customers are educating themselves through your videos and becoming more informed. In the end, they will keep coming back to you for their needs.
And what's better than the video platform of YouTube to get the job done? Almost every business now has a YouTube channel and you should also learn how to make engaging educational content for your audience and reach them through YouTube.
It is in your best interest and we have some solid evidence regarding it. Let's prove this through statistics:
According to "Think with Google"
86% of the viewer in the U.S. say they often use YouTube to learn new things. (source)

58% of people reported that they are using digital video to learn new skills. (source)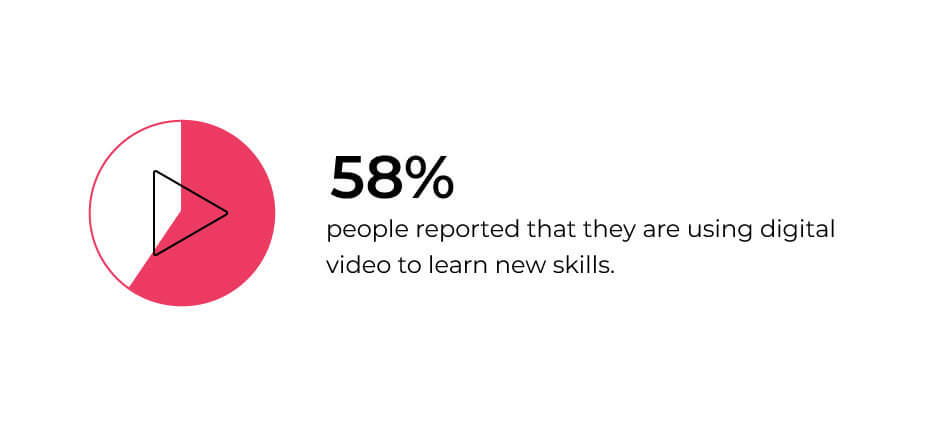 Average daily views of videos with "homeschool" or "home school" in the title have increased by over 120% globally since March 13, 2020. (source)

Videos have become an integral part of our lives and of course of businesses in the past few years. And it is no exception for educational videos as people explore, learn, entertain, and inform themselves through them. Businesses are using basic educational video content, whether it is in the form of explainer videos, or e learning videos as their digital marketing tool.
Do you want people to learn about your industry? Let them watch a video on it.
Do you want to train your employees on new company policies? Training videos are your go-to method.
People who want to purchase electronic gadgets watch video reviews.
Want to solve that pesky math equation? Let's go through some video tutorials.
Educational videos are everywhere!
That's enough to clear your mind about how important educational videos are and why you should allocate your time, resources, and a good budget for them.
Ready to revolutionize your educational content with captivating videos? BuzzFlick is the one to help you out here. Whether you're a startup or an established business, we will make you understand the cost of educational video production and if you want, we will deliver you the best educational video production you need. Take the first step towards creating impactful educational videos for your audience by getting a free consultation.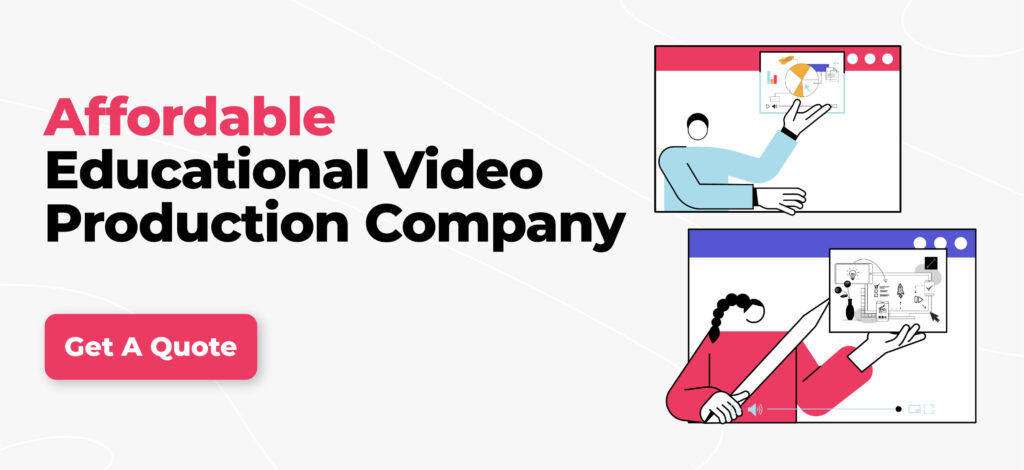 What Factors Affect Animated Educational Video Production Cost?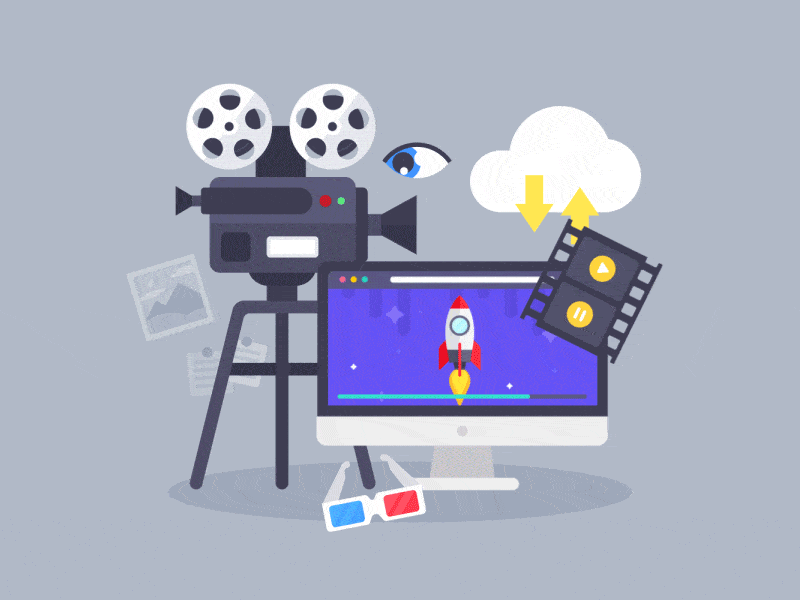 The factors that affect the animated educational video production cost are mentioned below:
There are various types of educational videos and they may vary depending on the style and the topic you want to cover through your video.
From conceptualization to scriptwriting, and from storyboarding to research, there are lots of steps involved in pre-production that may take time according to the type of educational video you want.
Special needs for equipment or rentals.
Some educational videos may need a proper camera and studio setting to explain the complicated concept. And it may add up the cost of rental or equipment purchasing.
Use of motion graphics/custom animation in the video
If you want your educational video to reflect the great taste of art or want to present the concepts through visuals, animation, and motion graphics will play a great role.
You will definitely need a voice-over artist or narrator to explain the concept through audio-visuals.
The editing of an educational video will take time depending on the video length and the technique you want to use in your educational video.
Educational video company experience
If you are outsourcing your educational video production, you'll definitely go for a well-experienced educational video production company. And eventually, you have to invest a good amount to get the best results out of them. Educational videos have varied production costs from company to company. So, a little research hurt no one. Do a bit.
You must be confused now as to what type of training or educational video you should go for as there are many types. Just go through some best examples of training and educational videos to get an idea and then plan accordingly.
Animated educational videos are being widely used by businesses to connect with the target and educate them on various trending topics. The trend has been adopted by numerous companies nowadays to increase brand engagement and gain customer loyalty.
That is why one has to keep in mind the above-mentioned several factors to understand that the cost of educational video production may vary accordingly.
For optimal and efficient education of your target audiences through educational videos, BuzzFlick emerges as the ultimate choice. Our repertoire encompasses top-notch, diverse educational video content tailored to suit your business needs at a remarkably affordable cost. Take advantage of a complimentary consultation today to explore and discuss your educational video production cost.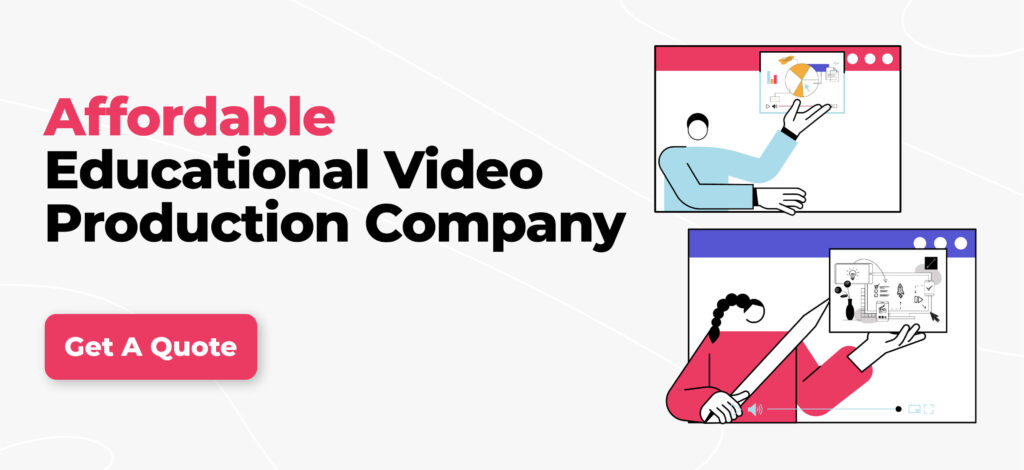 What Is The Educational Video Production Cost?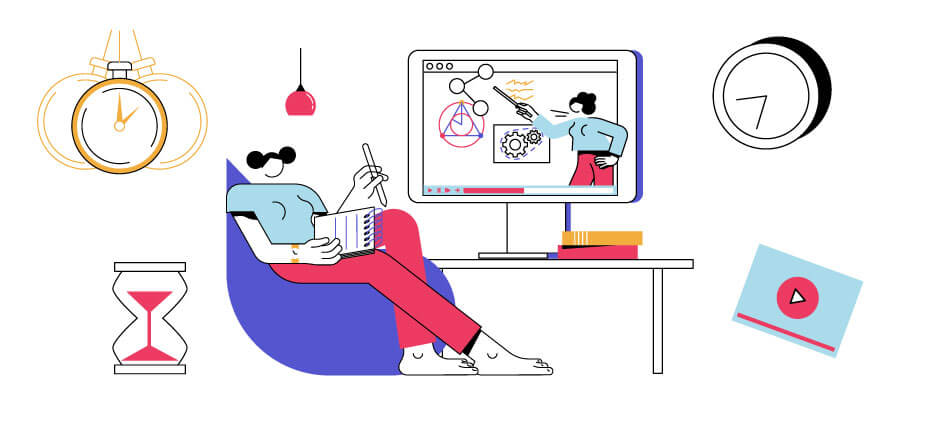 There is no definitive answer for how much it will cost you to get an educational video. It is because educational videos are of different types and lengths according to the topical coverage. So, the cost also varies from video to video and subject to subject.
Usually, most businesses use animated educational videos to educate their target audience, so we will mark it as our example and will break down prices accordingly.
An average 1-minute animated educational video can cost you between $2000-$25000. The process may vary according to the length, the animation customization, and the complexity of the work required to produce the video.
Here is the comparison table according to the time of the educational video you can go through for your estimation.
| | | | |
| --- | --- | --- | --- |
| Video Style | Video Length | Production timeframe | Cost |
| Explainer Video | 30-120 seconds | 2-6 weeks | From $800 to $2000 |
| Whiteboard Animation | 30-120 seconds | 3-8 weeks | From $1000 to $2200 |
| Motion Graphics | 30-120 seconds | 2-7 weeks | From $1200 to $2300 |
| 2D Animation | 30-120 seconds | 3-8 weeks | From $1000 to $2700 |
| 3D Animation | 30-120 seconds | 4-10 weeks | From $4000 to $7000 |
DIY vs. Freelancer Vs. Educational Video Company: Cost Comparison Table
We have stated the above prices keeping in mind the educational video style, and the video length. The educational video production cost may vary according to the complexity of the subject matter. But keep in mind the cost for higher-end educational videos according to the average estimates we have given.
Moreover, all of these videos are graphics and text-based. The cost for live-action videos ranges from $35,000-50,000+.
But, but, but… wait….
Educational videos may be produced in series to cover the subject in depth. It will for sure be a good strategy to include and hook your target audience to look forward to upcoming educational video on a single topic. You will get a good package if you opt for a series of videos as compared to a single educational video. So, if you want to cover a topic that can be broken down into a series, go for it.
If you want your educational videos to be effective and efficiently educate your target audiences, who's better than BuzzFlick? We produce high-quality and diverse types of educational video content for your business and very affordable cost. Get a free consultation today to discuss educational video production cost for your project.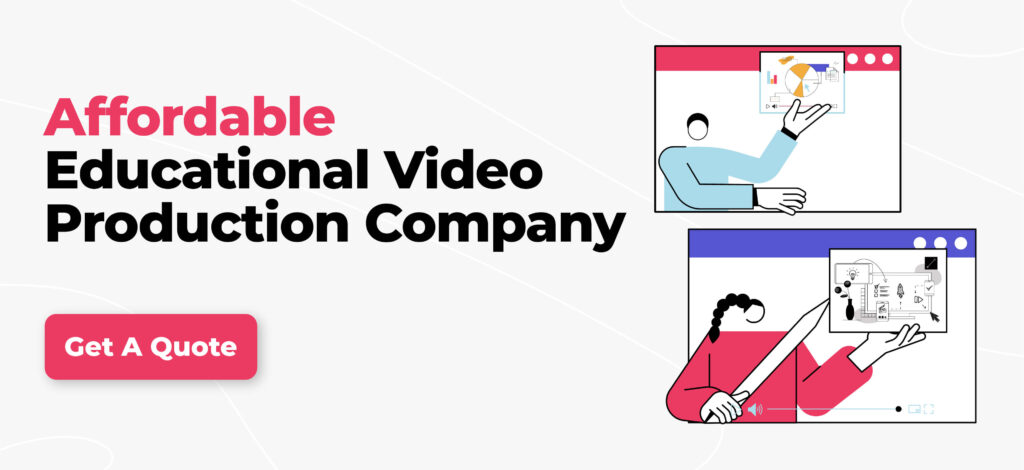 Educational Video Production Cost Comparison: DIY vs. Freelancer Vs. Educational Video Company
When it comes to educational video production, there are three ways you can get the job done. Either you do it yourself through different software, or you hire a freelancer to create and edit your video, or you outsource a whole project to a professional company.
Here we are comparing the cost of production for all three methods so that you have an idea of what approach you should go for.
But…
First of all, decide how much money you want to spend on your educational video project. It will be deciding factor of want kind of approach you want for educational video production, what quality you want, and how many videos you can afford to produce.
DIY Educational Video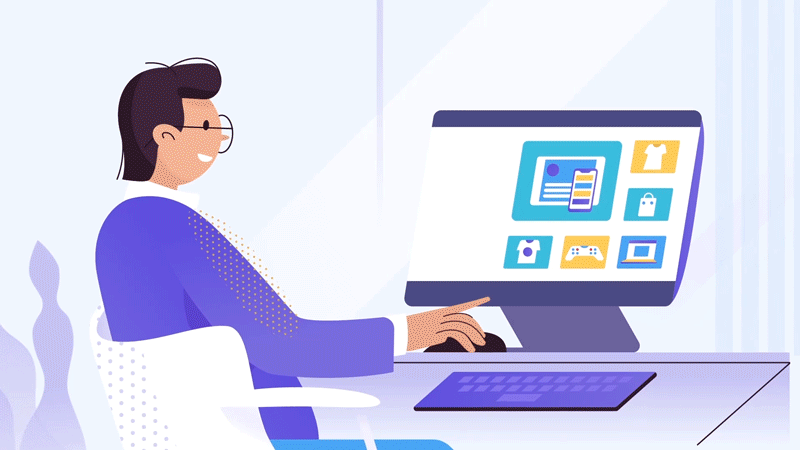 If you want an in-house team producing educational videos for you, you can do it yourself through your graphics designer and animator team. Or you can work yourself by learning how to make training videos or educational content. All you need is some camera and audio recording gear, and video editing software.
To start, you'll need to buy equipment, modify your PC, and get a software license. It is a one-time investment and you can get a good ROI by spending $200-$500 only.
Hire A Freelancer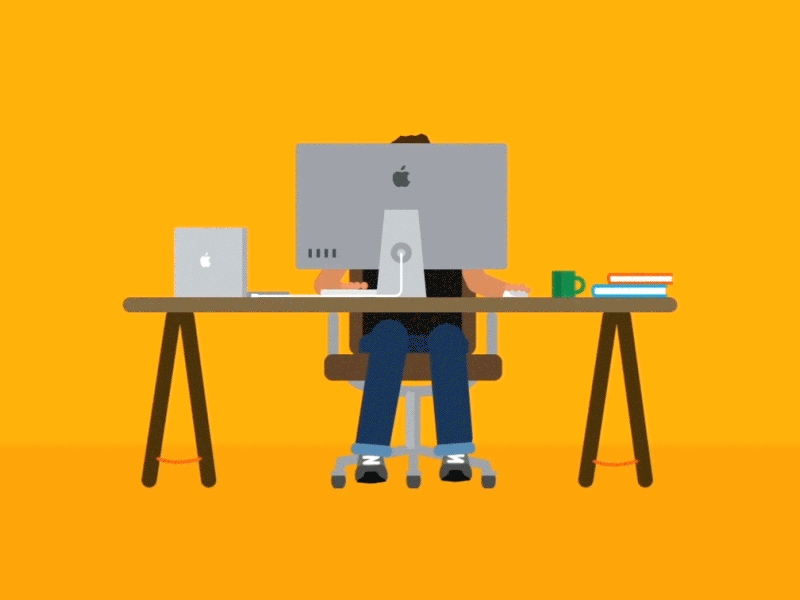 You can hire a good freelance video creator for you online. Platforms like Upwork, Fiverr, Freelancer, and Bark, are full of talented video and motion graphics artists to create videos for you. It will cost you around $600-$5,000, but the quality of work is not guaranteed. Hiring a freelancer is only good if you have done half of the work yourself like ideation, scripting, conceptualization, etc.
Get ready to face delayed project delivery, below-average quality, and lots of revision requests. Plus the hassle of brief and communication is always there. Also, video production is teamwork, and hiring one freelancer will not get the job done you were looking for.
Hire Educational Video Production Company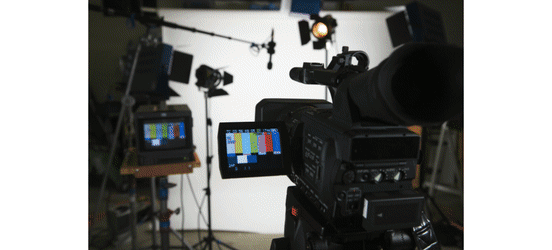 You may find it a little bit expensive to recruit an educational video production agency, but to be honest dude, this is the best way to save yourself from hassle and get a quality video in a short span.
Although you may find every other website on Google claiming to be the best educational video production service, finding the one with an affordable price tag and quality work is hectic.
That is why we recommend you hire an animated educational video production company like BuzzFlick. Educational video production cost with us is around $900 to $3,000 approximately with a variety of video styles to choose from.
We are the creative video animation agency for animated education video production with a free consultation on your project. You can get different types of educational videos like animated educational videos, whiteboard animated educational videos, motion graphics, 2D and animated educational videos, and even training videos.
Although 3D educational videos are more expensive than other types of educational videos and cost you around $3500-$7,000, we recommend going for 2D animated videos first to try out the outcomes.
DIY vs. Freelancer Vs. Educational Video Company: Cost Comparison Table
| | | | |
| --- | --- | --- | --- |
| | DIY Educational Video Project | Hiring A Freelancer | Outsourcing to an Educational Video Production Company |
| Cost | $200-$500 | $600-$5,000 | $900 to $7,000 |
| Quality | Good | Average | Excellent |
| Timeframe | Customized | You can set it, but projects often get delayed | 2 to 9 weeks with outstanding customer service |
| Peace of mind | Yes | No | Absolutely tension-free, hassle-free decision. |
DIY vs. Freelancer Vs. Educational Video Company: Cost Comparison Table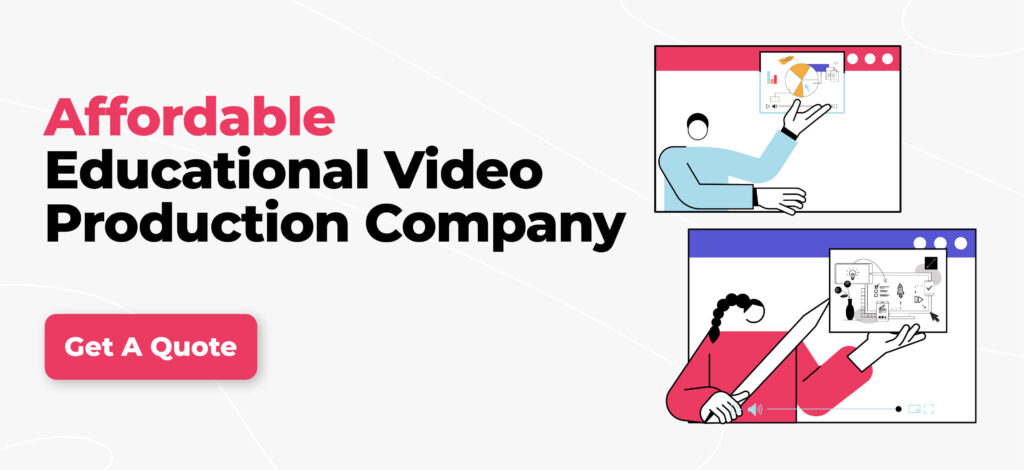 Frequently Asked Questions
How much does an animated educational video cost?
The animated educational video production cost totally varies due to factors like length, style, and complexity. Typically, they cost around $20,000 to $25,000.
If you're considering producing a series of educational videos, we offer package pricing to reduce the cost per video. We're always thrilled to discuss your needs and find what is perfectly fit for your project.
What is a 1-minute educational video production cost?
The price for 1-minute educational video production ranges from $1,000 to $5,000 so keep it in mind while setting a budget. Be transparent about your budget range while discussing your project with an educational video production company.
What is the typical timeline for creating educational video content?
The usual timeframe for completing an educational video production is around 10-12 weeks. Nevertheless, when producing a series of educational video content, the per video timeline can significantly decrease, which is a recommendation we often make.
Final Words
We have discussed the educational video production cost in detail in this article. As a general guideline, the cost of educational video production can range between $1,000 to $10,000 per finished minute. For high-quality, consider budgeting between $3,000 and $7,500 per finished minute for your educational video production cost.