Wondering how to create a spectacular stop-motion video? Explore our list of the most intriguing stop-motion video ideas in 2023.
In the entertainment industry, stop-motion animation is already creating a stir. In today's world of social networking apps, nothing is more captivating than stop-motion animation. One innovative video is all you need to get popularity among your fans.
You can make use of it to get across thoughtful messages and complex ideas in a storytelling style.
However, making an intriguing stop motion is not easy as it looks. But that doesn't mean you start worrying because we are here with good news.
To help you out, we have created this piece to shed light on some of the interesting and funny slow-motion video ideas.
Moreover, we will also be discussing some useful tips and tricks that can assist in making great stop videos.
So, without any further ado, let's dive in.
P.S: If you want to first in-depth about stop-motion, then first give a read to our guide:
Stop Motion Video Ideas for New Animators
I believe this animation style is the most fun to experiment with. While sitting at your home, you can create different types of slow-motion videos. If you're confused and looking for some inspiration, then keep reading because here are some of the top motion video ideas that you should give a try once:
1. Whiteboard Stop Motion
This animation technique is suitable for people of all age groups. All you need is to get your hands on a clean whiteboard and your favorite colored markers and unleash your inner creative genius.
Then ensure to place the whiteboard and camera on the right angles and start creating a beautiful motion. The primary benefit of using a whiteboard is you get ample space to draw your ideas.
You can easily summarize the topic using numbers, characters, and a spectacular stop-motion to fuel your imagination.
Take a look at the example below to get a better idea of how this works:
2. Human Stop Motion
Do you know what the best part of this method is? You can ask your pals to participate and have a fun time with them. Simply have your buddies make little, synchronized movements throughout numerous frame snapshots.
All you need is to hire someone who knows all about camera techniques in order to produce a compelling piece.
To give it more oomph, you can add sound effects and other elements.
Check out this cool video below for more insights:
3. Paper Cut-Out
This one is my personal favorite because it is a unique combination of real arts and crafts. Using this technique, you can easily showcase your imagination.
To make great animations, one can either sketch shapes by hand or use pre-existing pictures from newspapers or publications. You'll need a spotless tabletop, and a camera mounted high above it.
The playfulness of shadow and light is a crucial element of paper-cut-out stop motion. The camera position will determine the aesthetic quality of your stop-motion animation. Ideal for newbies to practice at home.
Watch this video below and enjoy:
4. Clay Morphing
The clay morphing method has consistently ranked among the top ten slow-motion video ideas. Users are challenged to make avatars without traditional body parts, such as arms and legs, or to employ geometric forms in novel ways. This concept is quite popular among newcomers.
Here's one of the best examples of this popular method:
5. Lego Stop Motion
When it comes to stop motion animation, nothing can beat LEGO. Even children can make a video using the same brick-style square figures and brickfilms.
It gives you the opportunity to unleash your creativity and produce interesting stories using Lego animation. You can also include soothing music and beautiful video effects to make it a more engaging piece of animation.
Click on the video below to see the beautiful Lego slow-motion work:
6. Sticky Notes
Another fantastic method for creating stop-motion animation is widely employed in the industry. This method allows to create some of the most sophisticated, creative animation.
Using notes as inspiration to create a narrative or a game from our youth is a terrific way to pass the time. Final editing is the moment to add the voiceover or music.
The melody and rhythmic movement of the notes serve as the perfect stop-motion backdrop for your first steps.
Watch this video below to learn more about this method:
7. Replacement Stop Motion
This approach is a little challenging for novices, but with some basic knowledge of video editing and sound effects, you can create some pretty entertaining stuff.
Here's a great example of a replacement video effect:
8. Chalk Ground/Board
Chalkboard or ground is another option that we have on our list. Also, I believe this one is pretty easy compared to the rest.
It is just like a whiteboard stop motion, but instead of a whiteboard, you will need chalk, and you can produce engaging material by following the same approach. It also gives those who create content the opportunity to showcase their skills outside in the fresh air.
Let's watch a real-life example for a better understanding:
9. Matchstick Stop Motion
You can construct anything imaginative out of matchsticks, shoot them sequentially, and create a tale. It is advisable to personify them and photograph them from various perspectives.
Take a look at this video example:
10. Time-lapse
Another common stop video technique involves using a camera to shoot a series of still images or short video clips of "nature" over an extended period of time, such as moving clouds or melting ice, and then playing them back in rapid succession.
It's quite amazing to know that the most recent versions of smartphones are equipped with an in-built time-lapse feature which means you don't have to break your budget to purchase additional gear.
Do watch this amazing time-lapse video:
So that was all about some intriguing stop motion video ideas you can try out as a beginner.
Moreover, it's surprising to know that today even established animation production companies are offering stop-motion as one of their core services.
Why so?
Because the industry has become cluttered with the number of animations produced every day. To cut through the noise, you need a unique idea, and this could be the one.
Cool Stop Motion Video Examples You Should Check Out
After exploring the ideas, let's check out some of the most entertaining slow-motion videos:
1. Xbox Commercial
This commercial is an example of the stop-motion method Claymation, in which an animated figure promotes Xbox. Such stop-motion demands expert-level video effects and animations as well as ample time.
2. Human Skateboard
This video is an incredible example of human stop-motion. It displays two pals coordinating their moves across many frames to create the illusion that one is using the other as a skateboard.
3. Original Human TETRIS Performance
A captivating representation of human stop motion depicting animated versions of actual people seated in an amphitheater. A combination of time-lapse and animation effects is used to create a captivating video.
A captivating representation of human stop motion depicting animated versions of actual people seated in an amphitheater. A combination of time-lapse and animation effects is used to create a captivating video.
4. Happy Thanksgiving
This incredible stop-motion video combines time-lapse and animation. The video depicts animated characters dancing on the table and devouring the turkey while the human being sets the table for the Thanksgiving feast.
5. Food Fight
This example depicts numerous food products competing against one another. In reality, it reflects many conflicts, from World War I to the present day, as represented by the meals of the countries in battle.
6. Tokri (Basket)
This detailed award-winning short film is a heart-warming example of time-lapse stop motion animation. It sheds life on an underprivileged girl struggling to earn money by selling her basket to get her father's old watch fixed.
Even basic sequences in Tokri are filled with an unusual amount of motion, and Eriyat and his crew are unafraid to go wide in order to capture the cacophony of the Mumbai street with hundreds of moving objects.
7. Distortion
Another vibrant example of Claymation animation. In order to create this piece, 2500 still images were played at 24 frames per second. Animated with Dragonframe using a Canon EOS 600D.
The name of the clay they used is PLASTILINA. The entire project was edited with Photoshop CC and Sony Vegas Pro. The sound effects were both recorded using a Blue Yeti and retrieved from freesound.org.
Handful Tips for Creating a Stop Motion Video
Having an out-of-the-box suffices when it comes to making a slow-motion video. You need to get your hands on other things, such as the right equipment, and plan to create one in less time.
Below we have listed some of the tips you should keep while in mind making a stop motion animation.
· Maintain camera stability
Use a tripod to keep the camera stable in order to generate high-quality video content, as even the slightest movement might blur the video or alter its frame.
Additionally, it is difficult to maintain lightweight cameras absolutely steady for extended periods of time.
· Operate the camera from a distance
After correctly installing the camera, try to activate it remotely rather than manually. Frequently, pressing the shutter button might cause vibrations that blur the images or recordings.
All modern digital cameras include remote triggers, allowing content creators to take photographs like pros. Get one if you don't already have one.
· Add some sound effects
To add some more sparkles to your piece, try adding some music that synchronizes with your story. Ensure to incorporate suitable sound effects to make the stop-motion animation look more realistic and engaging.
Numerous video editors such as iMyFone Filme also allow you to download effects from the online database.
· Adjust the lighting effects
This is perhaps the most important tip one should take into consideration. Make sure that there is not even the tiniest irregularity in the lighting and that the available light remains constant during the stop motion.
Moreover, if the light conditions change, you may need to adjust the available natural light.
· Consider frame rate beforehand
The frame rate is the rate at which an image is displayed. Most videos have a frame rate between 24 and 60 fps, although stop movements often have 12 fps or less. That means you must capture/click 12 images every second.
Calculate the desired frame rate in advance to determine the number of images required for the whole stop-motion animation.
Note that increasing the frame rate will make your video appear smoother and nicer than reducing the frame rate.
iMyFone Filme – The Best Stop Motion Video Maker
If you're looking for a simple video editor then we suggest you to go with iMyFone Filme. Its powerful slideshow mode enables users to build intriguing and amusing stop-motion animations utilizing many photos.
In addition, users can add entertaining video themes, animations, and sound effects to engage the audience. It is equipped with all the video and audio editing tools that make it the best stop-motion video creator.
Let's learn together how you can use this software:
Step#1
Install the software on your system. Once installed, click on launch to start the process.

Step#2
Next up, click the 'Fast Video' option and choose any templates that align with your story or idea.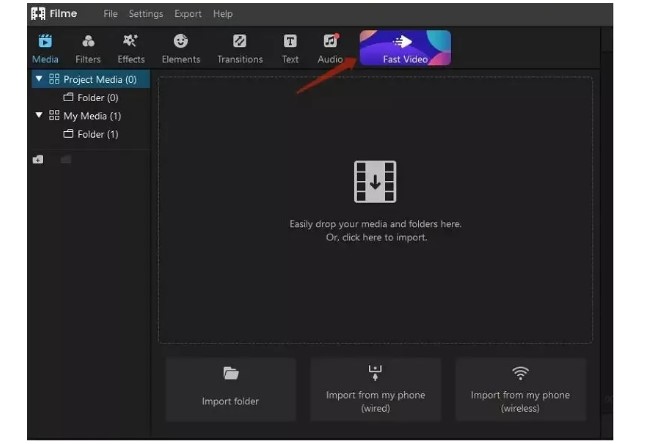 Step#3
Now, look for the 'import media' option to import all pictures/snaps you want to include in your motion video.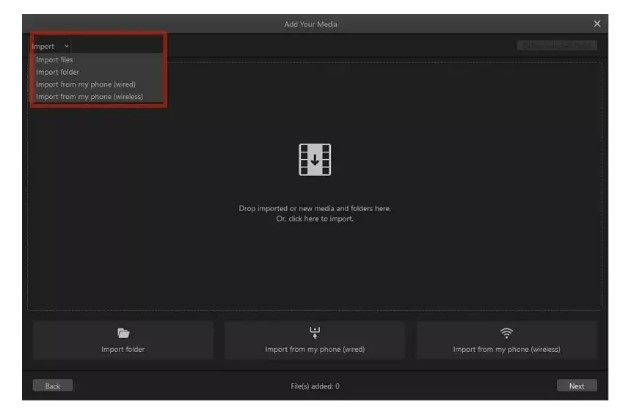 Step#4
Next up, make use of the 'Drag and Drop' feature if you want to change the order of your images/snaps.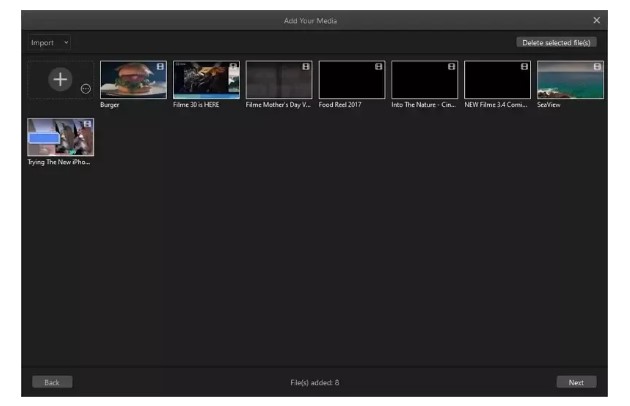 Step#5
If you want to customize the background music, use the 'Reset Audio' and 'Replace Audio' features. You can also adjust the duration and volume of the music as per your needs.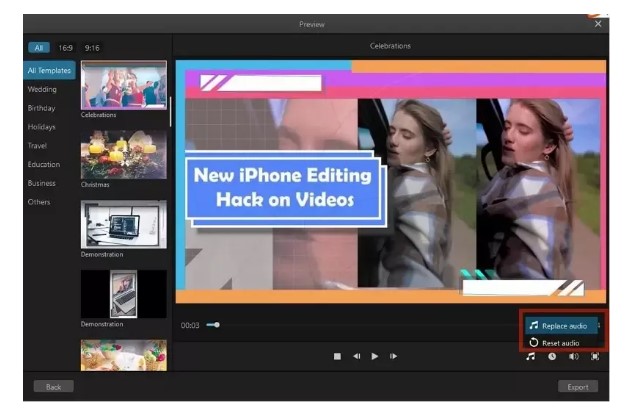 Step#6
In case you forget to choose any snap/image in the beginning, don't worry. Just simply drag the image/snap and drop it just above the clip.

Step#7
Here comes the best part, this stop-motion software offers a handful of other features like animations, video effects, transitions, filters, and cinematic tiles, which you can use to give your piece a professional feel and look.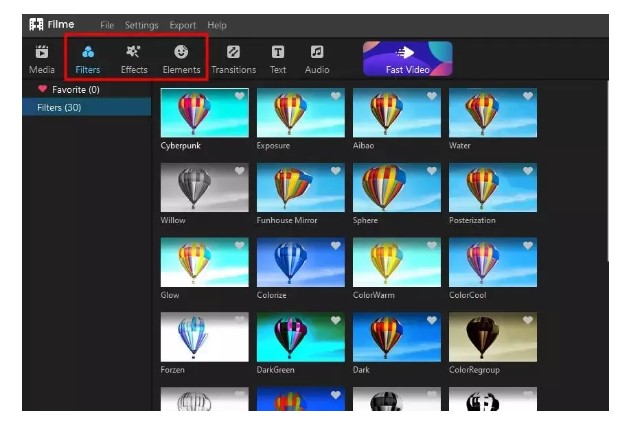 Step#8
Here comes the final step. Once you're editing and polishing your video, click on the 'Export' button to download the file to your system.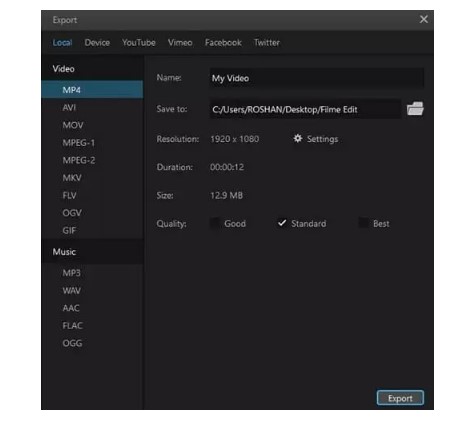 And that's it! Your stunning slow-motion video is all set to make Buzz!
P.S: If you want to learn more about stop-motion software, give a read to our insightful blog on the variety of stop-motion animation software available in the market.
It's a Wrap
To recapitulate, this amazing blog has walked you through some of the stunning, easy to create stop motion video ideas. All the ideas we have listed can be created without needing much skills and expertise.
Even at BuzzFlick, we believe with sufficient creativity and the right ideas, you can educate and entertain your target audience like never before.
Also, don't forget to follow the tips we have mentioned in the last section of this blog. To get more insights into the animation world, explore our hive!
Stop-Motion Video Ideas – FAQs
Is stop-motion animation expensive?
If compared to other computer animations, it is less expensive. Generally, other animation video costs $3,000, whereas the rates of stop-motion start from $1,000.
What are the different types of stop animations?
The various types of stop animations are:
Object Animation
Lego Animation
Cutout Animation
Claymation
Animation of Grains and Sand
Model Animation
Which is the most popular form of stop motion animation?
The most-popular stop motion animation is the award-winning film, 'Chicken Run'. It was released back in 2000, and since then, it has been ruling the International Box Office.