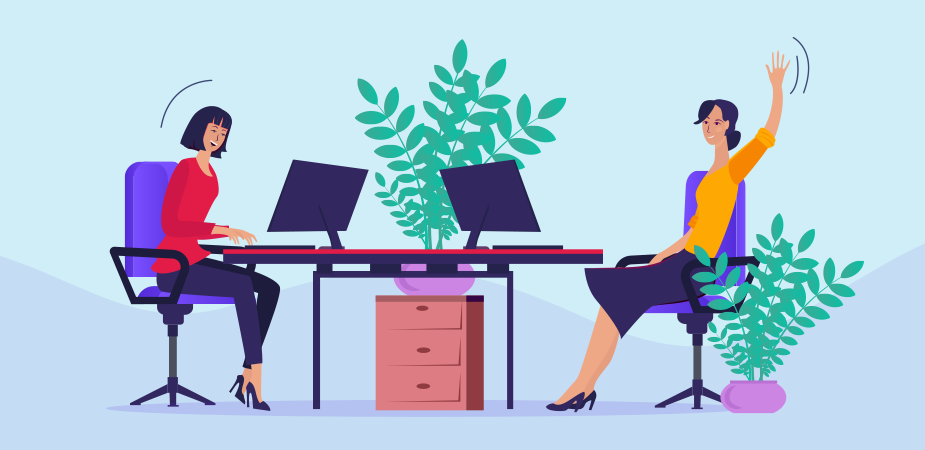 Corporate video production is now gaining popularity globally as many top firms are creating content that's getting organic traction and helping the brand engage its audience on a much wider scale than ever before.
If you too own a business, then a corporate video must be a part of your marketing strategy. But if this is your first time and you don't really know much about what a good corporate video is or what elements it should constitute then here are 11 of our top picks from corporate videos produced by firms from across the global corporate landscape:
Microsoft
The brand doesn't need any introduction. The tech giant released this 1:05 minute animated explainer video which focused on their new business arm which is about their hybrid cloud infrastructure.
The crisp and straightforward 2D animation and the concise script is working out well for the overall impact of the video. Such corporate videos prove that effortless and straightforward animation never goes out of fashion. The video jumps straight to the solution Microsoft has come up with and talks about how it adds value for the users.
Dissolve
Making your audience laugh, or point out the irony is always an excellent technique to stand out. As long as you make sure people find it relevant, it doesn't offend anyone and is genuinely funny.
This brilliantly created a corporate video titled 'This Is a Generic Brand Video,' Dissolve chose to take a different way. Throughout the video, you see mainstream stock footage and a witty script that put together a hilarious parody of some cliché advertisements we all have seen at some point.
Creating brand videos, particularly for social media channels, can be tricky, as you do want to create awareness about the business, but you also want to entertain. But it's refreshing to see smart and new ideas.
Jungo HR
The best corporate video is the one that successfully identifies what its viewers are looking for, and delivers it. This 2:55 minute explainer videos answer every possible question or concern a potential customer may have about Jungo HR.
With an intelligent script and complementing narration, the video portrays precisely what the product is and how it solves their company's HR and management processes. Storytelling through effortless animations works out the best for industries with complicated or tech-based products or services.
Nike
This is not just another corporate video. It is an experience, a journey, and an emotion. Well, we all have come to expect videos from Nike that makes you get up and chant 'Just do it.'
The video, titled 'Dream Further,' is very dynamic, which is why it catches more eyes than your usual divider content videos. The visual symbolism, motivational track, and brilliantly done transitions make viewers experience being at the edge of the seat feeling.
Spots might not be everyone's thing, but associating sports to winning, pride, and motivation is something that resonates with all.
American Express
Titled 'Imagine What You Could Do', this video was released by the American multination corporation American Express. This 55-second brand video is created to invite a more diverse workforce by trying to address the common perception about what the organization does.
The fast pace of the video, the slick design, and the upbeat, inspiring track in the background, makes the viewer stay engaged throughout the clip. This video is a superb example of how animations and designs should be in sync with the company's brand aesthetic.
Moreover, staying true to its purpose, the excitement in the voiceover, the rewarding environment of the workplace makes the message sink in deep, setting an intuitive association of viewers with the brand and what they stand for.
Slack
A cloud-based team management and collaboration service company, Slack launched this fascinating 1-minute corporate video for its global audiences as a way to get an insight into what their service is all about. It is an eye-catching video, and a great way to make your brand known to a broader audience.
Using professional CGI effects, the videos give us glimpses into a busy working office featured by different animals working from in-house or remotely collaborating. This video is an outstanding example of leveraging your unique selling point without being too obvious about it. It shows that the Slack management system can help organizations work smoothly without having to say anything.
Honda
At times not following the typical format of corporate videos can be the best you can do for your brand. This 1:57 minute video by Honda titled, 'Paper' takes viewers through a journey of six decades. The video walks you through technological advancements and innovation within automobiles via several animations and thousands of hand-drawn illustrations.
The unique style of animation and the roar of high-speed racing make the viewers genuinely experience the 'Power of Dreams.'
Spotify
We can all expect such vibrant video with a lot of buildup anticipation and excitement to come from Spotify, an online music streaming service. The brand created this chic corporate video back in 2011 when very few people knew about their services.
The 1:04 minute video is smarter than its time. The animations, upbeat music and very straightforward messaging didn't even need a voiceover. They kept it simple but made sure that their message hits home. It incorporates the main element of the best video, and it perfectly embodies the company's ethos.
Burger King
We all love funny and timely, relevant advertisements. This 50-second brand video by Burger King takes competitive marketing to the next level. Titled 'Burn That Ad,' this video introduces their new marketing campaign that allows Burger King app users to burn the ad of a competitor's seen anywhere on the subway, inside the metro, or by the roadside. And for every ad they burn, they get a free whopper. What a brilliant idea.
People want to be entertained, even when they see an ad, and this video hits this idea right in the sweet spot. It is refreshing to see big brands to rethink and revise their marketing ideas.
Airbnb
User-generated content is an interesting approach for a corporate video. What better way to sell your services or create more awareness about the value your services provide than to have real people share their experiences, right? Watching corporate videos from the organizations' point of view is getting a bit boring. It's refreshing to see this alternative perception being done by AirBnB.
The video is simple, and that's the best thing about it. It doesn't need complicated animations, string transitions, or overpowering music. Whereas, Airbnb turns the focus onto the hosts who open their houses to visitors and travelers to share their experience with the digital platform. It's basic, but it works!
RIPO
Sometimes the best strategy is to go simple with your corporate video. That's what Latvian furniture design and manufacturing company RIPO did with their elegant brand video. The 2-minute long video informs the audience about what they do and the value they provide in a sophisticated way, representing their company ethos.
Mentioning the services they provide, the video gets straight to the point. Instead of a voiceover, you see the minimal text on the screen, which makes it easy to follow through. With the background of an electric track, you see clever transitions with sleek and elegant images.
Sum Up
All of these 11 videos succeeded in getting their message across. There are several types of animations and distinctive techniques that these videos incorporated that companies taking a cue from them can adopt. Whether you are going with a more straightforward idea of leveraging on a hilarious script and storytelling skills, you need to make sure it delivers the point.
However, there are more innovative approaches and smart ideas to make your video memorable, so don't shy away from putting in your own creative angle when creating your very own video next time around.
Related Articles:
The 10 Best Corporate Video Production Companies
The Top Animation Studios In California