We have curate top 10 healthcare videos in this article. They convert complicated ideas into simple visuals effectively. Go through them to get inspired.
The healthcare industry is booming. As per WebFX, 56% of users on the internet search for health problems and look for remedial information on a regular basis. And, they come in contact with lots of healthcare videos and blogs.
And there's no wonder why they would watch a video first. The client's demand for video content is at an all-time high. So, healthcare advertisements are growing in number as well.
But, how do we know, if our advertisements are just tied perfectly to our client's needs. And even if they're, will they attract, engage, and delight the visitors?
No one can be so sure. So, today, we bring you 10 of the best healthcare videos of all time. These are not just some of the most successful, but also offer lots of creative inspiration for us all.
So, without further ado, let's jump right in!
1. BallBoys Healthcare video: Testicular Cancer Awareness
Think about testicular cancer, and most of us would want a middle-aged doctor talk us through the precautions and necessary treatment. What can be worse is that we might be too embarrassed to speak of it openly.
And, even overlook the fact, that it's very common among young men.
Well, that's not what happens here. BallBoys have got it completely out of the box. They have Marvel's DeadPool raising awareness on testicular cancer.
Opted tone is less formal, but far more effective than the usual. The video not just catches our attention, but also delivers a crystal-clear message to look after one's testicles in the most humorous way possible.
They've used whiteboard footage to teach self-test exercises, which of course must be performed as a precaution. And, what's truly amazing, is that the video delivers a strong message in just over a minute of time. Fantastic, isn't it?
That's why we have kept it on top of our list.
Key Takeaway: Make sure to be bold. Don't shy away from thinking out of the box.
2. UPS Healthcare Video
The next video on our list is of UPS. Even though the brand is a top player in the logistics industry, this one animated explainer video is dedicated to its services for healthcare. The video has a professional tone and colors featured in it are consistent with the brand's theme and style.
Plus, the panning of screens also make it easier for the viewer to understand what's going on. It's a fine technique of illustration to give someone a walkthrough of an entire process of operation, ideal to explain how each component of the supply chain adds value for stakeholders.
The message is clear and convincing as the video unveils how UPS preserves temperature sensitive healthcare packages with its cold-chain operations.
Key Takeaway: Focus on your brand colors and make transitions that wow the viewer.
Do you want to create outstanding animated healthcare video?
Reach out to the best healthcare video production company.
You may also like: Best Medical Animation Videos
3. Crossover
How should we talk about the most common healthcare problems using a video? Well, in case you don't want it to be boring, just make sure your visuals are cool.
Or maybe something that's not just cool, but highly professional and delightful to the eyes. That's what Crossover did in the video above. The color palette is amazing to light up the mood of the viewer.
Product reveal is elegant, and the characters painted and placed in the story are so easier to resonate with.
And, what's even more exciting is the logo animation at the end. For me, that's a moment of awe. Not only the script is concise, but impactful. The switch transition on logo, is such a standout that it will make the viewer recall the brand with so much ease. It's perfect!
Key takeaway: Invest in quality logo animation for your video.
You may also like reading:
How Healthcare organizations are using 2D and 3D animated videos?
4. World Mental Health Day: WHO
Have you ever thought how you can raise awareness on mental health and build rapport with your viewers in literally no time?
Well, the video here made by WHO does that better than anything else on the internet with just an animated explainer video. The tone sounds more personalized and engaging. The concept is based on Matthew Johnstone's book titled 'I had a black dog. Its name was depression'.
Though the runtime is 4 minutes, the experience strikes right of the bat and is so immersive that we can't keep track of the time. Plus, messaging is crystal-clear.
Key Takeaway: Make use of strong visuals to get your message across.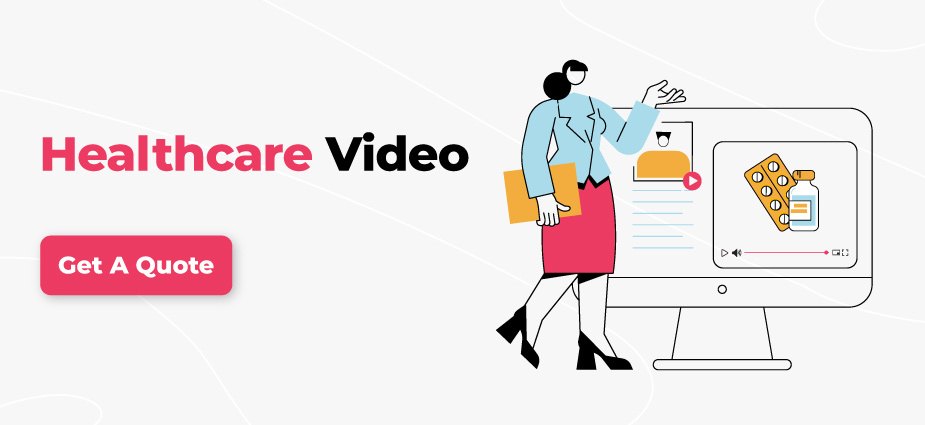 5. Healthcare video: Oscar Health Insurance
This 15-second short made by Oscar Health Insurance is one of the best works when it comes to funny healthcare videos.
They have shown us that to market yourself, you don't need to be follow suit with your competitors. You can choose to be creative as much as you want, and power up your delivery with a touch of cool humor. You will rarely see any of the corporate videos being made like that. It's one-of-a-kind.
The campaign 'You Never Know' also connects really easily with people who want to prepare for uncertain events. So, it's pretty perfect for a health insurance campaign.
Key Takeaway: Break the ice with humor
6. AdhereTech
Adhere Tech is a high-tech solution that helps you keep track of all your prescriptions. The brand has used an animated explainer to get the message across seamlessly.
Characters used in the video are avatars of normal people, like you and me. Top medical animation companies are doing the same and leaving us surprised and amazed with their creativity.
We're shown how exactly the AdhereTech device connects people to wellness products, and makes them a part of our daily lives. The globe appearing in the start of the video gives us a solid social proof, that the brand has a strong presence that attracts customers from multiple diverse regions.
Key Takeaway: Create characters to which your audience can easily resonate with.
7. Couch to 5K
This video above is an ideal example of how you can blend live-action and motion graphics in just 30-seconds. Messaging is clear, concise and perhaps super-effective. The narrator introduces us to the Couch to 5k podcast.
While using the running character, who's actually sweating their guts out (yeah, the cardio is that intense), the narrator walks us through the perfect form for running. Plus, we also learn how important it is to get 5K steps daily.
Interestingly, the video uses text on screen for sharing important info. It's really clever. But, how?
According to Digiday, 75% of all people watch videos on mute. So, they never really bother to turn the sound on. What's more likely is that most of your viewers land across such form of content when they're in their office premises. So, muting videos is perhaps, a reasonable option for them.
Considering that, they created Couch to 5k campaign what we want to call 'the smart way'.
Key Takeaway: Use text on screen or consider that most people will watch on mute.
8. Prescribe Wellness
If you've a healthcare brand and want to introduce your brand in as less as 30 seconds, then Prescribe Wellness can be a real inspiration. The color palette is one that perfectly ties the brand colors. Plus, the 2.5D animation, only adds more to the aesthetic appeal of the video.
Concept is simple. However, they've mastered use of clever transitions to keep us hooked till the end. The service reveal is simple and the tagline "it simplifies your life" also catches the viewer off guard in no time. All in all, it's perfect for a promo of a healthcare service.
Key Takeaway: Mix it up with clever transitions to hook your viewers.
9. Athena Health
This video by Athena Health uses animation and motion graphic to the fullest. Visuals are even though spell-binding, they don't communicate so concisely as we would want.
But, here's the catch, if you've been listening closely to the script or the audio, then you know it just enlists and everything not just with eloquence, but with so much precision. The humor is noticeable. But we really like and feel inspired by how they manage to address all pain points with so much detail.
So, it's another wonderful work in the name of healthcare videos. I must say, the power of animation has been utilized to the fullest for this one.
Key Takeaway: Invest in crafting a strong video script.
10. Pfizer
Th subject named pneumococcal pneumonia (I'm not sure if you spelled that correctly. It really is hard to spell), is a dry one. And, no one would be intrigued to learn more about it. But the healthcare video made by Pfizer steals the show.
It uses a perfect shape powered up with motion graphics to tell the story of the disease in just a creative way, but perhaps, seemingly acceptable and more engaging. In just over a minute of time, we're talked through how risky the disease can be, its incidence, and what precautions one need to take.
Colorful shapes catch our attention, and makes us stick to the video till the very end.
Key takeaway: Let abstract visuals and shapes tell a story.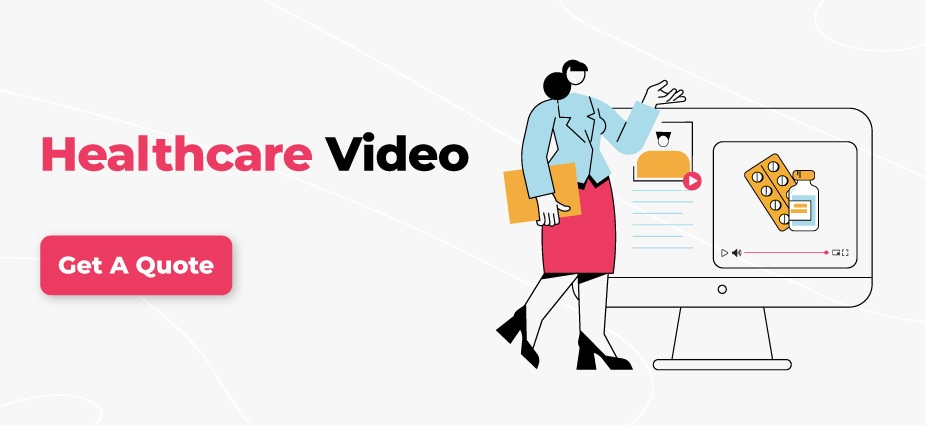 Wrap up
Alright, let's wrap this one up. This blog gave you a walkthrough of 10 of the best healthcare videos of all time. To make sure, we can provide you all kinds of creative inspiration, we did not limit our selection to only animated explainers.
Rather, if you've been following closely, you know that some of them also had live-action footage, and were hybrid ones too.
All of them are worthy of every advertiser's praise. These were really successful in getting their message across. But now the burning question is, what do you have in place for your healthcare video?
If you're looking to produce something outstanding to cut through the noise and, get your message across the right way, reach out to us today!