Logo animation can make your brand more memorable and engaging. Discover the best companies to create stunning logo animations for you.
Logo animation is hot. And, it's pretty obvious. Static logos might be cool, but they're not going to catch your prospects off guard. What can surprise them is an animated logo.
And, probably the reason why an animated logo will always outdo static graphics is because it's dynamic.
The animation it contains, can tell a great deal about the brand's style and values. As a result, it improves customer experience, turning it into a delightful and memorable exchange of messages.
So, it has immense value for anyone who wants to catch more eyeballs be it a website, proposal, graphic, mobile app or even blog content. Logo animation can bring it all to life.
So, to make sure you're able to do the same, we'll share five of the best logo animation companies. These are not just the best in business, but have fantastic talent to make your brand a stand out among others.
So, without further ado, let's jump right in!
BuzzFlick
BuzzFlick ranks on top as we're not just the best, but also one of the first to offer 2D logo animation to our clients. With our logo animation services, one thing is for sure, you customers will have an enriched brand experience.
Not only will you have a distinct brand identity, but also catch more eyeballs and turn your logo into a memorable piece of art that your prospects will certainly marvel at.
| | |
| --- | --- |
| Logo | 2D and 3D animated logo |
| Talent | Skilled motion graphic artists |
| Price | Starts from $350 |
| Customization | High-level of customization |
In addition, we at BuzzFlick can provide you a variety of logo animation. To make sure you have the full best animation logos, we offer a range of logo animations including;
Logo reveal animation
Morphing animated logo
Rotating animation
Hand-drawn logo animation
3D logo animation
Discuss your Logo Animation Concept for absolutely FREE!
Prolific Studio
Prolific Studio is another big name in the logo animation space. They take pride in their logo animation service. To them, a logo animation is a creative way to tell a brand story and educate prospects about what the brand aspires to accomplish.
| | |
| --- | --- |
| Logo types | 2D, 3D logo animations |
| Talent | High quality logo artists |
| Price | May vary depending upon the complexity of needs |
| Customization | Logo animation for multiple languages |
Pixel Logo
Another fine name for delivering meticulous logo animation service is Pixel Logo. They're not just a pioneer in the industry, but also understand that some customers might not need 3D. So, they offer flat logo animation as well.
Prices may be agreed upon after evaluating the complexity of the project. Plus, if you want to have some inspiration for your logo, then their site has examples of a variety of client work they've done.
So, there's a breakdown of the animation done as well as the type of logo (whether it's 2D or 3D).
| | |
| --- | --- |
| Logo types | 2D and 3D |
| Talent | Skilled team of designers and animators |
| Price | Starts from $250 |
| Customization | High level of customization |
Quince Creative
Want to take logo animation to the next level? Then Quince Creative is where you hop on. They're the one studio that are currently offering 3D logo animation video as they're specialized in 3D animation.
As I mentioned earlier, a logo animation can tell a brand story. That's where this whole video thing becomes really impactful. You want to tell a fascinating brand story, and speak about your values, do you?
A 3D logo animation video might just be the perfect option for you. Though it might be on the expensive side.
| | |
| --- | --- |
| Logo Types | Logo animation and Logo videos for displays and Kiosks |
| Talent | Skilled motion artists |
| Pricing | N/A |
| Customization | High level of customization |
Design Bro
Design Bro is another big name for making customized animated logos. If you adore minimalist design coming to life with some exciting animation, then Design Bro might just be the right one to opt for.
| | |
| --- | --- |
| Logo Types | 2D and 3D animation logos |
| Talent | Skilled motion graphic artists |
| Pricing | Starts from $385 |
| Customization and Resolution | High-level of customization and 4K Resolution |
| Revisions | Unlimited |
Wrapping Up
That's it. Above we gave you five of the best logo animation companies. So, if you're passionate to tell a story with your logo, then consider having your logo animated.
You won't just stand out from the crowd, but will inspire your prospects, build a premium brand identity and, make your brand experience much more memorable than your competitors. Perhaps, it's the right time for you to invest in having an animated logo.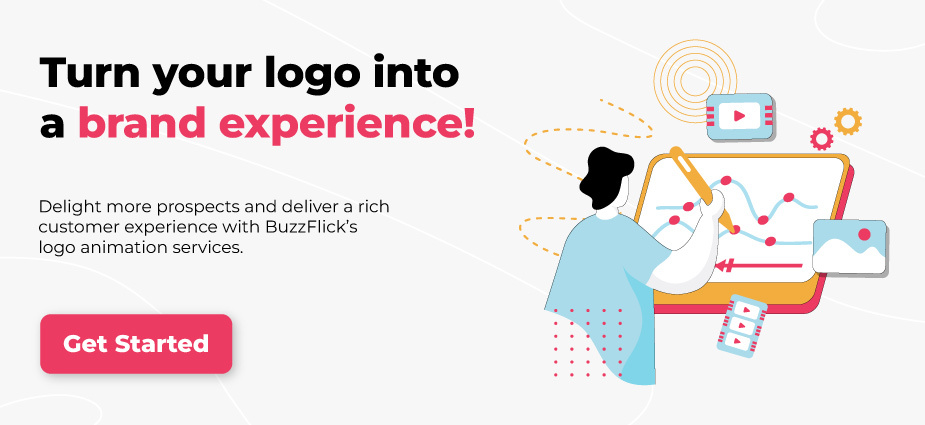 FAQs
How to animate a logo using Adobe After Effects (AE)?
Start with importing your vector logo file in AE
Set composition and animate using keyframes
Animate using layers and timing.
Export the finished item.
How long is a logo animation?
A logo animation can be of any length. However, 10-second logo animation is considered to be a standard.
Why to consider 3D animated logos?
3D logos are highly engaging and will always have a unique appeal to them when compared with the usual 2D-style animated logos. So, you might be better off opting for 3D logo animation service.
What is the price for 2D and 3D logo animation?
Price usually varies depending upon the unique needs of each client. However, for 2D logo animation, you can expect to pay anywhere between $250 and $5000. On the flip side, you can expect to pay $500 and $5000 for a 3D logo animation