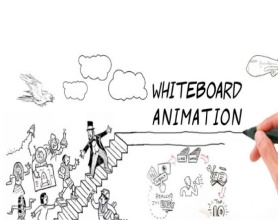 8 Best Whiteboard Animation Apps 2021
Top Whiteboard Animation Apps
In search of the best whiteboard animation apps for creating a perfect video animation? Is your search leading you to a platform where you can find all features on a single platform? No need to go anywhere else. Because in this article we will provide you a complete list of whiteboard animation applications that can help you in creating the best animations.
If you are an instructor and looking for some that can help you in teaching your students on the go and in a quick manner then below mentioned whiteboard animation apps for both Android and iOS and you can easily download them from any platform.
#1) Explain Everything
If you talk about Explain Everything so, it is considered the best whiteboard animation apps for both Android and iOS. The unique part of this application is that you can use it easily due to its user-friendly interface.
Once you are done with the installation process now all you need to do is to launch the application. After that you will get the following features that make Explain Everything stand out as unique in the whiteboard animation industry:
When you launch the application, you will find the options like New, In View, Join, and share.
Now go to the "New" option so that you can start a new project.
If you want to collaborate with other users on any of the existing projects so, you can click on the "Join" button so that others can also join you in the same project.
Moving forward you have the "Share" button that allows you to share or send your project with your circle easily.
The Explain Everything application consists of similar features as the other whiteboard animation software available in the market. Allowing users to import the documents and multimedia for any of the projects they are making.
Moreover, you will find an integration of Explain Everything with Google Drive for seamless uploading on the cloud. If you an iOS user you can easily use Apple Pencil and iPad Pro.
#2) FlipaClip
When we talk about the top-notch-rated whiteboard animation apps for both Android and iOS then FlipaClip is the one you should consider.
The FlipaClip allows users to create whiteboard animated video easily and in less interval time.
Moving towards the features of FlipaClip following are the features that you will once you install the application:
Recording Audio
Importing Audio from local drive
Creating an audio library for easy access
Access the animation timelines easily, frame manager and drawing tool
You can share videos directly on Facebook, YouTube, Tumbler, and many more platform
#3) Educreations
Heading toward Educreations so currently, it is an iPhone whiteboard video app. Educreations is also considered as the top-of-the-line application that you can use for a whiteboard animation.
The sole purpose of Educreation platform is to remove the gap between students and teachers by providing automatic sync between both parties.
You can easily share videos on different platforms like email, Facebook, etc.
#4) Videoscribe Anywhere
If you are an iPhone user then might possible you heard about the Videoscribe Anywhere whiteboard drawing application.
Without facing any hassles, you can easily create whiteboard animations.
What you need to do is when you start making a whiteboard animation is import images of your choice, add text to canvas and sit back relax rest of the work will be done automatically and you will get an amazing animated video.
#5) Whiteboard
If you are looking for an Android whiteboard video app that is easy, simple, and flexible to use then the whiteboard application can be one of your choices as an android user.
The Whiteboard application is designed for business purposes as it covers almost 90% of your screen.
When you jump on the home page of the application you will find several features that will help you to create hassle-free whiteboard animations.
The prominent feature of Whiteboard is the "undo" button that helps you in correcting any mistake that you might have done while making your video.
You might see annoying ads if you are using them online but once you switch to offline you will not be having access to any of the ads.
#6) LiveBoard Interactive Whiteboard
So, the next application on the list is LiveBoard Interactive Whiteboard and is said to be one of the best whiteboard animation applications.
Either you are an Android user or an iOS this application is luckily available for both operating systems.
Why consider this application for your whiteboard animation? So, the answer to this question is it helps you in facilitating in real-time as well as online with the other users.
When you are done with the installation of the application now you need to open it.
After opening you will find the plus button on the right bottom which helps you in starting the new project. This feature helps you to chat and broadcast while easily jumping from one application to another.
#7) Squigl
Squigl is another versatile android whiteboard video app that helps in creating the video in no time. When using Squigl you can create videos easily in no time.
The best part of this application is this you can easily paste or type text into the application and can search for images or glyphs that help in creating videos easily.
#8) Whiteboard-Draw Paint Doodle
As the technology is moving ahead so now you can convert your Android device into a whiteboard drawing device. There are many whiteboard drawing apps available for whiteboard animation but Whiteboard Draw Paint Doodle stands out separately.
This application helps you in converting your images into a real-time whiteboard animation.
There are three modes available which are mention below:
Doodle Desk
Whiteboard
Kids board
With these modes, you can easily customize your application that fits your need.
LAST WORDS
If you are searching for whiteboard animation apps for teaching students remotely then these applications might help you out. Even if you want to get connected with a whiteboard animation company then BuzzFlick is the right platform for solving all your whiteboard animation problems.
Related Article:
Top 6 Best Whiteboard Animation Companies For Your Business
Recent Blogs