Looking for Top whiteboard animation studios? Look no further. Here we have list 6 best whiteboard animation video companies for you.
Want to portray your business processes or services effectively? Create whiteboard animated videos! In this article, you will learn about top whiteboard animation companies that will help you create what your business needs – a marketing wonder!
With digital marketing evolution, a big change came into the marketers' preferences. Most of them opt for video marketing which made whiteboard animation videos one of the most vital marketing tools that one could have in their advertisement arsenal.
Being affordable and yet so powerful, whiteboard video production is definitely the choice of many business owners out there to promote their products and services.
However, finding the right whiteboard animation company to handle your whiteboard video production and bring in maximum results is one hell of a task.
Here's the thing, when it comes to whiteboard video marketing, you simply get what you pay for unless you've made a wrong decision when hiring a whiteboard animation company.
To help you with the decision phase, we have enlisted the best whiteboard animation companies that assist you in producing some compelling, captivating, and value-providing whiteboard marketing videos.
So, without any further ado, let's jump right!
How To Choose the Right Whiteboard Animation Company?
Before beginning with whiteboard animation production, let's talk about how you can choose the right whiteboard animation company for your business objective.
We all know how powerful videos are when it comes to advertisements. Whiteboard video marketing alone is responsible for some of the greatest success stories that you see today. A great example could be the whiteboard ads series of Red Bull.
When you compare the pricing with other alternatives, you might assume that there's not much that goes into whiteboard video production, but the case is quite different.
Plenty of marketing techniques and details go into whiteboard video production to make it look clean, streamlined, and compelling at the same time.
To meet that purpose, you need to collaborate with a whiteboard animation studio that has the ability to deliver this level of detail.
But how can you find such a company? Well, here are five traits of great whiteboard animation companies that distinguish them from the rest. Must consider these when looking for a company to handle your whiteboard video production.
Characteristics of the Best Whiteboard Animation Company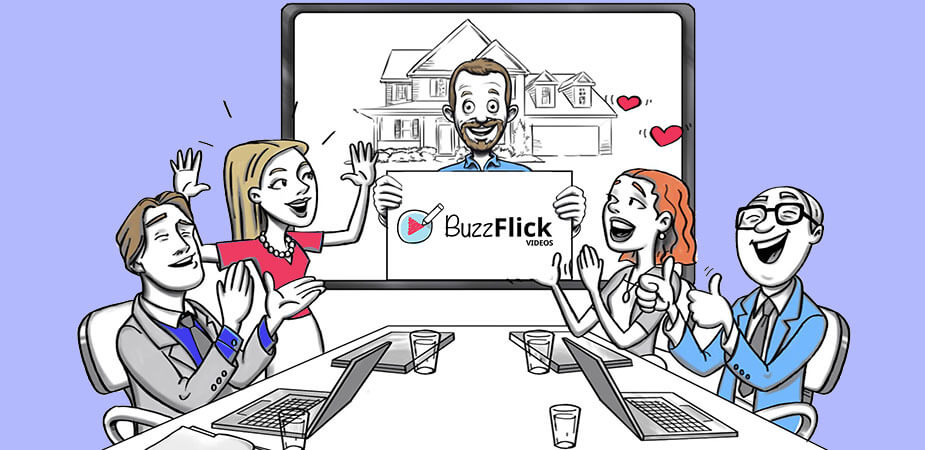 The Work Quality.
The Communication Skills.
The Customer Feedback.
The Price Plan.
The Skillset & Expertise.
1. The Work Quality
The work quality is one of the most important characteristics of video production companies. You need to evaluate the video and animation quality the company is offering. Start with checking the company's portfolio.
The videos on the portfolio will help you determine whether the company is a perfect fit for your marketing and business needs.
2. The Communication Skills
It is an old saying that communication is the key to success, so whenever you collaborate or partner with another company for business, ensure that you have zero communication gaps and the deal is crystal clear between both companies.
The same goes with whiteboard animation production whenever you collaborate with a video production company. Seamless communication between both parties would help them align with the goals and streamline their processes, resulting in a great product.
Also, assess how the video production company responds to your requirements and what process plan they suggest to reach the desired product.
3. The Customer Feedback
Understanding your customer and providing what they have asked for should always be the number one priority of any company, and if the company has provided the promised product quality to its customer, then it will proudly showcase its customer's responses.
While planning to hire a whiteboard animation company for your project, check out the company's client testimonials to determine what their previous clients have to say about them. If you find a notable number of positive responses, you should go for such a company's whiteboard animation services.
4. The Pricing Plan
The budget is the most significant factor in video production, and understanding your budget is important. Estimate your budget and look for an animation studio that provides whiteboard animation services under your budget.
But if you can get a quality product at a little expensive price plan, you should opt for that option. Look for the companies with whiteboard animation services price plans and if any plan suits you and the company looks promising, then without wasting any time, hire that company right away.
5. The Skillset & Expertise
To outstand among the competition, the right skill set and expertise are essential. When hiring a whiteboard animation company, you need to determine whether the company can tailor your projects according to your target audience and marketing goals and is capable enough to create what you have imagined.
List of Top Whiteboard Animation Companies
Now you have understood what traits of whiteboard animation companies are important to consider while picking one for your business.
These traits have helped us down with our companies hunt and reach our final point – our top whiteboard animation companies pick for your business.
So, without any further ado, let's explore the companies.
1. BuzzFlick
Founded: 2016
Team Size:50-200 employees
Clients: Redstone, Wood Wheaton, Airacer, NABU
Pricing: $5,000+
We are starting the list with the best – BuzzFlick – a Houston-based video animation studio that has been providing its top-notch video animation services since 2016.
The animated video production team at BuzzFlick put their heart and soul while customizing whiteboard animated videos for your business.
BuzzFlick caters to all sorts of businesses; whether it is an enterprise or a startup, BuzzFlick welcomes all. The studio is famous for its 2D & 3D, motion graphics, explainer video, and whiteboard animation services.
BuzzFlick offers flexible and fit-to-all price plans with top-notch quality and zero compromises. The studio is passionate about video animation and marketing and creates foolproof marketing strategies.
For whiteboard animation, BuzzFlick is the right fit for all.
2. YumYum Videos
Founded: 2010
Team Size: 10 – 20 employees
Clients: Walmart, Vodafone, Red, McKesson Corporation
Pricing: 8,000+
While talking about top whiteboard animation companies, YumYum Videos is the company that you cannot forget to mention. The company is famous for its video marketing strategies and animation projects.
YumYum Videos has collaborated with big companies like Red Bull, Vodafone, Huawei, CATAN, FOX, and American Express. The studio offers various animation services at affordable price plans.
3. Cognitive – Whiteboard animation company
Cognitive is one of the most popular whiteboard production companies in England. The studio is known for its expertise in animated explainers and whiteboard videos.
The company has collaborated with RSA and created an animated series that helped the company secure its position as one of the best whiteboard animation companies.
Cognitive has worked with BBC, Coca-Cola, eBay, IKEA, The World Bank, and English Premier League. So, if you are looking for a whiteboard animation studio, you know who to hire.
4. Switch Videos
Founded: 2011
Team Size:10-49 employees
Clients: HP,Amazon, Cisco, Nespresso
Pricing: $10,000+
Switch Videos is a Canadian animation and video production company that is passionate about animation and video marketing. It is a hub for creating creative animation ideas. From motion graphics to 2D animated videos, the company offers everything you expect from an animation company.
5. Ydraw
Founded: 2011
Team Size: 10-49 employees
Clients: Verizon, Disney, Amazon, Deloitte
Pricing: 5,000+
When you think of whiteboard animation, Ydraw is a company that is known as one of the pioneer whiteboard animation production companies.
Ydraw offers other animation services as well, but the reason behind its success is its top-notch whiteboard services.
6. Epipheo
Founded: 2009
Team Size: 10 – 50 employees
Clients: SAP, Epson, Deloitte, Dupont
Pricing: $15,000+
When we talk about whiteboard animation services and companies, Epipheo was one of the first animation studios that start creating corporate explainers and whiteboard animated videos.
Since the beginning, Epipheo has always amazed its customers with mind-blowing whiteboard animated video projects.
Epipheo is famous for its whiteboard video animation services. The studio offers live-action hands-on, typical quick draw whiteboard animation and simple motion, which is a combination of motion graphics & whiteboard animation.
7. BreadnBeyond
Founded: 2008
Team Size: 10 – 49 employees
Clients: WILEY, Nestle, uOttawa, United Nations Development Programme
Pricing: $1,000+
BreadnBeyond is an animated video production company that is popular for its whiteboard video production that covers the three Cs: Concision, Communication, and Clarity.
The studio crafts videos for recognized household companies and serve other business niches as well. BreadnBeyond creates videos in a way that communicates the message clearly and concisely, which helps your audience to connect and understand your agenda better.
Other than whiteboard animation, BreadnBeyond facilitates its clients with various other animation styles like 2D, 3D, motion graphics, and kinetic typography.
8. Idea Rocket Animation
Founded: 2006
Team Size: 1-10 employees
Clients: Partners Healthcare, Merck, Lilly
Pricing: $10,000+
When we talk about the best whiteboard animation services, how cannot we mention Idea Rocket Animation?
The studio has worked with clients of every industry and is famous for its live-action and other animation services, but whiteboard animated video has become the reason for Idea Rocket Animation studio's popularity.
9. Wienot Films
Founded: 2011
Team Size: 10-49 employees
Clients: Chanel, The University of Texas at Austin, Google, PepsiCo
Pricing: $5,000+
Wienot Film is a whiteboard animation studio that has been established in 2011. The name of the studio has been derived from the French phrase "Why Not?". Wienot has created animated explanation videos for small and large businesses all around the world since then.
The studio's whiteboard animators and scriptwriters are highly skilled professionals who craft masterpieces for their clients and deliver complicated pieces of information in a compelling and understandable manner.
10. Loud Videos
Loud Videos studio provides whiteboard and 2D animation services to businesses of all sizes. The studio customizes every project and adapts it to meet the specific demands of each of its clients.
Loud Videos also offers three animation styles to its client, explainer video, whiteboard animation, and whiteboard express. The studio offers "The Whiteboard Express" animation styles as an alternate option for companies with a restricted budget and deadline.
The studio's whiteboard animators use templates to create The Whiteboard Express animated videos, which reduces the cost and time spent on the production process but also affects the video's ultimate ROI and quality.
11. Fire Starter Studio
Founded: 2012
Team Size: 11-50 employees
Clients: Wayfair, Jeep, Harvard University, ESPN
Pricing: $3,000+
Fire Starter Studio does not only offer top-notch whiteboard animation services but has also amazed its clients with numerous live-action, 2D & 3D animations, motion graphics, and character animation work.
The studio is not just dedicated to providing corporate video services but also creates animated series, live-action series, featured films, and documentaries. Fire Starter Studio has served clients from all industries, from renowned companies to startups.
12. Gisteo
Founded: 2011
Team Size: 2-9 employees
Clients: Barracuda, KPMG, Pfizer, Quickbooks
Pricing: $1,000+
Gisteo is one of the most creative whiteboard animation companies, without which the list is incomplete. The studio has created numerous marketing videos for businesses around the globe.
It has an animation team that has expertise in 2D animation, motion graphics, kinetic typography, whiteboard animation, and other video production services.
Gisteo believes in creating aesthetic animated videos that serve all business and marketing purposes. The studio resorts the cut-out images, animated hand movements, and digital drawings. The best thing about the team Gisteo is that they believe in recreating and remixing animation.
13. XPLAI – Whiteboard Video Production Company
Founded: 2016
Team Size: 10-49 employees
Clients: Innomovo, Nimble, Scalable Foods, LetyShops
Pricing: $5,000+
XPLAI is a Ukrainian video animation and production company that specializes in explainer animation, motion graphics, 2D animation, and whiteboard animation.
This is one of the finest companies on our list and has been providing its animation service since 2016. Nonetheless, its work is of outstanding quality and aesthetic worth, making it one of the top whiteboard animation services available.
Here's a work that, despite being created in a different animation technique, demonstrates the XPLAI team's abilities.
14. Video.Explainers – Whiteboard Animation Services
Founded: 2010
Team Size: 2-9 employees
Clients: Microsoft, Comodo, NASA, HSBC
Pricing: $5,000+
Video.Explainers is a New York-based video animation company that has a team of experts in various animation styles. The studio has a specialty in whiteboard animation, and crafts customized animated videos according to the need and requirements of the client.
This team can craft pieces tailored to your prospects, like any of the whiteboard video companies on this list. They also strive to overcome challenges, turning complicated topics into simple informative descriptions.
Why Choosing the Right Whiteboard Animation Company is Vital?
Understanding your marketing needs and budget allows you to pick a company for your marketing objectives but compromising the quality due to budget is not what is suggested.
Whiteboard animation is more than just a design; it demonstrates complicated ideas in understandable formats, which is why choosing the right whiteboard animation studio is important.
Picking the right whiteboard video production services would not only get you a compelling and captivating whiteboard video but also help you meet your marketing goals. Here's what the right company would help you achieve.
The connection between you and the audience
Brand awareness
Boost your trust among the audience
Boost conversion rate
1. Connection Between You and The Audience
Building a connection between your business and the targeted audience is important. A company with marketing sense and experience will help you create a script that touches your prospect's heart and create a bond between the core message and the audience.
With a compelling script and captivating animation, the chance of the audience watching and learning increases, which eventually establishes a link with the presented product, services, business, brand, or initiative.
Professional whiteboard producers help you connect with your audience in a way that they can relate to the video, ultimately increasing your chances of converting them into consumers.
2. Brand Awareness
For every company, brand awareness plays a vital role and requires an adequate amount of time to design and build engagement.
It is child's play for companies who has experience in creating marketing and awareness videos. They portray brand values and business objectives to your targeted prospects.
Brand awareness is something you can never ignore when it comes to advertising. In simpler words, branding should be the center of your video. However, you need to make sure that you're not spamming your video with branding. Instead, keep it balanced so that the audience can remember you well.
3. Boost Your Trust Among the Audience
Video marketing helps you build trust and loyalty among your targeted audience because once your prospects trust you, they surely will be going to buy from you.
When your audience can relate to the thing that has been explained through your videos, they are most likely to trust you because it represents who you are, what you do, and how your brand/product will be beneficial for them.
You can help your audience resonate with your brand by reflecting the essence of emotion in your video through storytelling and narration.
4. Boost Conversion Rate
The main reason behind every marketing campaign is conversion and sales elevation; this is where a whiteboard animation company helps you boost your conversion rates with captivating marketing videos.
Whiteboard animation not only helps to build a connection between companies but also enhances communication internally in the company. Building a connection internally is important because healthy communication between you and the team would result in a product that outclasses.
There are so many other elements that play a vital role in establishing a connection between you and the hired whiteboard animation company because clear communication is paramount for every business.
From your project requirement to product delivery, communication organizes all the processes perfectly and removes the chance of error and flaws.
That is why BuzzFlick pays extra attention to getting its client's input in every step of the production so that at the end of the production, the client gets what he has paid for because client satisfaction is the key to success.
BuzzFlick guarantees the video and animation quality and meets the defined requirement parameter to deliver what the client has asked. We understand:
Who are you?
What do you need?
Who your prospects are?
What your competitors are doing?
And What do you need to do?
Take a look at what we have to offer!
FAQs
Here are some frequently asked questions that you must give read for a better understanding of the whiteboard process and tool understanding.
How Much Does a Whiteboard Animated Project Cost?
The cost of whiteboard animated video production varies from the requirement to requirement, company to company, and budget to budget. However, creating a customized whiteboard animation through professionals usually costs between $7000 and $15000 per 60 seconds.
Although this cost might look overwhelming for many people, but it is necessary to remember that whiteboard animation is a complex marketing asset and require a team of qualified and skilled directors, animators, scriptwriters, voiceover artists, and editors.
Which Company Is the Best for Whiteboard Animation Services?
Here are the top animation video production companies that provide the best whiteboard animation services:
BuzzFlick
BreadnBeyond
YumYum Videos
Epipheo
Check their portfolio, client reviews, customer testimonials, social media platforms, and YouTube channel to see the quality they are offering.
What Are the Best Whiteboard Animation Apps to Try?
Since the invention of smartphones, it has made animation and video editing a lot easier. Here are the best whiteboard animation apps that you must give a try if you are thinking of creating a whiteboard video:
Explain Everything
FlipaClip
Educreations
Squigl
For more information about these apps and to find other useful whiteboard animation apps, check out our blog about the best whiteboard animation apps.
· What Is the Best Whiteboard Animation Software/Tool?
There are countless whiteboard animation software and tools that you can pick for your whiteboard video production, but we have found the following whiteboard animation software as the best pick for everyone:
Doodly
FilmoraPro
Easy Sketch Pro
Adobe Animate CC
MySimpleShow
These tools are for those who are eager to create some DIY whiteboard animation projects. If you are interested in free whiteboard animation tools, check out our blog about free whiteboard animation software.
We understand and are well aware that using whiteboard animation software is more inexpensive than hiring a whiteboard animation production company, it can be easy on your budget, but the desired marketing quality will be challenging to achieve.
Remember, if you are new to whiteboard video production, then your final product won't be up to the mark, and it will be hard for your product to generate the quantity of ROI that a professionally crafted whiteboard animated video can.
The Conclusion
Picking the right whiteboard animation company for your business is a challenging task but not impossible. With quality research, data analysis, and communication, you can find what suits your business criteria.
When choosing a whiteboard animation company, keep your marketing needs and budget in mind. This will help you pick a company that can deliver what you need in what you have.
A tight budget will limit your options, but that does not mean that you cannot find a reasonable whiteboard animation fit for your business. If you do keen research, you can find the best whiteboard services at affordable price plans.
In our suggestion, begin with the options mentioned in the list, ask for quotes, compare them with your budget, and estimate which company gives you the quality you desire in your calculated budget. Also, check for their portfolio and client reviews to verify their claims.
Your business is your future asset, and to boost your sales and conversion, marketing plays a vital role. So, choose your animation video production studio wisely as your time, money, and the project is at stake.
Happy Animation!
Other Lists We've Created: