Looking for the best software for Whiteboard animation? Here is the list of the 10 best Whiteboard video animation software that you can use.
Want to make your video stand out? Want to redefine your product presentations? Want to convey your message engagingly and effectively? Well, meet Whiteboard animations – the answer to all your video marketing needs.
Whiteboard animation videos bring stories, ideas, imagination, and creativity to life. Whether you are willing to market your product or explain your service – whiteboard animations are an effective way of transmitting the message.
However, creating a whiteboard animation video requires a Whiteboard video marker. Luckily, there are several free Whiteboard animation software available in the market that you can leverage to create your own Whiteboard videos.
Several companies offer Whiteboard video animation services, but today in this blog, we're going to tell you how you can create a Whiteboard animation.
So, here are some of the best Whiteboard animation software (Free and Paid) that you can choose to create your own Whiteboard animation.
But first, let's explore Whiteboard animation videos and their history. Let's start.
What Are Whiteboard Animation Videos?
Whiteboard animations are a video type, and it shows static images being drawn on the screen by generally a hand. The illustrations within the video are supported by a narration that is conveying a message to the audience. The message can be of any type of product or service related. These animations are simple yet undoubtedly engaging and effective.
Moreover, you can create Whiteboard animation videos using paid or free Whiteboard animation software.
The History Of Whiteboard Animations
Since its inception back in 2007, Whiteboard Animation has become the heart and soul of effective marketing campaigns and other types of animation videos. However, since their inception, they have evolved drastically over the years.
Top 10 Free Whiteboard Animation Software
Now that you know about Whiteboard animation videos and their history – it is time to discuss the 10 best Whiteboard animation software and their pros and cons starting with…
#1) Explaindio (Paid)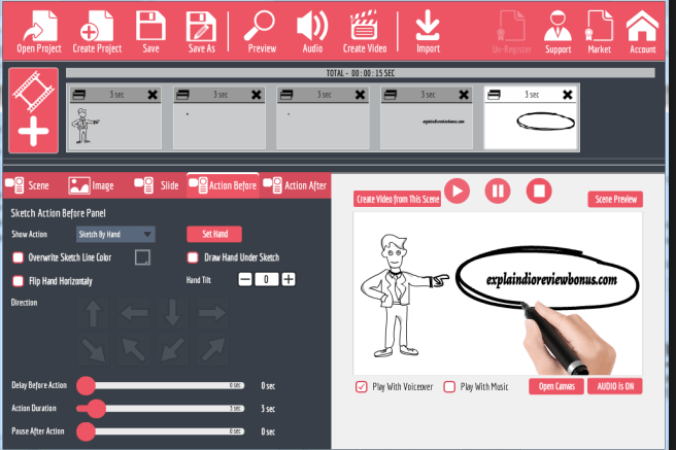 Explaindio is an amazing video animation software. This Whiteboard animation software is extremely versatile and packed with the latest tools, functionalities, and features that help the user create stunning and customized Whiteboard animation videos that suit your goal.
Pros
You can import images and GIFs to your project.
Can create an incredible marketing-oriented video.
The software enables you to convert GIFs and images into a Whiteboard animation video.
It is designed to create marketing videos.
Cons
The software can be complicated for beginners.
It is not free and does not come with a trial.
A new user would require more time and effort to master it thoroughly.
Pricing
This software is available for $37/Month, and you can buy it here.
#2) MySimpleShow (Free)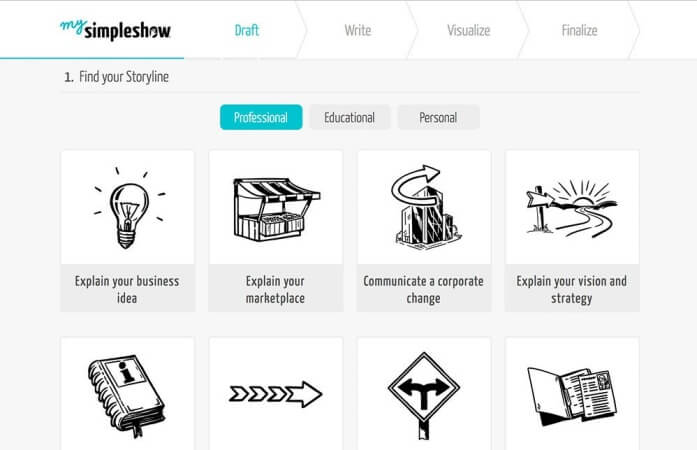 MySimpleShow is a free whiteboard animation software, and it makes it easier for the user to create animations related to corporate situations.
Also, MySimpleShow provides the user with a free whiteboard animation plan which the user can use to convey powerful marketing messages or simply highlight the importance of a product or service.
Pros
User-friendly and can be easily used with storyline templates.
The software does all the technical work by itself.
Gives you the feature of adding audio to presentations.
Cons
Limited Storyline Options.
Pricing
This software is available for $129, and you can buy it here.
#3) Doodly (Paid)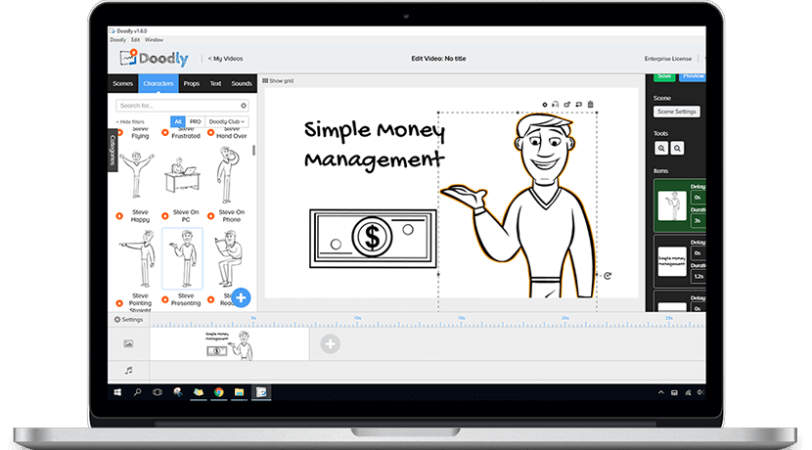 Doodly is the easiest and feature-rich Whiteboard animation software. Literally, anyone can use it to create a professional video within minutes. The name of the software "Doodly" was derived from the type of videos it was designed to develop "Doodle Videos."
From engaging and interesting content to marketing and branding videos, Doodly enables you to create any animation video quickly and efficiently. You don't have to be experienced and mature enough to use Doodly. It is a simple yet powerful software that is currently spawning a legion of the best whiteboard video examples with its incredibly intuitive interface.
Pros
Using patented technology, Doodly lets the user draw and upload an image.
Unlimited pictures can be uploaded to a single video.
You can use Doodly on several devices.
Cons
No trial period.
Requires an internet connection.
Pricing
This software is available for $39, and you can buy it here.
#4) RenderForest (Free)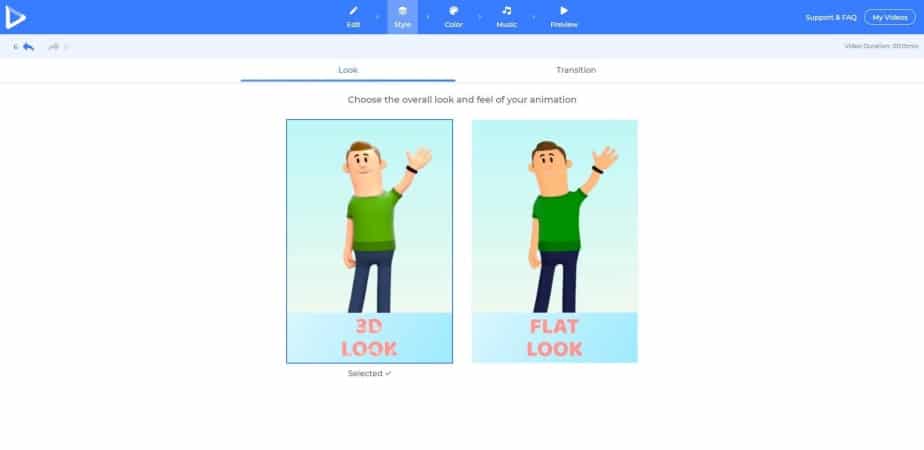 One of the best Whiteboard animation software focuses on a storytelling approach to create an intriguing Whiteboard animation video.
The software is cloud-based and does not require a top-notch machine to run it. With plenty of ready-made templates, you can save time and design an immersive video within minutes.
Pros
Free interesting templates.
The software is cloud-based.
You can edit the content online.
Cons
Allow font editing option to the "One-time purchasers."
Limited accessibility.
Pricing
This software is available for $9.99, and you can buy it here.
#5) PowToon (Free)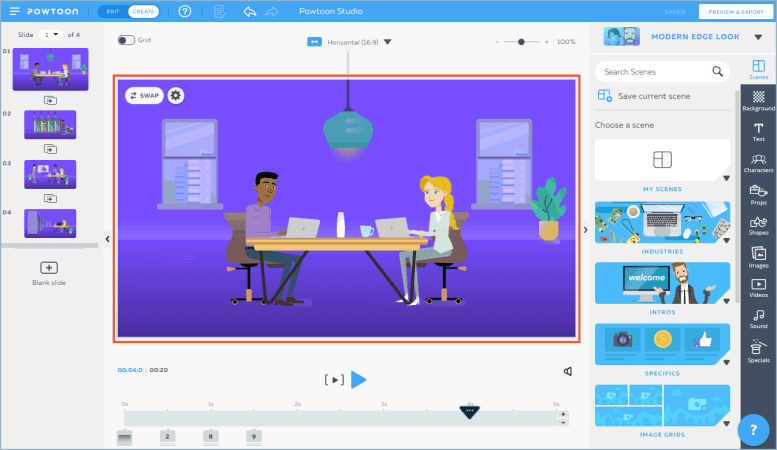 This video animation software lets you create a short whiteboard video quickly. PowToon offers you the feature of creating a video of 3 minutes in HD quality.
The presentations created by PowToon look clean and professional. Moreover, the storage is 100 MB.
Pros
Leverage royalty-free music and integrate it into your whiteboard animations.
Adds an element of fun to the process of creating a whiteboard video.
Cons
The process can be slow, and the software may sometimes lag.
The online picture attachment option may lead to some inappropriate images.
Pricing
This software is available for $19, and you can buy it here.
#6) VYOND (GoAnimate) (Paid)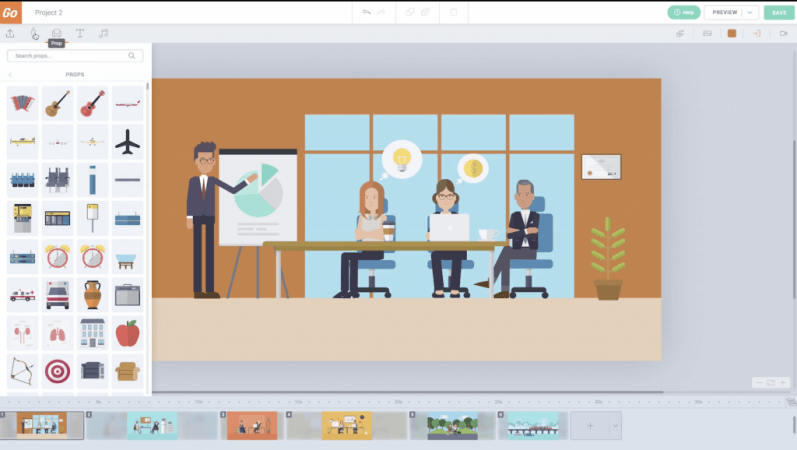 GoAnimate or VYOND is certainly not a free whiteboard animation software, and that is due to the functionalities and features it provides to the users. With tons of backgrounds, characters, and props, the user can easily create innovative and eye-catching whiteboard animations.
VYOND has several themes related to several industries that you can select to create brand-based marketing animation videos plus, you can create and customize your own characters.
Pros
Free 14 days trial.
Easy to use.
Pricing is reasonable.
Several characters and props that you can choose from.
Cons
Some of the features are available once you purchase them.
The voiceover sounds robotic and unoriginal.
Pricing
This software is available for $299/year, and you can buy it here.
#7) Moovly (Paid)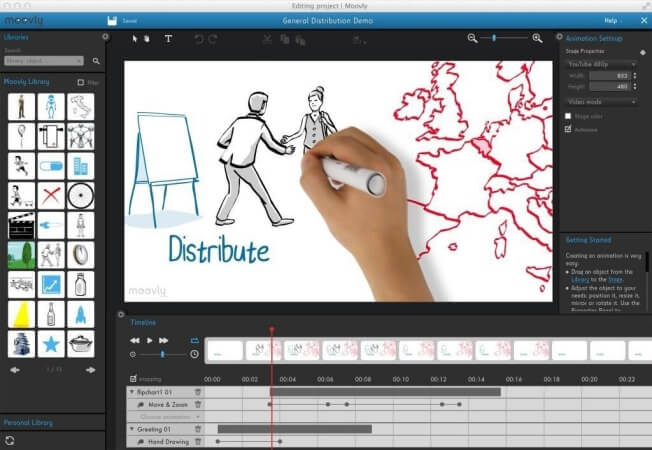 A highly professional and one of the best whiteboard animation software out there. Moovly is used by successful brands and organizations to create their marketing, product, or service whiteboard videos. The software lets you create multimedia content, presentations, animations, and with the help of several free templates, you can create a stunning video within minutes.
Also, the feature of adding your own images, sound, video clips, and editing, adding, deleting, or even restoring them, later on gives you a feeling of having every essential tool at your disposal.
Pros
Object Locking and Layer Feature helps avoid unintended changes.
The editing option is placed conveniently.
Special occasion library lets you access occasion-based themes and objects.
Cons
The software is known to have glitches issue.
It is costly.
Pricing
This software is available for $49, and you can buy it here.
#8) VideoJeeves (Paid)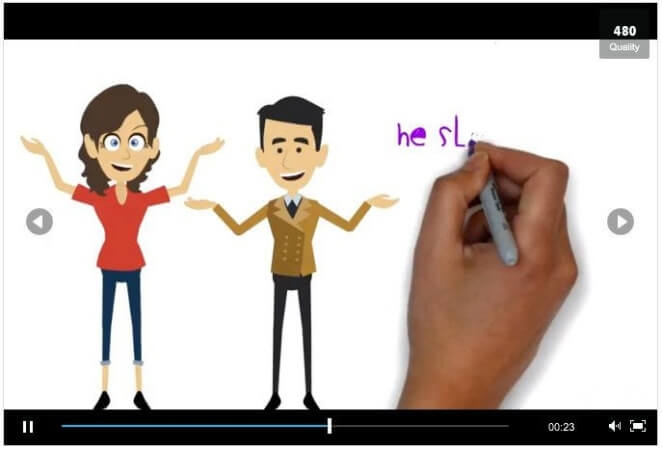 Major and well-known companies like LeadGen, Freelancer.com, and GoldExport use VideoJeeves to create their animation videos.
The software lets the user dive into the world of animation with amazing functionality and features. The user can create a whiteboard animation instantly and easily. If you want to share something with your friend or you want a whiteboard animation video for your company, VideoJeeves lets you create both of them and much more.
Pros
Excellent customer support.
The professionals can help you with your whiteboard animation video.
Include features such as illustration, scripting, themes, and voiceover.
Cons
Not recommended for beginners because of complexity.
Has a steep learning curve.
Pricing
This software is available for $499, and you can buy it here.
#9) Easy-Sketch-Pro (Paid)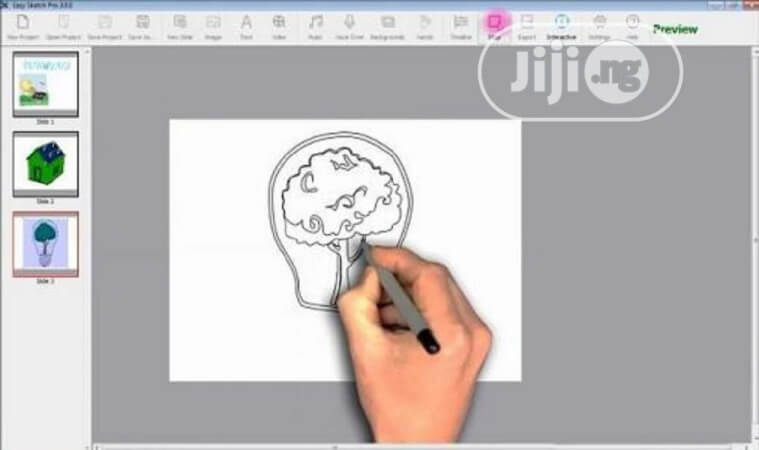 This whiteboard video maker beautifies your whiteboard animation video by incorporating stunning imagery and visuals in it. Whether you want to create graphics or choose from the pre-created section, the software offers every feasibility to the user.
With a user-friendly interface, easy navigation, and useful features, you can quickly create an engaging video for your product or service.
Moreover, the software outperforms several whiteboard animation software when it is running on a tablet.
Pros
Easy to use interface that supports drag and drop feature and sketch video creation.
You can build stop motion animation and whiteboard videos from scratch.
Cons
The software requires purchasing.
There is no professional support for animation creation.
Pricing
This software is available for $37, and you can buy it here.
Conclusion
There you go!
Here is a list of the top 10 paid and free whiteboard animation software that you can download today and start creating your own whiteboard video.
Moreover, most of these tools come with royalty-free assets, which means no watermark. Some of this software has a free trial option but limited video length. By the way, which one did you like the most? Share your opinion with us, and we'll be happy to hear what you have to say.
Also, BuzzFlick is known to create great customized whiteboard animation videos for brands or individuals. If you need any help with your videos, just click on the button below.
Related Article: