Searching for an animation outsourcing company? Here is the complete guide for beginners with the tips & tricks that will help in studio hunting.
The world has faced numerous changes due to the pandemic situation. It has affected lives and work styles, which caused the paradigm shift for the animators too.
Nowadays, many animation companies, freelancers, and animators are outsourcing different modules of their projects to others around the globe.
Animation outsourcing also has its do's & don'ts like everything else, and if you don't pay attention while evaluating them, you might end up wasting your time, money, and efforts.
With various outsourcing project experiences, we have put all the vital points together and turned them into a comprehensive guide for our readers and newbie animators.
So, don't waste time.
Let's begin!
What is Animation Outsourcing?
Outsourcing is a process of assigning work to a person or agency outside the company. Sometimes, due to the lack of resources, capability, and time, companies outsource their project or parts of the project to external entities to get it done on time.
Some companies prefer to finish pre-production and pass the production and post-production to other agencies, but some outsource the complete project from pre to post-production.
What is the Need for Animation Outsourcing?
Well, in the past few years animation industry has grown fast. The animation production market has escalated from around $50 billion to nearly $70 billion. The figures have been rising due to increased WFH (Work From Home) animation companies.
Business analysts have predicted that in between 2021 and 2025, animation outsourcing will reach its high, and it will be one of the reasons for the increment in competition.
The Simpsons and Futurama are famous animated television shows that are also the result of animation outsourcing.
Years ago, the demand for animation work flooded Hollywood studios, making them outsource some of the animation phases to the Asian studios.
Animation outsourcing is a bit expensive workflow, but the cost might decrease if it's done properly. Most studios outsource their projects to the Philippines, South Korean, Indian, and Japanese animation agencies for low-cost animation.
Even entertainment studios like Warner Bros, IMAX, Disney, and Cartoon Network outsource their animation project to various countries and agencies. It means that if you raise the production, the funding numbers automatically get higher.
Animation outsourcing not just accelerates the production rate but also increases the demand for your work. Now, let's check out how you can find an animation company for outsourcing and how this whole process works
Types of Animation Outsourcing Services
We are about to discuss the animation services you can outsource for animation production, and we are going to guide you on how you should do it effectively.
1. 3D Animation
When we talk about realistic animation, 3D animation is what clicks in our minds. Its production includes techniques that make it look different from the 2D or regular animation.
For animators, the 3D characters and objects are easier to create and change for every scene. They easily move the character from scene to scene.
2. 2D Animation
2D animation has made its way in all sorts of entertainment and media work, whether it is a video game, anime series, mobile apps, advertisements, websites, or TV shows; every domain uses 2D animation.
3. Video Games
Game development companies are now partnering with many animation production companies for high-quality game graphics.
With time, the game development industry is shifting toward a more realistic gaming experience that has raised the demands of 3D animation services and animation production companies.
4. Mascot Designing
Companies and brands invest more in their marketing to get recognized with a glimpse and to achieve that, they prefer digital mascots.
The reason for creating a brand mascot or character is to increase customer engagement and interaction with the company, product, or service.
With brand characters, companies are also moving toward promotional video production to communicate their business goal to the prospects better.
5. Animated Commercial
To engage more, companies keep performing marketing stunts and get successful. One of the marketing tactics that works 100% is animated video ads and commercials.
Companies use animated commercials to showcase their business, promote their products, demonstrate their services, and feature their apps in a compelling way.
Research has proved that animated videos engage more and evoke the audience's emotions to connect better with the brand story. It boosts the conversion and retention rate of the audience and elevates lead generation.
Take a look at this Coca Cola animated commercial, which is undoubtedly yummy to watch. It is an excellent animated commercial idea for your next project.
How to Look for an Animation Outsourcing Company?
Various animation agencies in the market claim to be the best in business, but to outsource a client's project is a great deal of risk.
To search for the actual best and most authentic animation agency, you have to keep two essential tips in your mind.
Tips to Find An Excellent Animation Outsourcing Company
Suppose you are a new animation studio with limited services but got an awesome project that can change the level of your business and help you stand among the top animation agencies, how will you complete the project and fulfill the client's expectations simultaneously?
By animation outsourcing!
But, how will you know that the company you are going to outsource your project is suitable for the processes? Keep these two key points in your mind while searching for an animation outsourcing studio:
1. Learn about the animation company
The best practice is to learn everything about the company you are going to outsource your project to. Evaluate their portfolio and check their work, it will help you understand the quality and quantity of services the studio provides.
Note: Must look for the studio reviews on the various review websites to see how good they are in the business.
2. Talk about the budget
After the company evaluation, select the service for which you are outsourcing your project. Start with discussing the idea and observe how the person responds to your requirements and ideas.
If the service cost fits your requirement, then begin with your production phases, and if the price is higher than your budget, go for the second-best studio you have short-listed.
Note: While hunting for an animation studio, short-list at least 5 to 6 animation companies. If your budget doesn't match the price of the first company, you always have the second option.
After digitalization, along with the potential growth of e-commerce businesses, digital fraud has also increased drastically. But if you follow these two tips, it will definitely reduce the chance of wastage and fraud.
Is It Reasonable to Outsource An Animation Project to a Freelancer?
While looking for an animation outsourcing studio, you will encounter some impressive freelancing profiles that can get the job done in two times less than an animation company.
LinkedIn, Fiverr, and Upwork are full of talented and excellent freelancing animation services, but 3D animation companies are rich with the infrastructure and systematic processes that outperform freelancing.
Animation studios and agencies have all the necessary programs, software, and qualified resources to complete the project that gives you maximum success. So, whenever you are stuck in the dilemma of choosing between an animation company and a freelancer, keep the above point in your mind.
4 Easy Steps to Find A Perfect Animation Outsourcing Company
If you are looking for an animation company for complete animation production or outsourcing different parts of the project, the hunting process will be the same. Through four effective ways, you can find a perfect and reasonable studio for your project.
1. Do Google Search for Best Animation Studio Website
The first step is to search for the services you are looking for. Google will show the list of all the ranked websites on the result page. Choose a website, look for the portfolio, and see if the showcased work matches your project requirement.
The best practice while searching for an animation studio is to type the location, city, or country at the end of the search.
For example, if you are located in Melbourne and looking for an animation studio, then your search style should be: "Best animation studio in Melbourne."This practice will help you find the best local animation company. Take a look at this search.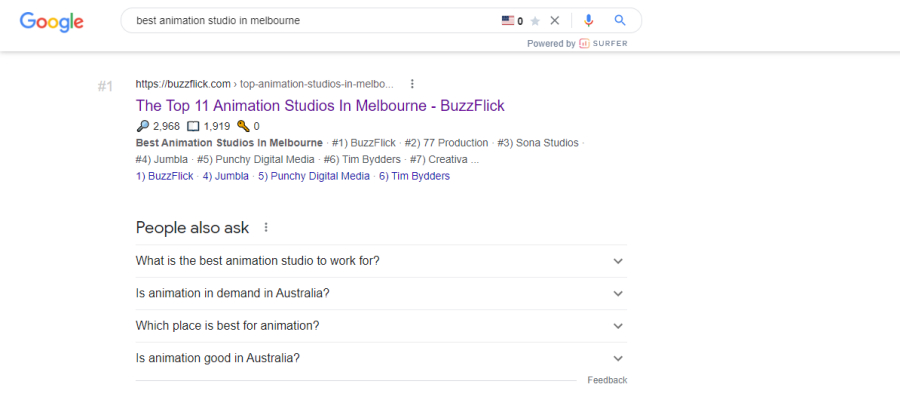 Those companies that do not optimize the SEO techniques in their websites might not get a chance to be displayed on the first or even on the second page of the search.
If you see an animation studio website in the top search, it indicates that they are not just optimizing the SEO but are quite clever in content marketing.
2. Check the Client Reviews and Testimonials
Every company talks about itself as the best animation studio in the world but to verify this claim, you can check its client reviews on various reviewing sites like GMB, Trustpilot, Sitejabber, and Clutch.
Some of these review sites verify and evaluate the company before posting the review to provide authenticity. They follow a proper protocol and interview procedure to verify the studio as a reliable production company.
At Clutch, you can check all the basic information about the studio, like the pricing, location, services, animation style, and portfolio.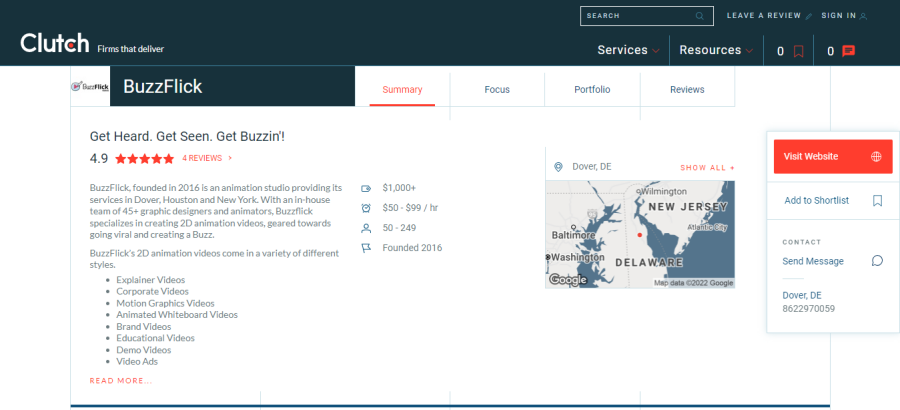 It will help you see how an animation studio has worked with its client and what services it's actually good at. You can learn about the client experience with our company at BuzzFlick Clutch.
3. Check The Social Media Accounts for Public Relations
Along with the website, many companies stay active and post content on social media platforms. It let them stay connected with their targeted audience and prospects.
They respond to the comments and queries and share their work experiences. Companies even run marketing and promotional campaign on their social media account to channel the traffic toward their main landing and product page – an excellent marketing strategy.
P.S: If you want to learn how much social media marketing is effective for your business, check the article on how social media animation marketing is helping companies grow.
4. Press Coverage
So many animation magazines publish articles about success stories and projects. To see which animation company is shining in the business, check for their press release and coverage.
The Conclusion
We have tried out best to cover all the important points that will be going to help you in finding the best animation outsourcing companies for your various animation production projects.
Just keep the tips & tricks in your mind while searching for an animation outsourcing company, and you will end up with total success in animation production.
The Editor's Choice
Not just for animation outsourcing, but if you want complete animation production services, BuzzFlick is right here to help you.
BuzzFlick is an award-winning animation video agency in the USA. The studio is a master in explainer videos, 2D animation, 3D animation, 3D modeling, whiteboard animation, educational videos, corporate videos, marketing videos, promotional videos, product demo videos, video ads, and video editing services.
Animation Outsourcing – FAQs
What are some possible options for outsourcing animation?
One way to find animation studios is by conducting a Google search and evaluating their style to see if it fits your needs. The studios that have good search engine optimization will likely appear at the top of the results. Another option is to search for animation studios on outsourcing websites like Clutch, where you can read reviews and assess their overall performance. Additionally, you can gather information about animation companies by reading articles in animation magazines and watching interviews featuring them.
What will be the cost of animation outsourcing?
An animation outsourcing project costs you approx. $1,800-$26,000, but mainly the cost depends on the complexity, requirement, style, revision, and other factors that vary from project to project.
If you want to calculate the animation cost, check out our article about the cost of animated video, which covers all the points you need to consider while calculating.
Is outsourcing animation good?
Many businesses can take advantage of animation studios' cost-effective and time-efficient services, which can also help them save office space. After considering their options, most enterprises may determine that outsourcing animation is not only the best but sometimes the only viable solution.
What are the benefits of animation outsourcing?
Following are some of the common benefits of animation outsourcing:
Time-saving and cost-effective
Reduces office space requirements
Lowers expenses related to hiring and training
Ensures high-quality work
Utilizes cutting-edge technology offered by animation studios.
What are the different approaches to outsourcing that businesses typically use?
MyVA360 has an informative blog post that describes various types of outsourcing practices, including animation outsourcing. BuzzFlick is a company that can assist with some or all of your animation project needs.
Is outsourcing used by companies such as DreamWorks?
Grinning-Tiger reports that DreamWorks TV functions as a hub and, like many TV studios, relies on outsourcing to complete their animation projects. The majority of the animation work is outsourced to studios located in Canada and Asia.
How do animation studios compare to freelance editors in terms of outsourcing animation projects?
While freelance editors can be a good option for a specific stage in the animation production process and may charge less, there is less assurance of the quality of their work. In contrast, animation studios have a larger team of staff with better technology and are able to take on greater responsibility for the animation project as a whole.
Why is animation outsourced to countries like Korea and India?
In recent times, there has been a rise in animation outsourcing, with several countries including Japan, South Korea, Taiwan, Hong Kong, Canada, Australia, the Philippines, India, and Hungary providing animation services for various American animated productions since the mid-1960s, owing to their capability to handle large workloads and deliver high-quality work at an affordable price.