Animated videos are part of any modern marketing strategy, but how much they cost? Read this guide to know how much does an animated video costs in 2023?
Launching a new product or service variation, planning to create a how-it-works tutorial, announcing a holiday season discount offer, and building substantial brand equity with client testimonials or a message from company founders, brands are making explainer videos for a wide variety of reasons.
Videos have become the first choice of most organizations around the globe to engage with audiences. That said, every time you plan to create an animated video, the first thought that comes to mind is how much it would cost to create an animated video in the first place.
We all know how powerful this medium can be for businesses, but how much investment does it actually require?
Well, there is no set way to know this and generally, businesses have to go through a lot of trouble to receive quotes from different companies and gather market data.
As a client, it can get confusing to work your way around all these emails and phone calls, and differentiate between 2D animation studios that are actually trying to help and who are looking for ways to just make a sales pitch.
Being part of the industry, we took it upon ourselves to get some of this tough work off your shoulders.
As part of our research, we contacted 85 different 2D animation companies and asked them a couple of questions to learn how much they would charge for a standard 90-second explainer video.
We also provided these companies with two sample videos to give them a better understanding of how much work they will be required to put in. Here are videos that were shared with the companies:
Animated Video – An Overview Of The Numbers
So getting right into it, on average, creating a 90-second explainer video will cost you $11,975.
However, when you are right in the middle of finding a 2D animation company to create your video, you may be charged an amount far from this average. Look at the figure 'Price Distribution of an Explainer Video' to better understand the market insight.
A majority of 2D animation companies will charge you between $10,001 and $15,000 for a 90-second explainer video. Whereas, another big chunk will provide their animation services for any price between $6,001 to $10,000 and $15,001 to $25,000.
But just like most of the worldwide industries, few players play on their own rules. Similarly, in certain situations, you might be asked to pay an amount above or below these defined price ranges.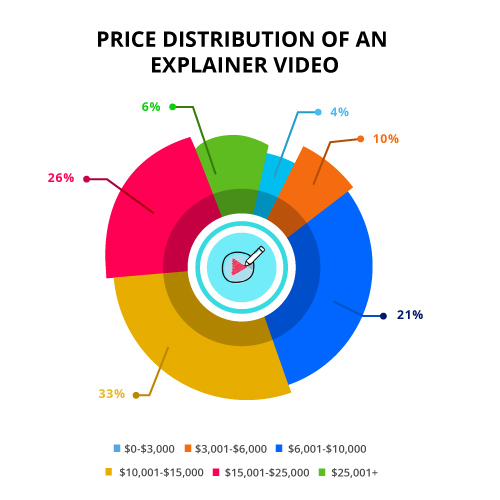 Are you wondering why such a broad range of prices for the same service? Let's not forget that video production is a highly creative task that requires diverse skills and professionals to work together as a team.
A lot of 2D animation studios genuinely excel at creating a synergy of these multidiscipline while consistently maintaining the vision of the project throughout the 2D animation process.
However, to find the best partnership for your vision and project, it's crucial to do your homework right. Each animation company operates with different expertise, experience, and packages, and your job is to find the perfect collaboration out there that can help bring your vision to life.
Another critical thing to keep in mind is to ask about hidden charges that may appear out of nowhere, as the project unfolds. The cost we have mentioned is just the start or face value of creating your video, but the final amount you will end up paying cannot be confirmed at this point.
For example, if your company charges you extra for every section of feedback and edits, the cost can rise very fast.
Creating An Animated Video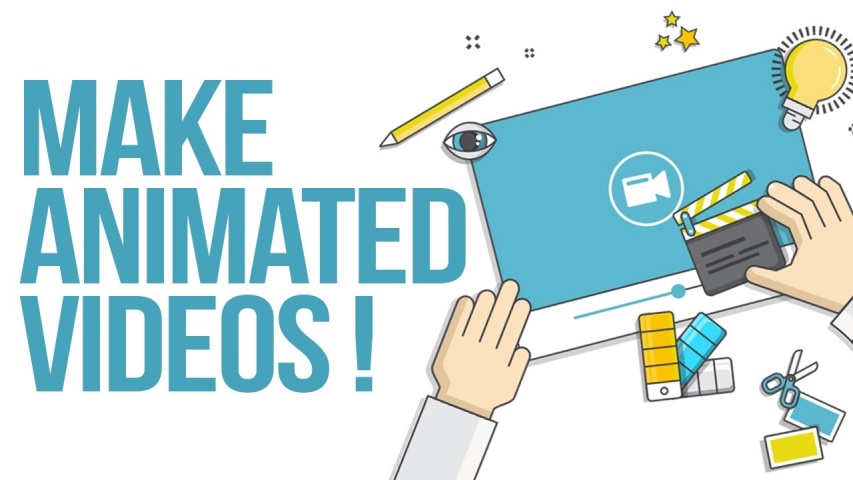 Unlike how you see your video as a single final product, animation studios see the diverse stages and skills that go into it. And every step in the process adds its own level of expense.
The cost of creating your video will also change if you have the ordinary requirement for any specific stage. As you increase your list of specifications and features, it will add up to your initial cost.
Animation Studios Cost VS Freelancers
Let's have a look at what each stage of the video production process will cost you as a separate service when working with a freelancer, as well as a 2D animation studio.
| | | |
| --- | --- | --- |
| Video Production Stages | Freelancer Services | 2D Animation Studio |
| Concept and Script Creation | $100 to $300 | $300 to $3000 |
| Storyboard | $300 to $900 | $900 to $12,000 |
| Animations | $550 to $1,500 | $1,300 to $20,250 |
| Voiceover and Sound Effects | $75 to $400 | $150 to $1,500 |
| Project Consultation | $0 to $700 | $0 to $7,500 |
| Revisions and Edits | $0 to $700 | $0 to $8000 |
Opting For a 2D Animation Studio Or Getting A Freelancer?
Now that you have a better understanding of the monetary side of the decision and you have assigned a realistic budget for your video, it's time to make another big decision. This might be a big one!
Primarily, there are two ways you can create an animated video. You can look for a different freelancer with individualistic skills and get your video through every stage or hire an animation studio you trust and relax.
Which is the better approach for you?
Hiring An Animation Studio For Your Explainer Video
The experience of collaborating with a professional 2D animation studio with expertise in your niche is an entirely liberating and stress-free way to go.
The studio will have a competent team of creative individuals with expertise to pull off every requirement and instruction you may have provided. They take care of the technicalities and finer details of the videos while you focus on more critical tasks on your plate.
Working with a studio ensures an automatic and smooth transaction from one stage to another without dependency from your side.
So, why some businesses don't prefer working with a studio? You will find all types of video production companies, and some of them may be absurdly expensive. They offer high-end solutions, and they charge you an excellent price to compensate for it.
Another problem organizations complain about when working with video animation companies is that they cannot be sure what the invoice is going to show. Companies often place a cap on the number of edits they will entertain, sometimes without informing the client, this takes the cost at a whooping high.
These are just some reasons why you should give yourself ample research time and make sure to voice all your concerns and queries about fixed prices, the number of edits allowed, and turnaround time.
Assigning The Project To A Freelancer
If you think you have some extra time to spare and don't mind spending your next 2 to 3 weeks coordinating from one freelancer to another, trying to get your video done one stage at a time, then you always have the option to take up freelancing.
Video production requires a number of specific skills, including copywriting, graphic designing, and animation. There are several talented freelancers out there. The challenge is to put together a reliable team that responsibly works on your video.
Unlike animation studios, this will take a lot of your time. Besides, going back and forth with several rounds of feedback and change can demand a lot of patience, given that your freelancer is ready to see the project through until you are happy. Just like the studio, freelancers can also make you go overboard the budget with edits and changes.
Creating Impactful Videos with BuzzFlick – Budget-Friendly, Timely Delivery, Unlimited Revisions

This must feel like a lot to take in at once. But there must be a better way to do this. Here at BuzzFlick, we are especially careful to provide excellent service and make 100% of our every promise to the client.
We know how important it is for businesses to get the project delivered well within the budget. This is quite why we offer a free, online calculator. By simply choosing your requirements according to what type of video and services you want from BuzzFlick, you instantly get the fixed price for your video production. This amount remains unchanged, as it's communicated to you inclusive of every stage of the animation process.
We keep our project turnarounds very simple. We let you decide the time of delivery. At BuzzFlick, we have an extensive and competent team that's very committed to their work.
We provide you the script and storyboard early on in the process to ensure we have ample time to incorporate your feedback and still deliver the video within time.
We understand video production falls under a creative and subjective space. And at times, the difference of perspective is natural. This is why we also offer clients unlimited changes option within the scope of their project, with no additional charges.
BuzzFlick is an all-in-one video animation agency, and we provide you with a complete experience including video conceptualization, scriptwriting, graphic designing, animation, and sound effects. We make sure the final result delivers impact and buzz!