Employee bio videos increase brand awareness. This article discusses the tips and step-by-step guide to creating bio videos with outstanding examples.
In the corporate world success of any business is analyzed with facts and figures-growth factors, profits, and investments. These details are essential, but you can measure the success of a company by emotional investment.
The audience only invests in your product or services when they feel associated with your brand. You need to create a strategy for brand association. Emotional investment is essential for the brand's internal communication as well.
Make your employees feel motivated. It encourages them to work efficiently to achieve your business objectives.
Bio videos create a connection between your audience and your brand. Viewers see your employees' emotions and personal stories and associate with your brand, which builds their trust in your organization.
So, this emotional investment increases your customer base and motivates your employees, which helps your organization to grow.
Here in this blog, you will learn how to create employee bio videos and check some examples of successful bio videos.
Create Brand Association by showing the Human side of your Business
It is human psychology that people invest in a brand when they feel the company is worthy of their investment. You can use video bio examples to show your work, share an employee of the month story, or talk about the awards you receive.
As a marketer, your job is to increase brand engagement so the audience trusts your organization and chooses your business over others. Prospect customers first ensure that you are capable of fulfilling your promise or not.
Employee bio videos are one of the most effective tools brands use to promote their business.
What is an Employee Bio Video — and why do Organizations use them?
Marketers use employee bio videos to resonate with their audience. An Employee bio video is a short video like an interview in which employees share their thoughts and experiences working at a company.
These videos are two or three minutes long, and employees share their basic information to show off their skills, professionalism, and personality.
Video bio helps build customers' trust and create brand engagement with the audience.
How to Create a good Employee Bio Video?
The theme of these videos depends on the industry, but consider the following steps when creating a bio video:
Record a bio video in interview style; an employee should sit in front of the camera and share their experiences and thoughts. An employee should talk to the interviewer in a conversational tone.
It helps in situations where employees feel uncomfortable in front of a camera. So, they can talk to the interviewer instead of facing a camera.
In this example, you can see how Chris looks on the other side of the camera, which is totally fine. When he speaks, it gives a more natural look to the viewers and interviewer instead of looking at the camera lens.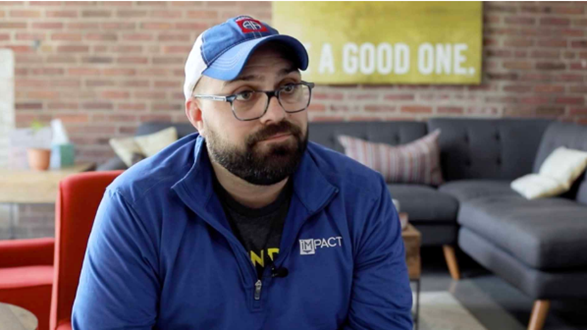 Use 'b-roll' in Video Bio
Ensure to incorporate a b-roll and use mute footage in the main video. You can use it in the following three forms:
Show footage of the person about the tasks they are discussing: speaking, working, designing, etc.
Incorporate second-camera footage in the interview to break things up and explain things uniquely.
Add Footage of the Employee's Family or Personal Life
It will make your video creative and visually appealing.
It also helps the audience to gain a visual of your workplace culture. Bio video makes it easy for the viewers to understand your corporate values.
Lastly, if the employee is camera shy and feels hesitant on camera, a b-roll can also help in covering up nerves.
It should be Concise
Keep the employee videos concise. A long-duration video doesn't attract the audience's attention and fails to achieve the objective. Show your customers that your organization is credible and you care for your employees.
What should I add to the Script of the Employee Bio Video?
Before creating a bio video, consider the engaging questions you can ask the employee.
You can incorporate two things in bio videos:
Discuss the Role of Employee
Employee bio should highlight the job role of employees, daily job responsibilities, how they are assisting the customers, and their job experience. These topics create an engaging bio video.
An Employee can share their Personal Life Story
Employees can talk about their personal life. They can discuss their skills, hobbies, and passions, engaging the audience. The best thing about bio videos is that people easily memorize the content.
Inspiring Bio Videos Examples
We will look at some of the most impressive video biography examples that give you a complete idea that helps you create a video bio.
Let's look at the most engaging bio videos.
Bio Video of Aquila Commercial
In this Aquila commercial, David discusses about his home city and personal life; he was married in 1999 and is now the father of three kids. He is passionate and well-experienced in the real estate business.
He shares his work experience in the real estate field and how he builds strong relationships with clients.
JMAK Properties Employee Bio Video
This bio video incorporates a b-roll technique. The video highlights the passion of an employee at JMAK properties. Julian Allen expresses that she loves to work in this professional environment and helps clients buy and sell properties.
Then she also says she was born in California and is committed to assisting clients in property investment. Moreover, the interview style is beautiful, which attracts the audience with a conversational tone.
Eventbrite Bio Video
It is not an employee bio video, it is a video that shows teamwork. The idea of the video is unique and engaging.
This video beautifully incorporates the fun by showing the importance of every individual in the organization.
It shows how they are working for their job responsibilities. Moreover, they use buzzwords for every employee, so the viewers understand their jobs.
It Enhances Brand Engagement with the Audience
Connecting with an audience on digital platforms is challenging because every business tries to influence customers through promotional messages. Bio videos are ideal for showcasing your corporate values and the organization's culture.
These videos build audience trust in your brand. Bio videos are one of the most effective ways to enhance customer relationships and build trust with your brand.
Writer's Choice for Animation
In this blog, you have learned how businesses can use employee bio videos to enrich their marketing strategy. You can also use bio videos in your marketing plan.
Moreover, animated video is also an effective tool you can use for marketing. The beauty of these videos is that you can explain complex concepts easily with eye-catching visuals.
If you want a creative animated video for your marketing campaign, I recommend you to connect with the video experts of BuzzFlick.
BuzzFlick is a popular animation studio in NYC, providing services globally. They offer a wide range of services, including 2D and 3D video animation services, motion graphics services, educational video production, medical video production, and many other services.
Closing Remarks
We have discussed in this blog the importance of using bio videos for marketing. Organizations use bio videos to build a strong relationship with the audience. These videos create brand association because when an employee tells their story in front of a camera, it enhances audience trust in your brand.
Generally, marketers feel reluctant to use bio videos because they wrongly perceive that it is not helpful. However, the fact is that it is one of the most impactful tools that help organizations establish a connection with the audience.
Create a video and ask questions with your employees that reflect your brand's face. Record your video, and you can get it edited by the video production company. You might be wondering about the video editing cost. It will cost you between $75 to $150/hour.