Creating video content for a social platform doesn't have to be challenging. Find out how to make a social media video marketing strategy in 7 steps.
Do you know around 84% of consumers were convinced to purchase a product or service from a company after watching their video content?
The above statistics show the evolution video content marketing has brought into the digital industry, and its popularity of it keeps growing with every passing day.
In today's fast-paced digital world, people expect to scan their news feeds and find the information they want in a matter of seconds.
Internet users no longer read anything; instead, they scan the content for keywords and phrases.
Turkey and Saudi Arabia are the countries with the highest percentage of smartphone users watching videos every week, with 95% of them doing so.
Your marketing approach should incorporate videos, so don't hesitate to employ all available tools.
Internet consumers want to see more video content from their favorite brands and enterprises, according to recent research.
Users, bloggers, and celebrities have all been able to communicate with one another via live-streamed broadcasts during the pandemic.
Most marketers now employ live videos on social media to attract new consumers and boost click-through rates as the popularity of live streaming have grown (CTR).
If you're planning to use video in your social media marketing approach, you'll want to keep this in mind.
It's a good thing that video may be used in a variety of ways for social media marketing. For us, there is no such thing as a one-size-fits-all approach. It's never been simpler to get your feet wet in video marketing because of the rise of live streaming videos, the rise of brand authenticity, and the rise of accessible editing software.
So, without any further ado, let's explore how to create an effective social media video marketing plan by following our 7-step method.
Social Media Video Marketing Strategy: How to Make a Compelling One
As we already know, how it is imperative to promote your brand, product, or service on social media platforms through video content. However, you need to have a foolproof plan before you get into the business because without an effective strategy, nothing will ever work.
So, let's get to it right away.
Define your social media video marketing goals
Setting goals is a necessary first step in every new social media endeavor. What do you hope to achieve with your videos? I'm not sure where these videos fit into the overall marketing strategy.
When you're just getting started, it's best to keep your goals simple so that you don't get overwhelmed. To raise awareness of a brand is one example of a video marketing objective. The sort of video you'll make and how it will inform your future videos will be discussed later on.
For certain companies, video is a primary advertising medium. To get to a social advertisement, they may first go to the site's product page. There are those who exclusively make videos for social media advertising.
Direct-to-consumer firms like Lo & Sons, who rely on product videos to help customers see themselves carrying the bag, can especially benefit from this.
In the video below, a bag is shown with a feature that answers a frequent problem that many people have while traveling. It's easy to relate to, and it's brief. The video may be marketed as a social ad as well as a feed post on Facebook.
Videos also easily fit into each of the five stages of a marketing funnel if your video content strategy is developed to specifically target these stages. Consider where your video marketing goals sit in the funnel as you think about them.
Establishing your objectives and figuring out where you are in the funnel will aid you in crafting compelling calls to action for your video content.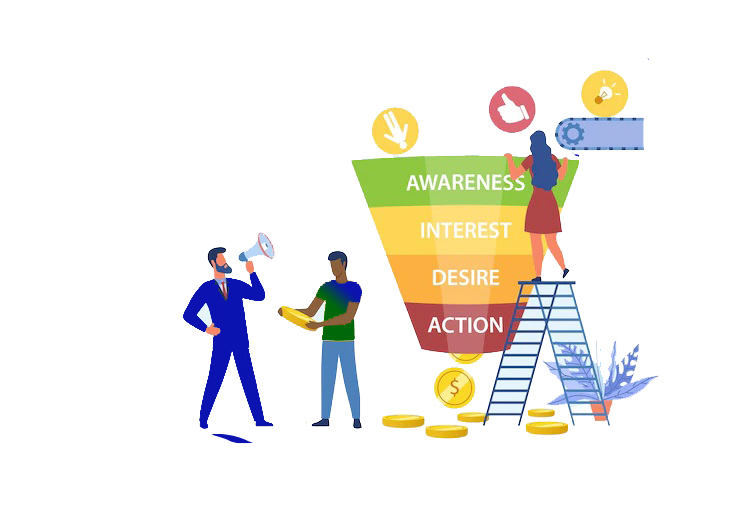 Choose the right platforms
Video can be found on virtually every major social media network, as well as a slew of niche ones. Newer platforms like Snapchat and TikTok rely mainly on a single video format, but older platforms like Facebook provide a variety of video formats.
You should start with the platforms where you already have a following before moving on to others. Instagram, Facebook, and Snapchat users spend around half of their time on the networks viewing videos, according to research.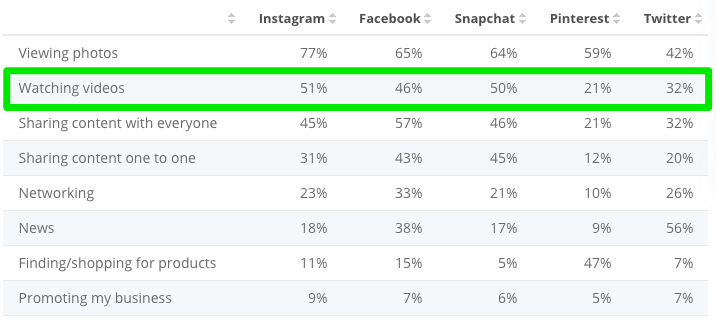 Source: Media.SproutSocial
Choosing any of these three to begin your video marketing would be a smart beginning step.
To narrow down your options, it's important to know what each video distribution platform has to offer and what video dimensions may be broadcast. When it comes to repurposing your videos, it's crucial to select platforms that work well together.
Social media video formats and features
It may be difficult to keep track of what kinds of videos can be published on certain social media networks and when you might need to alter them. For a complete list of requirements for each network, as well as a fast reference guide, see the sections below.
Twitter
Livestream
Portrait and landscape feed video
Twitter Fleets
Facebook
Portrait and landscape feed video
Facebook Live (Livestreaming)
Facebook Stories
Instagram
Portrait and landscape feed video
Instagram Live
Instagram Stories
Instagram Reels (Short-form content)
Instagram TV – IGTV (Long-form content)
YouTube
Portrait video
Landscape video
Short videos
Livestreaming
TikTok
Pinterest
Finally, if you're looking into recurring series, such as product how-to guides, take a look at networks like YouTube and Facebook, where you can categorize them into playlists. Instagram recently added a series option for IGTV, too.
Bon Appetit's social media content includes a heavy dose of videos customized for different platforms like Instagram and YouTube. Not only are the orientations different, but the topics and series also vary between platforms.
This diversity of content ensures that the audience will find original content no matter which Bon Appetit social media page they're on.
Determine the type of video
Using social media videos to assist your entire content strategy can be done in a variety of ways, and we're not just talking about where you post the videos.
The first step in crafting a successful video marketing campaign is figuring out what kind of video best represents your company. Even though no two films will be exactly the same, it's more crucial than anything else that they help you achieve your most critical objectives.
Here are some different prominent types of video commonly used in the market by brands, along with their benefits.
Educational Videos: These are useful for educating potential buyers about your brand. They tend to be more polished and less informal, and they promote the brand as an authority figure. Video instructions and recommendations for existing clients might be the emphasis of the videos if they are being produced for that audience.
Interviews: A wonderful method to introduce a new influencer and his or her audience to each other is to do an interview with a guest speaker. Giving a visitor the virtual mic is a great way to add authenticity to your company.
Behind-the-scenes (BTS): These provide insight into the workings of the organization and its personnel. They can be used to entertain the audience or provide a glimpse behind the scenes.
Customer Testimonials: These videos, which resemble customer highlights in marketing, assist in building social proof for your company's products or services. An ideal consumer will see themselves in a film showcasing how your product or service is used and how satisfied a client is with it, and they will be convinced to buy.
Entertaining: Jokes, beautiful puppies, and even pranks are all included in this category. Aside from being fun, they may help you establish your brand's voice and foster a sense of belonging among your target demographic.
Moreover, studies show that 48% of customers prefer videos that show off products or services they already use and/or desire. If you're having a hard time deciding which kind to focus on, start here.
It's time to go to work on the actual video when you've figured out what kind of video you're going to make.
Plan your social media content
In the long term, a well-planned content development strategy will save you time and money. Regardless of whether you use a flowchart or pen and paper, you need to know how videos will be made and produced before you begin filming.
You may choose from a variety of content creation and post-production methods. Steps 4 and 5 will be much easier if you hire a video production company. There will be no requirement for you to be involved in the planning or approval process.
On the other hand, producing a video from scratch will necessitate planning out all of the processes. The process includes:
Determining the required equipment and props for filming
Creating a video brief
Writing the first draft of the video script
Editing the script
Creating the storyboard for the video
Planning the shoot and doing the preparations
Choosing the right talent
Searching for an adequate location for filming
Checking the music, you're using is royalty-free or not
Choosing the video editor
Especially if this is your first attempt at creating a complete video content strategy, you'll discover items you overlooked as you go through the process of going through the content plan. It's time to move on to post-production when a well-thought-out strategy has been implemented.
Comprehending the post-production phase
If your films are going to be used in advertising or require a lot of editing, you'll want to give yourself plenty of time for post-production.
The term "post-production" doesn't refer to just splicing together clips and setting them to music. Closed captioning, text overlays, call-to-action windows, and more are all part of the package. In order to get the final product, you desire, you'll need to spend more time filming and editing.
Video editing is not required for all videos. Using both live and pre-recorded videos, Epic Gardening was able to cover a wide range of topics. The footage is posted on Facebook Live shortly after the event has ended. The caption and title are the only things you'll be allowed to change.
Post-production will be applied to all uploaded videos. For example, on YouTube, you'll be able to add tags, multiple languages closed captions, comprehensive captions, and other options.
Before you begin, be aware that formal, polished YouTube films demand a great deal more work than a simple live stream. If you want to stand out on YouTube, you'll need to make sure your text and visuals are optimized for the video platform.
Promote your videos on social media platforms
The finished video is ready for scheduling and promotion. Sprout, a video management platform, provides video publication possibilities.
Tags, categories, playlists, and privacy controls are all available when posting to YouTube using Sprout.
When it comes to social media videos, don't think of them as one-and-done. Depending on your social schedule, you may be able to submit one fully-produced video to many networks throughout a month. You could tweet about it a zillion times if you wanted to. To get a large audience for your live streams, you'll need to advertise frequently.
Multiple videos might be made from a single filming session. Promo videos can be made using footage that has been cut and pasted together. When it comes to advertising videos, go big or go home.
Determine and analyze the chosen metrics
Analyzing your plan is the final and most critical phase in any strategy's execution. Only by looking at the data can you tell how a video is doing. What is the total number of views? Those are the clocks to keep an eye on? Did you see the tweets, likes, and replies? Before you begin production, it's crucial to know what metrics are available on each network.
Even the first three seconds of your video are tracked by each platform's inbuilt analytics, which can tell you exactly how many people saw your video.
The success measures you use should be in line with the initial objectives you specified. If you're trying to build brand recognition with a video, you may add a link to the product's website in your call-to-action. Link clicks would be a good fit for this measure.
The fact that even older recordings will be seen is vital to bear in mind as well. A three-year-old video may still be relevant to your audience today if you employ the appropriate combination of keywords and an evergreen theme.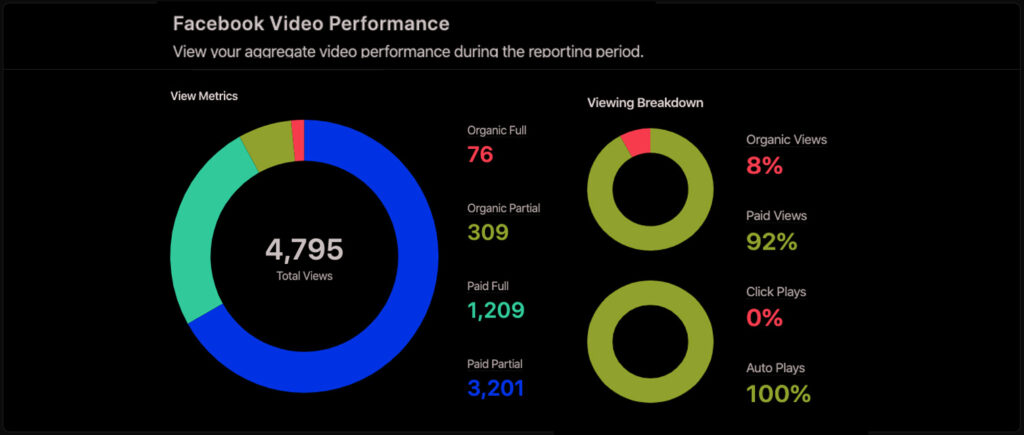 Looking for a Social Media Video Production Company – Contact us
No matter which type of video or for which purpose you're planning to make the video. You need to have a proper video production team. From scriptwriters to the content distributor, you need everyone on board if you want your video project to be successful.
If you don't have enough resources or budget, you can always outsource your video project to any video animation agency like BuzzFlick. We are one of the best animation studios in Toronto.
We have a competent video production team offering profound video animation and production services. Be it motion graphics services, explainer video services, or custom whiteboard video animation services, and we offer it all, you just name it.
Bottom Line
And that's all for today! This was all about how to create effective social media video marketing. We hope this blog will inspire your brand to plan your next social media video marketing campaign.
Good luck with your next campaign!