Video marketing has become a significant part of content marketing. Read our blog to explore the mind-blowing video marketing stats of 2023.
As 2023 has just started, video marketing remains the undisputed king in the world of content marketing. It's a dominant form of content that is increasingly gaining popularity.
Overlooking this type of marketing medium in 2023 can be your biggest mistake because it can cost you everything.
If you take a look around, you'll see it everywhere – social ads, digital OOH placements, broadcast spots, and numerous other marketing channels.
In 2023, videos will likely continue to dominate the marketing industry, raising the standard across all earned, owned, and paid channels. With that in mind, we'll quote here a common proverb that rings particularly true in the video industry: "The greatest time to begin was yesterday." Now is the second-best time."
You may have even read various posts on video marketing and its importance, assuring yourself that in 2022, you would finally emphasize video. Well, 2022 has come and gone, and those who have increased their reliance on video reap the benefits. In other words, if your brand is still overlooking video content for an uncertain future date, you are already missing out on many of its benefits.
If you're still speculating, here take a look at video marketing statistics that prove the significance of video marketing in 2023 and beyond.
So, without any further ado, let's get started!
Video Marketing Statistics (2023)
If you look at the size of the list, you'll find tons of video content stats. The information might be a bit overwhelming for you. For your ease, we have broken all the statistics into the following different categories:
BuzzFlick Original Research
Marketing goal statics
Social media statistics (LinkedIn, Facebook, Twitter, Instagram, YouTube, TikTok)
Customer video viewing pattern statistics
Trends in the video marketing industry statistics
So, let's get into it.
BuzzFlick Research on Video Marketing
BuzzFlick did a video marketing study in the middle of 2022 to better understand how our own audience engages with video.
Most of the information we have gathered mainly focuses on how consumers interact with video and why video content marketing has become significant for businesses.
So, let's check out what we have explored regarding video marketing in 2022:
Key Video Marketing Stats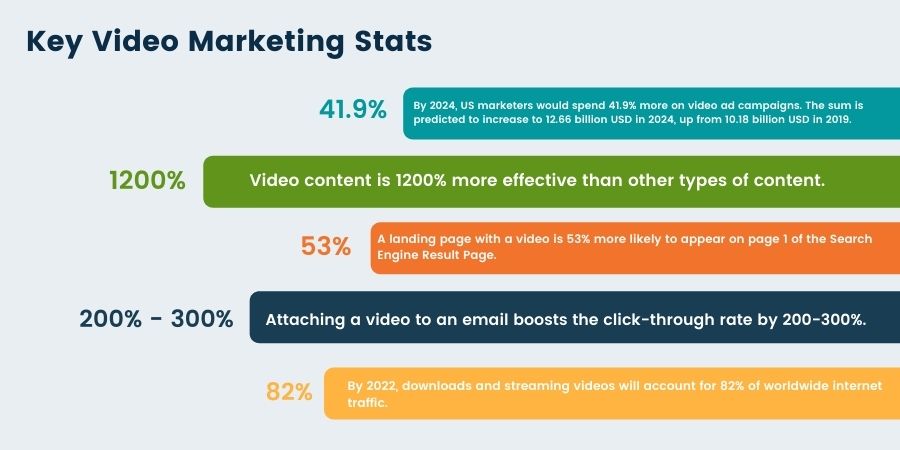 By 2024, US marketers would spend 41.9 percent more on video ad campaigns. The sum is predicted to increase to 12.66 billion USD in 2024, up from 10.18 billion USD in 2019.
Video content is 1200% more effective than other types of content.
A landing page with a video is 53% more likely to appear on page 1 of the Search Engine Result Page.
Attaching a video to an email boosts the click-through rate by 200-300%.
8 out of 10 people purchase an app or software after watching a video from a brand.
9% of businesses in the US are using YouTube to promote their brand.
Two-minutes long videos acquire the most engagement.
Around 54% of email subscribers prefer to open emails with videos.
By 2022, downloads and streaming videos will account for 82% of worldwide internet traffic.
Blog posts that include video generate three times the number of inbound links as blog articles that do not have video.
Video Marketing Statistics by Marketing Goal
We intended to examine video marketing data by overall marketing objectives. As marketers know, there are various frameworks for conceptualizing similar marketing objectives, and each marketer's marketing funnel will be slightly different.
Businesses go through a process to reflect their goals throughout their consumer lifecycle. We've utilized that framework to break down the video statistics below, but you'll notice an overlap if your business uses a different framework.
In a nutshell, video is beneficial for whatever marketing objective your firm pursues.
Now, let's move to the video marketing stats.
Attracting audience through video content
When it comes to enticing new prospects, video material makes sense. It mixes visual images, audio, and optional elements like effects or text heads to create a complete representation of your notion than any one component could.
Additionally, because the video is dynamic, it captures the viewer's attention more effectively than static images or walls of text. What we do know regarding video for the attract stage is as follows.
Engaging new prospects using video
Now that you have attracted a new audience, the next step is to keep your audience engaged. This is the point when you have to establish a strong connection. You can focus on communication channels like email marketing or social media to build a good relationship with your audience.
Video is ideal for the engagement stage since it provides visitors with a realistic approach to discover more about your brand without feeling pressured to make a purchase immediately. The following are some statistics about the stage of engagement.
86% of marketers claimed that video had boosted their website's traffic. (Wyzowl)
Nurturing potential customers using video
In the nurturing stage, your goal is to maintain a relationship with your audience and demonstrate how your product or service can solve the pain points.
Instead of trying to force a transaction, you're concentrating on cultivating a connection during the nurturing period. Here are some statistics on the value of video in the nurturing process.
94% of video marketers report that video has improved consumer comprehension of their product or service. (Epipheo)
Viewers claim to recall 95% of the message when a message is acquired via video. (Social Media Week)
Closing the deals using video
A video is a phenomenal tool for turning leads into consumers. Why? Video lets customers see your product or service in action, anticipating their queries and displaying real-world uses.
This is ideal for resolving any remaining concerns and bridging the interest-purchase gap. Here are some statistics that demonstrate video conversion efficacy.
Keeping your customer happy using video
Finally, many brands often overlook the need to interact with existing consumers to provide an optimal post-purchase experience and build brand loyalty.
Post-purchase content may help consumers get the most out of their new product or service, and additional touchpoints can help the connection and trust develop. Both can be easily accomplished through video! Here are some statistics that back it up.
43% of video marketers said that video helped decrease the number of customer support calls they received. (Hubspot)
93% of customers find videos a helpful instruction medium for post-purchase. (Animoto)
Video Marketing Statistics by Social Platform/Channel
Now that we've analyzed some video marketing statistics split down by marketing objective, it's time to look at statistics broken down by video marketing channel.
We'll spend most of our time discussing various social media platforms because there is so much to learn about their distinctions, but our last segment will address non-social channels.
Let's begin with LinkedIn.
LinkedIn Video Stats
LinkedIn users are 20 times more likely than any other post to share a video. (LinkedIn)
On LinkedIn, content created for silent viewing is 70% more likely to be viewed till the end. (LinkedIn)
Facebook Video Stats
The ideal video duration for Facebook engagement is between 2 and 5 minutes. (Social Insider)
Over 100,000 Facebook followers account for 71% of all video content. (Social Insider)
Social marketers for marketing now prefer to use Facebook. (Sprout Social)
Twitter Video Stats
Instagram Video Stats
TikTok Video Stats
TikTok is virtually unexplored, with just around one in every ten video marketers giving it a try. 66% of individuals who have tried it report success. (NDN Group)
63% of all videos with the greatest click-through rate begin focusing on the product or core message within the first 3 seconds. (TikTok)
Vertically shot TikToks (9:16) have a 25% higher average 6-second watch-through rate than horizontally shot TikToks. (Tiktok)
Snapchat Video Stats
Snapchat's vertical videos outperformed horizontal videos by a factor of nine. (Animaker)
Every day Snapchat generates more than 10 billion views. (The Verge)
65% of ads on Snapchat are viewed with their sound on. (Hootsuite)
Non-social Channels Video Stats
88% of all connected TV viewing occurs on the following five applications: Disney+, Amazon Video, Netflix, YouTube, and Hulu. (Comscore)
According to a Pew Research study, 87% of users said that YouTube is important for helping them figure out how to do things they haven't done before. (PewResearch)
For the first time, streaming households surpassed pay-TV households in 2020. (Nielsen)
Customer Video Viewing Pattern Statistics
When exploring the video marketing stats of 2023, it would be highly unfair to overlook the customer video viewing patterns. How viewers engage with video content has drastically changed in the past few years. The demand for video content has massively increased, and it will grow with every passing year because who has time and competence to read long, boring texts.
If you don't believe our words, look at the stats mentioned below.
Trends in the Video Marketing Industry Statistics
The video marketing industry is quite extensive, so let's look at some of its important statistics.
You may be curious about how your rivals are using video content, the success that other marketers are achieving with video, and the industry's future trends for 2023 and beyond. Here is all the information mentioned you're in search of.
In A Nutshell
Taking everything into account, video marketing has become an integral part of the content marketing industry. All the video marketing statistics for 2023 we discussed signify the importance of video marketing.
If you're all set to jump on this bandwagon in 2023, contact BuzzFlick, we're not just a video animation and production company, but we are video strategists. Discuss your business goals with us, and we'll come up with prolific video marketing strategies that will facilitate you to stand out among your competitors.
So, what're you waiting for? Talk to us now!