Read about the best animation studios in Toronto in this blog. Also, get to know some new ways to select the best animation studios for your business.
Exceptional animation studios are hard to find, and when your brand is highly dependent on animations to attract, delight, and engage the audience in the digital world. The same is the case with Toronto, Canada.
Great animation companies in Toronto just happen to be hard to find, considering that they're high in demand. Sure, there are several Toronto animation companies that you can choose for animation services.
However, not all of them promise quality, efficiency, effectiveness, and after-sales services. Though an animation studio in Toronto may claim to be the best in the market, you cannot just take their word for it.
The digital world is full of brands that are claiming to be the best in the world; however, they're saying this only on their website or because they want to gain more traffic or built credibility in the digital world.
Considering this in mind and being the best animation company, we've managed to list down the best Toronto animation companies. The list of animation companies in Toronto mentioned below has every quality and performance-oriented animation company in Toronto.
Best Animation Studios in Toronto
Animation studios in Toronto have certainly made a name for themselves. Their work culture, processes, and the deliverance of amazing and truly outclass quality have made some of them well-known in the animation world.
From communicating details, aspects, purpose, and best practices of animation videos to meeting deadlines and expectations, below are some of the best Toronto animation studios known for their animations and ethos:
BuzzFlick
Guru Studio
9 Story Media
Creamy Animation
Tendril Design & Animation
Mercury Filmworks
House of Cool
By the Booth
Yowza Animation
Industrial Brothers
Big Studios
Go Lucky
The Juggernaut
Toonrush
ABLE Digital Group
Switch Entertainment
Reactiv
Digital Ronin
Legend 3D
LPX Digital
Look Mum Productions
These are some of the best animation studios in Toronto that you can blindly trust with your brand's animation video. If you still wish to see some of their work, you can easily go onto their website and check out their portfolio to determine what they're actually capable of.
With the list of the Toronto animation companies out of the way, let's talk more about the most asked what, why, and how of the animation world.
Why You Need An Animation Production Company In Toronto?

There has been drastic growth in the animation world. What used to be a norm a few years ago has become obsolete today.
The animations that you see today are created after a series of revisions, leveraging modern tools and technologies; more research is required to create truly stunning videos.
This generally means that today, you don't just need a computer or a hi-fi graphics card to get started on creating the best-animated video ever.
The revolution in the digital world acted as a catalyst for distinctive trends and ideas, and today, you need much more than just the necessary stuff to get started on creating your business's animation video.
This is the most probable reason why you'll be needing the help of an animation studio located within your city to get an animated video.
I say "in your city" because, for example, an animation production company in Toronto may have a better idea of what could be successful if your business is based locally.
Why Do You Need Animation Videos For Your Business?
Animation videos are the best way to grab the attention of your audience. They're also the best way to stand out from the crowd. Since nearly every business out there is leveraging the conventional medium to attract an audience, you can utilize the power of animations to get yourself noticed in the digital world.
Furthermore, visuals tend to perform better as compared to written text. You can promote/market your product, service, or business by using animation videos. However, you have to make sure that you're producing top-quality and innovative animation videos because if you're not, then your efforts will go in vain because of the competition.
The animation studios list mentioned at the start of this blog has the most credible and quality-oriented animation studios currently operating in Toronto. They leverage a specific approach designed to best fit your product, service, or business to communicate in a meaningful way to your audience.
I would recommend that if you're willing to harness the power of animations, go for the animation studios Toronto mentioned in the above list.
Why Finding The Right Animation Production Company Is Imperative?
It's your business, and the decision is in your hand; the success and failure, however, are dependent on the decisions you're making to run your business. There are literally several top organizations looking for a professional, credible, and quality-oriented animation company in Toronto.
However, the only hurdle stopping them from reaching out to the right company is their knowledge regarding animations and contacts. Due to this, several companies choose animation studios out of hesitation to just get the job done.
This results in poor-quality animated videos that are not effective. A studio worth its salt knows the importance of creating amazing animated videos that are designed to bring in new customers while retaining existing ones.
How To Chose The Best Animation Studio In Toronto?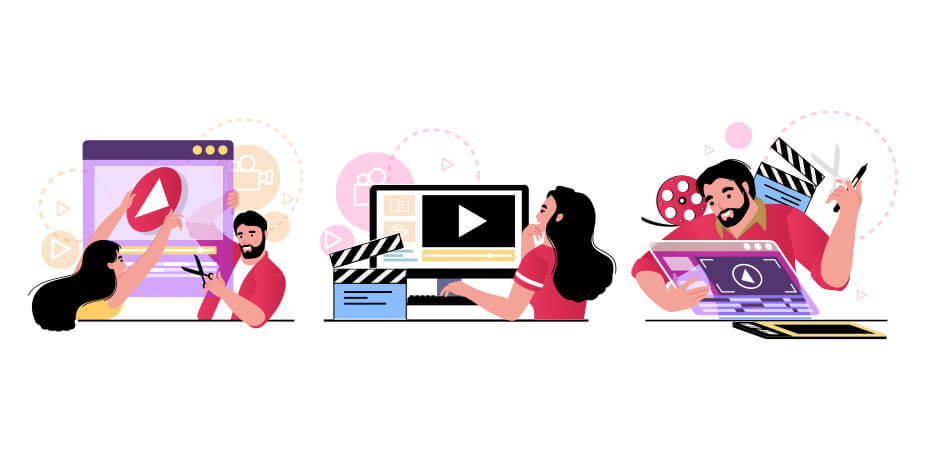 From the above-mentioned details, you might've already realized that choosing the perfect animation studio is critical. In this section, I'll tell you the most important features and aspects of an animation studio in Toronto that will help you determine the viability of an animation studio in Toronto:
Evaluate Their Portfolio
In the animation world, experience and expertise are the two major aspects that matter a lot. If a studio has both of these, it must have a vast portfolio. This portfolio will enable you to determine what they've done so far, who they have worked for in the past, what is their competitive edge, and what quality they have been delivering thus far.
So, make sure you go through their portfolio thoroughly, see what they're capable of, and while you're doing so, consider comparing the results to other companies of the same niche that you've extracted.
Also, a pro tip here would be to look for the type of animated video that you want from the animation studios in Toronto. Maybe you have a specific style, trend, design, presentation, or medium in mind like Stop motion, Whiteboard animation, 2D explainer video, or whatnot. See what they've done with your preferred video style.
Whether it is a motion graphic studio or an animated studio, they must have a portfolio that you must check before choosing them.
Seek An Animation Studio That Has Experience
As mentioned earlier, experience is perhaps one of the most imperative aspects an animation services provider in Toronto must be having. So, go for it, and look for how much experience the chosen animation studio in Toronto has in the relevant field.
Their experience will enable you to measure their skills, expertise, and much more. You can also go on and connect with the studio to talk to one of their artists to evaluate the experience of the Toronto animation company.
However, to evaluate the experience of the said animation studio, you must first opt for learning the type of video you want to ask the company relevant and meaningful questions about their product and services.
Ask About Their Production Cycle
This is a bit "after you've selected the Toronto-based animation studio" part where you will ask the studio about their internal processes or production cycle. Know this, every mature and credible animation studio in Toronto must have its process of delivering robust and effective animation videos.
Once you've learned about the specific process of a studio, compare it with others and prioritize the studio that is determined on delivering the product on time, is comfortable with making revisions and adjustments, and fosters a culture of communication. Where the revision and deadline meeting aspect will enable you to get your animated video in time, the communication part will let you know the status of your project.
I know all of this will portray you as a spy more than a customer; however, all of this is pretty important if you want to ensure the best video for your brand.
The production cycle is another aspect of a video production company that will showcase if the studio's quality matches your expectations or not. This is because when you ask them about their production process, they'll tell you exactly how they're making your animated video.
They'll explain their research, development, tools, and much more so, you'll have an idea of how the final deliverable will turn out to be before you've handed them your money.
See If They're Capable Of Meeting Deadlines
An animation studio in Toronto, especially the ones mentioned at the top of this list, is super busy. Their schedule is jam-packed. Hence, you would have to see if they'll be able to deliver your animated video on time or not.
Additionally, don't go for the studio's experience while measuring if they would be able to meet deadlines or not. Having experience doesn't necessarily mean that your video will be delivered quickly.
Every video has its own taste, the process requires different tools and more. Therefore, you need to select the animation studio depending on your specific requirements and the estimated time you think that your product would take to be finally delivered.
Moreover, also include the time that the animation studio would take to make revisions or edits in the delivered video because no matter how skilled the team is – there's always something that the client just doesn't like.
Over To You
Well, that's all for now!
I hope that all the information that I provided you today is enough to get you started searching for the best animation studio in Toronto. Know that the animation studios in Toronto list mentioned earlier in this article have got some of the big names in the city.
They've got a well-reputable presence in the market, and they're ready to deliver the perfect animated video for your business.
Moreover, since you're here – BuzzFlick also happens to be one of the best video animation companies out there. We've been around for quite a few years now, and we can also deliver some aesthetically pleasing visuals to you.
Let us know if you've got a project for us, and we'll start animating it sooner than you can say "Animate." For more information, just click on the button below.
We're known to provide some amazing details to our audience. We cover anything animated related literally so, if you're not done reading, here are some other articles that you might be interested in: