There are many 3D Rendering services providers in the industry. Take a look at the 15 best 3D Rendering Studios across the globe.
As we all are familiar with the fact that the number of companies who are offering 3d rendering services has massively increased in the last 5 years. You can easily find the best architectural visualization companies that offer 3D architectural concepts and visualizations view of complex and residential spaces and those who chiefly focus on product visualization.
You can also look for those 3D animation studios and companies that offer all types of services in this particular area.
It won't be wrong to claim that with the services provided by the rending companies, it has become simpler and easier for marketers and agents to showcase their products to customers and properties to investors.
When it comes to 3D rendering, there's no need anymore to hire the entire studio just to get a few shots clicked. And we all know mostly these shots are not of high quality and don't showcase all the features and benefits of the product/design.
The reliable 3D rendering firms have everything you need to create top-quality computer-generated images that will fulfill all your wishes.
But when the market becomes so populated it becomes more challenging to pick the greatest out of the best. This is why today in this blog, we'll be listing down the top rendering companies in 2023.
Each of the rendering firms we will be shedding light on has its own set of advantages, over the competitors.
So, without any further ado, let's get started.
Why Do You Need Rendering Companies?
We all know 3D animation and rendering are frequently used in design and architecture. But, it's not limited to it. It was an excellent way to create visual content for any type of business. These include animated goods and objects, realistic presentations, creation of games and films.
3D rendering is imperative for interior designers, engineers, real estate agents, architects, and manufacturing and construction companies.
For it comes as a surprise but, 3D rendering has become essential for marketing purposes for all types of businesses. This is a medium through which you can implement your most powerful and creative content ideas.
So now let's talk about why you need 3D rendering companies' services. 3D renders are used as a technique to add realism to the 3D models that 3D animators create.
Rendering is one the finest ways to visually communicate your ideas to prospects. It helps to deliver all the information to the client in the most convenient and complete way.
All the top 3D visualization companies provide quality final results in the best possible manner.
Even the findings support the reasons we have discussed below. According to the study conducted by Global Market Insights, the demand in the market for the 3D rendering industry has massively exceeded in 2019, it has reached up to $2 Billion and by the year 2026, it will increase by 20% every year.
If we take a look from the end-user point, the market is divided into designers, architects, real estate companies, and engineering firms.
Another study conducted by Allied Market Research the greatest demand from the end-user 3d rendering service will be from designers by 2026.
The Different Types of 3D Rendering Studios
So, when you're choosing a rendering company, it's essential to first identify and understand your needs. Why so? Because 3D rendering is divided chiefly into three types:
3D visualization companies can help brands promote their offerings. They provide services of 3D rendering of accessories, fashion, furniture, and products. This rendering results in what we often see in eCommerce stores.
Then comes the 3D rendering firms who create 3D visualization of movies and games.
3D architectural rendering companies are the most popular ones in the rendering industry. They produce realistic visualizations for designers, architects, sales managers, builders, and homeowners, to name a few.
Among the services that architectural rendering companies, some of the well-known are rendering of interior and exterior, 2D and 3D plans, architectural animation, etc. But, with the newest 3D rendering technologies, 3D rendering companies are offering more and more services to customers in various fields.
Expert Tips for Choosing the Best 3D Rendering Company
To find the best 3D rendering companies, it is important to do thorough research on the market and choose a company with a good reputation and positive reviews.
Once you have selected a company, gather additional information about it, contact the managers to ask any questions you may have, and get a quote to ensure the service fits your budget.
Here are some ways to find reputable 3D visualization studios:
A good starting point for researching architectural rendering companies and their completed projects is to visit professional 3D rendering and architecture forums. This is a great way to gather information and insights about different studios and their past work.
Social media platforms are a useful tool for finding 3D visualization companies and their work. Many companies post their designs on social media to attract new clients and increase their reach. Some popular social networks to check to include Instagram, Facebook, Behance, Pinterest, and LinkedIn. This will not only make it easy for you to find the company but also to connect with them on social media.
One way to find reputable architectural visualization firms is to check e-commerce sites, as
The Best 3D Rendering Companies in 2023
Now that you know how to choose a 3D rendering studio, it's time to explore the top ones:
1. BuzzFlick
Location: Texas, USA
Years of Experience: 7 years
Core Services: 3D Animation, 3D Rendering, 3D Modeling and Designing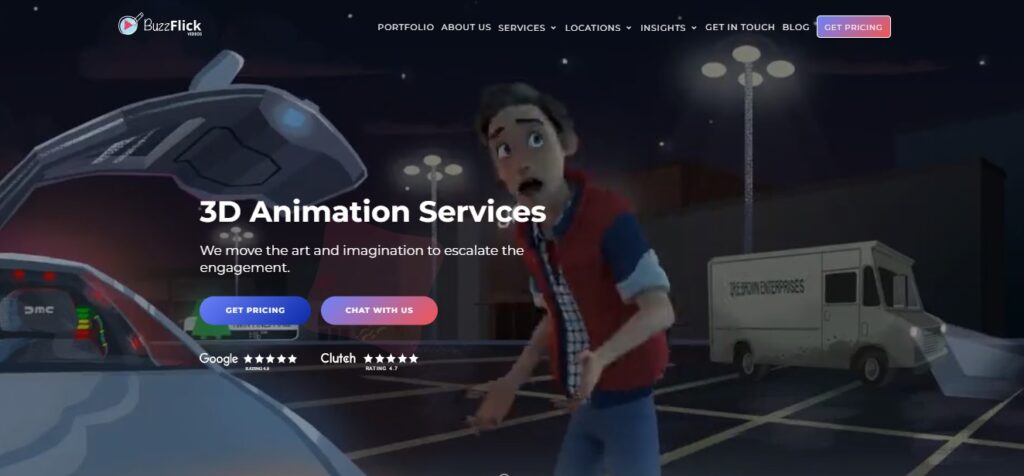 We are a video animation agency that offers all types of 3D animation and related services. Moreover, as a 3D rendering company that prioritizes meeting the needs and expectations of its clients.
We continuously strive to improve our workflow, stay current with industry trends and advancements, and expand our team of experts to offer a wider range of services and increase the efficiency of creating stunning visualizations.
With a year of experience, our 3D rendering studio has successfully completed a wide range of projects of varying complexity. We have a proven track record of creating thousands of high-quality renders using state-of-the-art 3D rendering technologies.
If you're searching for top 3D rendering companies in the USA, BuzzFlick should be your first choice.
2. Applet3D
Location: Philadelphia, USA
Years of Experience: 10 years
Core Services: 2D Floor Site Plan, 3D Animation, 3D Architecture Animation, 3D Interior and Exterior Rendering, 3D Product Rendering, 3D House and Home Rendering, 3D Commercial Rendering, 3D Site Plot Plans, 3D Floor Plan, 3D Industrial Rendering, and 3D Walkthrough & Flythrough.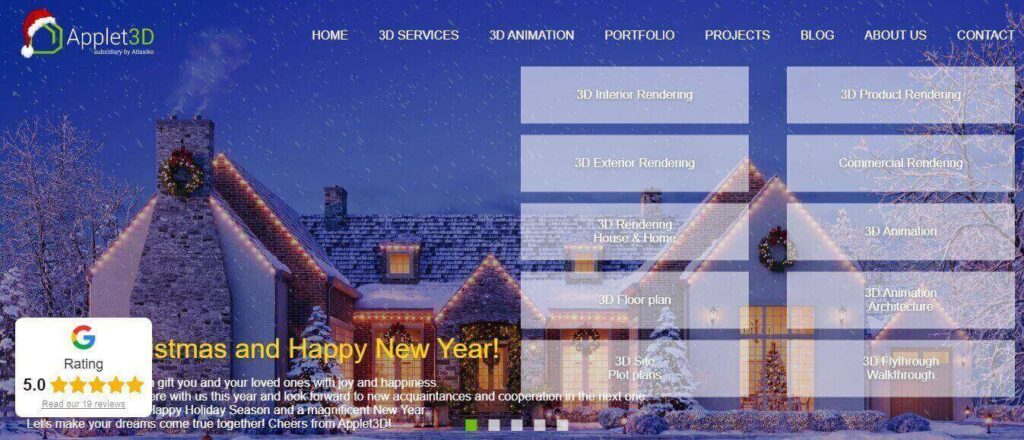 Applet3D is a leading and highly reputable 3D visualization company that is considered to be the best in the industry.
Customers trust their 3D architectural rendering studio for their commitment to quality, accuracy, and exceptional results. They are also flexible and responsive to client needs, allowing for changes to be made to the visualization and delivering the final renders on time.
3. ArchiCGI
Location: Scotland, United Kingdom
Years of Experience: 11 years
Core Services: Interior and Exterior Rendering, and 3D Virtual Tour.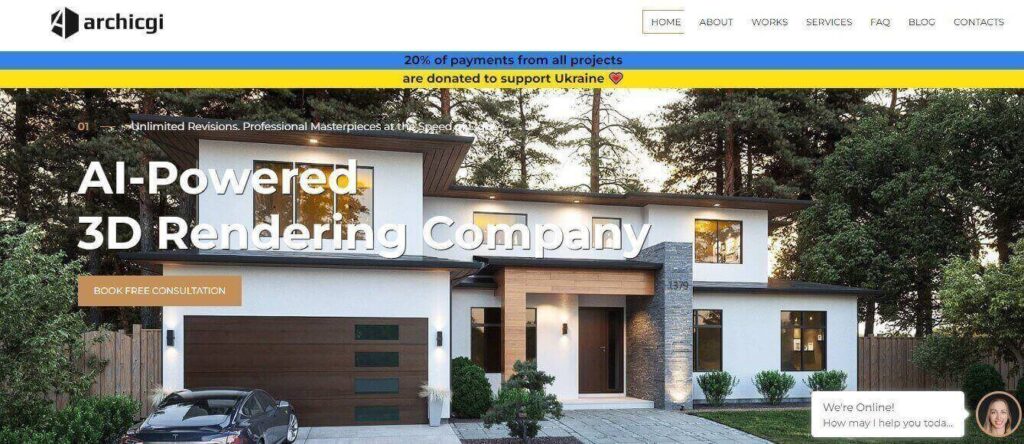 ArchiCGI is a leading 3D rendering company in the UK, known for its exceptional architectural visualization services. They specialize in creating realistic and creative designs for exteriors and interiors, virtual 3D tours, and different types of 3D animations, utilizing AI-powered technology for quality control.
The company's portfolio showcases their impressive work with great realism. ArchiCGI also prioritizes timely delivery and even offers a guarantee – clients must provide any comments or corrections within 12 hours.
If the delivery is delayed, they promise to provide the renders for free. Each project is managed by a dedicated project manager available 24/7.
To get a quote for your project, you can request a price guide on their website, and provide sketches, plans, texture samples, and animation style references for an accurate estimate.
4. Render3D Quick
Location: Toronto, Canada
Years of Experience: 8 years
Core Services: 3D Floor Plans, 3D Interiors and Exteriors, 3D House & Home, 3D Printed Mockups, 3D Aerials, Commercial Renderings, Interactive 360 Spin Images, Tiny House Plans, Designs & Blueprints, and High-end Architectural Visualizations.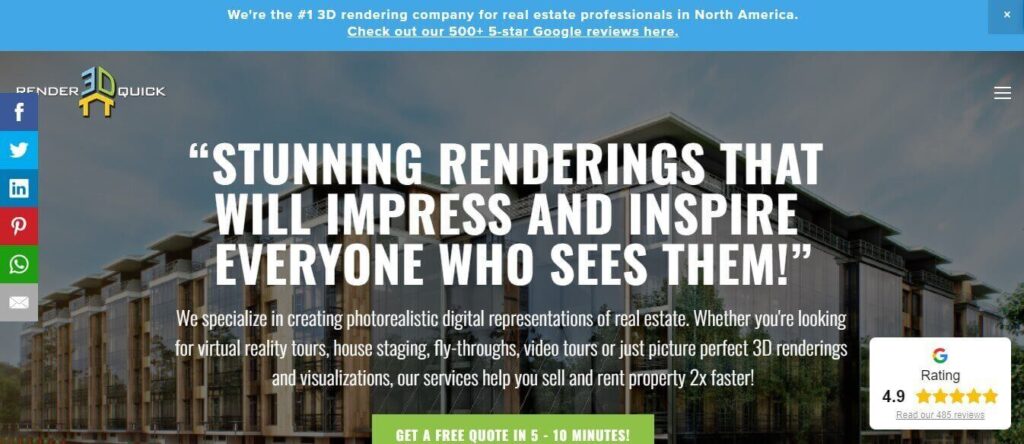 Render 3D Quick is a 3D visualization company based in Canada, providing services in Canada, the US, China, and Europe. They have a diverse client base, including major real estate, construction, and development firms, as well as architects, designers, contractors, and homeowners.
Their specialty is creating photorealistic digital images of real estate. Their services include virtual reality tours, flights, house mock-ups, video tours, 3D renderings, and various visualizations.
They offer a free individual estimate for projects within 5-10 minutes and bills itself as an online architectural 3D visualization and rendering company, making it easy to start working on your project.
5. Vander
Location: New York City, USA
Years of Experience: 17 years
Core Services: 3D Animation, 3D Modeling, 3D Floor Plan, 3D 360 panorama, Architectural, Commercial Rendering, Interior Rendering, Virtual Reality Solutions for Architects, Residential Rendering, Rendering High-Resolution Images, and Real-time Interactive 3D in UE4.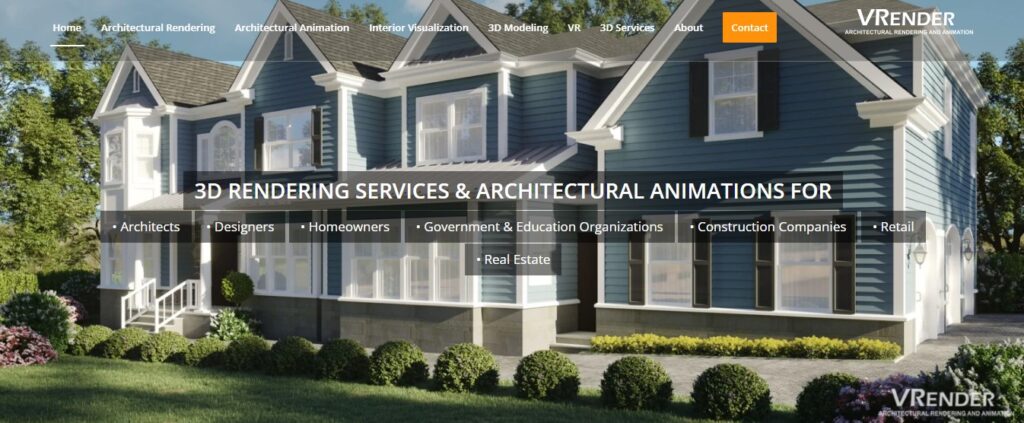 VRender is a well-established and renowned 3D architectural visualization company in the USA, with expertise in a range of 3D visualization and animation services.
They cater to architects, designers, homeowners, government and educational organizations, construction companies, retailers, and real estate developers. They offer realistic animation and rendering of 3D objects, as well as virtual reality, 3D walkthroughs, and virtual tours from any angle.
Additionally, the company offers customizable business plans to ensure a streamlined workflow. They provide a Quick Quote option after receiving your drawings, plans, sketches, sketches, or 3D models in any format.
6. RealSpace 3D
Location: Vancouver, Canada
Years of Experience: 15 years
Core Services: 3D Architectural Rendering, House Rendering, Condo Rendering, Product Rendering, Interior Rendering, Architectural Animations, 3D Floorplan Renderings, and Virtual Reality.

Real Space 3D rendering company has been a top player in the industry since 2007, providing services both domestically and internationally.
They position themselves as a company that specializes in architectural rendering and 3D animation, but also offers a wide range of services such as product rendering and virtual reality.
They have a diverse client base including several well-known companies from the Fortune 500 list and also offer their services to homeowners undergoing renovations. Their prices for 3D renderings range from $150 per image to $15,000+ depending on the project.
To help clients understand the cost, Real Space has created a detailed pricing guide and an interactive price calculator on their website. They also offer free quotes by filling out the contact form and providing information about your project.
7. Omega Render
Location: South Korea
Years of Experience: 10 years
Core Services: VR, 3D Modeling, 3D Product Rendering, 3D Interior and Exterior Rendering, Architectural Visualization, Animation, Pano 360, 2d/3D Plans, and Real Estate 3D Rendering.

Omega Render is a studio that specializes in creating 3D architectural renderings and visualizations. They use a method that incorporates natural parameters, lighting, and composition balance to create their work. The team of professional artists at the studio is responsible for executing this method.
Omega Render provides 3D rendering services to a variety of clients including architects, branding agencies, developers, and product design companies.
They have a client base of well-known brands such as Zaha Hadid Architects. They offer a range of services including architectural visualization, high-quality animation, 2D/3D plans, and modeling fittings.
8. Bottomline Studio
Location: New York, USA
Years of Experience: 9 years
Core Services: 3D Rendering Services, 3D Product Rendering, 3D Floor Plan, CAD Drafting, Walkthrough Animation, Photoshop Rendering, Aerial Birds Eye View, and 360 VR Services.

Bottomline Studio is a 3D architectural rendering company that places a strong emphasis on quality. They aim to create renders that are as photorealistic as possible, with carefully crafted lighting and composition.
Moreover, they offer a wide range of services such as walkthrough animation, CAD drafting, aerial birds-eye view, and 360 VR services. They also specialize in Photoshop rendering.
The company guarantees the timely completion of projects and adherence to specific specifications and offers a 100% delivery guarantee. To learn more about their work, you can view their portfolio of projects.
Bottomline Studio is headquartered in New York, but also has operations in India and New Zealand, catering to customers from all over the world.
9. Easy Render
Location: Zurich, Switzerland
Years of Experience: 18 years
Core Services: 3D Rendering

Easy Render is a unique platform that connects customers in need of high-quality 3D renders for their projects, such as architects, designers, companies, and real estate agents, with talented 3D artists from around the world.
The platform is specifically designed to streamline the process of finding and acquiring jobs in the 3D rendering and visualization industry, by simplifying collaboration, image transfer, and payment processes between clients and artists.
The website features a video guide on how the platform works and how to find and hire the best 3D freelancer via an online form. It is a dependable 3D rendering company that allows clients to work with professionals at an agreed-upon price, and time, and with minimal risk.
10. Rapid Renders
Location: Sri Lanka
Years of Experience: 15 years
Core Services: 3D Product Rendering, Architectural Rendering, Furniture Visualization, and Virtual Reality.

Rapid Renders is a top-of-the-line 3D furniture rendering company that offers a wide range of 3D architecture and product visualization services.
Based in Sri Lanka, the studio provides photorealistic, high-quality architecture and product visualization services to clients worldwide.
They utilize a combination of traditional photography techniques and the latest CGI technologies to achieve highly realistic results. Their services include exterior and interior rendering, furniture visualization, and 3D product animation service.
To learn more about their terms of collaboration and pricing on your project, you can fill out a form on their website and provide a detailed description of the work to be done. The cost of your project will vary based on the project requirements and results.
11. CUUB Studio
Location: Lublin, Poland
Years of Experience: 5 years
Core Services: Interior and Exterior Rendering and Architectural Animation
CUUB studio is a young 3D visualization company that has already produced many impressive renders. They specialize in interior and exterior rendering, as well as architectural animation, and work with clients in Europe, the United States, and Australia.
They have a quality control system in place and typically complete projects within 3-4 weeks, including feedback. To get a cost estimate or delivery time for a project, potential clients can contact the company via email or a form and will receive a response within 24 hours.
12. Studio 57
Location: London, United Kingdom
Years of Experience: 12 years
Core Services: Architectural Visualization, Interior Visualization, 3D Modeling, 360 Panorama, VR Rendering, Architectural Animation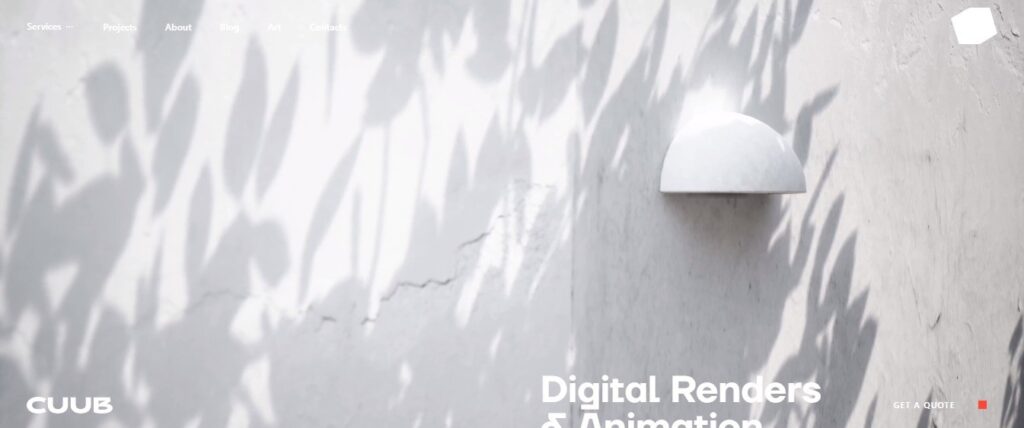 Studio57 is a large architecture, design, and visualization studio with a team of over 97 talented professionals.
Founded in 2016 in Minsk, the company has grown to have offices in New York and London and works on projects globally.
The studio's employees are highly skilled and specialize in creating high-end architectural renders. Their services include photorealistic architectural and interior visualization, 3D modeling, 360-degree panoramas, architectural animation, and lighting scenarios.
13. Brick Visual
Location: Budapest, Hungary
Years of Experience: 10 years
Core Services: Architectural Visualization and 3D Production

If you are searching for exceptional architectural visualizations, Brick Visual is an excellent choice. The company has established a reputation as one of the leading 3D rendering companies in the industry and has completed projects for some of the most highly respected architectural firms in the world.
Their work is known for its attention to detail and high-quality output, making them a go-to choice for any client looking for the best in architectural visualization. With a team of experienced and highly skilled professionals, Brick Visual is able to produce work that stands out and exceeds expectations.
Their portfolio is a testament to their skill and dedication, and it is no surprise that they are considered one of the top companies in the field.
14. 7CGI
Location: Dhaka, Bangladesh
Years of Experience: 9 years
Core Services: Product Visualization and Architectural Visualization.
7CGI Limited is a renowned provider of 3D modeling and rendering services, capable of handling projects of various sizes. Their clients include both individuals and large agencies.
Despite being based in Bangladesh, 7CGI has proven that location is not a hindrance to their ability to deliver high-quality work. They have a large team of animation artists with diverse skill sets and cross-functionality, who are available 24/7.
So, if you are concerned about the size or deadline of your project, you can contact 7CGI with confidence that they will be able to handle it.
15. CyberFox
Location: Wilmington, Delaware
Years of Experience: 5 years
Core Services: Architectural Rendering and Visualization

Cyber-fox.net is a leading provider of 3D rendering services in Europe. They specialize in creating Web3D designs that can be viewed on any device or browser without the need for additional plugins.
They work closely with clients to ensure that all of their requirements are met and that the final product is of high quality. They offer customizations such as adding pictures and logos to their 3D configurator.
Additionally, they have developed the world's first 3D Playground Configurator, which includes high-quality models and textures and seamlessly integrates with sales and payment systems.
Wrapping up
As more companies enter the 3D visualization market, professionalism is increasing and more customers are being attracted. The top 15 3D visualization companies listed in this article have already gained international recognition and success in the industry.
Each company has its own distinct style, method of operation, pricing, and turnaround time. It is important to thoroughly research and understand these factors before choosing a company to work with.
Additionally, these are just a few of the many 3D visualization studios available. The article also explains the benefits of using these services and where to find and select a company that best fits your needs.
Top-most 3D Rendering Services Provider – FAQs
Now, let's answer some of the most frequently asked questions.
How much should a 3D render cost?
In general, the cost for a high-quality 3D product rendering from a visualization studio ranges from $50 to $550. For more complex and advanced designs, the price can be higher, typically ranging from $500 to $5000 or more.
How much do designers charge for 3D renderings?
The hourly rate for a 3D rendering typically ranges between $50 and $150. By taking advantage of lower labor costs, studios in developing countries charge less. Depending on the studio's location, you will see a significant difference in price.
How much does 3D visualization cost?
On average, the cost for a visualization studio that provides high-quality 3D product rendering falls between $50 to $550. However, for more intricate and advanced product designs, the pricing can go up from $500 to $5000 or more.
How much does a 1-minute 3D animation cost?
Generally, a 60-second 3D animated video cost around 20,000 to 50,000. The price may vary depending on the project requirements.