Want to make compelling videos? Learn about the top vertical video editing apps that can help you to create, edit, and produce intuitive vertical videos.
Using videos to promote a business is an excellent idea.
If you're one of those who're looking for the top and user-friendly vertical video editing apps, then my friend, you've landed in the right place.
Nowadays, vertical videos are ruling over the digital video marketing industry.
If you search for the best vertical video editing apps, you'll get overwhelmed by the number of options available at your disposal.
To help you out and make this hunt as simple as possible, we've tried and tested 100 plus different apps, and we've narrowed our list to the top 5.
They are the simplest to use, feature intuitive interfaces, and streamline the editing process. You won't even need a guide or tutorial to figure out how to use these applications — you'll become an expert in a flash!
So, without any further ado, let's dive in to learn about the best vertical video editing apps for iPhone and Android users.
Vertical Video Editing Apps
Enlight Videoleap Video Editor
InShot
Picsart
PowerDirector
Viva Cut
#1) Enlight Videoleap Video Editor – The best all-around video editing app
Enlight Videoleap Video Editor is an excellent, easy-to-use vertical video editor app for Android and iPhone users. Editing vertical videos or changing the aspect ratio of videos couldn't be simpler for it.
In addition to providing basic video editing capabilities, Enlight Videoleap Video Editor has a wide range of video-related features.
The app offers plenty of useful standard video editing features including, keyframe animation, precision scaling, sound editing, video effects, and color animation.
The app is free to use. If you're using the free version of this vertical video editing app, you're allowed to create two overlapping layers simultaneously. It might be a time-consuming process.
Therefore, to access limitless layers, you must upgrade to the pro version to avoid the hassle.
With this vertical video editor, you can effortlessly and intuitively edit vertical videos regardless of your level of expertise.
Video editor available on:
Pricing:
Free to use – purchase pro version to unlock advanced features.
#2) Inshot- The ideal video editor app for tinkering with sound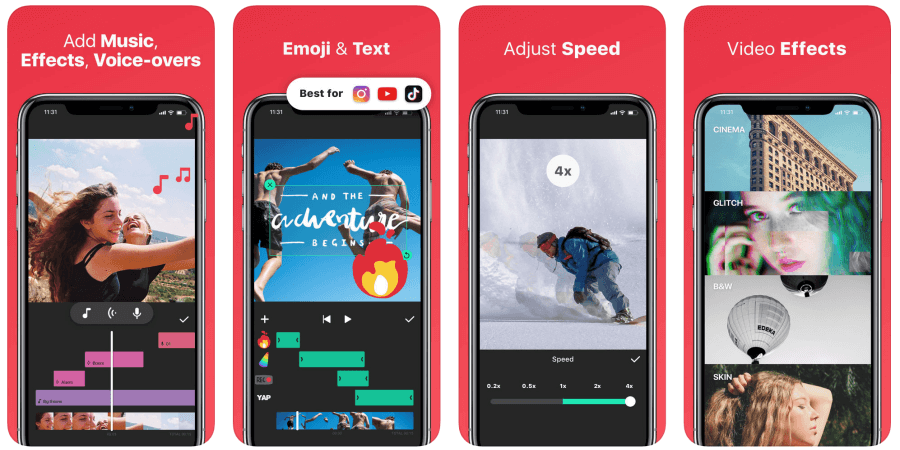 Inshot is one of the most popular vertical video editor apps in the market. You can use this prime video editing app to edit videos on your iPhone and Android devices.
This free vertical video editor offers plenty of handy features like slow motion, trimming, cutting, and splitting.
On top of all of these cool features, you'll also find a ton of different fonts for use in your text and title designs, effects and filters, and sticker animation.
The Canvas feature also has video scaling, which makes it simple to change the ratio of a video.
You'll be able to record your voiceover, use in-app noises, and play music from iTunes or your phone with sound control.
What sets InShot apart is its sound collection, including anything from laughing and clapping to footsteps and animal noises. Even some of the most expensive iPhone and Android video editors don't have this feature.
Video editor available on:
Pricing plan:
$2.99 per month
$9.99 per year
$29.99 one-time payment grants lifetime access
#3) Picsart – Limited video editing options, but an excellent photo editor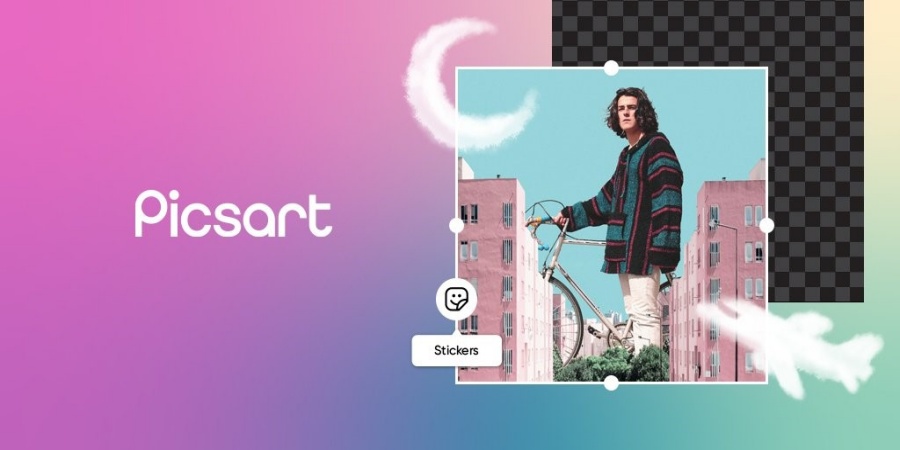 You can use Picsart not only to edit vertical videos but also to edit photos.
This simple app provides the same trimming and cropping options for multiple social networking platforms, such as portrait, landscape, and square.
Moreover, you can choose from a variety of visual effects, colors, and brightness settings for your video backdrop.
One standout feature of Picsart is its ability to generate images with AI, which adds a unique touch to your creations.
Picsart is an excellent tool if you're planning to make multiple edits in your video/photo.
You won't have as many choices for adding stickers, emoticons, or text to your video.
At first glance, the cost may appear excessive. You'll also have access to Picsart's photo-editing tools in the same app, so keep that in mind.
When it comes to photo editing, as opposed to video editing, there are some fantastic features. If you're in the market to get your hands on a two-in-one app, this may be the one for you.
Video editor available on:
Pricing plan:
$3.99 per month
$29.99 per year
#4) PowerDirector – A collaborative and fully-powered video editor
PowerDirector is an online accessible, innovative, and synergetic video editor that's trusted by millions of users across the globe.
PowerDirector is compatible with both Apple iOS and Android smartphones. It makes your videos will have a professional touch thanks to multi-track and 4k editing, making them more noticeable on social media.
Even if you've never edited before, you'll be up and running in no time because of the reliable tools and user-friendly interface. It's easier to put together your clips when you use a linear timeline. An audio mixer is an excellent tool for sound design.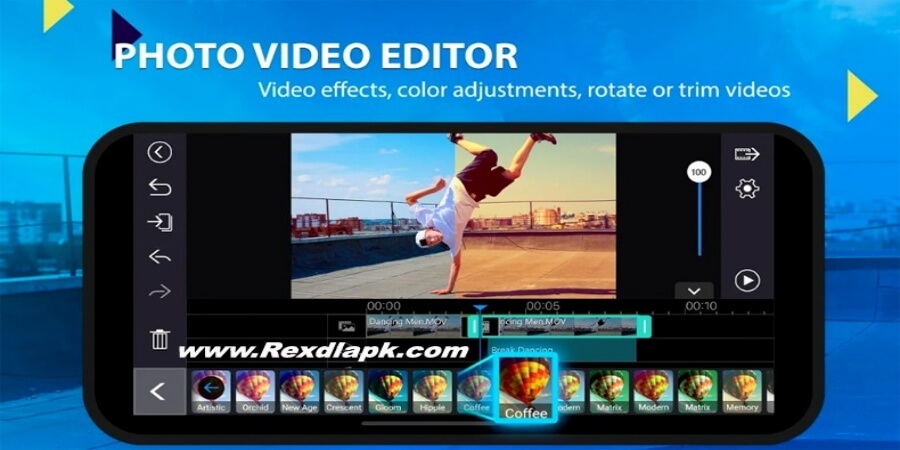 From speed adjustment to compositing, the app's visual effects options are extensive. Templates for YouTube intros and outros, a collection of motion titles, and stylistic transitions are also included.
For those who don't want to pay for the pro version, PowerDirector has 720p output, but you can also export 4k videos. You can also export your creations on Facebook or YouTube with a single tap of a finger. Access to 8,000,000+ is included in the pro edition as well.
Even if you're a seasoned video editor trying to streamline your workflow, it provides the proper tools and features to assist you in the process.
To put it simply, use PowerDirector's fully-featured video editor and take your editing process to the next level.
Video editor available on:
Pricing plan:
Free to use – purchase pro version to unlock advanced features.
#5) Viva Cut – A video editing app for editing professionals and enthusiasts
In terms of professional vertical video editing apps for mobile devices, Viva Cut is one of the finest.
VivaCut has intuitive and simple drag-and-drop editing, as well as an infinite number of audio and video tracks, allowing you to do video segmentation, reverse playback, speed shifting, trimming, and scale modification in real-time.
Creative functions of Viva Cut include comprehensive editing tools such as keyframe animation, VFX and transition effects, chroma-keying, video masking, and curve toning.
Text Animation is one of the unique features of Viva Cut. Additionally, it offers a wide range of animated title alternatives with various color schemes and typefaces.
The Fx Plugin is a robust plugin and unique core feature built by VivaCut. It complements and enhances the app's existing functionality and significantly speeds up creating video special effects. At the moment, the Plugin Center supports hundreds of plugins for various purposes and is constantly updated.
Video editor available on:
Pricing plan:
$6.49 per month
$35.99 per year
$55 one-time payment grants lifetime access
Vertical video editing apps for Android and iPhone can help to create interactive and compelling videos without breaking your budget.
Instead of hiring a professional video editor for the job, you can create your masterpiece. All of the video editing apps we've listed above are user-friendly, collaborative, and ideal for making spellbinding videos.
By any chance, if you get stuck, you can seek assistance from BuzzFlick – one of the best video animation companies that offer plenty of video editing services at a very affordable price.
You can take benefit from their out-class video editing services to get your project done before you can say, Jack Robinson!
Related Articles: