Los Angeles is the hub of video and film production. Read our blog to explore the best video production companies serving in Los Angeles, California.
Need the services of the top Los Angeles video production companies? Excellent, because that is precisely what BuzzFlick has for you today.
Production firms are the foundation of the entertainment industry and the source of all social media, television, and video content.
For the purpose of entertaining an audience and selling tickets or merchandise for a brand, production firms create content for all publishing channels.
After covering all the other cities and states of the U.S.A, we were left with Los Angeles, and since it's the hub of video production, we thought it was high time we should make a list of the best Los Angeles Video Production Companies.
The following Los Angeles video production companies produce exceptional content for all platforms. In addition, a few of these businesses are full-service advertising agencies.
So, without wasting any more time, let's jump right into it.
Most Recommended Video Production Companies in Los Angeles
As we know, Los Angeles is the hub of the video and film production industry. There are many premier video production companies in Los Angeles, but of course, listing all of them will take forever.
To make it easier, we conducted thorough research and created this list of some of the best ones. So, let's check them out:
1. Corridor Digital
Founded: 2009
Pricing: $25,000+
Specialty: Video Production and VFX
Clients: Star Wars, Disney, PUBG, World of Tanks, etc.
Corridor Digital is one of the leading VFX-focused video production businesses in Los Angeles. Visual effects are a specialized type of video production in which digitally-created components are animated to appear genuine.
Corridor Digital is well known for their viral YouTube videos exhibiting VFX methods in a variety of unusual applications.
One of their most viral videos brings to life the Boston Dynamics robot. Boston Dynamics is developing robots that behave autonomously and move similarly to living creatures. In their video, they produced a 3D model of the robot and shot a training sequence for the robot rebels.
This is an excellent illustration of how VFX can bring nonexistent objects into the real world via video.
In addition to developing visual effects for Star Wars and Disney, the production studio has brought games such as PUBG Mobile and World of Tanks to life for advertising purposes. Corridor Digital is an excellent location to begin your search for high-quality VFX jobs.
Invite them to shoot your video in a studio equipped with a full-size cyc wall and see the magic unfold.
2. BuzzFlick
Founded: 2016
Pricing: $1,000+
Specialty: Video Production, Animation, and Video Marketing.
Clients: TekRevol, Avia Shoes, Compt, Wood Wheaton, Social Gone Viral, etc.
BuzzFlick is proud to announce that we have also started our operations in Los Angeles, California. We are full-fledged video production and marketing agency.
We are driven by design and fueled by creativity. For years, we have been offering excellent quality video production services in the industry. Apart from live-action videos, we are known very well for our creative animation services.
Whatever we do, we always ensure to do it with utmost dedication and professionalism. We have worked with some of the top-notch companies in the industry.
Successful visual storytelling and high-end designs are the propelling forces we use to create video content and marketing strategies that make a significant change. But they also make us better and keep us open, creative, and thirsty for more.
If you're looking for a video production company in Los Angeles that will not only create spectacular video content for you but provide you with a robust and clear marketing plan, then get in touch with us!
3. Blue Light Media
Founded: 2014
Pricing: $100,000+
Specialty: Video production, Influencer & Creator Partnerships, and Social Media Management.
Clients: Bulletproofs Greens, Epicuren Discovery, Briggs and Riley, etc.
Blue Light Media, based in Costa Mesa, California, is a full-service digital media agency that describes itself as a corporation that "brings natural-product brands and consumer packaged goods to life through modern content production, digital media planning, and distribution, influencer marketing, and a whole lot of heart."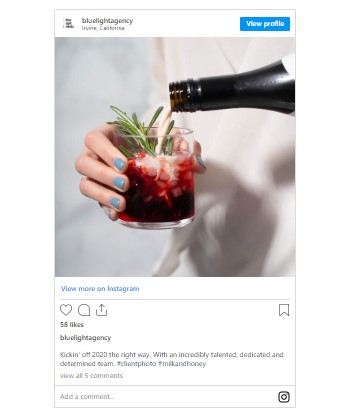 Blue Light Media places a premium on having a kind disposition. Their logo is comprised of hearts, and their company practices are driven by a desire to accomplish a good job the correct way. In addition, they aim to develop a good relationship with the customer.
Blue Light Media is one of the few companies that can develop exceptional content for personal brands, and their video production work is particularly impressive for promotional videos under five minutes.
Gary Vaynerchuk's New York City-based content team has pioneered a unique style of video content known as personal branding content.
Furthermore, it can be quite difficult to instruct novice videographers. Blue Light has a staff that can create excellent content for any reason, and it is the ideal firm to contact if your business also needs digital advertising.
Blue Light is a central Los Angeles-based, multi-set content studio where you can shoot something daring.
4. Blue Giant Media
Founded: 2007
Specialty: 360 Digital Services, Video Production, Advertising, and Video Marketing
Pricing: $5,000+
Clients: Aulani Resort & Spa, Christian Louboutin, ABC, Paramount Studios, etc.
Blue Giant Media takes pleasure in producing the highest quality content on a massive scale. They, like us, generate beautiful graphics and compelling tales.
Working with some of the world's greatest brands and storytellers has taught them one thing that the difference between okay and amazing is the final 2%. This is what sets them apart from the competition.
Blue Giant, one of the most recommended video production firms in Los Angeles, is able to provide outstanding work for any and all needs, regardless of scale, and they have the expertise to determine the appropriate workforce and post-production needed to complete the project quickly.
Their clientele, which includes Disney, Paramount, Marvel, and Warner Brothers, validates their lofty boasts.
Blue Giant Media is the place to go for large projects with unique requirements since their expertise and skill are certain to make your next endeavor a resounding success. If the goal for your video has a more nostalgic aesthetic, why not collaborate with Blue Giant Media at this amazing country-western ranch in Santa Clarita?
5. Tiger House Films
Founded: 2010
Pricing: $5,000
Specialty: Video Production, Advertising, Branding, and Content Marketing
Clients: National Geographic, TikTok, Hyundai Able Card, Old Spice, etc.
Tiger House Films, situated in Los Angeles, specializes in producing lifestyle and fashion videos and short films for major companies. Their work has a beauty and polish that can only be seen in videos produced by actual pros using high-quality equipment.
It is not surprising that they have worked with clients such as Royal Enfield Motorcycles, Lexus, and National Geographic, among others. Even for less-famous customers, the work they've generated boosts the brand on its own.
If you're searching for a production firm to realize your concept for a short, visually stunning, story-driven film, Tiger House is an excellent choice. We believe that Tiger House can create magic when they film your video in this trendy, natural-light-filled MCM loft!
6. LocalEyes
Founded: 2017
Pricing: $5,000+
Specialty: Video Production and Marketing
Clients: Dropbox, Phillips, USC, Cisco, etc
LocalEyes prioritizes finding the optimal combination of narrative and promotion to maximize your marketing budget.
This objective requires genuine experience and expertise behind the scenes in conducting advertising campaigns, acquiring media, and developing goal-oriented, targeted content for your company.
They offer a straightforward structure for the production of a video and a comprehensive marketing strategy with a strong emphasis on branding.
During this phase, they will discover more about you and your company. They then devise a video marketing plan designed to generate results. They then proceed to the manufacturing stage.
At this point, your video production is scripted, arranged, and filmed on location to produce stunning footage. In the post-production phase, LocalEyes will edit the footage captured during production.
Additionally, they will incorporate motion graphics and other components to make the movie more appealing to the audience.
To accomplish your goals, you must be in perfect alignment. LocalEyes produces some of the greatest corporate videos we've ever seen. Why not use them and the Peacock Lounge as a backdrop for extremely captivating media?
7. MuteSix
Founded: 2014
Pricing: 25,000+
Specialty: Video Production, Social Media Marketing, Advertising, and Media Planning & Buying.
Clients: Parachute Home, LA Times, Art of Tea, Headspace, NHL, etc.
MuteSix is an additional full-service digital marketing firm that begins by understanding your business and content objectives. They have an in-house production staff that can create any type of material required.
In addition, they have a creative staff that can transform the information into online advertisements. MuteSix will promote your company via Facebook, Instagram, Google, YouTube, and even email and Messenger.
A significant aspect of MuteSix's strategy is its laser-like concentration on data-driven results for your brand. In internet advertising, data is as valuable as gold, and the more data you have, the more efficiently you can utilize it to earn money with your advertising expenditures.
They begin by determining your business's objective and developing a plan to achieve it. They will next choose and employ the appropriate tools to implement the plan.
They continue to test, learn, and scale the most effective tactics. They will continuously deliver reports and insights. This helps you to comprehend how the approach is functioning and how it might be improved.
MuteSix is a reliable full-service advertising firm for your company. And once you do, you can depend on Peerspace to provide you with one-of-a-kind, full-service video production rooms. In fact, this Leimert Park studio is written all over your name!
8. Aris
Founded: 2016
Pricing: $10,000+
Specialty: Video Production
Clients: Zappos, iDevices, Coca Cola, Novartis, and Landdry's, etc.
The winner of the best documentary award at the Borrego Springs Film Festival (with their very first documentary, no less), Aris is a great video production firm that collaborates with companies as a full-service creative studio.
One aspect of their firm focuses on integrated post-production, while the other includes editorial and motion graphics.
The Aris team collaborates with many of its clients in the creative creation process. This involves copywriting, pitching, and storyboarding, followed by production and distribution.
Aris has created short branded videos for well-known companies, including Coca-Cola, MTailor, Chevrolet, and Zappos. In their excellent advertising portfolio, you will find gorgeous graphics coupled with intriguing stories.
Make your own fascinating tale a reality by reserving Aris and this fantastic video warehouse in Rancho Cucamonga with modular sets.
9. 7 Hills Productions
Founded: 2018
Pricing: $5,000+
Specialty: Video Production
Clients: Loreal, Google, Armani, CVS, Porsche, etc.
7 Hills Productions was founded to assist major enterprises, small businesses, and entrepreneurs with video storytelling. Their production team has over 20 years of industry expertise and a broad portfolio.
Moreover, they produced hundreds of videos for big worldwide and national businesses, focusing on the creation of visual narratives that have a profound impact, motivate people to take action, raise passion about your products or services, and make your organization distinctive.
At 7 Hills Productions, they pay special attention to the ideas, cast, direction, cinematography, editing, sound, and visual effects, resulting in videos with an impact.
The best part is that they specialize in all types of video production services, including promotional and commercial videos, brand videos, product videos, explainer videos, corporate videos, interview videos, education videos, and e-commerce videos, among others.
10. ZANE Productions
Founded: 2016
Pricing: $5,000+
Specialty: Video Production
Clients: Marvel, Warner Music Group, The Only Roses, Disney, UFC, etc.
If you're looking for a video production company with extensive expertise working with huge companies and prominent personalities, your search is over.
Los Angeles, California's ZANE Productions is an award-winning, full-service video production firm. They generate high-quality TV commercial films, music videos, promotional videos, branded web content videos, and corporate videos with meticulous attention to detail.
Since the summer of 2015, they have generated more than 250 videos for Marvel, Samsung, UFC, Markwins Beauty, Segway, Universal Music Group, Warner Music, Spinnin Records, David Guetta, Snoop Dogg, James Arthur, Afrojack, and several celebrities and influencers.
As they cultivate strong professional ties with businesses, creative agencies, artists, and other local video production organizations, their goal is to create appealing, amusing, and effective videos.
11. Lemonlight
Founded: 2014
Pricing: $1,000+
Specialty: Video Production
Clients: Audi, Accenture, Uber, Meineke, Home Depot, etc.
Lemonlight is an on-demand video production firm specializing in performance creative for international brands and agencies. They have produced over 16,000 movies for the world's leading businesses, including Amazon, Google, Deloitte, Tesla, General Electric, and Airbnb.
Lemonlight tailors its production and distribution tactics to the specific objectives of each client, eventually assisting clients in driving conversions and moving customers along the marketing funnel.
Using their industry-leading video intelligence platform, Lemonlight simplifies the video production process from conception to final delivery.
Lemonlight has you covered whether you need a product, testimonial, event, or advertisement video. With a facility in Los Angeles and a roster of 600+ cinematographers across 8+ global markets, they are able to efficiently and affordably meet any video demand.
12. Sprinity Productions
Founded: 2014
Pricing: $5,000+
Specialty: Video production, Video Broadcasting, and Content MarketingClients: Philip Stein, Maserati Gran Turismo, Sporting Goods, etc.
Sprinity Productions is a video and film production collective located in Hollywood that feeds on passionate storytelling.
Sprinity also offers photography, public relations, social media management, casting, live streaming, and equipment rental services, among others, in addition to video productions. However, their branded content and music videos are our top favorites.
The Sprinity team is good at getting to the core of a person or organization. They then exhibit it in an extraordinary manner for the entire world to witness.
Consider hiring Sprinity to direct your music video. Good call! After doing so, be sure to reserve a Peerspace venue that matches your aesthetic. How about this one-of-a-kind bohemian apartment in the heart of the city? It has a swing, different backgrounds, distinctive lighting, and beautiful vegetation.
In a Nutshell
We hope you have found our list of the best video production businesses in Los Angeles to be helpful. Each of the businesses on our list is exceptionally competent and motivated, doing everything possible to surpass your expectations.
Also, make sure to view our list of the best corporate video production firms in Los Angeles for other corporate-oriented businesses.
Los Angeles Video Production Companies – FAQs
What is a video production company?
A video production company, also known as a VPC, is an organization that develops video material for the marketing plans of other businesses. This video content comprises television commercials, web advertisements, displays of products, as well as internal company videos and videos used for employee training.
How many video production studios are located in Los Angeles?
Los Angeles is the hub of video production companies. Some of the popular studios located in the city are:
BuzzFlick
Lemonlight
Sprinity Productions
7 Hills Productions
Aris
Blue Giants
Which is the biggest video production studio in Hollywood?
Universal Pictures generates more money than any other film studio or distributor every year. Formed in 1912, it is the fourth-oldest film production facility in the world.
Related Articles: