Animated explainer videos are high in demand and businesses are leveraging their impact. You'll learn in this blog how to create them efficiently.
We are experiencing a fast-paced digital world, and explainer videos are an emerging form of online content acting as friendly guides. They're not just simple videos; they're stories that make complex things easy to understand, just like a friend explaining the latest tech or a new recipe.
There are forms of video explainers that fit different businesses and how they talk to you. And today, we are dissecting different types of explainer videos. Think of it as discovering different flavors of ice cream – each one has its own unique taste.
From simple drawings in whiteboard animations to stepping into virtual worlds with VR videos, we're exploring them all. No complicated terms, just a fun journey through the world of videos that tell stories in ways that everyone can enjoy.
But first, you have to know everything about explainer videos.
What Is An Explainer Video?
A simple, short, and fun video that communicates something briefly and how it works simply to the audience is called an explainer video. Often, this type of video content is used in digital marketing to demonstrate any product, or service and its benefits along with the working procedure.
Businesses put explainer videos on a website's landing page, home page, or service page often. It is getting popular to place these videos on prominent product pages to help the audience understand the complexity of a product and how to use it.
Why Explainer Videos Are Effective? Benefits Of Explainer Videos
There are a lot of types of explainer videos and each one offers numerous advantages by providing effective solutions to problems. Explainer videos are much more than simple videos and you must know everything about them.
They aid in conveying information about your brand, products, or services, demonstrating how they can address the audience's concerns.
Animated explainer videos, being more engaging than text-based content, offer an efficient means of delivering messages. So, are explainer videos profitable? Yes, they are. Here are the reasons why explainer videos are effective:
Invaluable Learning Tool:
96% of people gain a deeper understanding of products or services through explainer videos.
Essential for effective marketing strategies.
Audience Engagement:
Text-heavy websites risk losing visitors; explainer videos capture and retain attention.
Vital for preventing audience disengagement.
Efficient Information Conveyance:
Explainer videos are 60,000 times faster at delivering information to the human brain compared to text.
Ideal for keeping visitors engaged and well-informed.
SEO and SERP Enhancement:
The inclusion of explainer videos boosts search engine ranking.
Google prioritizes video content, increasing visibility on search results' first page.
Trackable ROI:
Easy measurement of explainer video performance.
Enables data-driven decisions for enhancing digital marketing strategy.
Brand Personality Showcase:
Emotional engagement through conveying brand values, culture, and personality.
Strengthens brand identity and fosters a deeper connection with the audience.
Want to Buzz through animated explainer videos? Why not opt for BuzzFlick then? We are here to help you out with whatever you need to explain.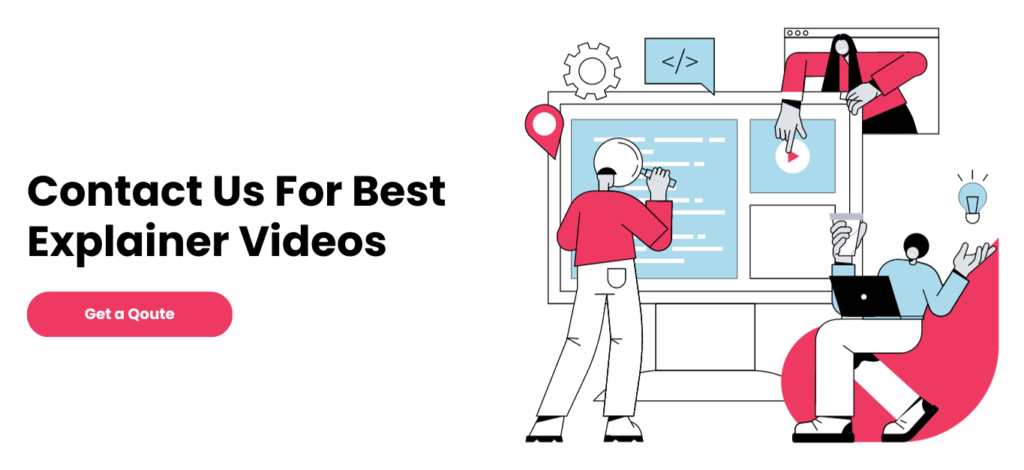 What Are Different Types Of Explainer Videos: Exploring The Top 10 Ones
Now here comes the question or concern; what are the top 10 explainer video types? Well, there are lots and lots of options available when it comes to deciding on the most suitable explainer video kind for your needs. Let's explore some of the popular and impactful types of explainer videos with examples below.
1. Whiteboard Animated Explainer Videos
Straightforward yet impactful approach, whiteboard animation explainers stand out among all the explainer video formats due to their unique technique. These videos entail the illustrations or text being created on a white background, with narration in the background.
You can go through the top examples of whiteboard explainer video. We have shared TenEighty group whiteboard video created by BuzzFlick. It narrates how the company helps others through a visually captivating story.
Most of the whiteboard animations are for brand awareness or education. They are renowned for their effectiveness as they streamline complex concepts, and make them easy and simple for better understanding.
2. Animated Explainers/ 2D Explainer Videos
Have you ever witnessed how vibrant visuals and dynamic characters breathe life into ideas? Animated explainer videos are the best example of this. Their best quality is their versatility which makes them useful for a range of industries. One can give a creative touch to their messages and captivate audiences like never before using animated explainers.
Here is an example of Cambio wall systems
One can opt for 2D explainer videos or make them in 3D. But most businesses opt for 2D animations for their video explainers just like the example above. The whole video uses 2D animation and look how captivating it is.
The best thing is, 2D explainers are not that costly. You can check out the cost of an explainer videos here for your idea.
3. Motion Graphics Explainers
Explainer video motion graphics are perfect combination. Motion graphics explainer videos comprise animated elements, text, and graphics to convey messages and information to the target audience. Motion graphics explainers have a dynamic style and you will often see them on tech and design companies' websites and social media pages.
The example above describes how amazingly motion graphics are used to demonstrate proprietary platforms in an explainer video animation. This video provides an aesthetically modern and visually appealing experience to showcase the services of Room Speculator effectively.
4. 3D Animation Explainer Videos
The technology advancement has influenced animated video production services and they are coming up with 3D animated explainer videos more often now. These videos are as powerful as you may think and go beyond traditional 2D animations. Not only audience are being provided with a visually striking experience, but these videos are really helpful in captivating viewers.
look at this example we have provided. How immersive and impactful this video is. Isn't it?
Similarly, one of the animated video examples, following medical explainer video explains a complex medical condition Asthma in the really well manner.
5. Live Action Explainers
Real people, real locations, realistic settings; live-action explainer videos are all about it. People connect instantly with these kinds of videos due to realistic touch which creates a human connection with the audience.
Here is the best example of a live-action explainer of KeyRing, which is the combination of motion graphic elements and live-action for a more creative approach. Businesses that opt for a personal touch and are service-oriented often use live action to demonstrate audience how they work.
6. Kinetic Typography Explainers
One of the easiest videos to make, Kinetic Typography Explainer Videos are fun, engaging, and crisp. These videos focus on the text art, usage of fonts creatively, vibrant colors, and dynamic layouts for their content.
The example we quoted is the best kinetic typography video of BuzzFlick focusing on a visual appeal yet keeping the approach straightforward. You can create them quickly, capture the audience effectively, and deliver your message efficiently using typography elements in videos.
7. Testimonial Explainers
If you want to build trust and credibility, you should use testimonial explainers. These videos combine customer video testimonials with visuals, and you can use them on your website to build your brand's credibility and increase your audience's trust level.
Every business now uses customer video testimonials to show their customers how they have helped their clients and this format has proven effective for various brands.
8. Product Demonstration Videos
Do you want to showcase how your product works or solves a problem? Go for Product Demo Explainer Videos. You must have seen SaaS explainer videos that demonstrate the software of tech product. They are type of product demo videos. These types of videos are crucial for e-commerce businesses or even for SaaS companies with complex products.
The example above is the perfect demonstration of a shoe from a renowned brand. This explainer is in 3D showcasing the features and benefits of a shoe in the most captivating way.
9. Corporate Explainer Videos
This kind of video solely focuses on explaining the company, and the products or services the company provides through animation, images, and voice-over in the background. You can think of them as b2b explainer videos mostly used to spread the word out.
Here is an example of CydoMedia's corporate explainer video explaining the kind of services they provide and how they work. The video is visually appealing, captivating, and engaging in a creative way.
10. Brand Storytelling Explainers
Brands create an emotional connection with the viewers by telling their story or journey storytelling. These explainer videos usually focus on narrating the journey or brand, their values, and their services which eventually leads their audience to connect with them emotionally.
The example here is the character-filled story of Over J. an e-learning brand. They have explained how they are formed and how they have helped their customers. The video used 2D animation to demonstrate the brand's narrative and it's pretty cool.
Do You Need One Of These Types of Explainer Videos? BuzzFlick Can Help
With years of experience, BuzzFlick specializes in explainer video production, crafting fully customized, effective marketing pieces. We know how to make an explainer video and we are committed to keenly listening to clients' needs, ensuring a thorough understanding of their goals.
Whether promoting a newly launched product, attracting customers, boosting sales, or enhancing awareness, we tailor various types of explainer videos to specific objectives. Using strategic approaches and various animated explainer video types, each video is unique and capable of simplifying even complex concepts.
We as an explainer video company takes pride in exceeding expectations and refining our approach based on client feedback. This collaborative process actively involves clients, shaping explainer videos to align precisely with their vision.
See what our clients have to say about us: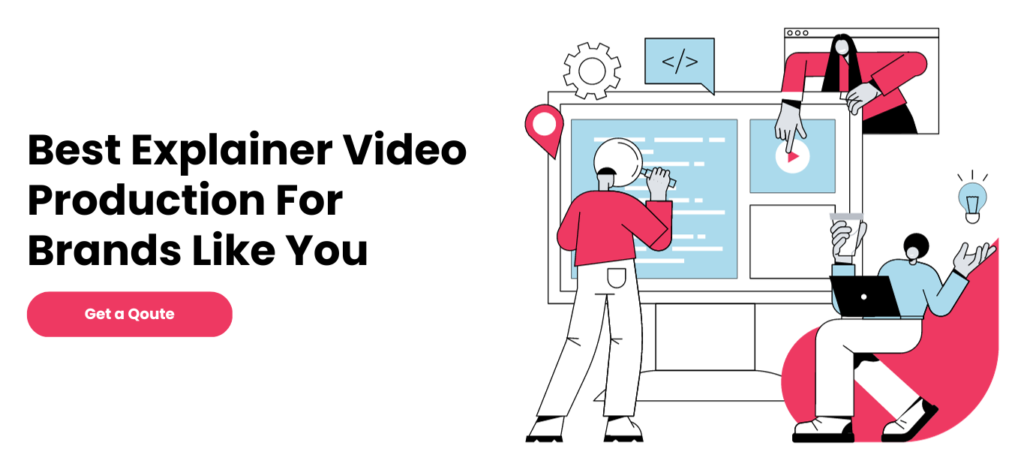 Frequently Asked Questions: Types Of Explainer Videos
What are the different types of explainer videos?
There are a lot of different types of explainer videos. Businesses often choose to combine multiple styles to explain complex topics and products in a better way.
2D animated explainer videos
3D animation explainer videos
Motion graphics explainer videos
Live-action explainer videos
Whiteboard animation explainer video
Kinetic typography explainers
Corporate explainer videos
Product demo explainers
Testimonial explainers
Brand storytelling explainer video
Are explainer videos still effective?
Yes, explainer videos are still effective and brands choose them to get their message out and loud. That's because they work wonders for brands.
These visuals not only help convey stories and services creatively but also grab the audience's attention in a way that can boost conversions and user interaction.
Which companies need explainer videos the most?
Here are the three industries if you are thinking what types of businesses need explainer videos:
Financial companies.
Healthcare sector, including hospitals, clinic, healthcare education institutes etc.
Technology companies, including SaaS companies, IT companies, app development startups, social media marketing agencies, etc.
What is the structure of an explainer video?
The structure of the animated explainer video includes components like the problem, its solutions, how the solution works, and lastly, the call to action (CTA) which leads the audience to take action.
How long should an explainer video be?
An explainer video should be between 60-90 seconds. Some explainer videos might last around 2 minutes and others may be less than 60 seconds. Again, the shorter your video is, the better it will perform.
A length of 60-90 seconds, a clear CTA (call to action) at the end, is one of the most effective explainer videos for a company.
Elevate your brand with BuzzFlick's expert explainer video production services. Discover the perfect blend of creativity and impact.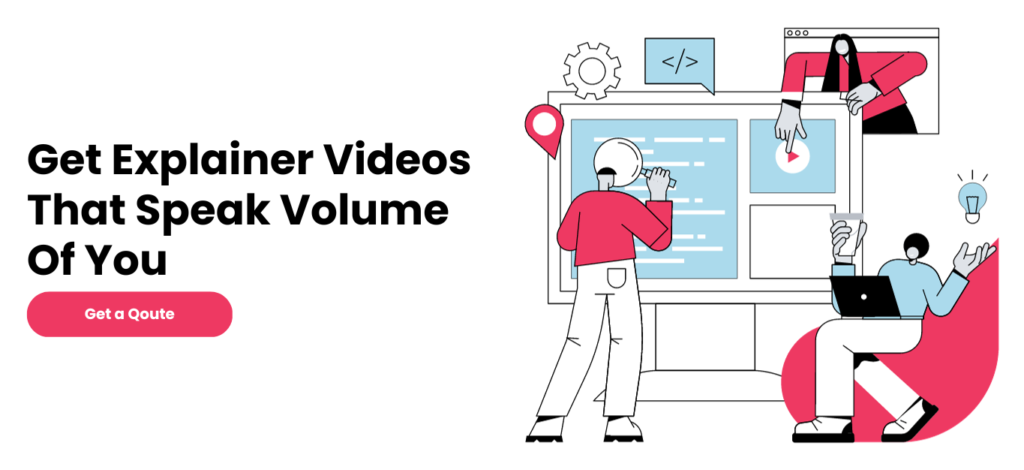 In The End
In conclusion, the diverse types of explainer videos provide businesses with a broad array of options to convey their messages effectively. From traditional whiteboard animations to cutting-edge VR experiences, we have shared explainer videos examples and explained their types with you to get inspiration. Choosing the right type is crucial in reaching and engaging your target audience.