Want to know one exciting way to 10x your views on YouTube? Want to find out how to engage personally with your viewers? Enter YouTube clips.
Creating YouTube clips can give you a boost in your traffic. Not only do these magnetize viewers to your content, but also give them a small dose of the value you are providing as a content creator.
But, how exactly does it work?
That's what this blog is all about! It's an ultimate guide for you to get more views and engagement on your YouTube content the easy way. And, that too by just using YouTube clips.
Reading on you'll discover,
Why short form content is perfect to grow your channel?
Why YouTube clips are ideal to promote Podcasts?
How YouTube clips amplify watch hours of original content?
Difference between shorts and clips, and how you can share both
How to clip the best segments of your video without a video editing tool?
How can you boost your brand using YouTube clips?
How to create YouTube clips: Step-by-Step Guide
How to disable YouTube clips when you need to?
What's important to know about YouTube clips?
So, without further ado, let's dive right in!
Booming demand for short-form content
Every minute, 500 hours of video content is uploaded on YouTube. That's a whopping number for just 60 seconds! And, with more than 2 billion users searching for their favorite content, it's no wonder that you don't always get to check out all the best creators. But why?
Reason:
Just like you, no one has a lot of time. And as always, your viewers want great insight and entertainment in the shortest possible time.
Part of the reason can be our short attention span. Or perhaps the tons of content that is circulating on our feed and giving us a boost of dopamine.
Keeping your audience hooked has always been a challenge. And, today, it's no different. In fact, it's become even harder. At the same time, there is an increasing demand for short-form content. And, it's only growing.
And, if there's anything you need that can catch them off-guard is bite-sized, hot and thought-provoking content. One that would excite viewers, sending them to your longer videos.
One way to do that is creating shorts and YouTube clips. You may be familiar with shorts. Just like shorts, clips are nothing new. Except most people don't use them to their advantage.
Perhaps, because they don't understand them fully.
Related Article:
YouTube Clips: How are these helpful?
YouTube clips are shorter versions of your original video. Whether you're doing livestreams or sharing entire episodes of video content, clips can meet the demand for short-form content.
And, quite impressively, also direct traffic to your long-form videos.
Most people wonder if creating YouTube clips would affect the chapters in their long-form content. If you're doing a podcast on YouTube, you can easily relate with this one.
Know that clipping a podcast won't delete chapters from the original video.
What are YouTube Clips?
Creators can benefit from YouTube clips as these are clipped footage of a video on their channel. Clipped footage may be anywhere between 5 and 60 seconds.
And, the best part, you don't need a tool to do that. You can easily clip the best segments from your video directly on YouTube using its own Creative Studio.
Clips vs Shorts
Clips and shorts are not the same thing. YouTube clips can be shared via a link or directly across socials. You can't download them. But, for shorts, there is always an option to download them from your original video.
If you want to learn more about shorts, watch the following video;
Does it count for watch time?
You can think of YouTube clips as teasers and trailers for your original content. These can pique curiosity and make them land on the full video. Know that in the process, you don't create a new video.
But, clips are used as pointers to original content.
And, as for attribution, know that every time a person watches the clip, the original content will be credited by the channel. That means it would add to the views and watch hours of the original content.
So, any brand can use YouTube clips to increase watch time.
Dimensions, Size and Duration of YouTube Clips
Clipping a YouTube video does not affect the size of the original video. Clips are widescreen shots that may have 16:9 aspect ratio. The dimensions in pixels are 1920 x 1080px. And, the length can be anywhere between 5 and 60 seconds.
Where can you share YouTube clips?
Content creators clip their videos to highlight relevant sections of the video. The rollout of YouTube clips has proven to be gold for podcasts. Creators can share numerous clips across socials, and drive a diverse traffic to their long video.
To boost views and engagement on your videos, you can share these on Facebook, Twitter, Reddit, Instagram and even WhatsApp.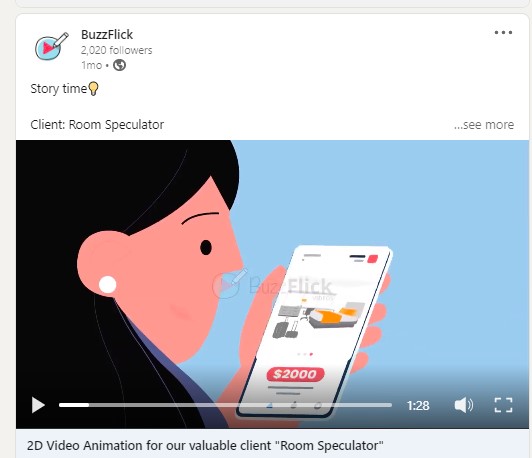 Figure 1 Clip shared on Linkedln
Plus, if you've a solid mailing list especially of raving fans, who would love to open your emails, then inbox can also be a fine place to share these clips.
So, regardless of how many clips you produce, the ultimate goal should be to attract traffic to your original content.
Can I clip different segments of a video?
No, it's not possible to do that with YouTube's clip feature. You can only clip continuous segments of a video. For combining different segments, you might need a full-blown video editing tool.
However, if you believe you'll need an eternity to get the hang of the tool, you might be better off signing up for a video editing service. It will surely save you the hassle!
How you can boost your brand with YouTube clips?
It is important to know that shorts and clips are two entirely different things. Most people mistake one for another and fail to tell apart shorts from YouTube clips.
The major difference between the two is shorts can be shared on your channel. Whereas, clips can only be shared as pointers to original content. Other than YouTube, you may able to share these on socials and even via email.
To learn more about shorts:
In addition, your video clips on YouTube can really help you build brand awareness. And, make it all appear so seamless. Below we'll share how clips of longer videos can enhance brand growth on socials.
Clips can pique interest of your viewers
The first thing YouTube clips can do is pique the interest of your viewers. Think it this way: Your audience doesn't have much time to go through an entire video.
So, to entice them to land on your channel, a short clip that packs a thought-provoking idea can be the way to go!
But why?
Users these days love watching short-form content.
For one, they've less time, Two, longer content can be quite overwhelming for them.
Three, their attention span is low. So, keeping up with the message can be a real struggle. Four, not everything from your video might excite the viewer.
So, it seems of value to create YouTube clips that are short, have rad headlines and pack a powerful message that would delight the viewer. Plus, multiple clips would cater to the interest of a diverse audience in much less time.
Bring in more subscribers to the channel
While you attract more viewers to your original content, you can at the same time, increase your subscribers.
Creating YouTube clips and shorts give you the benefit of expanding your content reach. Through a wider distribution across multiple social channels, you can bring in more subscribers to your channel.
People want to engage with minimum content and extract maximum value for them. That's why we see so many content creators producing shorts and clips to boost subscribers.
Plus, one major reason to go short-form is the platform itself offering good organic reach on it.
So, if you want to gain more followers quickly, sharing clips that have thought-provoking sequences might be perfect. You can always bring in loyal fans by selling them short-form content.
Enhance customer experience
Last but not the least, YouTube clips can enhance your customer experience. Share YouTube clips with your prospects who want to navigate through your customer service.
Often there are times when your customers want to line up with support staff. But they find it hard to do so. Or perhaps, there is an issue in setting up a software or a product which they just bought from you.
In that case, tutorials might be the perfect guide to make their life easier. However, sharing clips to the original content in your emails or correspondence can be helpful too.
For one, these bite-sized clips will load pretty quickly in your chats and emails. Two, customers will land on your channel and find relevant tutorials and even content that would promote your other services too.
However, the goal should be to share valuable clips that entice them to watch full video. Content needs to be of quality and actually helpful. People get trolled everyday for sharing clickbait content. So, you're better off not doing the same.
How does it boost channel growth?
Another cool benefit of clipping videos is that it boosts the reach of your channel. In fact, your clipped videos can be posted with a unique description too.
And, these would also show up on Google search.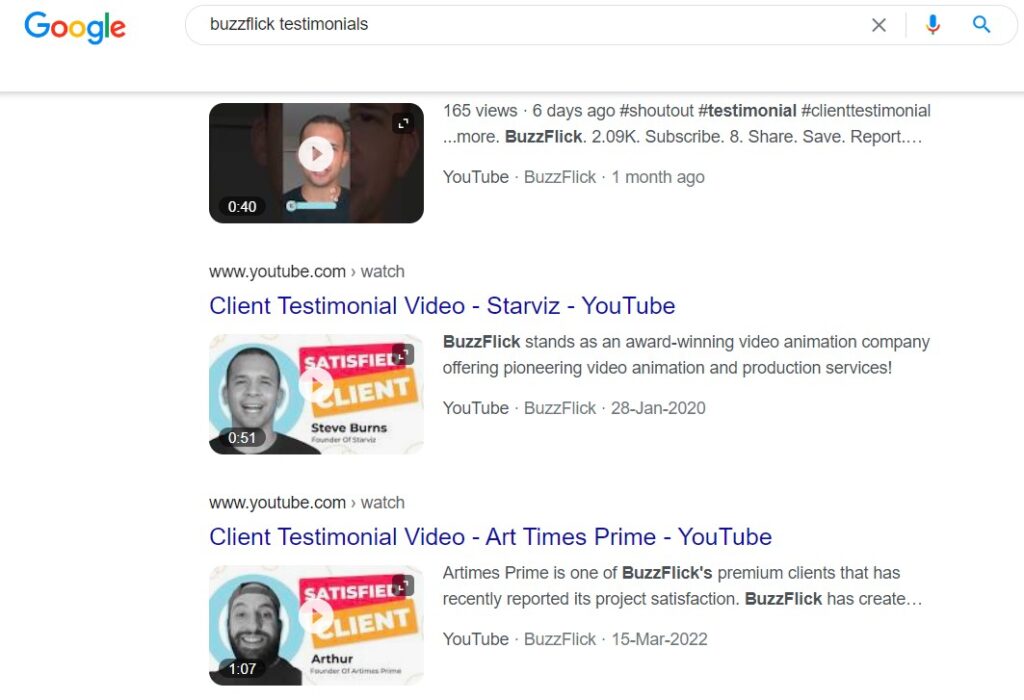 Also know that you can't create a clip for YouTube without writing a description for it.
So, anyone searching for a trending topic can land on your clip given that you optimized it with the right keywords. On top of that, people prefer watching videos as it satisfies their queries better.
Want to create YouTube videos to boost channel growth?
Connect with us. Find out
How to create a YouTube Clip?
If you've a YouTube channel, it's highly likely that you've this feature turned on. However, if you don't want to use the clip feature, we'll address how to disable the clip button in the next section.
Here's a video tutorial on clips offered by YouTube for its content creators.
Step 1: Watch a video
Watch a video and see, if the creator has enabled the clip button for the video. You can find the Clip icon just below the video.
Know that you need to be signed in to create clips. And, more importantly, if you're fond of 'made for kids' videos, then sorry to burst your bubbles, but you can't clip such videos.
Step 2: Navigate the icon and click on it
Upon clicking the icon, you'll see Create a Clip tab open on the right side of your browsing video.
Step 3: Clip as you wish
Next, you've the Clip menu. You can now choose your favorite segment to clip. Navigate to the duration scale. You can clip a video between 5 and 60 seconds.
Step 4: Add a title or description
Again, you can't proceed without adding a description or a title for the clip. Make sure to write a relevant and SEO-optimized description. For the title, we recommend writing a benefit-rich headline.
That would surely improve the CTR on it.
Know that the length of the description can't be more than 140 words. So, you need to be precise as you can't afford to go overboard with keywords.
At times, it can be overwhelming to write a description. You can always take help of an AI tool like ChatGPT to write it. Just make sure you've got the right prompt.
Step 5: Share
The last step is probably the most important one. Now that you've clipped a video, it's time to share it. YouTube offers you to share it via email as well as across social channels.
Or you can even copy the URL and share it, however you like. Know that the purpose of this share is to ensure that you get optimum reach for your content.
How to disable the clip button?
Though clipping videos allow you to boost content distribution, there may be instances where you may not need the feature. For instance, you've a channel that's been off and running for several years.
You have an audience of a million raving fans, who're excited everyday for you to share something new. In that case, you don't really need to magnify the traffic volume. And, you won't like people using your content to gain traction.
Or for some other reason, you might want to retain the original content with your channel. Well, YouTube understands your pain.
Here's a video on how to prevent people from using your content;
To stop people from misusing your content, it offers the disable option for clips. So, you can opt out of YouTube clips whenever you want.
To begin with, you need to log into your channel and open the Creative Studio.
Navigate the 'Settings' option on the dashboard.
There, you'll find the Channel button.
Navigate to the 'Advanced Settings' option.
Under the option, navigate the Clip section, you'll find 'Don't allow viewers to clip my content'.
Check the option and you're good to go!
Important to Know
In addition to the above, there are a few more things you need to know before you set out to clip videos for your channel. To make it easier for you to navigate through this Must-know list, we've divided it into relevant parts.
Creating clips
Following are worth noting when creating clips;
You can clip videos from your channel as well as other creators who've enabled the feature
You need to be signed in on YouTube to clip any content
Videos that are 'Made for Kids' do not allow the Clip feature
Clipping Livestreams
Livestreams are the reason why so many content creators have gained wild popularity in no time.
While these are fantastic to sell to an audience, clips that point to such streams can often do wonders for you, in terms of reach, and engagement especially, when you're craving for more subscribers.
Here's all you need to know when clipping livestreams;
You can't clip any Live premieres
Livestreams that don't have DVR will not have the clip option
Livestreams that exceed 8 hours in duration can't be clipped
Clips don't appear unless streams are uploaded as video
Clips Disappear
Yes, clips are a smart way to promote your content. People love bite-sized fun facts and would surely come searching for more content.
But sometimes clips may disappear. So, if you love clipping content from other creators, then this one's for you.
Here are two reasons why clips would disappear;
Original content is found in violation of community guidelines
The creator has set the video to private (Not allowed to view)
Creator has deleted the video
However, if the creator has 'Unlisted' the original video, it might still be available as a clip.
Final thoughts
Let's wrap this one up. In this piece, we covered a great detail on YouTube clips. We dived into how are these helpful for you as a content creator, especially if you do podcasts. Why should you opt for it?
We covered on what distinguishes a short from a clip and how you can promote your brand using short-form content.
Apart from the benefits of brand growth that you may be able to reap by sharing clips, we also covered precisely on how to create YouTube clips (of course with a step-by-step guide.
Lastly, we covered how you can disable the clipping feature and some important things to know before you create your first YouTube clip. Let us know if you want us anything to cover. Hope you got a nugget or two from this one.
FAQs
How to clip a YouTube video on Android?
On the mobile app, navigate to the engagement buttons just below the video. Slide to the left and tap on the 'Clip' button. You can select the range of length you want to clip.
Why clip icon is not shown below my video?
It is very likely that the creator has disabled the clip feature to prevent anyone from misusing content or benefit from it.