If you're wondering, how long was the first-ever YouTube Video? YouTube's debut video was only 18 seconds long.
Founders of YouTube have finally learned that content (videos) doesn't need to be long to interest viewers.
The YouTube Shorts Fund is now open to creators after a nearly one-year trial phase because of the popularity of TikTok and other viral video platforms like Instagram Reels and TikTok.
There are a lot of questions regarding YouTube Shorts, and I'd like to answer them for you through this blog.
So, without any further ado, let's dive in.
What is YouTube Shorts?
Testing of YouTube Shorts, a service that competes with TikTok and Instagram Reels, began in India back in September 2020. Users were allowed to view and create 15-second videos with musical overlays in the beta functionality.
The Shorts feature performed well even in its most basic beta form in India.
India-based Shorts player videos are now viewed by 3.5 billion people every day, according to Google and Alphabet CEO Sundar Pichai.
In March of 2021, the Shorts beta was completely published in the United States, with more than 6.5 billion views each day.
Shorts went worldwide in July in more than 100 countries, a few months after the first debut.
The beta version of YouTube Shorts has marketers scratching their heads as to how they'll make use of this video feature, what the final platform will look like, and whether or not it will become popular like TikTok.
As the number of short-form video platforms grows, it's difficult to predict which will be the most popular. For this reason, it's impossible to forecast how YouTube Shorts may evolve in the near future.
For sure, there are millions of hours of commercially produced videos on YouTube. As a result, YouTube Shorts may be worth your time, especially if you already have a YouTube video strategy.
Here, I'll explain the fundamentals of YouTube Shorts and how they may benefit advertisers.
In order to create vertical short-form videos, users can use YouTube Shorts, which includes tools like video segmentation, app-based recording, and musical overlays. Videos should be no longer than 60 seconds and should not vanish like Instagram Stories or Reels.
According to a blog post by Google, the decision to introduce YouTube Shorts was made for the following reasons: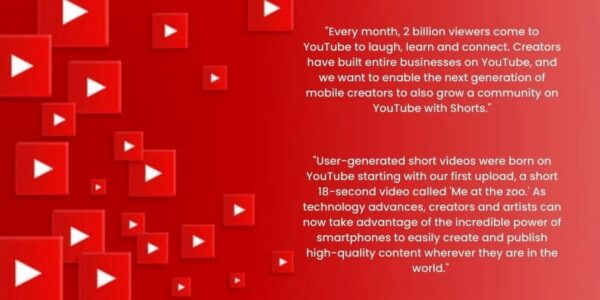 According to the article, today's consumers prefer bite-sized content that can be consumed at any time. Short-form video content like YouTube Shorts allows users to take a break from long-form video content.
How YouTube Shorts Looks Like
YouTube Shorts is now in beta in more than 100 countries across the world.
Shorts is still in development, so we can't be sure what it will look like when it goes live, but I grabbed a few images of the beta on my YouTube app lately to help advertisers visualize what users may expect.
Creating YouTube shorts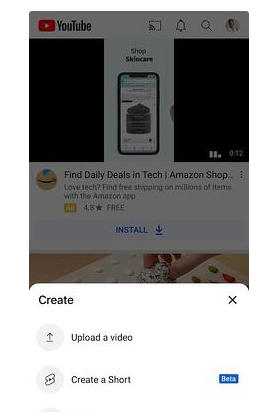 It's easy to create a short video with the YouTube app.
Click on the "+" symbol located at the lower-center navigation of the home screen. Next, hit "Create a Short" will appear in the menu when you click it.
In the same way that Instagram Stories lets you take photos and videos, Shorts lets you do the same when you hit the Create button.
Record 60-second clips or a minute-long video in its entirety.
Upload images from a camera's memory card.
You can film a short" either by using rear or front camera.
Adjust the frame rate.
Set a timer for recording.
Select sounds for use as musical overlays.
Filters and text may be added to the image.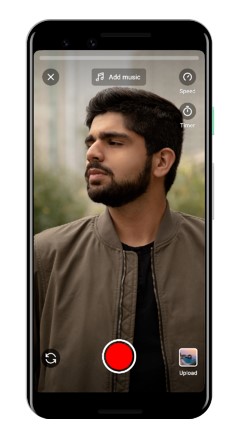 Watching YouTube shorts
For some time, YouTube had been experimenting with a portion of its site where shorter videos were displayed, as illustrated in the screenshot below.
With today's launch of the Shorts feature, YouTube has added a dedicated shelf to its app homepage where users can begin viewing Shorts made by beta testers in addition to existing short videos.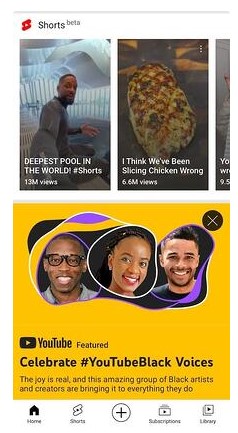 You can "Like," "Dislike," or leave a remark on a Short by tapping the icons on the right bottom of the screen. There is a "SUBSCRIBE" button for those who want to follow the content creator.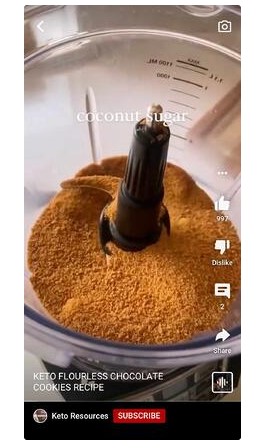 When a user has finished watching a Short, they may swipe their finger up to see a vertical stream of other Shorts from different producers, similar to Reels or TikTok.
This vertical stream can also be accessed from the home screen by selecting the Shorts option.

YouTube and its rivals: The competition between them
As a marketer, you can feel daunted by the sheer number of social media platforms introducing Stories and other short-form video services.
You may wonder, "Will YouTube Shorts give more prospects than Instagram Reels or TikTok?" now that so many have been released.
We don't know for sure yet. We, on the other hand, believe that YouTube Shorts are well worth your time. There are several causes for this.
Recommended Reading:
Helps to expand the consumer base
Shorts was created by YouTube, the second-largest website in the world, while TikTok attracted a large number of Gen Z subscribers.
You could instead ask yourself, "How can I get into YouTube's enormous audience using Shorts?" rather than "Will YouTube Shorts acquire awareness?"
Before creating a Shorts video, or any other YouTube video, you should determine your target demographic, according to Nelson Chacon, a YouTube content consultant.
In addition, you should continue to provide material that is still useful to your existing subscribers, even if it is in a more condensed form.
For the sake of your followers and for the success of your channel on YouTube, you must maintain a consistent presence on the site.
Let's imagine you routinely produce long-form content on your product or business and discover that it engages your readers. When it comes to creating tutorials or how-to videos, Shorts is a great tool.
Available for everyone
Many B2B firms may have a difficult time getting their message out there due to TikTok's younger audience and a smaller user base.
Despite YouTube's popularity among young adults, its breadth of material appeals to users of various ages, nationalities, professions, and interests.
In the end, YouTube has something for everyone. As a result of Shorts, more brands will have the opportunity to connect with a broader group of potential customers.
Even though B2B brands may have a tough time reaching Gen Z consumers on TikTok, they may be able to engage with professionals searching for relevant industry information on Shorts.
Like TikTok, your short-form content may garner greater attention on YouTube if you're targeting an older demographic, such as Gen X.
Less susceptible when compared to rivals
Throughout the summer and autumn of 2020, TikTok was threatened with bans and censorship measures.
Why does this matter? If you are a marketer who masters content techniques on a social media platform, a ban or regulation of that app might mean that your material will never be viewed.
However, because YouTube is one of the oldest and most popular online platforms and is owned by the publicly listed Alphabet, it may be viewed as more reliable by governments than viral applications like TikTok, which discloses fewer public data security information.
Beneficial in the long-run
Some YouTube Shorts beta testers claim that Shorts don't disappear from YouTube, which might assist boost YouTube's long-term brand recognition.
Instead of only being able to see your longer films, someone who enjoys short-form material may see all of your YouTube shorts.
It's also possible that someone searching for a brief how-to video linked to anything you've recorded will come across and view your short videos on the subject, even if you uploaded them months ago.
5 Popular Brands That Have Used YouTube Shorts
It's time to see which popular brands have used 'YouTube Shorts' and how it benefitted them:
1) Satori Graphics
A further amazing display of how visuals and pictures can elevate your Shorts.
Graphic design lessons may be found on Satori Graphics, a well-liked YouTube channel. The channel already has hundreds of long-form videos on the subject, and this new Short adds to the collection of content.
As a one-minute video is less scary than a 20-minute video, this strategy can work effectively for bringing new viewers to the channel. Similar to the way a blog post's content offer is presented at the conclusion.
When it comes to getting started, it is much easier to read a blog post than a 20-page study. Shorts can also benefit from this type of thinking.
2) The Voice
NBC's The Voice aired a short starring this year's hosts to promote its next season.
As a marketing tool for the company, it's effective. It employs text to accentuate particular words and keep the audience interested. With a banner at the conclusion, viewers will know exactly when and where the show will air.
3) WebFX
Repurposing content through shorts is an excellent option. When creating a video, you can use any of the content from your blog post, live broadcast, or printable report.
The video by WebFX explains the expenses of social media marketing in a simple and understandable way.
WebFX conveys important information in a clear and concise manner through the use of visuals. It's possible that the brand has an in-depth piece of content on this subject.
Snippets, on the other hand, are ideal for sharing on social media. When done correctly, they catch the curiosity of your target audience and encourage them to visit your site.
As a YouTube video production company, WebFX understood the significance of creating YouTube shorts for the growth of their brand and they have very well utilized this feature in order to get more attraction and of course CONVERSIONS!
4) LYFE Marketing
How long does a piece of content have to be in order to be useful? It's possible to produce high-quality content in less than 30 seconds with LYFE Marketing.
The brand explains color psychology in this video. During the video, the actor in front of the camera just points to the text that comes on the screen.
It's a successful and low-effort approach to developing content your audience will be interested in if you don't have a significant media budget.
5) Danessa Myricks Beauty
Do you have a story to tell your audience? You may learn a lot from this company.
Danessa Myricks Beauty created a countdown-style video to advertise and build excitement for the introduction of their product in Sephora.
A chorus of "One more day" is heard in the video's opening minutes. After that, we show the CEO delivering a box to one of the Sephora retail locations in the city.
To explain why this works, consider the following: This is a short video that doesn't take much of your time. Throughout the whole video, each frame has a specific purpose. Second, the takeaway is quite clear: the audience knows the 5Ws by the time they leave (who, what, when, where, why).
As a final touch, this Short encourages viewers to participate in the countdown to the brand's expansion.
Relevant Resource:
Tips & Tricks to Make Perfect YouTube Shorts
It's not too early to start thinking about how you can use Shorts in your social media or video marketing plan, even if we don't know how they'll develop further. To help you get started, here are a few pointers.
Make the most of YouTube's brevity: Hashtag (#shorts) must be included in the videos with a runtime of 60 seconds or less.
Short-form subject identification: The content your team provides may be reduced into how-tos, processes, or data points that are easy to remember. If this is the case, you may be able to create a Short using this information.
An analysis of short-form video: Would your YouTube viewers be interested in seeing a few minor edits of your Instagram Reels, TikToks, or other social media videos you've already created? If this is the case, you may be able to put them to the test on Shorts when it goes live.
Helpful Resource:
Need Help with Your Videos? Consult BuzzFlick
No matter which sort of video content you're planning to upload for your audience, you need to make certain the quality of the video, and of course, the content must be top-notch.
If you need any assistance in this regard to consider, look for reputable video animation companies like BuzzFlick. We have been offering services in this industry for decades.
As an animation studio, we offer a variety of animation and video production services such as 2D & 3D animation, motion graphics services, video editing, and NFT design services, to name a few.
In a Nutshell
After the arrival of YouTube video shorts, the video marketing space has drastically changed. Previously, TikTok and Instagram were ruling the industry in this regard; however, now it seems like YouTube will rule this space pretty soon.
Let's wait till the end of 2022 and see where the statistics go because, at this moment, I believe it's too early to predict the future of YouTube Shorts.
On this ending note, I hope this insightful blog will be of great help to you.