Vancouver is home to some of the most ingenious animation studios. Check out this blog and explore the best animation studios in Vancouver.
There has been a rapid rise of animation studios in the city of Vancouver. The Hollywood North is becoming the talk of the town in producing some of the great movies and animated movies, to corporate videos featuring dynamic 3D, 2D animation, and visual effects. Therefore, it's safe to say that you can easily find the best video animation company in Vancouver.
In this competitive world of today, where it's pretty challenging to stay in the game and thrive, many brands constantly look for various ways to positively impact on the minds of their target audience.
One of the best ways to do that is to partner with one of the best explainer video production companies to explain their products or services to their prospects easily.
Luckily, several whiteboard animation companies can produce the best animated corporate video or product demo video for brands and businesses alike. They can help in effectively communicating the message of the brand to their target audience.
This blog will certainly let you know each and everything to hire an animation studio for your project. Since there are several 2d animation services providers out there, this blog will cut the search down to the chase and help you choose the best animation studio in Vancouver.
However, since you're looking for an animation studio, we'd like to tell you a little about us. BuzzFlick is one of the finest animation studios in the US.
Our animation experts have the utmost experience and the right set of skills in creating corporate videos, explainer videos, product demo videos, and whiteboard animation videos to deliver your message to your audience convincingly.
Finding The Best Animation Studios In Vancouver
There is a reason why brands and businesses are looking for one of the best animation studios in Canada. This is because it's pretty challenging to explain the concepts of highly complex products or services to your prospects in the simplest manner. That's why it's crucial to get in touch with a decent animation studio to deliver your brand's message effectively.
What Should You Check Out In An Ideal Video Animation Company?
Remember that the best video animation companies cannot be found on a whim; they require scrutiny of the following aspects.
Do They Have A Strong Profile?
All good video animation companies have an online profile, but do they are good profiles? That's for you to find out. It would be best to start by analyzing an animation studio's previous work in Vancouver to give you an idea of what you can expect from them. Another way to evaluate their prowess is by looking through their case studies.
Moreover, also look for their expertise because some are experts in 2D animation, 3D animation, whiteboard animation, explainer video, product demo video, corporate video, and stop motion graphics. Several animation studios in Canada share the complete animation process with their client to ensure the timely delivery of the project with top-notch quality.
Do They Have An Adequate Production Process?
Evaluating the production process is another thing to consider when finding the best animation studios in Canada. Juxtapose several animation studios' production processes and see whether they are effectively communicating and providing constant progress reports and make changes as needed for the project.
Are They Cost-Effective?
Budget is one of the critical aspects of finding the right animation studios in Canada. This is because every video animation company has its pricing plans for its animation services. You need to find the ones that are good in both quality and price.
Do They Have The Right Set Of Skills And Expertise?
The best Canadian animation studios have the right set of skills and expertise to break down highly complex ideas into an easy-to-understand manner. You can find several animation studios in Vancouver that are highly skilled in effectively delivering the message of your brand. They are apt to make a compelling impact on the minds of the target audience. However, to make that impact, you need a persuasive explainer video script and have the scriptwriter make the most out of your animated marketing video.
Do They Deliver The Project On Time?
The best Vancouver animation studios have all the traits, including being cost-effective, having the right set of skills, creating high-quality videos, and delivering the project on time. The best way to know the shortlisted animation studio delivers the project in a timely manner is to look for reviews and ratings of their clients.
Do They Make Prompt As Per Feedback?
Top animation studios in Canada are always on top of making relevant changes based on client feedback. They ensure to make they satisfy the client and deliver high-quality video animation.
Do They Offer Video Promotion?
As a brand or a business, you should also look for an animation studio that offers to promote your marketing video on various digital channels. This is because, with promotion, your animated video will be able to reach a broader audience which will help boost brand awareness and generate leads of prospects.
That's one of the primary reasons why top animation companies in Canada offer value-added services like video promotion.
Do They Produce Multi-Purpose Videos?
The best animation companies in Canada are well-versed in producing multi-purpose animation videos. The following are some of the animated videos these companies excel at.
Behind the Scenes Videos: Showcase the production process of the video.
Animated Video Testimonials: Sharing unique customer experiences with your brand and making a lasting impact on their lives.
Landing Page Videos: Help boost user interaction, engagement, and most importantly, sign-ups.
List Of Animation Studios In Vancouver
We have put together an animation studio list from where you can choose the best one as needed for your project. Each video animation company has expertise in a particular niche, such as product demo videos, explainer videos, corporate videos, whiteboard animation, and more.
#1) BuzzFlick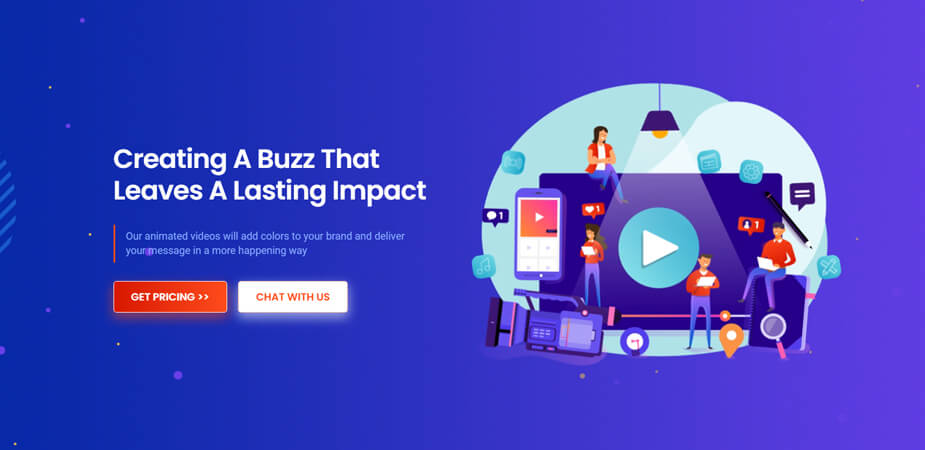 BuzzFlick is a top-notch video animation agency with the utmost expertise in any type of 2D animation, including explainer videos, product demo videos, educational videos, whiteboard animations, corporate videos, and video ads.
#2) Sony Pictures Imageworks
Sony Pictures Imageworks is one of the diversified animation studios with the utmost expertise in 3D animation and visual effects. Some of their notable works include Spider-Man: Into The Spider-verse, The Angry Birds, Guardians Of The Galaxy, Hotel Transylvania, and more.
#3) Bardel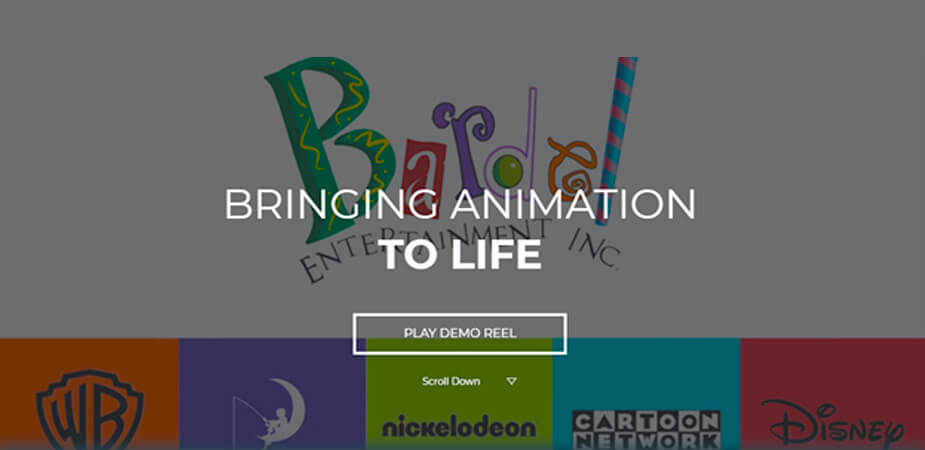 Bardel has a strong profile in the world of 2D and 3D animation. They have collaborated with some of the biggest names in the animation industry, including Cartoon Network, Disney, Nickelodeon, Warner Bros., and DreamWorks, making them one of the top animation studios in Canada.
#4) Titmouse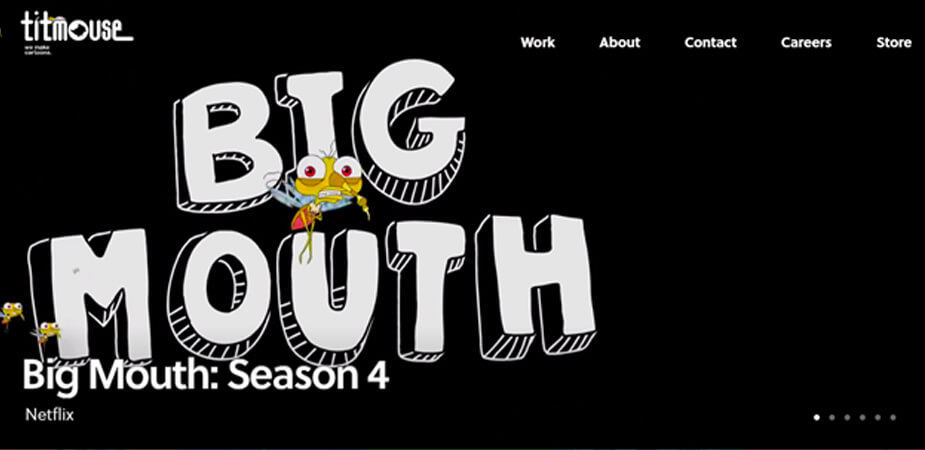 Titmouse is a full-on video animation company. They primarily work on 2D animation and produce content for a mature audience. They are associated with Netflix and Adult Swim. Their most famous animations include Son of Zorn, Metalocalypse, and most recently Big Mouth.
#5) Atomic Cartoons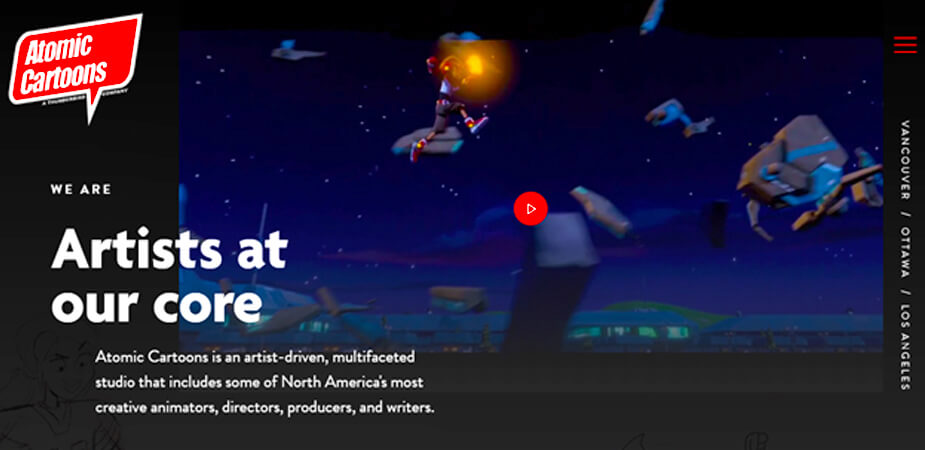 Atomic Cartoons is another full-service animation studio situated in Vancouver. They are many famous animated shows under their belt, including Trolls, 101 Dalmatian Street, Hello Ninja, Hilda, and Mighty Express.
#6) Wild Brain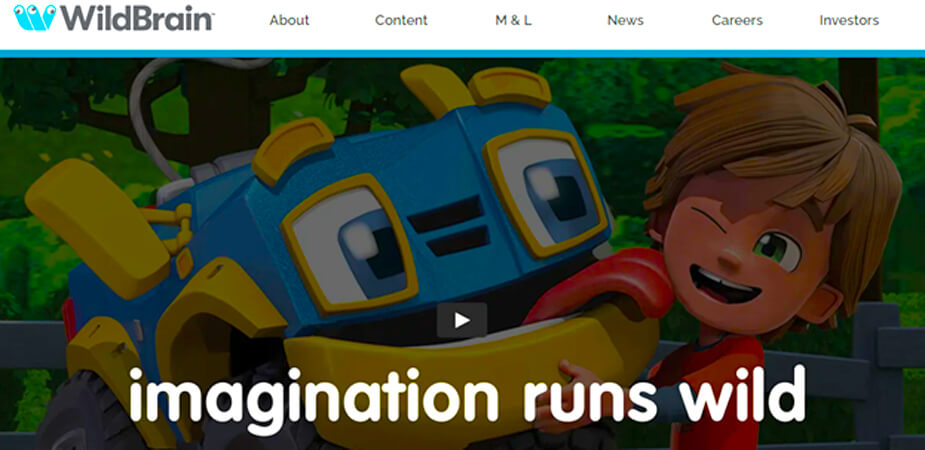 Wild Brain is a Vancouver-based animation company most commonly known for producing content for children and brands. The most notable Wild Brain works include Snoopy In Space, Cloudy With A Chance Of Meatballs, LEGO Ninjago, and Mr. Peabody & Sherman Show.
#7) Global Mechanic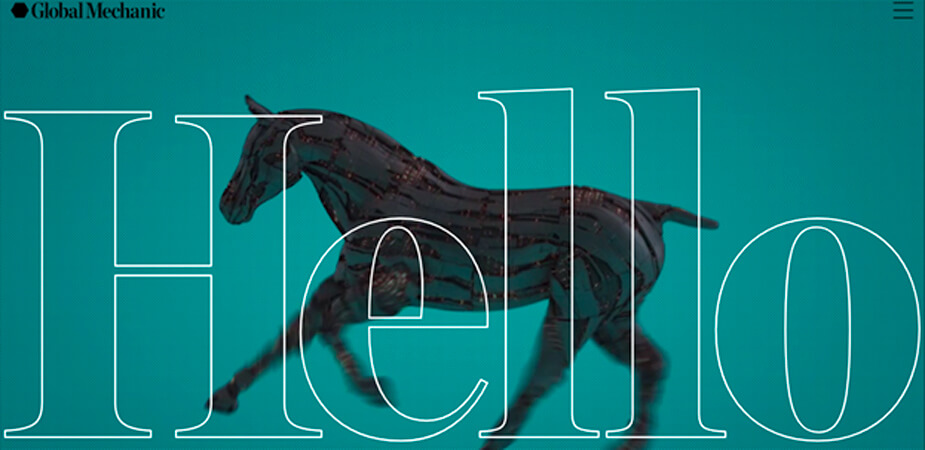 Global Mechanic is one of the prominent names in the world of animation. They are most famously known for Feral, which was nominated for Oscar for the best animated "Best Short Film, Animated." There are other notable works such as Vive la Rose and At The Quinte Hotel that were nominated for Sundance Film Festival.
#8) Giant Ant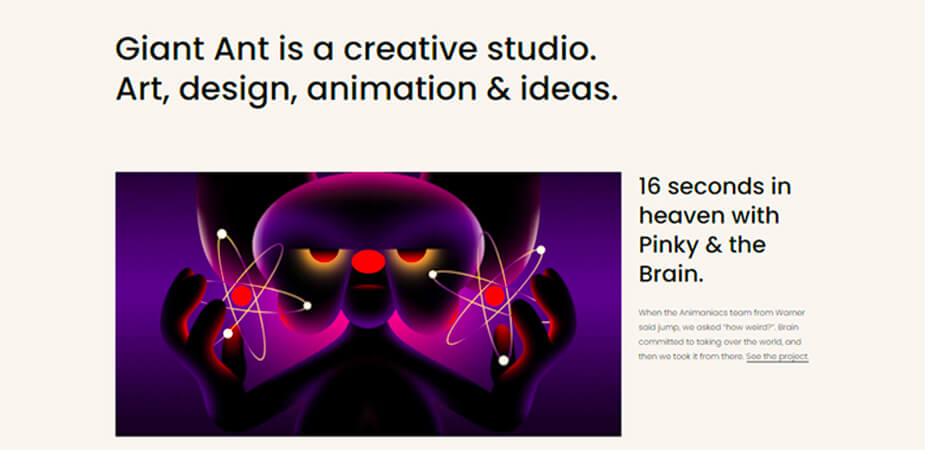 Giant Ant is based in Vancouver and is known for producing short animations, including the main titles of the popular animated series The Pinky And The Brain, educational explainer videos of TED, and animated commercial videos of Honda.
#9) Modeling Café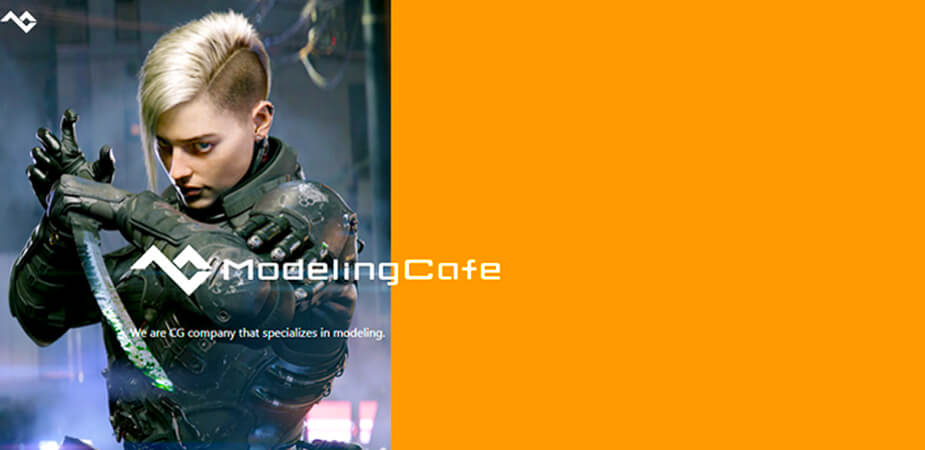 Modeling Café has produced numerous modeling projects. It's known for its exceptional, unique design process that excels in the realm of CGI and top-notch animation services.
#10) Mainframe Studios
Formerly known as Rainmaker Entertainment, Mainframe Studios is known for its diversity of animation projects. They primarily work on producing children's content; some of their notable works include Madagascar: A Little Wild, Barbie Princess Adventure, Spy Kids: Mission Critical, and Bob, The Builder.
Conclusion
These are some of our top list of animation studios in Vancouver that will surely help achieve your marketing objectives.
When you're finding the right animation studio for your project, ensure to go through all the ideal traits of the top video animation companies. In this way, you'd be better able to connect and create a meaningful relationship with your target audience.
Remember, you have only one chance to make a lasting impact, so don't lose this opportunity with cheap and inferior quality animation service.
Useful Resource: