Do you want to become a professional concept artist? Read our insightful guide on how you can become a successful concept artist in the industry.
If you've ever been blown away by the creatures, landscapes, or items in a movie or video game, then you've unknowingly witnessed the work of a concept artist.
A concept artist is a designer who transforms the design team's ideas into a visual guide for creating sets, 3D models, or visual effects.
In this post, you will learn everything you need to know about this intriguing profession, as well as the steps required to become one yourself.
What is Concept Art?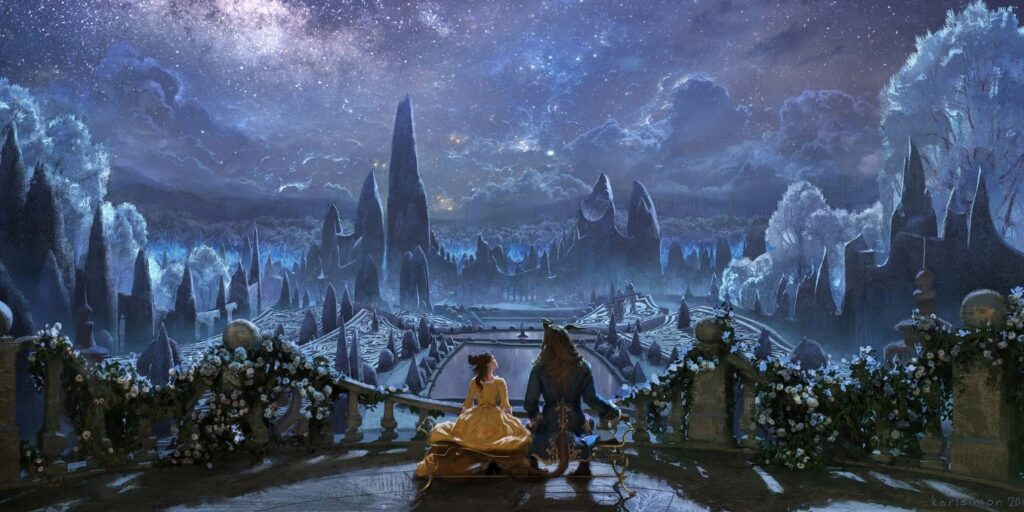 Source: Art Station Magazine
Concept art is any piece of artwork that serves as a guide for the creation of game or film assets. When it comes to describing the desired appearance of a product, pictures are often more effective than words.
Therefore, concept art is utilized to provide the design team with inspiration or a visual depiction of what they will develop.
Concept artists have a great deal of leeway to express their individuality and creativity in their work but must ensure that it is aligned with the rest of the design team's vision.
If a film is set in a bleak dystopian world, the concept art should demonstrate how the set designers, VFX artists, and lighting department should complete their work.
If a game's graphic direction is colorful and cartoonish, then the concept art for every item, character, building, article of clothing, and the vehicle should mirror this aesthetic.
In other words, concept art not only contributes to the vibrancy and creativity of a film or movie but also ensures that everyone is on the same page during production.
Concept art is the basis upon which a game's universe is constructed.
The Different Types of Concept Art
Concept artists can specialize in a variety of concept art forms. While one artist may be exceptional at designing buildings and structures, another may specialize in character or object illustration.
Famous concept artists are distinguished by their distinctive style and signature techniques.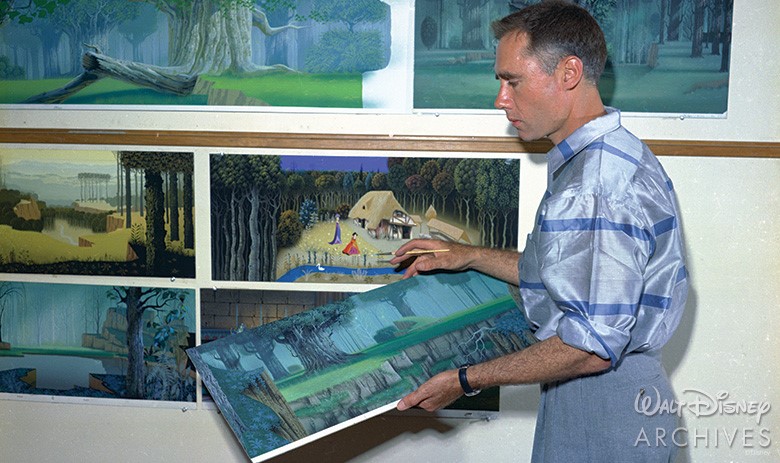 Source: D23
Eyvinde Earl, for instance, is a legendary concept artist who worked on a number of Disney classics, including Peter Pan and Sleeping Beauty. The highly stylized tree and plant life in his concept art became a staple in the design of those early films.
In contrast, Jason Chan, a prolific concept artist in the video game industry, is best known for his contributions to League of Legends and Mass Effect through his character designs.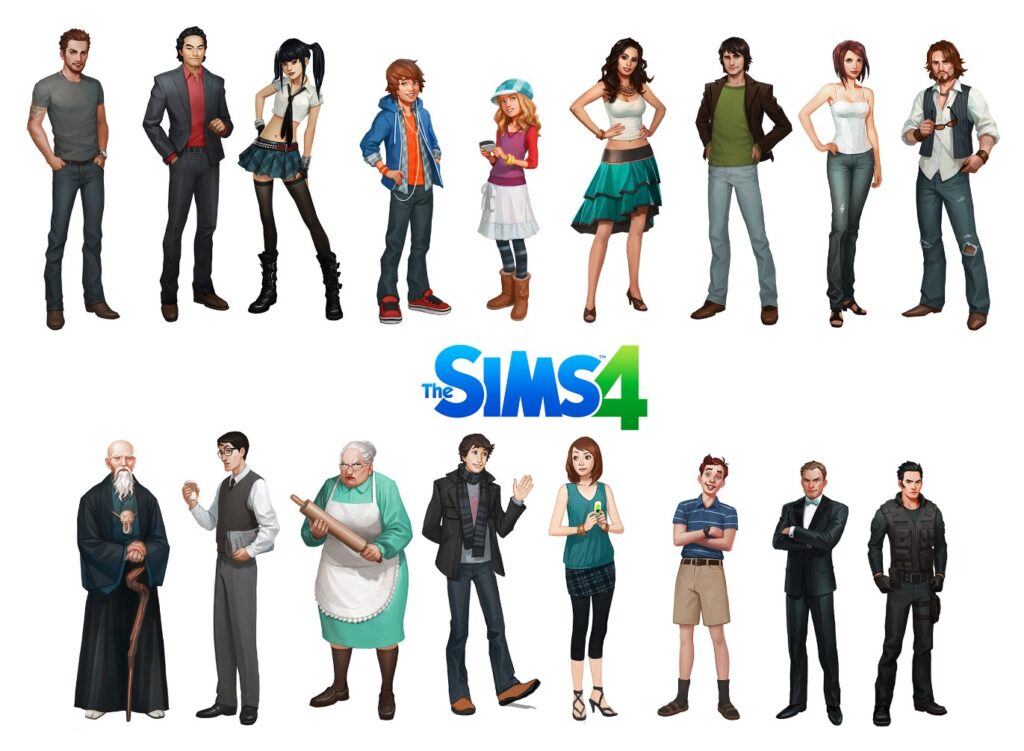 Source: Jason Chan Art
In fact, concept art for the majority of Mass Effect 3's character models was created by Jason Chan.
In other words, different artists can thrive based on the requirements of the project. Creature design, character design, tech design, asset design, and environment design are all different categories that require a concept artist.
Even if they have a specialty, most concept artists must be able to handle a variety of these categories to ensure steady work.
In either case, the personal style of an artist's work will have a significant impact on the types of projects for which they can be hired, and it is acceptable for them to excel in some areas more than others.
In the end, the concept art for Halo Infinite will differ significantly from the concept art for Genshin Impact.
Why Should You Become a Concept Artist?
Many artists have a strong desire to have their work featured in a film or video game. It's more than a job; it's an opportunity to contribute creatively to a field you enjoy.
A concept artist can point to spectacular landscapes, futuristic machinery, monstrous non-humans, and potent weaponry and declare, "I created that."
Concept artists have a huge impact on a project, despite their limitations, because their drawings serve as the basis for the rest of the team's work on the film or video game.
Concept artists earn an average of $69,000 per year, with the most experienced artists earning up to $90,000.
What Does a Concept Artist Do?
During the development of a video game, the team may come up with creative concepts for the main character's magic axe.
Nevertheless, regardless of how much they discuss it, everyone will have a somewhat different mental image of what the axe would look like.
Thus, the concept artist comes into play.
They will listen to everyone's thoughts, receive a written brief from the art director with specific instructions on what the team wants, then use it to draw some initial designs for the axe so that everyone can determine if they're on the same page.
Even then, the majority of concept artists will compile a visual library of artwork, materials, textures, and pictures to aid in the creation of their works. Indeed, concept artists use visual references to produce other visual references.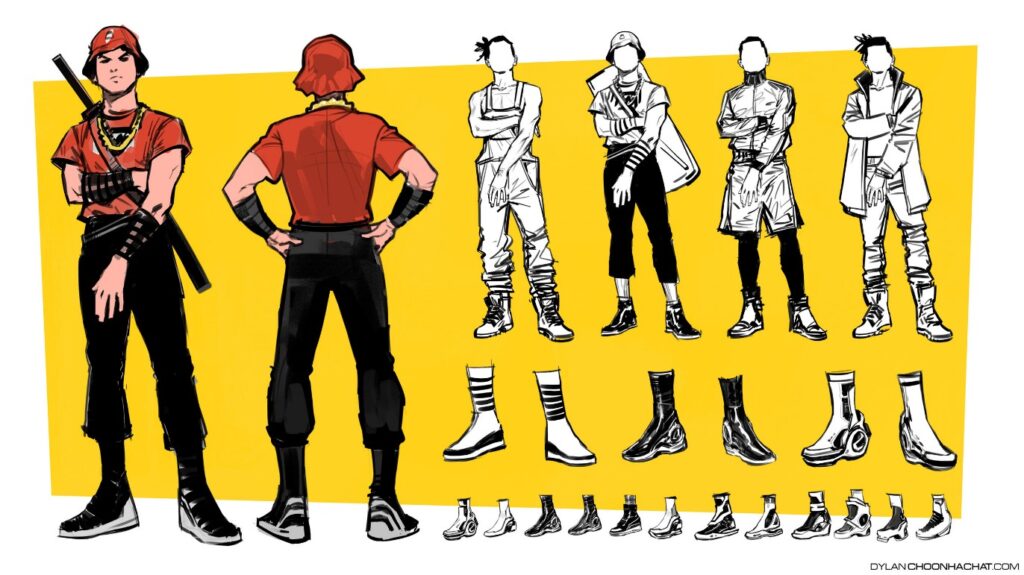 Source: Dylan Choonhachat
This implies that, after gaining a sense of the project's tone, they may need to conduct research in order to locate the most appropriate reference photos.
After seeing the basic outlines presented by the concept artist, the team may change its mind about what it wants. Perhaps the team determines that the skull on the axe's handle is not as spectacular as they had hoped, or they have a better concept for its shape.
The concept artist will develop comprehensive artwork of the axe using either 2D or 3D art software such as ZBrush or Photoshop. However, changes are common until the final design is approved.
The other teams will use the concept drawings to generate textures and 3D models, which will then be rendered into the game.
Depending on the scope of the project, both videos and movies may have a single concept artist or multiple concept artists working on various aspects.
How to Become a Concept Artist
So, now that we've discussed what a concept artist is and why it's a career worth pursuing, what are the requirements to become a concept artist? Here are five strategies for securing a job in this competitive artistic area.
Education
Technically speaking, a formal degree is not required to become a concept artist. The artwork you can create and include in your portfolio is more crucial than a college or university degree for gaining employment as a concept artist.
And the most valuable asset an artist can possess is experience. However, the majority of concept artists join the field with a degree.
Without an understanding of form, composition, perspective, anatomy, lighting, and color, it is difficult to become an artist at a professional level unless you are a prodigy.
In addition, experience with Zbrush, Maya, and Photoshop is required, as these programs are commonly utilized in the business.
While a degree is not required, attending art school could be a significant step in acquiring the necessary abilities to flourish as a concept designer.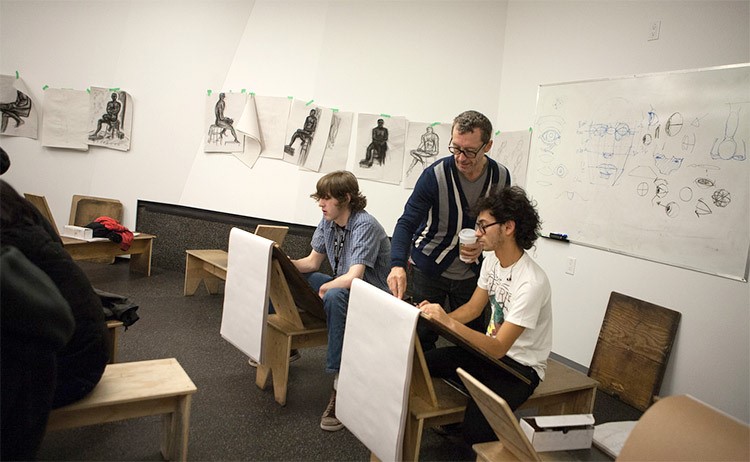 Source: Concept Art Empire
Your best bet is to get a degree in graphic design or fine arts, as these programs will often help you create an attractive art portfolio upon completion.
But you're in luck if you want to master the fundamentals of concept drawing and design on the cheap! Concept art tutorials and lessons created by industry specialists are available at no cost. These can be found on Artstation.com and clipstudio.net, among others.
These lessons, created by artists for artists, provide a step-by-step introduction to all you need to know about concept art creation. Lessons can cover a variety of topics, including color theory, composition, and lighting.
However, there is also more specialized training available, such as designing realistic metal engravings, cityscapes, and silhouettes. The lessons may not be equivalent to four years of art school, but they can provide you with a solid foundation in the concept art realm.
Creating a proper portfolio
For a competent artist in any field, a captivating portfolio of their work is considerably more crucial than a well-written CV. When it comes to finding employment in the arts, concept artists are no exception.
A portfolio is a compilation of an artist's best work that visually demonstrates their abilities and expertise.
The only issue is that a concept artist may have done artwork in a variety of genres. If you are creating anything from automobiles to characters, how do you determine what to include in your portfolio and what to exclude?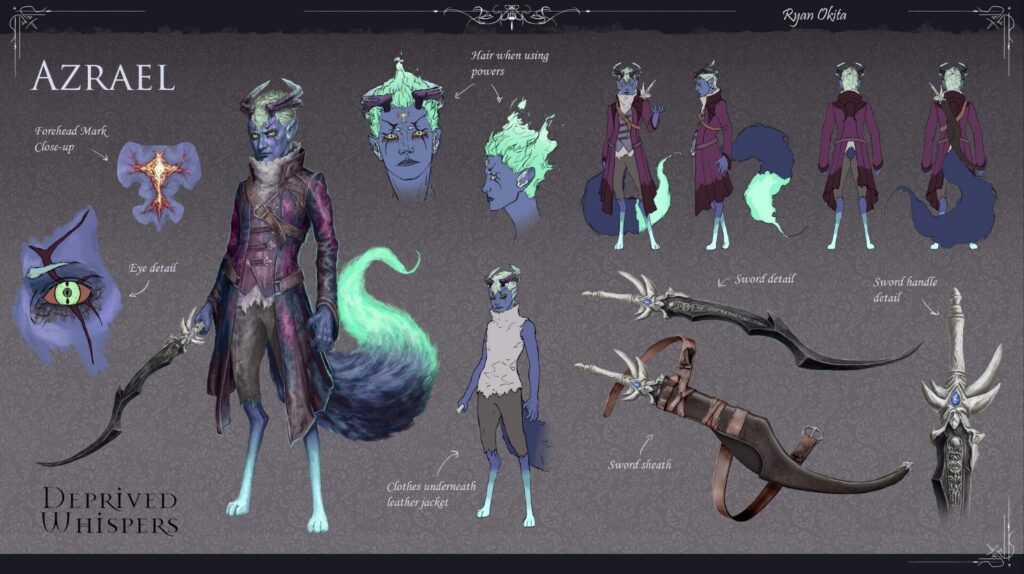 Source: ArtStation
Even accomplished artists are known to periodically alter their portfolios as their work becomes more sophisticated and their tastes evolve. Therefore, if your portfolio isn't up to par yet, you should explore doing concept art commissions and tiny one-time artwork.
It is very different from working in a studio for a major film or animation video production company, but you may be able to earn money while enhancing your portfolio with stunning, professional art.
Selecting your finest work
This may be stating the obvious, yet many art graduates make the error of stuffing their portfolios with subpar work.
It's easy to want to load your portfolio with whatever you have, but if just two out of ten concept art pieces are of professional quality, the employer will see an artist whose work will miss the mark eight times out of ten.
The importance of quality in a concept artist's portfolio cannot be overstated. While quantity can be useful, as it demonstrates that the artist has completed a number of projects, it cannot be emphasized enough that quantity is not the most important factor.
For newbies attempting to break into the industry, displaying two or three exceptional works of art is far superior to displaying even a hundred mediocre ones.
Having said that, it's wonderful news if you have a selection of professional-quality concept art to add to your portfolio. In this situation, the only decision you must make is what type of concept artist you choose to be.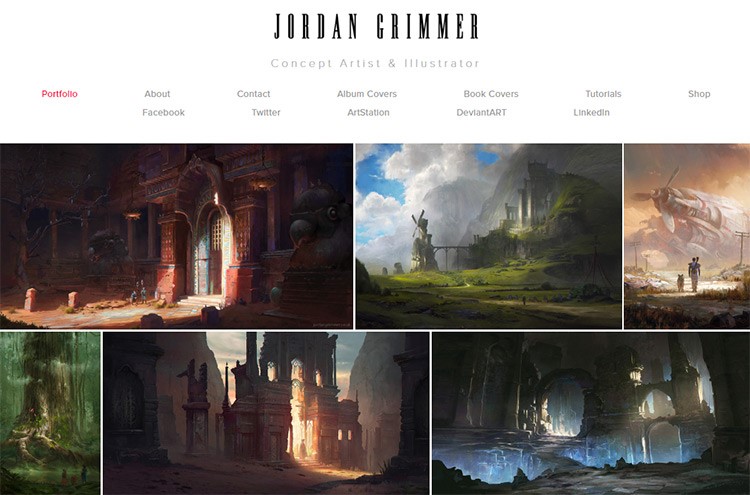 Source: Concept Art Empire
What aspect of creature design most inspires you? Then, ensure that the wild and epic animals you've made are the highlights of your portfolio and that these drawings comprise the majority of your portfolio as opposed to, say, landscapes or technology.
Diverse examples of an artist's work are beneficial, but a portfolio should also reflect the artist's personality. If the spotlight is on the incorrect works of art, you may be employed but forced to work on projects that do not excite you or produce your greatest work.
Lastly, it can be really beneficial to display the creation process of your work in your portfolio. Remember that studios will not recruit artists based solely on their finished work but on their process.
Displaying your greatest work alongside the sketches, notes, and revisions required to get there will reveal a great deal about your process. All of these factors must be considered while creating a portfolio.
In conclusion, selecting your greatest work may appear to be a straightforward task. In fact, there are numerous aspects that might make or break it. However, portfolios are modifiable, so even if a potential employer rejects you once, you can update your portfolio and try again later.
Develop a website to showcase your portfolio
Almost gone are the days of printing off your work, placing it in a binder, and mailing it to prospective employers. It is essential to have a professional website to showcase your concept art portfolio in the present day.
Concept artists such as Gilles Beloeil, known for his work on Assassin's Creed, and Tuomas Korpi, who has created concept art for movies, video games, and the Moomin Valley series, have websites that showcase their work.
But if you lack technical expertise, how do you create a website to promote yourself?
Websites like Portfoliobox and Squarespace.com provide numerous pre-built themes and templates for creating a website quickly and easily for a monthly or annual charge.
Crevado is another excellent free choice. However, unless you pay for a pro membership, it will put a Crevado footer at the bottom of your website. Moreover, there is Artstation.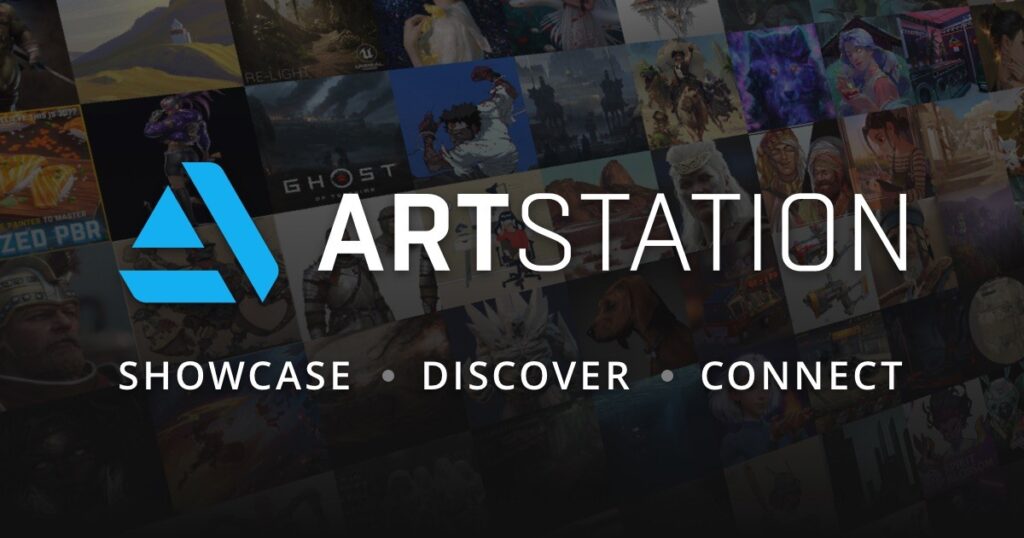 Source: ArtStation
In many ways, Artstation is the Facebook of artist portfolios. In addition to providing you with your own domain and different themes and templates, they dynamically populate your portfolio as you upload additional work.
The finest aspect about Artstation, though, is that you become a part of their thriving community. You can view the work of other artists, provide feedback, and ask questions.
You can easily locate concept art courses for beginners to experts. It is partially a blog, partially a social media site, and partially a portfolio builder, which makes it the most popular platform at present, despite its monthly charge.
Regardless of which you choose, these websites are an excellent method to build your own custom domain without having to learn how to code one.
But how can one create a website that stands out? In any case, if you wish to demonstrate your abilities as a concept artist, the design of your portfolio will reveal much about your potential as a designer.
Make your website easy to navigate and highlight your greatest work wherever feasible. Adding a large number of fancy filters and being overly creative with your website may make it difficult to navigate rather than exhibit your talent.
It is not necessary for a concept artist to be a competent website graphic designer; displaying your work directly to prospective clients is sufficient. However, the colors and visuals you choose should highlight the type of artist you are.
Use a soft, soothing color scheme on your website, etc., if you're known for designing peaceful-looking characters and creatures. Personality and originality are ultimately what will sell you as an artist.
P.S: Many video animation agencies who are offering 3D animation services hire concept artists. You can work for them and gain more experience.
Job Opportunities for Concept Artists Nowadays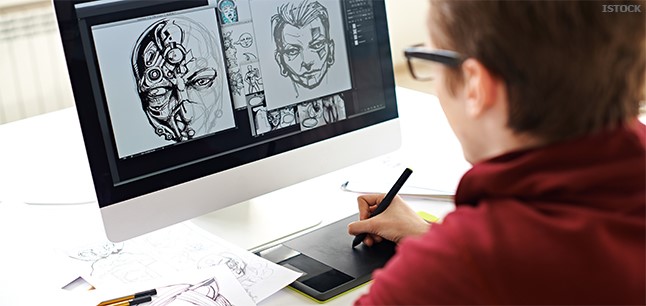 Source: Planit Plus
Once you have an excellent portfolio and a custom domain to represent it, you are ready to begin concept artist job hunting. But how do you obtain this position?
Most artists begin their careers by searching for concept art for beginners. Even if you wish to create concept art for movies or video games, it is crucial not to limit your search to these firms.
Toys, board games, television programs, card games, fashion, and book illustrations all employ concept artists. By expanding your search, you may find your first job in the most unlikely of locations.
Do not wait for potential employers to discover your portfolio page.
Even established concept artists must apply for gigs to ensure their names are evaluated. Any concept art job you can get will provide you with experience in the profession, and you may gain access to other chances in the future.
Attend as many networking events as possible if you're failing to obtain job opportunities. On Artstation, Character design references, and Atomhawk, you can participate in art competitions.
Even if you do not win the contests, that is not the objective. These are excellent approaches to attract attention to your work and offer clients a cause to peruse your portfolio.
Every year, the Concept Art Association organizes a lot of networking and mentorship opportunities for budding concept artists, making it a worthwhile group to investigate.
Lastly, several of the largest video game firms, including Blizzard and Riot Games, provide internships for aspiring concept artists. These opportunities are highly sought after, so respond soon and have your portfolio prepared.
It is a competitive market. Therefore, in order to win your dream job, you will need to sell yourself and your art.
P.S: If you want to start your career as a concept artist then you can join any reputable 3D animation studio. They offer various opportunities and you can grow and learn new things.
Ready to Become a Concept Artist?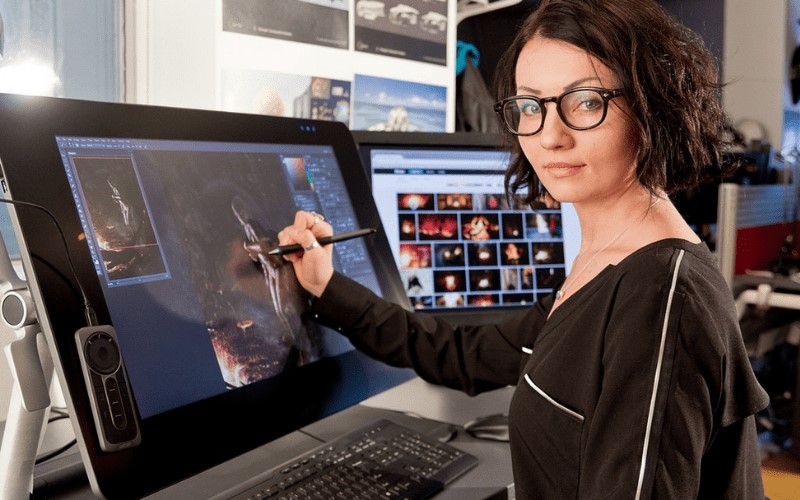 Source: Music Gateway
Concept art is an extraordinary career path in which an artist has a genuine opportunity to influence a project. Their designs become the benchmark for other designers to strive towards.
Thus, concept artists shape the media we encounter every day, beginning at the conceptual level. You will be well on your way to becoming a professional concept artist if you follow these five steps we have mentioned in this guide.
Last but not least, you should remember to become a successful artist, all you need is to unleash your inner creative genius and expand your horizons.
Related Articles: