The key trends you need to know as you shape your 2022 social media video marketing strategy. Plus, video production tips for every major platform.
As a result of the COVID-19 pandemic, people's behavior has changed profoundly. In 2020, social media platforms became the new default community centers as #StayAtHome and social distancing guidelines reorganized public life.
It was not just for knowledge and amusement that we came to these digital venues but also for human contact. Video marketing on social media may take advantage of the fact that people spend more time online than ever before.
However, a pandemic caused the projected trends to be supercharged and sent them soaring to new heights. Social networking and streaming sites saw record-breaking visitor spikes as a result of video in particular.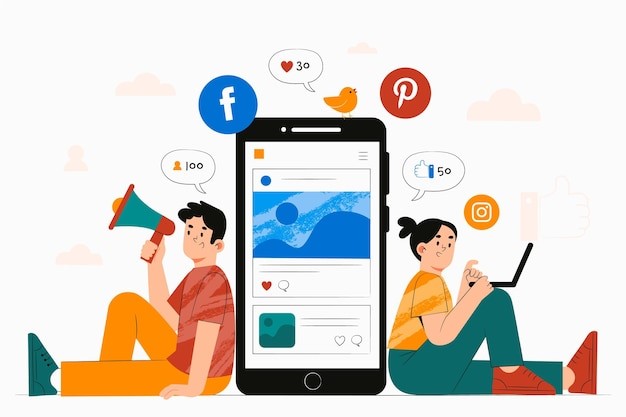 It's no longer enough to use these platforms to connect with your friends, family, and social media influencers. They're a way for marketers to interact with customers who spend most of their time on social media platforms like Facebook and Twitter.
It's critical for companies to talk to customers in a way that resonates with them in order to build long-term relationships with them.
To be in the midst of an ever-changing social media ecosystem is exhilarating. However, advertisers have an uphill battle due to the fact that these platforms are now more crowded than ever. The use of social media has made it easier for businesses of all sizes to enter the market.
Playing the social game might feel like a random experiment in a digital world crowded with competition. If you're looking to get forward in this year's key year, we're here for you to guide you.
In 2022, while developing your social media video marketing strategy, keep these five trends in mind.
#1 Video- Preferred Communication Medium on Social Media
It's just a matter of time until video takes over as the primary means of internet communication. Last year was a record year for video consumption. This rising demand coincides with the ease with which people may now create their own viral video content on social media networks.
This opens up new avenues for marketers to use cutting-edge social media video technologies to reach new consumers. It's never been more critical to include video in your social media marketing efforts, especially with the growing popularity of video-focused social media sites.
TikTok, the social media darling of 2020, is at the helm of the charge. With its emphasis on video content, the music and user-generated content-heavy network attracted users of all ages and socioeconomic backgrounds last year.
TikTok distinguishes itself apart from the rest of the main social media platforms since it is a video-only platform that enables its users to become viral content producers.
Other social media sites, such as Instagram and Twitter, were spurred on by TikTok's success in providing their own video-making tools.
From Instagram Reels to Twitter Fleets, consumers can now access identical video experiences across many platforms, allowing marketers new options to engage directly with their customers. This year, all platforms, including Pinterest and LinkedIn, are expected to invest in video services.
Because video is the most popular kind of content across all social media platforms, its emergence as the primary method of connecting with customers is no accident.
Social media video production with a handful of useful tips
UGC-style (user-generated content) is no longer sufficient for social media sites like Instagram or TikTok, where audiences have become used to stories and entertainment. To make your UGC-style creative feel fresh and new, give it a fun and snappy makeover.
However, this does not need an increase in production costs or a complete overhaul of your creative output. Instead, concentrate on the creative's story arc. Narrative appeals to the human psyche; therefore, it's a definite approach to make a lasting impact.
You don't want to appear insincere to your target audience, so don't oversell your product on platforms that are all about making connections and having fun. Long-term success in building your brand's unique voice depends on generating a pleasant creative experience.
Understanding the right acoustic aspects for each social media platform is essential to creating effective content.
Is the sound on or off when videos start playing automatically? Should there even be captions? Make use of the platform's native video experience to inform your strategy for video creatives.
#2 The Diversification and Growth of the Digital Communities
Social media provided a channel for us to adjust to an increasingly digital way of life when public areas were mostly closed off last year.
A human touch to our online spaces will help these groups survive as the world slowly recovers from the epidemic. Brands may take advantage of more focused social media video marketing chances in the future year as a result of this development.
We should expect social media fluency to continue to rise across all demographics as more and more people join the digital world.
Many formerly hard-to-reach demographics are increasingly using social media at a similar rate as Millennials, such as Baby Boomers. Additionally, they're using a larger range of platforms to consume material.
Brands must use creative languages relevant to each platform to guarantee their video content seems organic in the face of these rapidly growing communities. Getting in on the ground floor of new ideas and dialogues is one method to achieve this.
Your company may gain a foothold in social media groups by pushing content that is in sync with current trends.
Communities – Social media video production with a handful of useful tips
Remember that each platform demands a different strategy when it comes to integrating your business into the communities you're trying to reach.
Platform users, such as those on Reddit, are famously wary of advertising. This means that companies will have to put in a lot of effort to earn the confidence of their customers.
Get to know the voice and culture of the online communities where you plan to post your material before doing so.
There is a lot more to social trends than just singing sea shanties and taking part in Ocean Spray Challenges. Using text or audio might be a stylistic technique or a story arc can be repeated and changed over time.
Each platform's creative language is based on current trends, and your work must follow these rules if you want it to be understood by your target audience.
Don't wait until the last minute to jump on the latest community fads. Be aware of what's going on in the internet world and move quickly to provide information that seems current. Reacting too late to a viral trend could make your brand appear out of touch.
#3 Use Various Platforms to Maximize Reach
Everyone now has many social media accounts. Marketers must use a variety of platforms to reach their target consumers, who are dispersed throughout the new social landscape.
TikTok, Snapchat, and Pinterest, all of which have a wide range of users, provide advertisers with a low-cost way to expand their reach.
You would not have believed a year ago that TikTok video content could be used to reach a specific group, such as Gen X parents using TikTok. However, as we'll see in 2020, people of all ages are increasingly utilizing social media sites that were once exclusively used by a younger demographic.
Publishing on various social channels is essential if you want to expand your reach, increase conversions, and keep your current audience engaged.
As a brand, you must have a strong presence on every social media site where your target audience spends their time.
Diversification – Social media video production with a handful of useful tips
It's important that your video content reflects the breadth of the social media platforms you're advertising on. In order to provide the user experience, they want, each video should have a "platform-native" feel to it.
Use social media platforms that allow a diverse range of content to be shared to your benefit in order to pique the interest of your target audience. Stop-motion may be used to better engage your audience on text or image-heavy channels like Twitter, Instagram, or Pinterest.
#4 The Changing Perspectives of Your Target Audiences Dramatically
In light of the upcoming changes to data privacy rules (goodbye, third-party cookies!), it will be increasingly difficult to target audiences, especially on social media.
Social media has never been more overloaded with people and video content, creating significant hurdles for marketers as these shifts take place.
Social media, on the other hand, is a realm of verified users and powerful audience targeting options. There are still ways for you to target your social media material to certain groups of people you're trying to reach.
Your social media video marketing strategy must now resonate with a much larger audience because of a lack of analytical knowledge. Upper-funnel targeting is critical since you never know if you're contacting someone for the first time or the hundredth time.
Look at your social media video marketing plan as a whole to see where you can make an investment in original content that will help you build your brand's presence on the web. Creating a memorable experience for your customers will assist build your brand's reputation.
Targeting – Social media video production with a handful of useful tips
A multivariate testing plan will help you better understand how your social media video marketing is engaging with your target audience because crucial audience-targeting data points will be unavailable.
You should learn which video tactics are most effective with your target viewers by experimenting with various types of content and creative factors.
Consider your brand's voice and image attentively. You'll need to rethink your brand's message to appeal to a broader audience without sacrificing your campaign objectives as a result of reduced targeting capabilities.
#5. The Combination of Social Media + eCommerce = Social Commerce
During the epidemic, the globe went online, and we brought our wallets. More than two years ahead of schedule, eCommerce growth rose by 30 percent in 2020.
As a result of this growth, eCommerce is fast becoming the preferred method of making purchases in the twenty-first century. Not only are we purchasing luxuries but also basics such as food and toilet paper online.
Traditional brick-and-mortar retailers have been forced into the digital arena to build shopping experiences that meet customers where they are: at home and on social media.
Every major social network will continue to invest in social shopping in 2022 in order to better accommodate users' shifting lifestyles. As a result, you'll have more opportunities to come up with lower-funnel video content ideas that are specifically tailored to each channel.
The growth of online stores on social media platforms like Facebook and Instagram, which began last year, will continue.
Pinterest plans to roll out a slate of new features promoting in-app purchasing behavior to streamline buying channels for users. Douyin, TikTok's Chinese rival, earned big income streams last year, and TikTok is likely to follow suit.
Social Commerce – Social media video production with a handful of useful tips
By generating social videos that show your items in action, you can bridge the gap between online and in-person buying. Because you can't actually touch your thing while you're shopping online, these movies can give you a complete picture of it.
As shoppable live streams grow increasingly popular in 2022, keep an eye on the future of eCommerce.
For a TikTok variety event, Wal-Mart teamed up with prominent TikTok stars to promote private-label and national products sold by the company. In an effort to boost sales on social media, merchants are increasingly looking for unconventional ways to promote their products.
Need Help with Your Social Media Videos? – Consult BuzzFlick
Okay, that was all about social media video trends, but of course, that's a lot to digest, and when you've plenty of tasks on your plate, it's difficult to follow all the best practices and trends.
No matter which type of video you're planning to make, you can always seek help from professionals like us – BuzzFlick. As one of the top 3D animation production companies, we can facilitate you in such a scenario.
We have a dedicated team for every video production service we offer to our clients. From scriptwriting to animation video production, we do it all. We are not just an ordinary animation studio in Houston. We offer a handful of video production services, including:
Explainer video production
Whiteboard video production
Social media video production
Demo video production
Bottom line
We've had a hard couple of years, and things aren't looking much better right now. Be aware of the attitudes of your customers and reevaluate your value propositions in light of current fads and lifestyles.
Keep a close eye on what's trending and what isn't on the internet at all times. Make sure you're in sync with the expectations of today's consumers in our ever-evolving digital environment by implementing this plan.