3D rigging is an integral part of the 3D animation process. Read our brief guide to learn everything you should know about 3D rigging.
The great Brian Green, who has been working at Pixar as a director, defines rigging as "Rigging is the process of providing control to a digital model".
Cutting a long story short, today, in this concise guide, we'll walk you through the whole process of rigging used in 3D animation, which 3D rigging software programs can make your work easier, and an insight into the life of a 3d rigging artist.
So, without any further, let's get started.
What is 3D Rigging?
Let's first start with the basics. Rigging is commonly known as making the skeleton animation. Basically, it's a technique that defines the range of gestures and actions of your 3D character.
Rigging isn't only for human models; you can rig any object with an action. This is the most important consideration. Rigging artists use a sequence of linked bones to get this effect. The galaxy, skyscrapers, and even the Pixar lamp are some of the earliest instances of rigged 3D models.
Let's take a look at where you can see how 3D rigging looks like in a 3D animation:
3D Rigging Process: How to rig a 3D model?
This might be a little technical stance for you to understand, so pay close attention to this part. The process of 3D rigging is pretty complicated, which makes it difficult to comprehend.
So, for your ease, we have divided the 3D rigging process into four main parts:
Mesh/Skinning: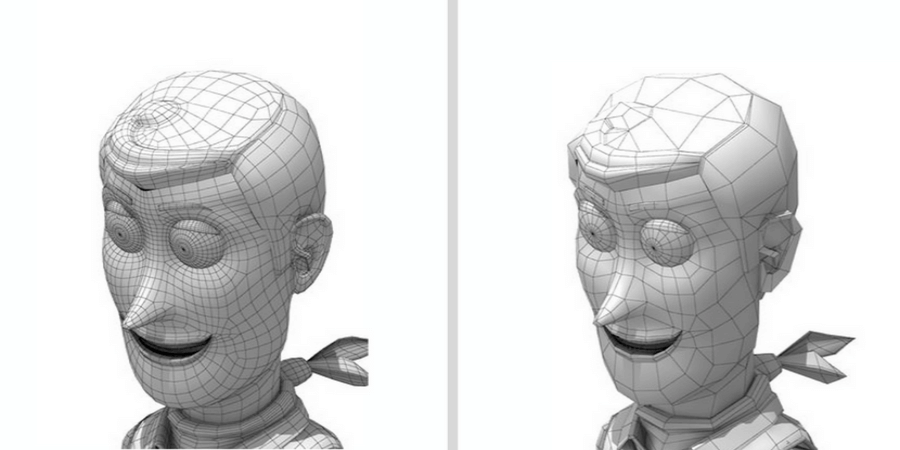 This step falls into the animation production stage. An animator starts creating characters by mesh or skinning. The process starts with constructing the series of the models' bones which becomes a skeleton.
At first, a 3D rigging artist creates and sets all the bones and joints of the model. Once it's done, the skin meshes to the models' bones. All these together represent an armature.
Creating Controllers:
The second step is to create controllers. They depict various geometric forms to assist animators in comprehending controllers' operation and regulating the impacts of every aspect of the model's movement.
Some of the geometrical shapes are defined as:
The Diamond facilitates the model's rotation and translation. The diamond shape is also used in models' hands, feet, and central parts.
The Cube acts as a translator of controls.
The Sphere is used to facilitate rotation. The pelvis, neck, and torso are the most common areas employed.
The Trapezoid makes the joints. The knee and elbow are the two most common areas where the trapezoid is used.
The skeletal design process is now complete. Next, the character's rigging artist will add the model's movement and facial expressions. Every movement has a hierarchical link between the bones, much like a parent and kid.
In a 3D model figure, shoulder movements also affect the hand and forearm bones. This way, character rigging is easier since the rigger doesn't have to describe actions for each aspect of an object.
Making Joints:
The third category includes joints that differ from the kind described in the first step of this process. Weight painting is also a crucial factor in determining the mobility limitations of models.
The weigh scale dictates how each component of the 3D model interacts with the others. This means how much weight is exerted on each bone by each in the model is critical to the model's ability to move realistically and naturally.
Similar to Blender's auto-weight-painting feature, other software packages include one as well. Based on the notion that most characters follow the same limited pattern of the skeleton, they were created. However, the weight of each bone must be tuned for optimum 3D rigging.
Forward and Inverse Kinematics: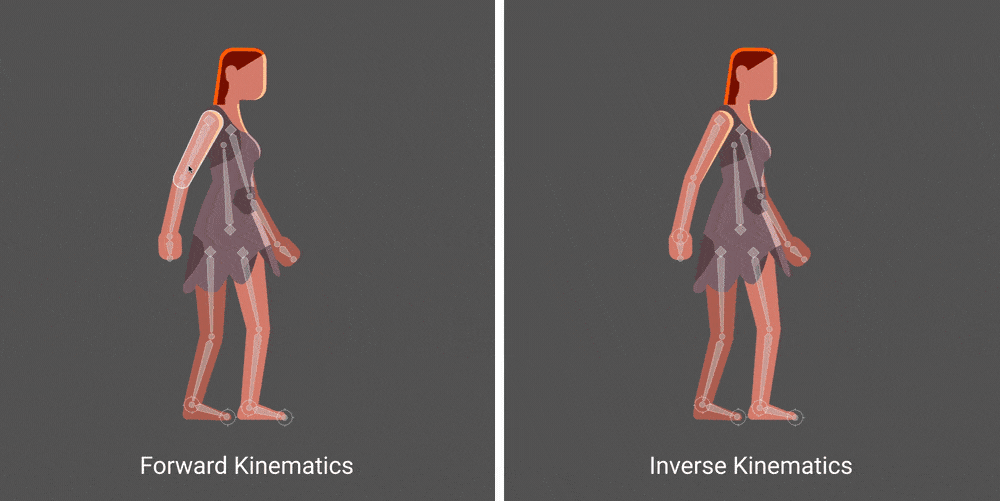 Hierarchy exists between the bones, as previously stated. Forwarding kinematics refers to the fact that movement in the top sections of a model also influences the bottom areas.
As an alternative, "inverse kinematics" describes the animation in which lower components are animated independently of upper ones. IK may make the process of animation easier.
Moreover, if you want to learn how to make a 3D animation in detail, do give a read to everything you need to know about how to make a 3D animation.
Character Rigging Artist: An insight into the profession
As part of the animation process, 3D computer-generated (CG) models are used to create the skeletal structure for the character, which is then animated.
Modelers create the characters, while riggers put them into action. Animators put rigs to the test after creating the skeleton and movement network. After the animators' enhancement edits are repaired, the rigging part will be completed.
How can you become a 3D rigging artist?
Mastering the following abilities will allow you to be considered an expert character rigger at a 3D animation company:
Physics and movement.
Drawing and anatomy.
Animation pipeline.
Characters' articulation within layout, backgrounds, and environment.
Programming languages.
Ability to professionally use 3D animation software/apps.
Designing, maintaining, and testing character setup.
Creativity and problem-solving skills.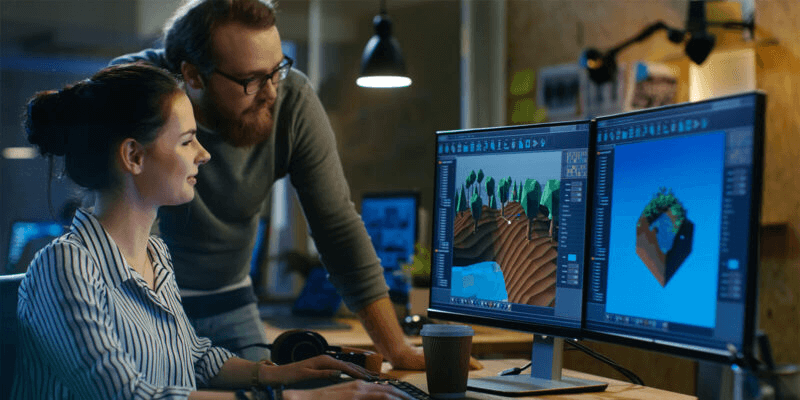 How much does a character rigger earn?
A character rigger artist earns $78,396 annually in the USA. It pays $127,000 for a senior artist in this sector to get that title, whereas the lowest income for a junior artist is $48,000.
Best 3D Rigging software programs
There are a variety of 3D rigging software applications, and each one has its own unique features and possibilities. For the most part, 3D rigging artists prefer to use a combination of Photoshop, ZBrush, and Maya to get their best results.
Maya, Blender, 3ds Max, Modo, ZBrush, Cinema 4D, and Houdini are a few software packages that can animate skeletons.
Because Maya and 3D Studio Max are the two-best software for 3D modeling, most game developers and best 3d animation studios use them as their first choice.
Maya – 3D Rigging software program
Maya is a professional 3D animation software. Industry giants commonly use it for creating realistic animated characters and virtuoso effects.
The animation tools, especially the rigging tools, help bring imaginative characters to life. It has an extensive intuitive modeling tool to shape 3D scenes and objects.
The rigging feature is pretty outstanding as it allows the creation of sophisticated skeletons, seamless skinning, and easy retargeting.
Other 3D rigging software programs you can try out
Real-time motion capture is a feature of some rigging tools, such as Moka Studio, allowing speedier creation and more realistic results.
Using Mixamo is a great way to get started in 3D modeling and rigging. It has features and tools for rigging, animation, and sketching, among other things.
Rigging and weight painting are done automatically. Animators of all levels will find something to like in Toon Boom.
It's possible to generate humanoid characters with MakeHuman, even when you don't have a character rigger on your team. You may choose from a large choice of customizable figures, and it will rig the model for you once you've finished customizing it.
A wide variety of rigging and modeling software tools are available, and it's up to you to decide which one or more to use for your project. To get a high-quality professional result, rigging specialists are well-versed in most software packages in their area.
What's next?
Rigging is one of the most integral components of the 3D animation process. This is one of the steps that require a highly professional animator who encompasses the skill set we have discussed above.
If you are looking for a 3D animation studio for your animation project, look no further. BuzzFlick is one of the best 3D animation studios offering plenty of animation (2D and 3D) and video making and editing services.
3D Rigging: FAQs
What is 3D animation model rigging?
In simple words, 3D rigging is the process of creating a skeleton for a 3D model which allows it to move.
Who is a 3D rigging artist?
For 3D figures, vehicles, and props, the Rigging Artist is in charge of building the rigs, developing animation and rigging tools, and testing new techniques. Creating animation interfaces that are both technically sound and expressive of the project's creative concept is up to him.
Which software program is best for 3D rigging?
Following are some of the best software a 3D rigging artist can use:
Maya
Sculptris
Modo
Rhinoceros 3D
SketchUp
Cheetah3D
Cinema 4D
Related Article: