Want to step into 2D animated video marketing and wonder how much 2D animation cost per minute? Read this blog for a detailed guide.
Well, the popularity of 2D animation is still on the rise despite big companies like Disney, and Pixar now producing 3D-based films. You should know about 2D animation as 2D video content is all over digital mediums like websites, social medias, etc. All thanks to digital media that has a large portion of content based on 2D animation videos.
That is why businesses thriving on digital mediums want more and more 2D videos to be included in their marketing strategy. If you are also among them, you must be seeking how much the 2D animation cost per minute.
Well, if we calculate on average, a 1-minute 2D animated video can cost from $7000 to $20000. Although you may get it at a lot cheaper price, or a more expensive one, you can keep the above-quoted rates in mind for good quality work.
You will be guided in depth on 2D animation cost per minute, factors of 2D animation cost calculations, and what options you have to get it. So, without further ado, here
On What Factors 2D Animation Cost Per Minute Is Calculated?
It is seen that the final cost for a 2D animation project is not clearly mentioned on websites, or if it is, you will not be entitled to see the 2D animation cost breakdown which may become a hurdle in your proper planning of the budget for your project. It results in endless hours on the phone for information collection to make a final decision that eventually affects the final cost of 2D animation.
So, let's make it less complicated, less time-consuming, and as simple as possible for you. Read on below if you do not want to wade through uncountable details any 2D animation studio will ask! As a 2D animation video production company, we key rely on these factors for 2D animation pricing.
The Animation Project Timeline
Whether it is a 1-minute animated explainer video or a full-length 2D animated movie, the illusion of movement is created through the same criteria, i.e., subsequently changing the images or frames over time. These images are 24 frames per second in general and that's how the project timeline is estimated.
Now depending on the project type, the frames per second are created, and then the cost for everything involved in 2D animation production is calculated.
The Animation Complexity
If you think that motion graphics is complicated, wait. 2D animation is none less than it. It includes lots of backgrounds, different characters, dramatic sound effects, scripting, and many other assets. That is why the layering, combining, and creation of these assets help in determining the 2D animation cost per minute. Your animation complexity can be determined through a storyboard that represents visually the complete video frame by frame.
The Animated Characters
Animating one 2D character is not a big deal. But when it comes to including several characters in one 2D animation video, it will take time. Every character is different from one another with a different story or background.
Animating and rigging of all characters will take time and it will take a lot of professional effort according to complexity. Hence the cost may vary too.
The Look, Feel, And Design
2D animation involves the designing of characters as well as the 2D environment, motion design, choosing colors, and various other visual details. You have to create a storyboard as well that defines all of these details. That is why it becomes of utmost necessity to avail the services of concept artists to develop the accurate look, feel, and design of 2D animated videos.
This process is also included in the 2D animation cost per minute as it decides how much professional effort will be put into the project you are working on.
Music/ Sound effects/ Voiceovers/ Special Effects
The additional but essential elements like music, sound effects, and voiceovers, must be kept in mind while calculating the 2D animation cost per minute. Additional effects make your 2D animation complete, and valuable and enhance the visuals. But overusing them may surge your 2D animation prices. So, consider adding only according to the project's requirements.
2D Animated Video Production Team
The final cost of 2D animation also depends on the team to create it. Although you will have 2D animators as an integral part of the production process, you will also need script writers, graphic designers, concept artists, sound engineers, editors, etc. to create something worthwhile. From rough sketches to designing and from animated characters to final rendering, a well-thought team alignment is a must and it will definitely add up to the overall animation cost.
Skills And Expertise Level Of Animation Production
Hiring a junior animator and hiring a seasoned company will definitely make a big impact on your 2D animation cost per minute. If you want the average quality of work, you will get the results not worthwhile. Although 2D animation companies charge high for their services, the quality they provide can never match that of a freelance 2D animator or small startup.
We know that keeping in mind all these factors while planning your budget for 2D animation videos may not be easy for you. That is why BuzzFlick is always here for you if you want impactful, customized, and professional animated video content for your marketing. Reach out to us right today for further details and discussion on your project.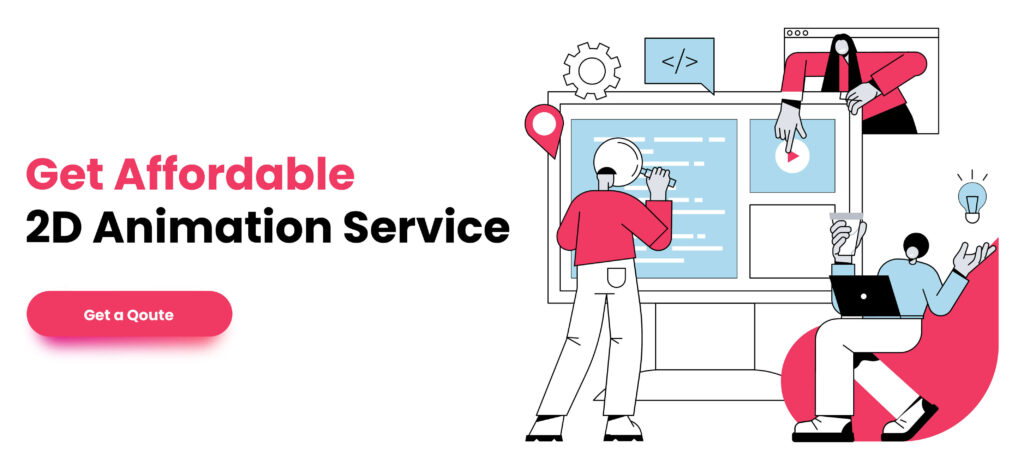 What Is 2D Animation Cost Per Minute?
As we have already discussed the typical cost of 2D animated video falls within the range of $7,000 to $25,000 per minute. Although there may be more affordable and pricier options you may get, this is the price you should expect when seeking a high-quality animated video.
Here we will break down prices according to the different levels of 2D animation work. From freelancers to professional companies, we will cover all for 2D Animation Cost Per Minute in the table below:
| | | | | |
| --- | --- | --- | --- | --- |
| S.No | 2D Animation Service Provider | 2D Animation Per Minute Cost | Pros | Cons |
| 1 | Freelancer | $50 – $3000 | Easily available Quick delivery of work | Low quality of work for lower pricing Not a full fledge production |
| 2 | Mid-Level Company | $3000 – $7000 | Quality work Having 2 to 3 professionals Able to handle multiple projects | Quality is good but not professional level Handle your project but lack professional commitment as it's a small startup Expect delays in work delivery as they get lots of projects but the team is small |
| 3 | Professional 2D Animation Company | $7000- $25000 | Highly skilled team experts; from scriptwriting to editing. Involves you in every step of the project High-quality customized animation work delivered on time | A bit expensive A bit time-consuming as the team researches well before starting a project Not easy to find online |
Cost For 2D Animation On Freelance Level
There are lots of freelancing platforms where you can find an animator who can create 2D animated videos for one minute for $50-$3000. If your 2D animation budget is low, freelancers will be the best choice for you.
You will observe that the price range within this category is quite reasonable and extensive as well. This is primarily due to the expertise and quality of professional skills individuals available on freelance platforms.
Well, you may find animators willing to work for you at reasonable rates but keep in mind that the script writing, concepts, sound design, etc. will not be available with their services.
Also, the quality of the animation you expect is not up to the mark. So, not a win-win situation if you want high quality, professional level of animation to impress your audience.
2D Animation Video Cost By Mid-Level Companies
Well, if you opt for a mid-level company for your 2D animation project, you will be charged from $3000 to $7000 per minute depending on the complexity level or animated video. The option is affordable for lots of mid-tier businesses. But the thing is, a mid-level animation studio does not have a big team.
They often outsource your project for final editing or concept design which might result in extending the project deadline. Also, the quality of animation is average if not up to the mark. We cannot say that the quality level of work they provide is poor, but it is not on the level that leaves you in awe.
2D Animation Cost Per Minute Of Professional Animated Video Production Company
Hiring a professional 2D animation company for your project is a wise decision when it comes to high-quality work, in-time completion of the project, customer service, and versatility. Although you will be charged from $7000-$25000 for a 1-minute animated video, the results you will get will be satisfactory and outclass.
They handle your projects A to Z, starting from ideation, script writing, storyboarding, animation, sound designing, and final editing. You can get each and every element of your video like characters, environments, theme, and music customized.
Professional 2D animation services make sure you get the best customer service even after your project completion. You can ask for revisions whenever you want, and get the desired results within the proposed deadline.
We have addressed the question "How much does 2D animation cost per minute" in detail now. But if you are still looking for an impactful, personalized, and professionally acclaimed 2D animated video for your marketing, we suggest you head on to our portfolio and contact BuzzFlick today for details. Our consultants will make sure you get the specific video you have in mind that too at affordable rates.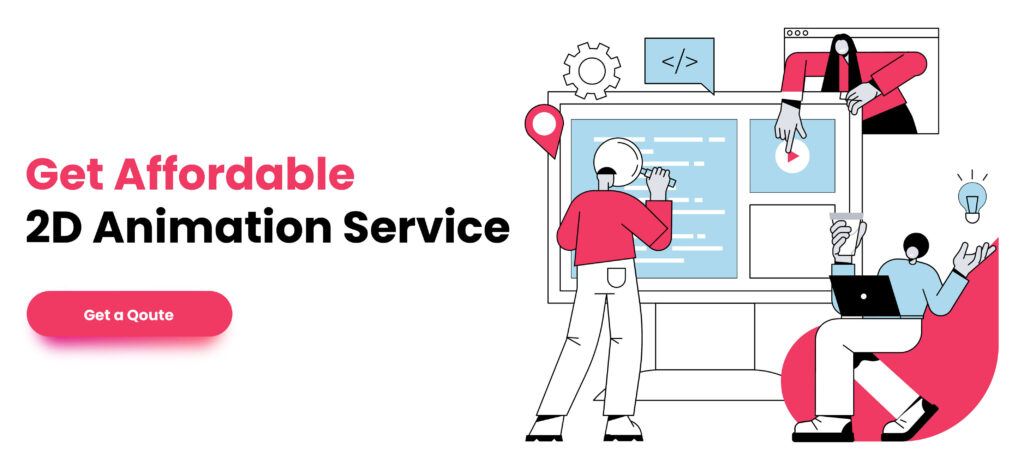 Frequently Asked Questions
How Much Does It Cost To Make A 1-Minute Animation?
The cost to make a 1-minute animation can range from $1000 to $25000 depending on the type of project. Typically, a mid-level animation studio charges $3000-$7000 for a 1-minute 2D animation. The 2D animation cost per minute is typically $7000-$25000 if you avail services from a professional animation company.
How Much 2D Animation Cost Per Minute Is?
The one-minute 2D animation video cost can vary depending on animation style, complexity, work quality, and the expertise of the animator or animation company. The average cost for 2D animation can be anywhere between $50 to $25,000 per minute. However, it may be more or less pricey depending on your specific requirements.
How Much 2D Animation Cost Per Second Is?
The cost for 2D animation per second varies from $5 to $150. The cost can fluctuate by several factors like the complexity of 2D animation video, video style, and the animator's level of expertise, among other considerations.
How Long Does A 1 Minute 2D Animation Take?
A 1-minute 2D animation takes 3-6 weeks to make. 3-6 weeks. The duration depends on how complicated your animation is and what video style you are choosing.
Final Words
Well, that's it. We have discussed 2D animation cost per minute in this blog and we hope you have understood all the basics you need. But keep in mind that prices alone do not determine the quality of animation video production.
The 2D animation rates hinge on various factors, so find a company that offers good quality at affordable rates. Your informed decision is the first step to a great animated video. Congratulations!