Thinking of hiring an animation studio for your brand? Take a look at our exclusively curated list of the best animation studios in the USA.
Frozen, Tangled, Minions, and Encanto, are some of the greatest animated movies produced to date. The unique storyline, magnificent settings, beautiful relatable characters, and flow of animation are among those things that have made these pieces the best of the best.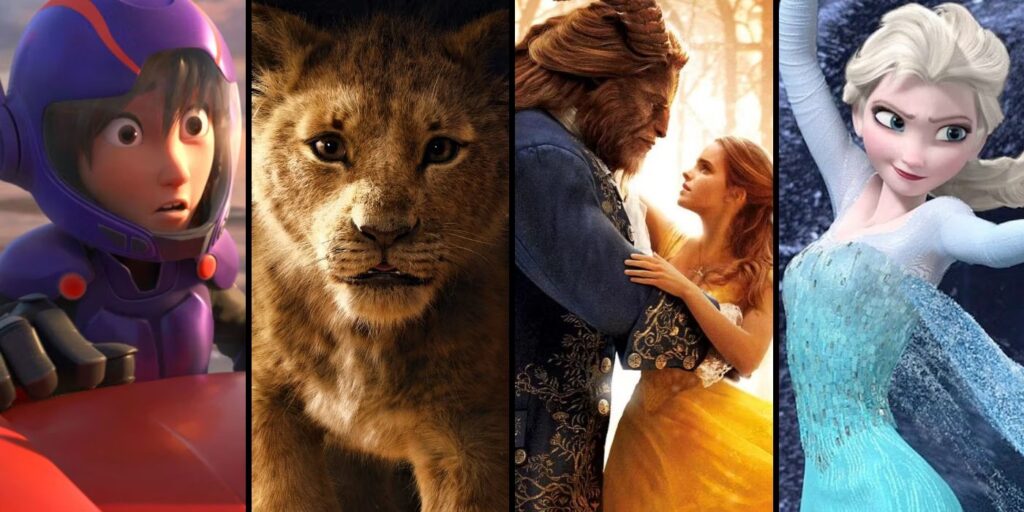 Source: Screen Rant
But have you ever wondered what makes these movies so great? The animation companies! Don't want to sound offensive, but if you want to create animated videos, you can't hire them because they are totally out of your budget.
And that's okay because while sitting on the couch and enjoying these masterpieces, we often forget how challenging it is to create animation and breathe life into static characters.
Moreover, the animation is pretty taxing, as we have told you earlier. But, it's worth it because apart from big enterprises, not everyone is using animation. In short, the industry is still unaware of the boons it brings to the table.
The future of animation is shining bright like a star constellation. Every day, the industry is achieving new milestones. This ongoing evolution is never-ending.
Considering these eye-opening scenarios, it has become a necessity to jump on this bandwagon and become a part of this trend.
To help you out, today we'll be listing cream of the crop animation production companies that have raised the competition bar too high.
So, let's not further delay it and jump right into it. (Don't forget to wear your scuba kit, just kidding)
Best Animation Studios in the USA That Have Set High Bar for Quality
The animation industry has become very crowded in the past ten years. Almost every video production company is now offering animation services, but you cannot simply hire anyone, right?
Take a look at the exclusively curated list we have created of the best of the best animation companies in the USA.
So, let's start.
1. BuzzFlick
We are a Houston-based animation studio serving from startups to large enterprises with our compelling video animation solutions.
BuzzFlick is a pioneering video animation production company that uses creative video content to bring brands to life and better engage with your audience.
From educational to corporate videos, we deliver all types of 2D animation, 3D animation, 3D modeling, Typography, or Cell animation videos to engage animation videos for your project with boundless possibilities.
BuzzFlick is a bevy of accomplished creators who are engaged with our mission to make something exceptional out of the ordinary in order to achieve the best impression for your business or project.
As an expansive animation company, we empower your brand by providing top-notch video animation services that help you create a lasting impression amongst your competitors.
As the online world expands at light speed, let us lay out your information to leave a lasting impression as you level up.
2. Anideos
With remarkable services and finesse animation quality, Anideos deserves to be a part of this list. A New York-based animation studio that has been providing excellent 3D animation services.
Moreover, their dedicated team of animators has the knack for producing extraordinary solutions. Their primary goal is to craft the message in an easy-to-comprehend way.
The competent team of this top animation studio in the US always comes up with out-of-the-box ideas and concepts that lead them to create prolific animated videos.
3. Demo Duck
Whether you want a single video or a bunch of them, they can make it all. Demo Duck stands at the top of the best animation companies list.
They call themselves Duck, always quacking through their videos.
They begin with learning everything about the ins and outs of your project, brand, and core goals. They are not video animators. They are storytellers, advertisers, marketers, strategists, and whatnot.
They have worked with some of the big fishes of the industry, even some 500 fortune companies which is pretty impressive.
All in all, it's their transparency and love for creativity that keep up their spirits high!
4. Hornet
If you're looking for a team with artistic vision, Hornet is the one you should go for. This New York City-based video animation studio has bagged some of the big wheels of the industry.
This multidisciplinary production company has approximately of experience two-decades. Their work speaks for itself.
Everything they have produced to date is shaped after a thoughtful brainstorming session. Each project they produce is unique and eclectic in its own way.
For good 20 years, they have been tirelessly working to deliver such beautiful solutions.
5. Yum Yum Videos
Another 2D animation company that has made it to this list is none other than Yum Yum Videos. With ten years of experience, they have been serving clients coming from different industries.
It's among those brands that are known for its credibility. They offer custom video animation solutions because they firmly believe one size does not fit all.
They do nothing short of perfection. Their true passion and dedication are what motivate them to deliver top-notch results.
Originality, Quality, Transparency, and Customer-Centricity are the founding pillars of their studio.
6. Epipheo Studios
Another top animation company in the US that is adored by people is none other than Epipheo Studios.
The word 'Epipheo' is a term made up of two words Epiphany and Video. This animation studio is known popularly for its animated explainer videos.
All they focus on is delivering messages with clarity. They believe it's essential to be vocal about what you do and what makes you different from the rest.
From 2009 to date, they produced 5000 Epiphany videos. The talented cast working behind the scenes knows very well how to create those a-ha moments.
All in all, they are perfectionists in producing top-notch animated videos.
7. Z Animation
If someone can make you fall in love with their work, it's Z Animation. A video animation studio in the US that is known for its commendable 2D animation services.
To date, they have won over 25 awards. This company loves what they do. It's a dedicated team of players who create animation solutions that help you to stand apart.
Back in 2003, they laid their foundations, and since then, they have been adding value with their experience.
8. Explainify
The creative minds at Explainify have been breaking the norms in the animation industry for 10 years.
This Arkansas-based animated explainer video production firm believes in explaining ideas with utmost clarity. Instead of dumping things, they use a systematic approach and present ideas in a crystal-clear format.
The name of the studio itself signifies that they are the leader of explainer video service. Their ultimate goal is to help their clients to grab the attention and motivate their prospects to take action.
They are one of those folks who have created award-winning videos, which is pretty impressive.
9. Bix Pix Entertainment
Just by taking a look at the Bix Pix Entertainment website, you will completely feel in love with what they created to date. Their animated cartoons are to die for. The creativity, the choice of colors, the finesse with which the characters are created, everything is just splendid.
This is one of the USA animation studios that uses a blend of techniques like Claymation and stop-motion to produce distinctive animation solutions.
10. Vidico
With stellar video animation services, Vidico stands among the top-rated video animation agencies in the USA.
Like us, they also firmly believe that video has become one of those mediums of communication that has the capability to engage and inspire the audience.
They make use of visual language and combine it with an impressive story to deliver the messages. They are driven by power and creativity.
Every piece they produce has a compelling narrative and vibrant visuals. At the end of the day, they are focused on making memorable things.
11. Rip Media Group
The tagline 'We Create Brand Stories That Speed Your Sales' speaks volumes. Rip Media Group, based in Los Angeles, California, is a well-known video animation company whose 2D and 3D animation services are to die for.
This studio not just offers animation services but they help businesses to market them.
We all know how challenging it is to explain complex ideas, but they are pros to it. They turn complex products into awe-inspiring and primitive stories.
They have solutions for people with every budget. Their core focus is to create content that can help in skyrocketing your sales.
12. La Di Da Films
If you're in search video animation boutique that specializes in producing marketing content, this is the best and most suitable option to go with.
La Di Da Films is among those video animation studios that not just help you produce spectacular animations but design a robust approach to market them.
Leah McKissock and Adam Blake Craver are the creative minds behind this venture. From live-action narratives to stop-motion animation, they produce it all with efficiency.
Though it's a small animation house because of its creativity and perfection, we believe it deserves a prime spot on this list.
13. OLM, Inc.
Without a doubt, OLM Inc is one of the finest video animation firms in the United States; that's why we have listed it.
They are a team of motivated people who are energetic and determined to bring smiles to the faces of people with creative production.
With the help of experienced animation artists, top-of-the-line technologies, and the best equipment, they produce masterpieces.
You might not know, but they started off back in the 1990s. And it's quite surprising to know these creative heads are behind the creation of the most loved anime cartoon series – Pokemon!
We're thrilled by their awe-inspiring performance. They have been serving in the industry and bringing their A game, and believe us, and nothing can stop them.
14. Grasshorse Studios
You might not know, but this simple-looking small animation studio, Grasshorse, is doing wonders in the animation industry.
We were very thrilled to discover that they approach every project in a unique way. Their productions are a diffusion of different animation techniques like stop motion, 2D, 3D, and animatronic puppetry.
They have a very diverse and extensive portfolio – we can assure you will be amazed to see the type of video projects they have produced to date.
15. Illumination Entertainment
The name sounds quite familiar, isn't it? If you have not got it, let me give you a hint, it's a movie based on yellow pills-shaped creatures dancing and eating bananas. Any guess? Its Minions! BA BA BANANA
Founded back in 2007, Illumination Entertainment stands among the top three animation studios across the globe. This 3D animation company has won many hearts with its masterpieces like The Secret Life of Pets, Despicable Me, and Dr. Seuss' The Lorax, to name a few.
Well, at this point, I feel I cannot define their creative stance because they nailed it with their movies.
What's more exciting is they are determined to keep growing in the animation industry. It won't be wrong if I say that soon they will bet animation studios Pixar and Disney.
On the Whole
Like every journey has an end, so does this list of best animation studios in the USA. We have carefully analyzed the work of each production house we have mentioned in this list and then produced this blog.
We deeply hope this will provide you with ample insights that will be useful for you in the long run.
To recapitulate, animations are all about evoking emotions.
Today, startups like Airacer to big enterprises like Amazon are using animations to tell their message in an engaging, clear, and precise way.
If you still haven't thought about it, now it's the right time.
Prime Animation Studios in the USA – FAQs
How much do animated videos generally cost?
The general 2D animation video rates range from $8,000 to $50,000. This might look like a huge amount, but it varies from studio to studio.
Where are most animation studios located?
The countries that have the most animation studios are the United States, Japan, Canada, South Korea, and the United Kingdom.
What factors should you consider before hiring any animation agency?
Hiring an animation company is a daunting task. However, there are a couple of factors that you need to take into consideration:
Portfolio
Clientele
Animation quality
Years of experience in the industry
Customer services
Pricing plans
Related Articles: