Check out the list of the best anime name generator websites for getting a unique name for yourself or your channel.
Anime is gaining popularity day by day. Different kinds of websites and applications are developed for downloading anime music or anime episodes or for generating anime names.
One of the most popular tools for anime fans is an anime name generator. This tool helps you come up with catchy anime names based on your preferences for anime or the characteristics of your character.
Names from Japanese animated movies are utilized in a number of contexts by anime fans. If you're in the market for a great anime-related username for your YouTube channel, gaming profile, or twitch channel, you're going to have a hard time finding one that stands out from the crowd.
Names also become symbols of appearance, quality, flaws, personality and so on.
There are a variety of anime-related names to pick from when using the name generators. The name of an anime will always draw in more viewers if it's a cool one.
Topmost Anime Name Generator Online Websites
For grabbing the audience's attention, anime names play a dynamic role. But here comes a flaw that not everyone got a creative mind. Here anime name generator comes to rescue you.
Let's move towards the article, and we will tell you about eight unique name generator tools available online.
#1) Fantasy Name Generator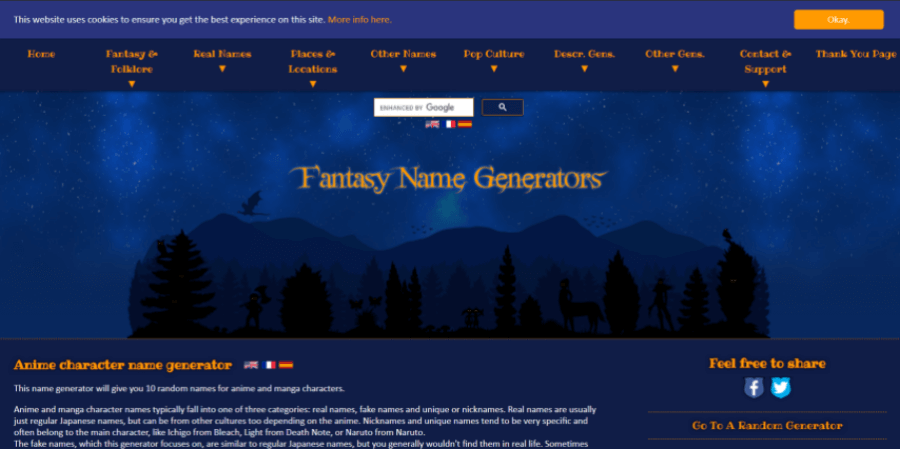 Fantasy Name Generator is an application that is designed for generating anime names. The application can provide you with 10 anime and manga character names.
The names are categorized into three different categories: real names, fake names, nicknames, and unique names. All the names you'll find on this website are Japanese.
When you access the website, a list of ten names will appear. You can simply select male or female anime character names. If you are dissatisfied with the presented list, click on the Male names or Female names tab to see ten additional random names.
Pros
Generate ten names for anime or manga characters.
Three different categories.
Names are available in Japanese.
Availability of name according to gender.
Cons
The meaning of the names isn't available.
You can only get access to 10 names at a time.
#2) Cool Generator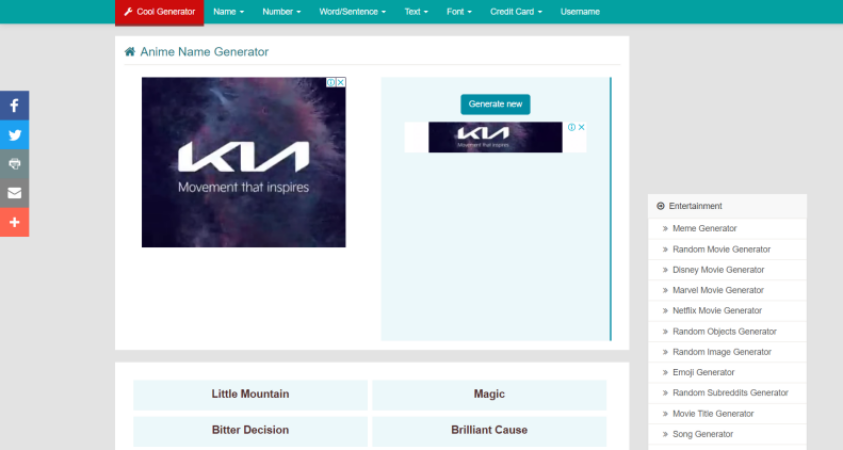 Are you looking for an anime name generator to generate anime names and clan names, team names?
Then Cool Generator is the right option for you. This anime name generator tool provides unique names to represent different characters.
24 names will be initially displayed on the screen when visiting the Cool Generator website.
Choose one of the names from the list, and if you are not satisfied, visit another 24 names by clicking on the button "Generate New Tab" displayed on the top of the website.
Pros
You can generate 24 names at a time.
Different categories are available.
Enjoy unique names.
Cons
The meaning of the names isn't available.
#3) Thestoryshack.com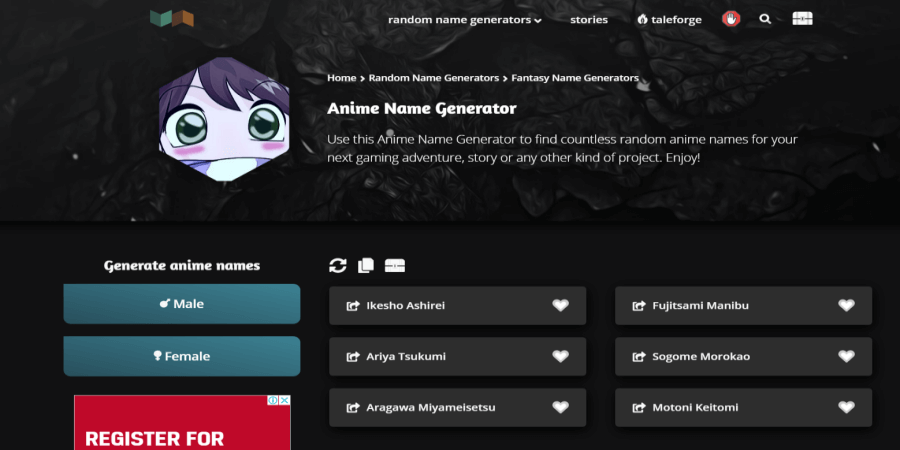 When it comes to generating countless anime names for story purposes or gaming adventures, or any other project, Thestoryshack.com is a platform where you find six unique names when you visit the website.
If you don't like the names, refresh the tab, and get more. Never mind, if you are searching for a male or female name, you can easily find it from this tool.
There are many different categories like elf names, dragon names, dwarf names, medieval names, Viking names, and many more.
Pros
Name available for story and game purposes.
Find different categories that might not be available on other platforms.
Easy to find names according to characters.
User-friendly interface.
Cons
Six unique names are available at a time.
Not a suitable site for the below 18 age group.
#4) Masterpiece generator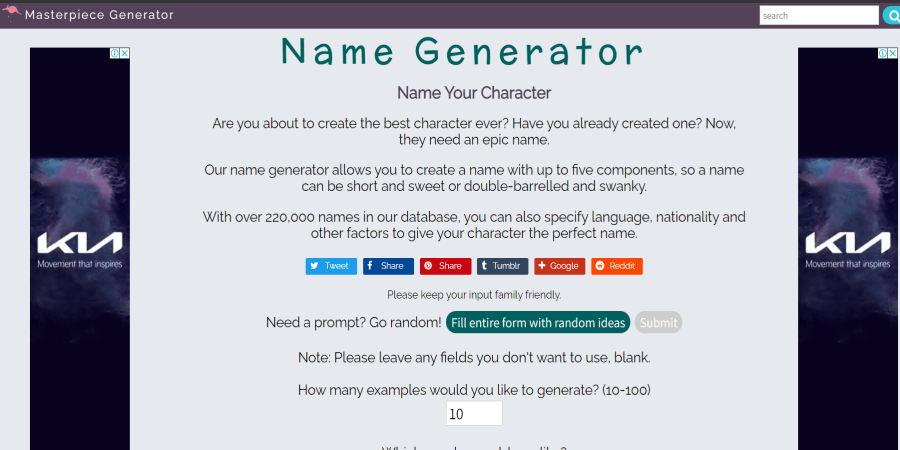 Another free online tool is Masterpiece Generator, which assists you in creating legendary anime titles. This tool allows you to generate names with a maximum of five components, giving you the option of short and sweet or lengthy and fancy.
This online tool generates a list of names based on various parameters such as gender, character title, taste, character type, birth year, and nationality.
After you've submitted your suggestions, a list of possible names will appear on the website when you click on the 'Write me some character names' link located at the bottom of the page.
Pros
You can choose between short or long names.
The tool generates anime names based on your suggestions
Cons
You get access to 5 names at a time.
Too many advertisements.
Confusing interface.
#5) Reedsy
The name generated by Reedsy is computer generated that is somehow connected with the traditions.
When you visit the website initially, you will find 5 Japanese names displayed. Parallelly, you will see the meaning of the names to make it easy for you to choose names accordingly.
Find the names easily by choosing the male, female, and random options.
After this, click on the tab Generate names tab. Through this, you will get a set of new names with meanings.
Pros
Japanese names are displayed, and parallel meanings are also visible.
Choose easily from options for male, female or random.
Cons
Not every time you will find the name related to Japanese Traditions.
Users face difficulty while using the interface of Reedsy.
#6) Rumandmonkey.com
Rumandmonkey.com is a fun anime title generator that generates unique anime names.
A minor disadvantage is the volume of advertisements that continue to cover your display when you launch the tool.
This anime character name generator has categorized the character names by generation.
You can browse through the categories of the greatest generation, baby boomers, generation x, millennials, and generation alpha.
Additional questions about your preferences and dislikes will be asked, and an anime name will be shown based on your responses. This tool displays only one name at a time and may need some patience.
Pros
Find appealing and funny anime names.
Categories are classified upon the basis of generation.
Names will be displayed according to your likes and dislikes.
Cons
Irrelevant ads.
The ads are shown over the text.
#7) Quizony
Fans of anime will find Quizony to be an excellent anime name generator. This tool generates anime names based on the individual's personality and character.
This tool will ask a series of questions to understand what people enjoy and what they don't like. A little nitpick is that you have to answer roughly 29 questions before getting anime names.
After all of the questions are answered, a unique name will be assigned to you. This is an excellent tool for naming anime characters. However, it's not ideal if you need more than one name.
Pros
The anime names are available after answering a series of questions.
Availability of attractive names.
Cons
If you don't like the anime name list available, you need to answer all the 29 questions again to get a new set of the name list.
#8) Fun Generator
As the name says it all, Fun Generator is an anime name generator website made for fun-seeking anime fans.
Over here, you can choose between the number of Japanese anime names for your desired character.
When you visit the website of Fun Generator, five different names will be displayed in front of you.
Either choose any of the names depending upon your character gender, either male or female.
You can also click on the other tab to get other random names set.
Pros
Availability of Funny names.
Choose a name according to your character.
Cons
All the names available are funny.
In a nutshell
Anime lovers are fond of using anime names as their usernames, profile names, etc. Often, they make the name their benchmark and keep the name for their entire life.
It is hard to find a creative yet unique anime name not previously taken.
Here we have listed some of the best anime name generator websites that are free and help in choosing an impressive name for yourself.
Related Article: