Trying to animate photos or create GIFs? Here is a look at the top 10 tools to make animated photos for 2023 with some really exciting and cool features.
Businesses are moving towards visual means of marketing more so these days. Be it video, audio, GIFs, or an animated photo – the top priority for brands is 'visual' content. And there are stats to prove their appeal. In 2017 alone, 40.5% of marketers claimed that 90-100% of their content is visual-based. The importance of animating your photos, adding a voice over, using motion graphics – can't be sidelined.
Although, from writing an explainer video script to making animated pictures, creating 'visual' content can be a daunting task for marketers. Especially if you want to animate your picture and depict a rather complex, abstract, and detailed concept.
Fortunately, we'll teach you, 'how to animate a picture' in this article. Want to know more about the animation process? Keep reading and enlighten yourself on the best tools needed to create an animated photo.
Here, we have shortlisted the 10 best photo animation software which will hopefully cater to your needs. Let's start off with basic picture animation apps, and then we'll cover GIF-specific image animator(s) as well.
Part 1: Animation Photo Editor
#1) Picstun
Picstun is a remarkable photo animation editor that's available for both Android and iOS users. Easily shift from one dynamic effect to another and completely transform your picture! Packed with loads of features; edit photos endlessly.
It's surely one of the best free 2D animation software out there. Add both 2D/3D animation in-between your pictures and creatively use Picstun.
Salient Features:
Easily share a 'newly' edited picture to consumers on social media.
Add images on top of videos and vice versa. Play around with the effects.
Use different stickers; face, love, heart, swap face, and text love.
Cons
Can't handle a dozen photos simultaneously. The app often crashes.
Limited animated photo edit options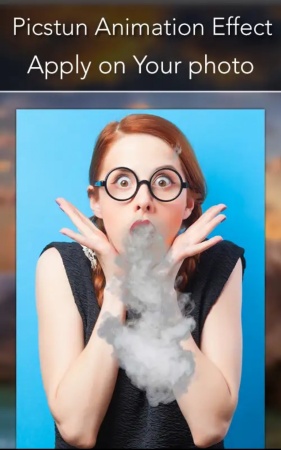 #2) Animate Me
Animate Me is an innovative app where you can animate your pictures in a hilarious way! Create funny, doodle-like images of your loved ones and cherish those memories with this incredible animated photo software. Animate Me took Snapchat's signature 'face swap' feature and creatively introduced it as their own.
Furthermore, you can use e-cards and add anyone's face; be it your pet, or a celebrity. Available only on iOS, for the time being, it's surely a must-have app.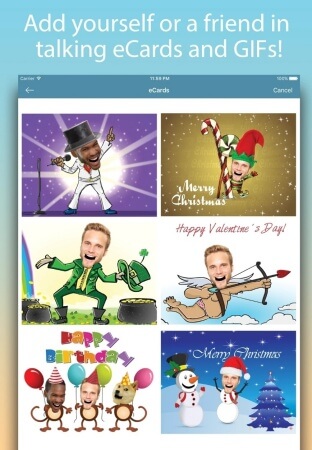 Features
Constant updates and additions of e-cards. You can never get bored.
Add well-known quotes or record your own voice over a picture.
Create animations for different occasions; birthday or valentine's day.
Cons
Can't easily navigate from one tab to another
Rare crashes occur, and there are annoying pop-up messages
#3) PicsArt
PicsArt refers to itself as a 'photo & video editor' on both App Store and Play Store. And adheres to its claim quite well. PicsArt is filled with rich features. From trendy animation photo effects, aesthetic fonts, photo retouching, to a lot of other features, Picsart won't disappoint.
Also, Picsart isn't limited to pictures alone. Create the perfect Instagram layout by using collages, scrapbooks, story templates, and doodle art from this animated photo software.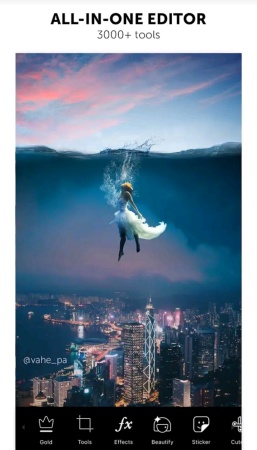 Salient Features:
More than 60+ million stickers to choose from.
Completely transform photos by using the 'background remover' feature
Share over social media in an instant
Cons
Occasional bugs
Annoying Ads
For additional features, purchase PicsArt Gold
#4) Loopsie
Loopsie can animate your pictures and help you get through the editing phase quite easily as well. Add a raw picture and customize it with a smart long exposure, light trails, and dozens of effects.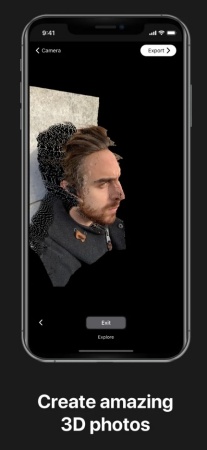 More so, record videos through Loopsie's integrated video camera. You don't have to worry about shaky videos either with this animated photo software. Loopsie's stabilization algorithm assures stable videos. Available for Android and iOS users. Download it right now!
Salient Features:
Directly share on WhatsApp, Instagram, Vimeo, and other creative outlets.
Create 3D images.
Upon edit, there's no compromise on the quality.
Cons
You have to figure out the app's interface.
Subscription needed for add-on features
Compressing time is long occasionally
#5) FilmoraGo
FilmoraGo is one of the most well-known and trustworthy animation picture makers you can use. Edit videos and photos in creative ways. Filmora's UI is an exceptional one where you can add emojis, audio, text, and even choose from different background templates.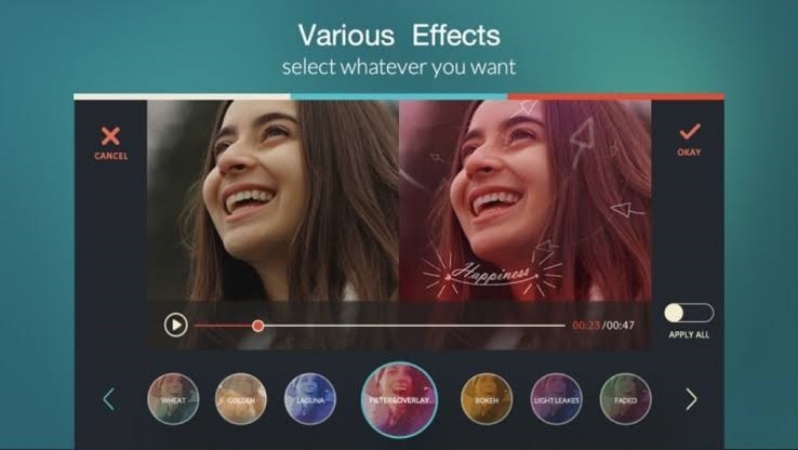 Simply insert any sort of footage and add photo animation effects. Download it on Android, iOS, Desktop, and Mac.
Salient Features
Animate images by adding filters and graphic overlays.
Utmost support from Wondershare, FilmoraGo's parent company.
Multi-platform support. Easily navigate between devices.
Cons
Does not instantly save files.
Occasional bugs in the exporting process
Part: 2 Animation GIF Maker
When talking about visual content, it's necessary to acknowledge the significance of GIFs – they should be an essential part of your marketing campaign.
Facts show that 23 million GIFs are posted on Tumblr every day, and it keeps increasing! Here are a few animated photo tools that can help you do that:
#6) GifMaker.Me
As the name indicates, Gifmaker.me is best suitable for creating GIFs. Just access the website and choose from the dozens of options.

It's not complicated either. Anyone can simply upload a picture and edit it with different cartoons, doodles, and graphics. Learn how to animate a picture online with Gifmaker.me.
Salient Features
Change the image's structure. Reduce it, crop it, merge GIFs, and even separate GIFs.
Quick access. There's no need to sign up.
Customize GIFs at an advanced level.
Cons
Limited to uploading 300 pictures.
UI isn't easily configurable.
#7) Animated GIF Maker
It seems like most GIF tools are made for 'online use'. Animated GIF Maker is no different. Meaning that you can access this tool on your desktop, without even signing in to create perfect animated photos.
Use Animated GIF Maker's delay time', and create the perfect visual image. Do you have a video rather than an image? Convert that, as well. Video-to-GIF is an available feature.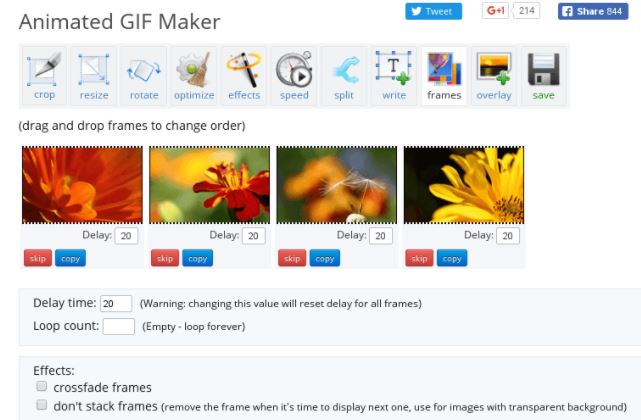 Although, make sure that the file's size does not exceed 6 MB or this animated photo software won't support it. Lastly, the UI is minimalistic. There's no clutter, and it's to-the-point.
Salient Features:
Not limited to certain formats. Use JPG. or any other file type.
Handles multiple files simultaneously.
Resize GIF, crop it, rotate it, and add effects.
#8) 3Dthis
By far, the most fun place to visit when it comes to 3D animation. If you're learning how to make animated photos or pictures, 3Dthis is a must-visit site. Create customized avatars, animated selfies, 3D models, and much more.

As the name suggests, the website's entire theme revolves around image animation, and it's aspects. Also, you may visit 3dthis's YouTube channel and learn more about its special features for animated photos.
Salient Features:
Morph different images together and create an entirely 'new' image
Variety of built-in animation tools
#9) GIF Brewery
GIF Brewery is a free-to-use tool where you can upload any image or video and convert it into a GIF. Once uploaded, you can endlessly customize it. Add effects, resize the video, crop it, and set different frame rates. There's little to no limitations when it comes to creativity, here.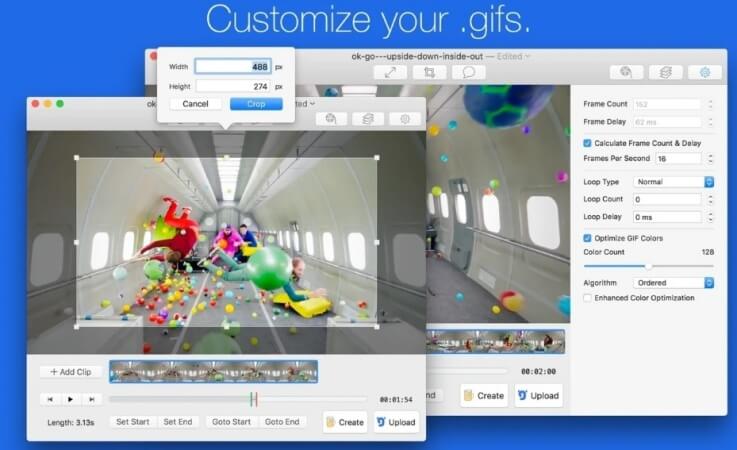 A by-product of Gfycat, this GIF and animated photo software is certainly trustable. The UI is friendly and works in a fast-paced way. Exclusively available for Mac, GIF Brewery lets users shoot on iPhone and edit it on the other device later on.
Salient Features
Supported by Apple's ecosystem. Easily send files through iMessage.
Color-correct an animated photo while converting it.
Use renowned photo filters such as Transfer and Noir.
Cons
You can't cut individual frames in a GIF.
Due to Apple's sandbox restrictions, occasional bugs are expected.
#10) GIF Toaster
GIF Toaster is a photo animation software specifically designed to create GIFs. This tool claims that it can convert 'anything' to a GIF, and this satirical claim is true to a certain extent.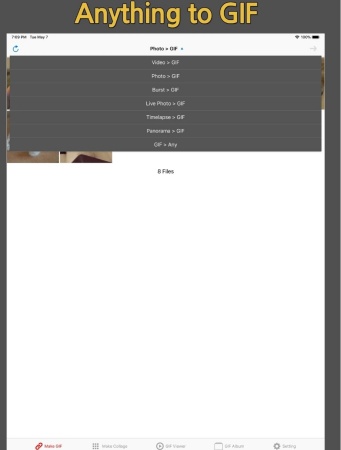 GIF Toaster is available on both Android and iOS – install it right away and upload a live photo, burst photo, video, or photo, and instantly see the results.
Salient Features:
There's no compromise on the animated photo's final file's quality. In fact, you can choose the final resolution.
Encode different pictures and choose from the encoding options.
Support for URL scheme (GIFToaster://)
Cons
Problems occur while uploading pictures from the gallery, occasionally though.
UI isn't friendly
Conclusion
With the conclusion of this exhaustive list, you must have come to know the wide range of photo animation tools that you can choose from.
Each tool is great in its own way. So, choose wisely.
Lastly, don't undermine the importance of 'visuals' in your content strategy. Starting from an explainer video script to an animation tool – every component matters.