Animation isn't hard if you know how to do it right. Here is the 7 steps animation process you can follow to build your next, successful animated video.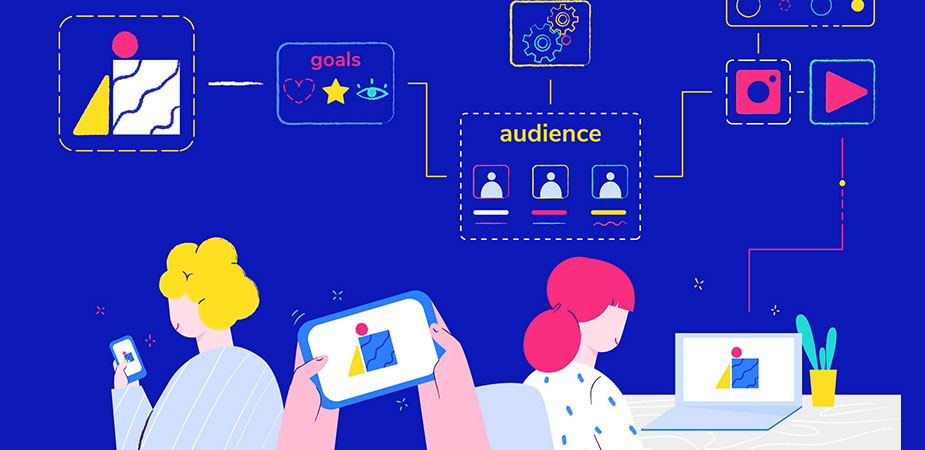 Creating an impactful 2D animation video that not only engages your audience but also drives maximum ROI involves two significant aspects:
A creative and experienced team of professionals that focuses on desired results.
A comprehensive animation process that addresses every pain point and all the relevant guidelines to create impactful videos.
Whether you are planning to build your animated video or looking to hire an animation production company to create top of the line video content for your brand, we have put together a detailed step-by-step animation process guide.
What Is The Animation Process?
To learn about the animation process, you first need to understand what is 2D animation?
2D animation involves using two-dimensional objects and characters in a video form as an artistic medium of storytelling and delivering messages. It creates an illusion of movement using the width and height of still images in 2D space.
This brings us to the animation process – it is the technique or method a 2D animation company used to create unique 2D animation videos. Typically the process of creating 2D animation videos includes characters, backgrounds, and storyboards.
Professionals like designers and video animators use software like Photoshop, Adobe After Effects, and Illustrator to build animated videos for diverse industries and audiences.
How Do You Create an Impactful 2D Animation Video?
The animation process steps mostly depend on your animation production company. They can divide the steps into detailed sections or come up with broader categories. For a quick understanding, we have explained a concise four-step animation process in the video below. Make sure you check it out.
Trying to capture the attention of your customers is just one of the reasons marketers are increasingly producing animated video content. Professionals are leveraging 2D animation videos to grow their business by catering to social media audiences, making their websites more entertaining and appealing for customers, and so on.
Even though in a lot of ways, the process of every animation video we build is different, based on the client's specific requirements, their preferred method of collaborating, and the urgency of the project. However, here are the primary seven steps of the animation process.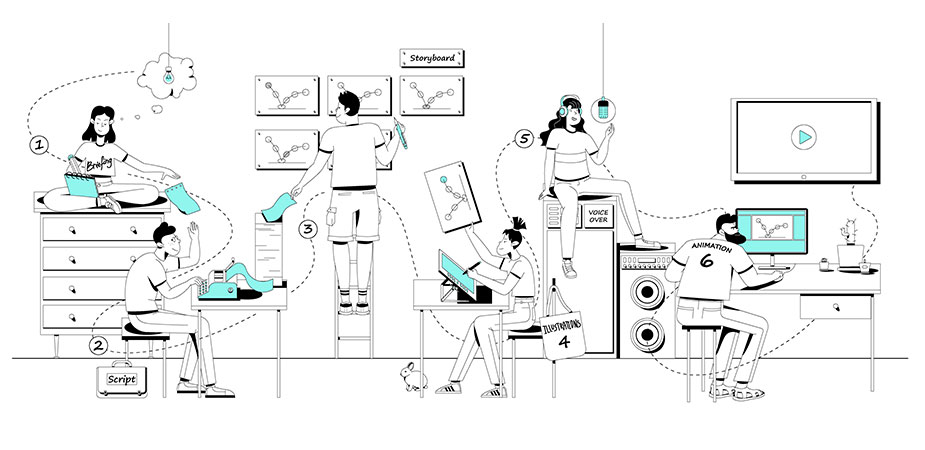 Research
Before we begin with the video animation creation process, here is a pro tip – the core of every impactful video is smartly catering to the needs and vision of your client.
Besides, the first is divided into two major tasks:
Gather as information from the client as possible
Find out whatever you can about the industry and audience
Make sure you clearly communicate with the client regarding their expectations and if they have a precise vision for the video.
It always helps to send out a questionnaire of sorts, or a creative brief that your client can fill out. It should help you gather details like the purpose of the video, who will be the target audience, what do we want to highlight in the video, if there is a call to action, and more.
We also get our creative team on a call with the client, so everyone involved can be on the same page.
Do your industry research, find out what competitors are doing, what kind of video content the target audiences watch, and expect from a brand like your client's company.
Concept and Script
Now that we have gathered information and done our research, it is time for the step that possibly has the most influence over the result.
Your concept and script for the video are like its foundation, and it needs to be strong.
You can come up with a video idea that's character-driven, evokes strong emotions, helps start a conversation, or it could be more conceptual. Our focus is to put together a creative approach that enables the client to achieve the predetermined goals.
Once we get the go-ahead sign from the client over the concept of the video, next comes the script. This is the step where you can tell the direction your video is headed.
Let's look at a few pro tips to keep a note of when writing your video script:
Keep the length of your video between 1 to 2 minutes.
Avoid creating a wordy script, as it takes away from the visual experience you are trying to create.
Make sure you follow a specific story format, like a stand-alone story, or a conflict and resolution approach.
Related Article:
Storyboard
Now that you have your script, it is time to connect the words with visuals by creating a detailed storyboard for your video.
A storyboard is actually a visual script of the video. It shows scene-by-scene how the video or story will flow by defining the visuals, objects, and actions. It can be hand-drawn sketches, or you can also use software like Storyboarder and Plot to draw your storyboard.
From now on, the storyboard helps lead the designer, voiceover artist, and animator. It helps them with designing the background, and characters, identifying pitch, and where to take pauses in the script, and creating transitions in the animation.
Here is what a storyboard looks like.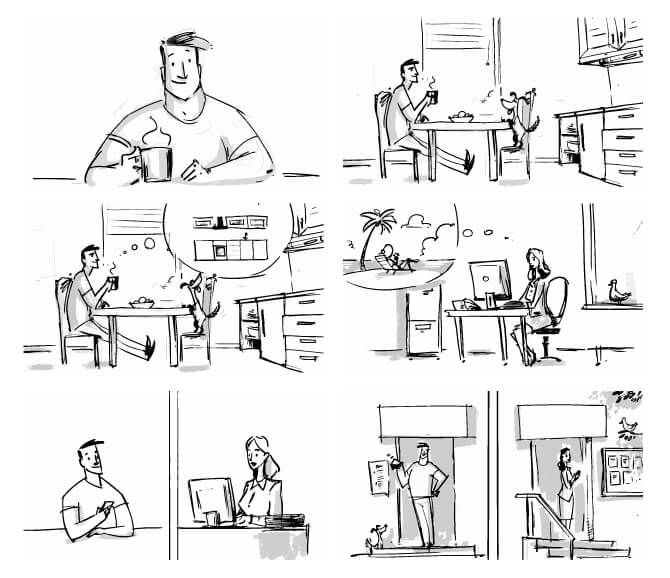 Related Article:
Voiceover
The following step is to find the right voice that makes your narrative more impactful.
Depending on which perspective of the story you are telling, you need to find the perfect voiceover artist.
If you are telling the story of a company or its founders, you can even ask one of them to give their voice to the video for a more personal touch.
However, if you only want someone to carry the story forward or tell a story that the viewers might share, then a voice artist would be the best approach.
You can find premium options for a voiceover artist using platforms like Voices and Fiverr.
Make sure you have a vision for the ideal voice of the video that makes your characters come to life with the right tone, pitch, and pace.
Related Article:
Styling
At this stage of the animation process, our designer further visualizes the story and adds style following the brand guidelines of the client.
In a way, it's like a colored storyboard with customized, professionally colored images. It also includes detailed backgrounds, more defined character designs, illustrations, and any text or icons that might be used in the video.
This gives you a much better idea of how your video will turn up.
It is relatively easy to make changes at this stage instead of after the animation. So, we make sure to run through the design with the client and get their feedback on it.
This is the stage where a lot of creative magic happens!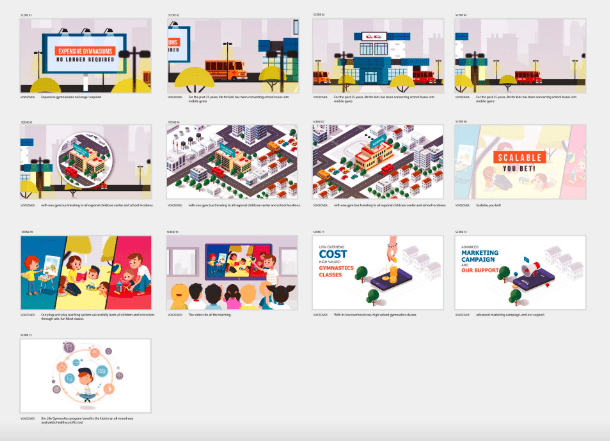 Animation
The animation stage is where you add movement to your story and make it more powerful. Finally, your 2D animation video starts taking shape.
Our animators add life to the characters, objects, and backgrounds and top it off with a perfectly timed voiceover that brings your video to the final stage.
However, the animation is a time-consuming process, so make sure you provide your animator with the creative space they need.
Sound Effects
Whether you think your video needs upbeat music, a soulful melody, or additional sound effects, this is the time to do that. This is the cherry on the cake or last-minute touch-ups stage of the animation process.
Often we use platforms like AudioJungle and Melodyloops to find the right, high-quality, royalty-free music that goes seamlessly with the overall vibe of the video.
However, if the client needs and has a high budget to pay for the professional, we can also hire a music composer to come up with an original music track.
The music is genuinely the stage that adds life to the story. It brings everything together and creates the magic it was always supposed to.
Check out how we used an upbeat piece of music for a client, to help viewers better consume the information in the video.
The secret 8th step – Create Buzz
But… there is a secret 8th stage to our animation process – generating a buzz.
At every step of our animation video production process, we go the extra mile to ensure your video stands out among the competitors and caters to the wants of audiences of that particular platform like social media channels, websites, and YouTube.
With some buzzing final touch-ups and quality assurance, your 2D animation video is ready to create an impact on your brand.
Can't wait to hire the best video animation companies? Reach us today to discuss your next amazing video.