We have highlighted all the vital information about YouTube banner sizes & dimension that helps you create a captivating channel banner to engage more audience.
Want to learn how to make your YouTube banner attractive and appealing? Keep reading this article!
We will be throwing the light at all the banner dimensions and size information to help you create an enticing and intriguing YouTube banner for your channel.
Do you remember visiting a book store and while roaming the eyes on the shelves, suddenly a book caught your eyes? No matter what the book's content or whatever topic it is covering, you just grab it and start looking at it without any thought.
The same goes with everything; if the look fancies you, you buy it (literally & metaphorically)!
This is the power of presentation and visuals; no matter what the thing is, if it catches your attention, you will move towards it.
YouTube banners act the same, if you want to attract and grab your audience's interest in your channel, then start investing creativity in your YouTube banner.
Companies and renowned enterprises are now investing in YouTube channels to gather more eyes on their business.
The statistics have stated that YouTube holds 95% of the internet users, and people watch 1 billion hours of videos on YouTube daily, making it one of the largest social media websites.
People invest their time on YouTube to get more information and watch quality content, but the first thing that catches the audience's eye is the channel banner when they visit your home feed.
In this read, you will learn how to create a perfect banner for your business's YouTube channel. In addition, we will guide you on the accuracy you will need for the dimensions and size of the banner on different devices.
P.S: Not just provide guidance, but we will also share some of the best banners examples.
So without any further ado, let's get started!
What is a YouTube Banner?
As the word explains: Banner, so, a YouTube banner is an image that you put on the top of your channel home feed, and the audience can sense what your channel is all about or what type of content they might be going to see.
YouTube calls it Channel Art, and it has quite a similarity with the Facebook cover photo or Twitter header image.
Why is a YouTube Banner Essential?
No matter what is the count of your subscriber, using a banner on your YouTube channel will benefit your brand and business. There are some significant reasons why you should create a YouTube banner for your channel:
As mentioned above, a banner is the first thing the audience sees when they visit your channel home page or home feed.
A YouTube banner allows your channel to speak your content aesthetically through photographic visuals.
It helps the audience to understand the niche of the channel.
A banner can be used as an "updater" of your channel's upcoming videos or releases.
It can help you turn viewers into subscribers, and if you are a product-producing brand, then subscribers into potential customers.
What should be the size of the YouTube Banner?
You need to understand a few things and concepts about the dimension and size of the image you might use as your YouTube banner.
2,560 x 1,440 pixels (ratio 16:9) is the recommended banner size by YouTube.
2,048 x 1,152 pixels is the minimum image dimension.
1,546 x 423 pixels is the safe area to display the text or logo.
2,560 x 423 pixels is the maximum image width.
6MBs should be the file size limit.
Now you must be thinking, why do different sizes matter? Size is the most crucial element in a YouTube banner.
If you consider these sizes, your banner will look good from the larger screen (2,560 pixels) to the smaller screen (423 pixels), if you ignore them, there are chances to lose views on your channel.
Take a look, how the recommended dimension and size will look: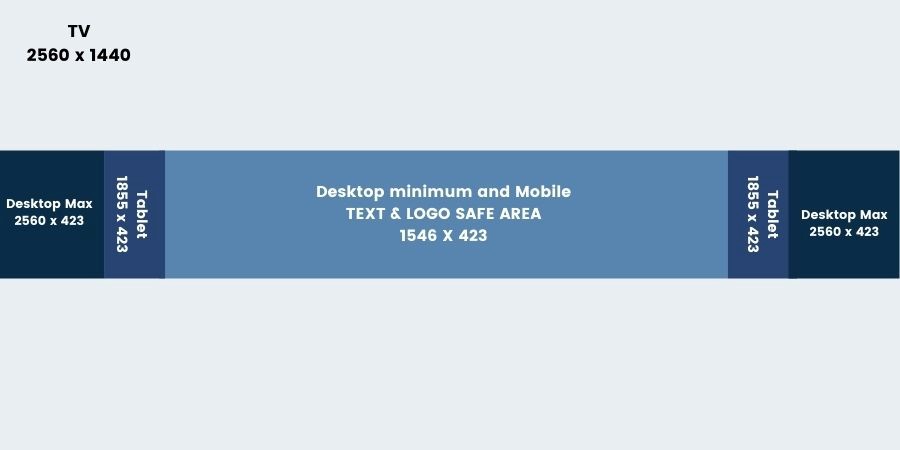 Wow! These sizes are huge!
With these size ranges, you can ensure that your YouTube banner art looks impeccable on all the device's screens.
Let's see how different banners look on other devices: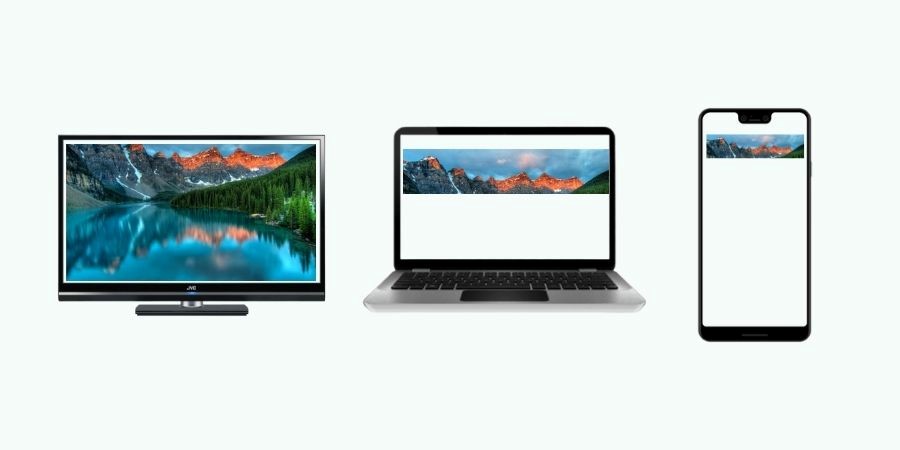 The banner image can be tricky to get in the perfect size for every device, but with the "safe area," you can ensure that the banner is in the correct position or angle.
What is the Safe Area in YouTube Banner?
Ensure that your YouTube banner is viewed optimally by your audience, you must understand the "Safe Area." If the safe area is new to you, then: Safe Area is the minimum area you need for your banner to ensure the perfect display.
If you don't want your banner to look weird to your audience, then focus on the safe area size.
Why is Safe Area for YouTube Banner Important?
The banner image gets cropped according to the display of the different devices. The safe area let the viewer easily see the vital information on the banner on every device.
YouTube also allows you to see how the image will appear on different devices when you upload it, like smartphones, smart tv, laptop, desktop, and other electronic devices.
While working with high-resolution images, make sure that the file size of your YouTube banner should be under 6MBs.
Note: while creating a YouTube banner image, make sure to save the file in either JPEG, PNG, GIF, or BMP format. YouTube approves these formats.
Tools You can use to Create YouTube Banner
You can use various art-making tools, but we have gathered two accessible and convenient tools that you can use to create appealing YouTube banners for your channel.
1. Canva
Canva – a free online image creator and editor that provides a wide range of templates to create channel banners, thumbnails, cover photos, or art.
It also has existing YouTube banner templates that you can use according to your channel's needs.

If the existing templates aren't pleasing or match the tone of your channel, you can even create or customize your own banner from the beginning.
Canva even gives you the artboard of the appropriate dimensions of the banner you want to use for different devices.
Take a look at how the interface of Canva looks like when you are working on a template: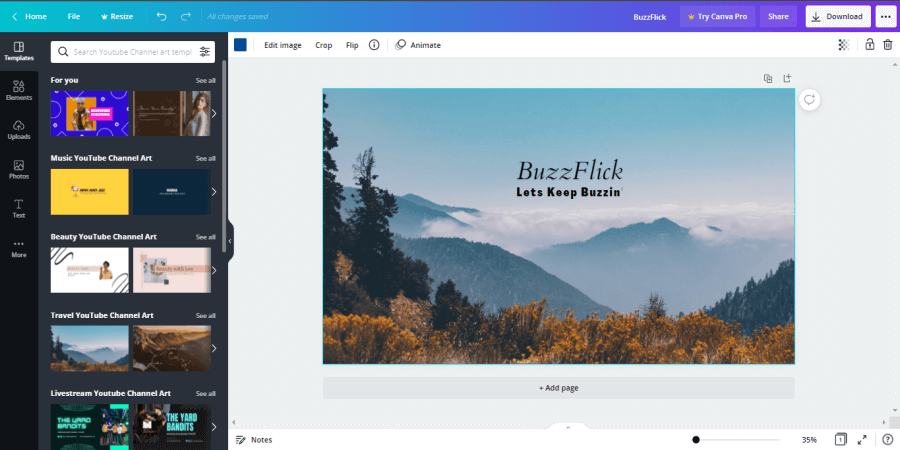 Canva allows you to set the color scheme, import icons/images, and other art elements that you want to incorporate in your YouTube banner.
2. Crello
Crello is one of the best online graphics designing tools with unique ready-made templates for quick creations.
With Brand Kit, Crello allows the user to import the relevant colors and fonts for the banner that resemble your brand, which helps to increase cohesiveness and connectivity.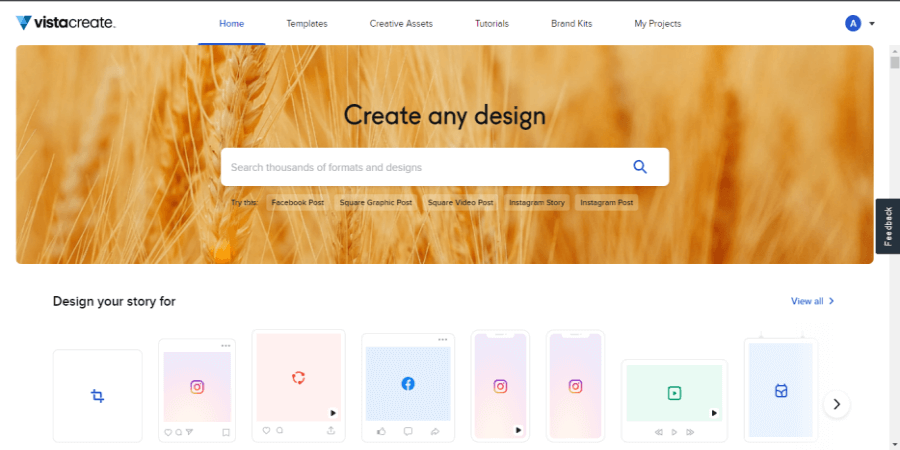 The Crello interface will look like this when you are creating a YouTube banner: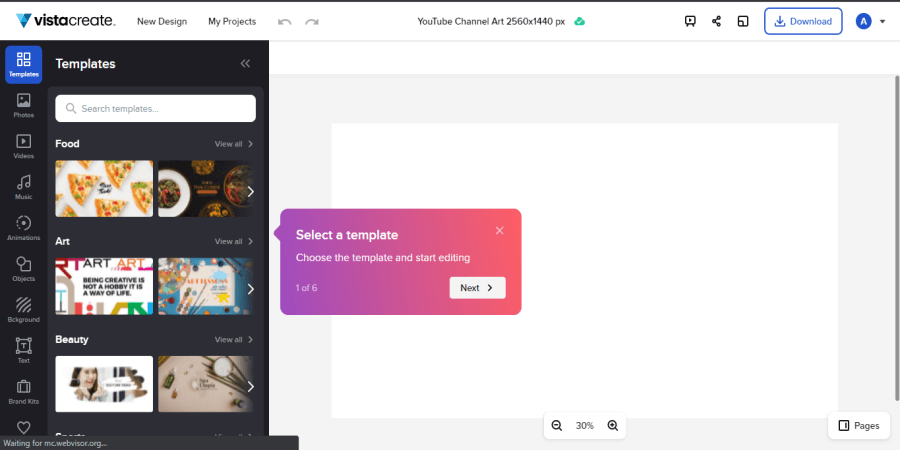 Crello allows the new users to understand the tool better with little pop-ups with tips & descriptions – a user-friendly tool.
Now you have learned the tricks of how to create a YouTube banner, it's time to learn how to put it on your channel.
How to Add the YouTube Banner to your Channel Home Feed
Instead of the written text, we have brought you videos that will teach you how to put the banner on your YouTube channel step-by-step.
If you are uploading the banner through a smartphone, follow this video:
Note: whether you are an android user or iOS, this video will guide you to get it done correctly.
If you are uploading the banner through desktop or P.C., this video will make the process easier for you:
Now your YouTube channel is ready to grab eyes toward your content. Let's shine!
Tips & Tricks for YouTube Banner Creation
Keep these best practices and tips in your head while designing your YouTube banner. Let's take a look at BuzzFlick's YouTube channel – an excellent example to learn illustration.
1. Content
The content on the banner is the 'what' aspect of your channel and video. There are a few various approaches you can take.
You may, for example, highlight your video style (tutorials, vlogs, unboxing videos) or the niches your content falls under, such as lifestyle, beauty, or design. It could also include information like your posting schedule and who your target audience is.
You'll notice that all of these things are covered in the written content on the banner above. It says:
we post once a week
that our niche is a video creation
that our style is tutorials (tips and tricks)
and that our content is geared toward creators and marketers.
Remember, this is just a sneak peek, so don't get too excited. You only want to give your audience a taste, something to nibble on that piques their interest.
2. Exhibit Your Brand as A Super Hero
Use fonts and colors that represent and resemble your brand's overall look, which should also be reflected in your social media presence.
You can also add your brand or company's logo and other assets to give more of a corporate or business-y look to your banner.
3. CTA – Call To Action
The main goal is to get your targeted audience to check out your video content and subscribe to your channel.
Click on 'Basic info' on your Dashboard to get to this page:
You can select how many and which platforms you want the banner to appear on, following which you can enter the URLs for your profiles and handles.
If your audience enjoys watching your YouTube videos, they'll probably appreciate consuming your social media content and keeping connected as well.
You can convert your most devoted YouTube subscribers into social media followers and enhance brand engagement by including social media handles and icons in your YouTube banner.
5. High-Resolution Image
It is not complicated, but the most important and fundamental rule!
Create high-resolution images!
The high-resolution images let your viewers know that you are an expert who knows what you are doing. It also gives a creative impact of the company to the audience.
Excellent YouTube Banner Examples for Inspiration
It's time to start thinking about designing!
Now that you have the dimensions, file sizes, and general rules for your YouTube banners, but to get you started, you need inspirational banner ideas.
Don't worry! We have a list of some brilliant YouTube banner examples that can help you do creative thinking for your channel's banner.
These banners are some of the most inventive and influential examples!
· Food Insider
Food Insider has designed a banner for their YouTube page that features a sequence of wonderful food slices from their YouTube stories.
Five enticing peeks (from delectable desserts to a massive burger) are separated by turquoise-colored stripes that match their insignia on the banner.
It's a good reminder that the art on your YouTube channel is part of your overall brand. Even on social media, stick to your brand's requirements.

· Gunnarolla
Gunnarolla is a world-traveling vlogger, internet personality, and producer that creates amusing short videos and music that showcases his unique (and hilarious) point of view on life.
Gunnarolla uses his photo with a logo and text overlays for his YouTube channel banner. His banner features his emblem, which is focused on a picture and a list of his interests, which include music, travel, food, and life.
Remember, he's not like a global company or some prominent enterprises, but Gunnarolla cleverly explains what his channel is all about to his audience.

· Refinery29
One of the most innovative and captivating pieces of art we have seen is on Refinery29's YouTube channel banner.
Instead of copying their logo featured on the home page, they went with a completely new approach.
They created a block letters rendition of their company name, "Refinery 29," using photographs from their homepage and video footage.
It's like gazing through a window at the Refinery 29 YouTube channel to see what's going on behind the scenes, but only getting glimpses of the happenings – it built the curiosity for the audience to watch the videos on the channel.
Undoubtedly, what a fantastic idea!

· GoPro
If you are an outdoor or wild sports enthusiast, you must have heard the name of GoPro Cameras. Our next and final example is from GoPro's YouTube channel.
The best panoramic shot of a surfer catching a monster wave is displayed in a banner on GoPro's YouTube account. They're all about aspiration. There is no overlay to speak of.
There aren't any photographs squished together to give you other views. Just a single lengthy and stunning GoPro shot.
The branding on the photograph is reduced to a minimum, enabling the magnificent shot to take center stage.

An Advice
All above is the work of an expert, and to give a professional look to your YouTube banner, you surely need professional assistance.
But don't worry, we have already found you the perfect match that can help you create and design top-notch and out-class banners for your channel.
Introducing BuzzFlick!
BuzzFlick is one of the USA's leading video animation studios. The studio has expertise in various video pre-and post-production services, including:
Video/Photo animation
Explainer video
Video/Image editing
Post production services
The studio offers the best video and image designing at an easy price. So don't waste your time, contact now!
A YouTube banner is an image or cover photo that you put on the top of your channel home feed (as a header) that helps the audience understand what your channel is all about or what type of content they might be going to see.
What will be the cost of designing a YouTube Banner?
The price of a YouTube banner depends upon the size, resolution, and type of the image. If you want to put a simple photographic image, the price will be different, and if you go for an animated banner, the cost will vary.
It also varies from production company to company.
Related Article: