According to the statistics, 885 visitors stay longer on Facebook pages with cover videos. Ready to invest in one? Read our guide to learn about them in detail.
Did you know that you can now create a video cover for your Facebook page in a matter of minutes? And that by doing so, you can boost your page and attract more fans and shares? Indeed, it's true.
And with this post, I will lead you through the fundamental processes of creating a cover video for your Facebook page, as well as explain the rationale behind such a procedure using the most recent data and, of course, some real-world examples.
Importance of Video – (Facebook Cover)
According to a recent poll, 60% of customers view branded videos on Facebook on a daily basis, and 64% indicate that Facebook videos have affected their purchase decisions within the last month. This indicates that video material is highly popular on the most popular social networking platform currently available.
However, prior to creating and publishing videos, one of the first things to do is to make your page more video-friendly. Obviously, this method permits you to make a remark to your audience.
Where does one begin?
You start with your profile photo and a page header. If you want to add some glitter and sparkles to your profile, then go for an animated profile image or cover.
What is a Facebook Cover Video?
A Facebook cover video is a small video that shows at the top of your Facebook profile. The cover video is complemented with your profile photo, which for company pages, is typically a logo. Facebook cover videos allow you to speak more about your business without the visitor having to actively seek it out.
Facebook confirmed that all pages have the facility to upload a cover video. All cover videos are public, so anybody who visits your page will be able to see them.
What is the Need for a Facebook Cover Video?
More so than a Facebook cover photo, the Facebook cover video is the first thing that viewers see when they visit your profile. Videos will aid in conveying your company's message to new visitors in only seconds.
To be in the limelight
A brief video is far more effective than a static image in capturing the immediate attention of consumers. Typically, the duration of a video is between 20 and 90 seconds. It is akin to continually looping a short advertisement.
Use a bright color, clear lines, and plenty of white space so that each image is aesthetically appealing and your website seems professional.
To increase the user retention rate
If you want to enhance engagement and maintain visitors to your Facebook page, try adding a cover video that automatically plays whenever a person visits your page.
Compared to a static image, a cover video encourages longer visitor retention. 88% of visitors linger longer on Facebook pages with cover videos compared to those without videos.
To make a lasting impression
Cover videos on Facebook are an amazing method to generate a favorable first impression in a matter of seconds. The cover is the first thing that visitors to your website will notice, and you can utilize it to encourage them to remain a bit longer.
To showcase your unique products and services
Do you like to provide the new consumers with an overview of your products and services? Putting them front and center on your Facebook page is an easy approach to informing visitors about your offerings.
Have you featured the cover video on Facebook? If not, you will probably receive it shortly. Typically, the newest pages with the fewest followers gain access to the most recent features last.
To introduce your talented team
Take your audience behind the scenes of your business to demonstrate the culture and ethical standards of your organization. This is another method for attracting potential clients and establishing a relationship that leads to sales.
Facebook Cover Video Specifications for 2022
Making a video cover for your Facebook profile or business page is a great idea. However, there are certain rules and regulations that you need to abide by in order to upload your Facebook video cover successfully.
Let's a brief look at those specifications:
Size
Facebook does not specify the size of the cover video, although it should be less than 1.75GB. When uploading the video, bear in mind that reduced file size will enable people with poorer internet connections to view the video more quickly.
Dimensions
The minimum dimensions for a Facebook cover video are 820 by 312 pixels, but for optimal effects, the video should be 820 by 462 pixels. This will be the resolution at which your Facebook banner will be displayed.
Length
The length of an animated Facebook cover video should be between 20 and 90 seconds. Videos and animations that are too short or too long will not be allowed.
Format
The video cover resolution should be 1080p. Thus, you must make a video/animation in mp4 or.mov file in full HD. The resolution is not required; however, it would improve the overall appearance of your page.
The amazing thing about these videos is that they begin playing automatically. The auto-play feature is nonetheless muted, so it will not be obtrusive to your site's viewers. Ensure, however, that the text makes sense without the audio.
How to make Facebook Cover Video Online
Now that you understand the technical details, it is time to create your own dynamic Facebook profile photo or banner.
And, guess what? We'll be using an online video creator for this tutorial- Creatopy.
Creatopy is home to one of the greatest Facebook profile video creators. Yes, you can produce a Facebook cover video in only minutes with this remarkable and user-friendly application. What else you'll need? Nothing right?
So, let's walk through the procedure step by step:
1. Create your account and log in
Create a Creatopy account if you don't already have one, then log in. After that, you have the choice of creating a single banner or a whole group of banners.
Since we are just working with Facebook, I will pick the single banner option for the sake of this tutorial. However, it is important to realize that with Creatopy, you can automatically generate banners for all major social networking networks.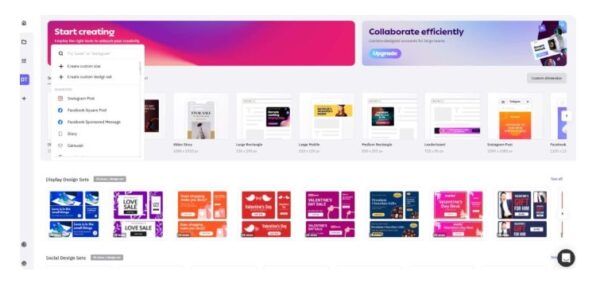 Therefore, if you want to advertise or sell your business on several platforms, you should pick this option and save time by having the app change your designs for all shapes, sizes, and formats.
2. Get into the app
Utilize the search box on the left to locate the appropriate Facebook Video Cover size. Now you can begin your work in earnest and create your banner.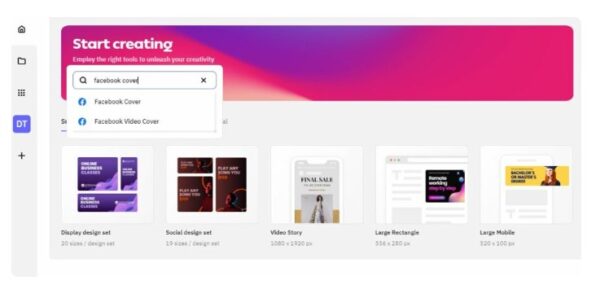 Creatopy provides an abundance of stock videos, buttons, and forms. However, if you have certain design components in mind, you can submit them to your account.
3. Create your Facebook video cover
Choose a video straight from their library of stock videos, which you can find in the Elements area, or add your own video for further customization and make a stunning Facebook cover.
Using Creatopy's Timeline, you can always cut the video to match Facebook specifications.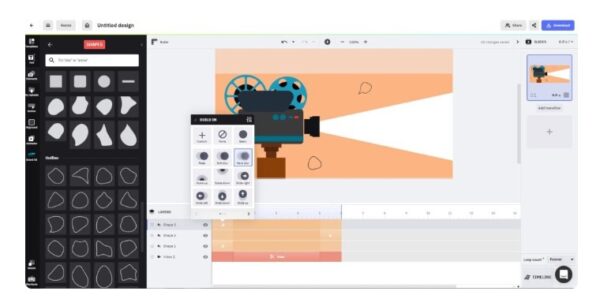 Once you visit the Timeline area, you'll find that you can add and animate more components to your Facebook cover video.
As shown in the above image, there are several transitions and animations from which to pick.
Additionally, there are a variety of typefaces, shapes, and buttons that can be animated to make the design even more lively.
4. Preview and download
Once you are finished, you can preview your Facebook video cover and then save it as MP4 or GIF, though we recommend MP4 to preserve the beauty of your design.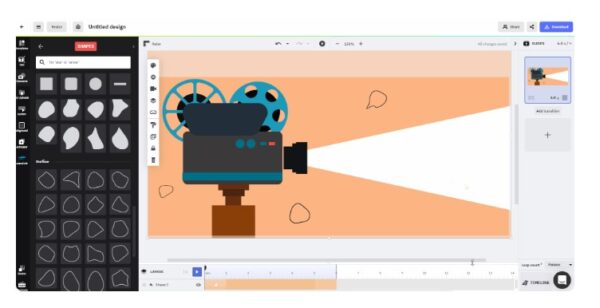 Recommended Readings:
How to upload a Facebook Cover Video
Follow these steps to add your newly-created Facebook page cover video:
Step 1: You must first upload the video you wish to use as your cover to your Facebook Page. To do so, navigate to your Page and click Videos at the top of its timeline.
Step 2: Click the Upload Video option and choose a video from your computer.
Step 3: Add a video's title, description, and tags. To add additional information to your video, click the sections in the right column, followed by Next and Publish.
Step 4: Click Edit in the bottom-right corner of your Facebook Page's cover image or video section.
Step 5: Choose the uploaded video from the drop-down menu titled Choose from Videos.
Step 6: After selecting your cover video, adjust it such that the portion you like to be in the center is in the middle. You can set the video by dragging and dropping, then clicking Next.
Step 7: Add a thumbnail image to your video before publishing it. Utilize the left and right arrows to navigate through the collection of suggested thumbnail alternatives for your cover video.
Step 8: Click the Save button.
Additional Tips to Create the Picture-Perfect Facebook Cover Video
To make the most out of your Facebook cover video, take a look at some of the additional tips to get your video cover right:
Pay attention to your target audience
Consider your target when deciding what type of cover video to create. Think about how to convey your brand's essence and what situations would help viewers grasp your message immediately. Once you have gained knowledge, open any online editor and begin producing.
Keep it simple and concise
You can upload up to 90 seconds of video, but it does not necessarily mean that you should. Try not to include too much information in the video. Highlight the essential elements in an approachable manner, and try to keep them as concise as possible.
Include a Call-to-Action
At the conclusion of your cover video, encourage viewers to try out your service, visit your website, redeem a voucher, or any other applicable CTA based on the content of your video.
Ensure the message is visible
Your video can be trimmed to accommodate various screen sizes. Ensure that your message is always visible by maintaining the text in the video's center.
Utilize audio effectively
Audio can enhance the immersiveness of a video, but it should not be so loud as to distract viewers or cause them to quit watching.
Add subtitles
You should be aware that cover videos play without audio by default, and the user must unmute the video in the lower right corner. If you are using a talking-head video or any other sort of video that includes voice, you should provide subtitles.
Facebook Cover Video Ideas
Still unsure of what cover video to use? Test out these video concepts:
Product Demo – Cover videos are ideal for demonstrating the functionality and efficacy of your items.
Tour Your Location — Provide a brief visual tour of your business's location and operations, highlighting its best features.
Screencast – There is no better method to educate customers about the software you're marketing than by seeing it in action.
Promo Videos – Repurpose a promotional video and resize it to the correct dimensions for the cover video.
Video Menu – If you own a restaurant or cafe, you can use a video menu to show clients what you offer and to emphasize your most popular items.
Animated Logo — If you are still undecided, keep things simple and use an animated version of your logo and tagline. Animated logos are far more captivating than static ones.
Portfolio– Instead of using a single image or a collage in your portfolios, consider using a simple transition. Any service-based business can easily benefit from this.
What are the Best Facebook Cover Video Examples?
It is crucial to know how to address consumers in as many ways as possible, regardless of your sector.
National Geographic's Facebook cover, a simple yet compelling video of animals, has made it to the top of our list:
When considering social media, it is impossible to overlook Hootsuite, a prominent player in social media marketing. They are competent, and you can always learn from the greatest. Take a look at their Facebook profile and its animated cover, which is simple but appears professional:
You can also combine photographs and videos to create a slideshow for your Facebook video cover. Consider, for example, this stunningly animated collage created by a Photographer who displays some of her work on her Facebook cover:
Marvel Studios is another excellent example of a corporation that shows some of its finest goods. In this instance, the video cover includes a little preview of their most recent Ant-Man film:
Certainly, it is possible to create animated banners that communicate in a few seconds who you are and why people should select your services.
Wave, a popular software for social media marketers and advertisers that facilitates the creation of video advertisements, is an additional excellent example in this instance.
You can also give the audience a sneak glimpse into your office, or, if you're promoting a public venue, some of the features that you believe would draw them. This example from the Metropolitan Museum of Art in New York is both motivating and effective in demonstrating what the venue is all about:
Are you promoting an outdoor resort or a breathtaking location that must be seen? Demonstrate to the audience why they should reserve your venue. This lovely Facebook video cover was produced and disseminated by One&Only Resorts to provide inspiration.
Here is another illustration of how SVGator, an internet product, presents its new features.
Or, if you want to boost your online brand using Facebook video covers, you can promote your personal brand. Here is an excellent example from Mari Smith:
The most recent example on this page is from a page that belongs to the University of Michigan.
This video provides a virtual tour of the campus's facilities, including the stadium, parks, buildings, labs, etc. A simple, effective, and expertly edited video that motivates the viewer and gives him an excellent introduction to the institution's many attractions.
Want to Get a Customized Facebook Video Cover? – Hire BuzzFlick
After seeing the above examples of Facebook video covers, you must be feeling excited to get one for your profile or brand page.
Trust me, it's a great approach if you want to grab the attention of your audience instantly. We have taught you in this blog how to create a video cover for Facebook on an online platform. However, if you want to go out of the box and get a customized video cover, then we are here at your service.
As one of the best corporate video production companies, BuzzFlick offer outstanding video animation and production services to brands and business.
Whether you want 2D or 3D animation services, video editing services, motion graphics services, or NFT design services, we are offering all of them.
We have a dedicated team of video producers and animators who're currently working on social media video projects.
Want to witness the amazing projects we have worked on so far? Click here to view our portfolio.
Facebook Cover Video FAQs
The following are some frequently asked questions regarding Facebook cover videos:
How long should a cover video on Facebook be?
Your cover video might range in length from 20 to 90 seconds, but it is essential to capture the interest of your page's visitors within the first few seconds.
Can I add a cover video to Facebook?
To determine if you can post a cover video, visit your Facebook profile and hover your mouse over the cover image. Click the Cover Change button. Adding a cover video is possible if the drop-down menu contains the options Choose from Videos or Upload Photo/Video.
Do Facebook Cover video play on mobile devices?
Facebook cover videos can be viewed on all mobile devices.
Who can view the video of my Facebook cover?
Your Facebook cover video is public and viewable by anybody who views your profile.
Can I delete my Facebook cover video?
You can remove your cover video, but it will remain in the video collection of your Page. There, you can opt to delete it.
How much will a Facebook video cover cost?
A Facebook video cover can cost you around $90. If you want to know much an animated video cover can cost, then do give a read our guide on the cost of animated video.
In Essence
I am certain that from the outset, you are considering how to develop the finest possible Facebook video cover. Videos and animations are the newest social media trend that you can no longer ignore if you have access to a technologically aware population.
We've shown throughout this post how simple it is to make an animated banner; we've gone through the process and provided technical information that will undoubtedly prove useful.
If you want animated video covers for Facebook, don't be shy and ping the video experts of BuzzFlick- one of the best Houston animation studios.