Want to create educational videos for your YouTube audience? Read our blog to learn how in 5 simple steps, you can create YouTube educational video.
In recent years, YouTube has emerged as a convenient and free resource for learning. You can find a wealth of useful tutorials on YouTube for just about every subject imaginable.
The most practical method to make your educational videos on YouTube stand out now is to improve the viewing experience for viewers. This blog post will provide you with detailed instructions for accomplishing your goal.
Types of Educational Videos to Create on YouTube
Making educational videos for YouTube can be done in a variety of ways. There is no rule that says you have to watch the same kinds of videos again and over.
Finding a video format that effectively communicates your message to your target audience, however, should be your first priority.
In terms of YouTube views, "The Life-changing Self-Education Video by Sandeep Maheshwari" stands out as the clear frontrunner. As of August 2022, it had over 64 million views.
This is a tape of a speech he gave once in person, and its format is beyond the abilities of the vast majority of its viewers.
With numbers taken out of the equation, let's explore some examples of simple, results-driven YouTube educational videos:
Instructor-led videos
Animated videos
Screencasts
Mixed Media
Whiteboard videos
Presentation recording
Delivery of information through animated characters or sketching on a whiteboard can have the same impact. Here are some great sites to check out if you're interested in learning more:
A Mixed Media video, as the name suggests, combines many forms of videos into a single presentation. If you have a complicated subject to cover, this can be the way to go.
Experts in a certain field typically prefer instructor-led videos to any other type. High-quality videos can be produced with the aid of webcam recording software if the creator is well-versed in the subject matter. There will be a further discussion following this.
Please take into account that educational videos might be used in settings other than a classroom. It doesn't have to be related to something learned in school.
Making videos that teach others how to accomplish anything, whether it's something simple or something sophisticated, is a noble endeavor.
Points to Keep in Mind Before Creating Your Educational Videos
So, are you ready to create an educational video? Wait a second. Do you have a plan in your hand on how you have to go about it?
Before you jump into the process, take the following points into consideration:
1. Determine your video objectives and goals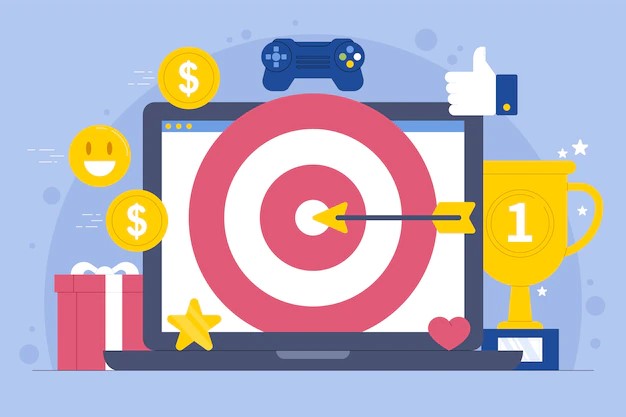 Establish your goals before beginning to write up the screenplay for the educational video.
This has a direct bearing on the call to action (CTA) that you included in your YouTube video (and before you ask, "Like, comment, and share this video; Subscribe to our channel, Press the bell symbol for more such videos…" is not the sole CTA included in every video).
You have the ability to lead the viewers of this video to your owned assets if you have an online course, an e-book, consultancy services, or a community. Define the purpose of the video before you make it, and that will serve as your major call to action.
2. Pay attention to the video length
If you are just starting out on YouTube, it is recommended that you begin by uploading shorter videos because shorter videos perform far better than longer videos.
10 minutes would be the perfect duration for this. Always keep in mind that just because videos are kept brief does not imply that the quality of the video has to suffer; rather, it means that they should be kept snackable. This brings up the following point, which is as follows.
3. Explain complex topics through video series
Educational videos frequently cover difficult subjects, which necessitates the creation of multiple videos to cover the material adequately. You can now make "Playlists" by compiling multiple episodes of this series into a single video. Your channel will be easier to find as a result of this.
4. Choose one topic at a time
When you're making videos on a difficult subject or one that you have a lot of interest in, the temptation to talk about a lot of different things will be strong.
However, videos uploaded to YouTube should have a single objective: to provide value to viewers, to educate them, and to keep your channel at the forefront of their minds as the destination for additional video content.
A Complete Roadmap to Create Educational Videos for Your YouTube Audience
This roadmap will tell you how to stand out from the crowd while creating educational videos.
1. Get to know your audience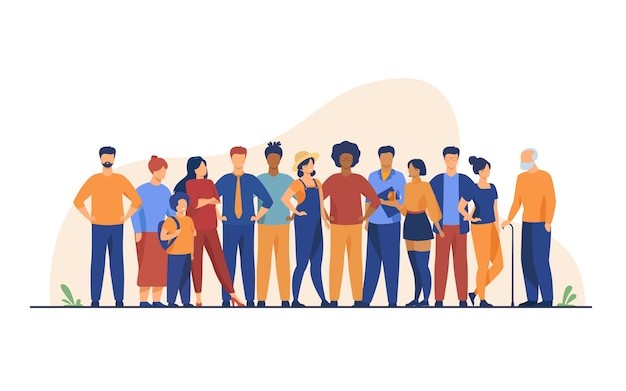 Understanding your audience is the first and foremost step of this process. If you want to understand your audience, you need to pay attention to the following:
Your regular visitors
Individuals who interact with your content on YouTube and other forms of social media,
The amount of time spent watching
The percentage of viewers that exit your videos
This will provide you with an idea of the types of things that your audience might like seeing on your channel.
2. Choose the video type
There is a wide variety of choices available. After coming up with a variety of content ideas for your channel, the next step is to organize those ideas.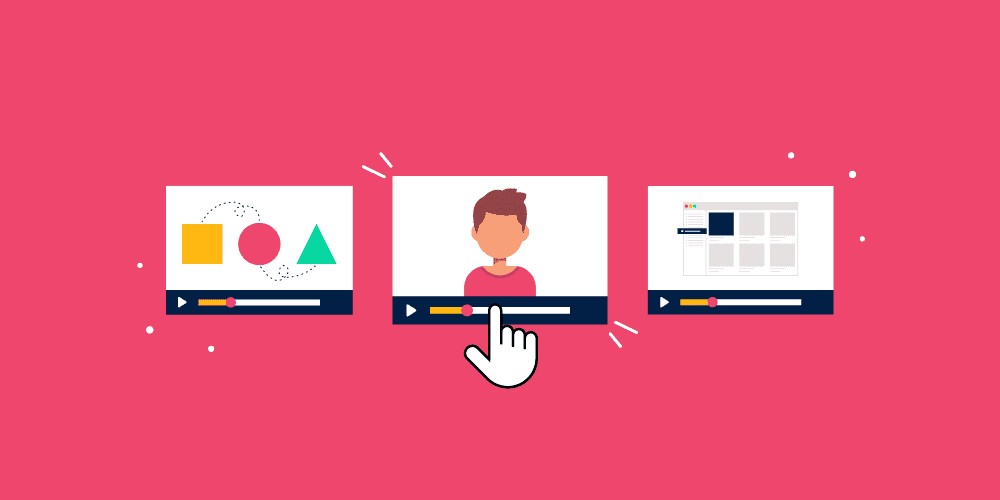 Source: Wyzowl
You need to organize your ideas according to the kinds of videos you intend to make in the future. This will assist you in organizing the script and getting the video production started.
P.S.: Going with an animated educational video is a great idea. As a prestigious video animation company in the U.K., we have experts who can create professional educational videos for businesses.
3. Create the storyboard
In the process of making videos for YouTube, creating a storyboard entails nothing more than outlining a plan that will serve as the structural basis for your video script.
It makes it easier for you to organize the video script in a way that your target audience will comprehend and allow them to give you their full attention.
4. Choose the right set of tools
Choosing the appropriate tool is the most important step in producing a video that not only looks beautiful but also accomplishes what it set out to do.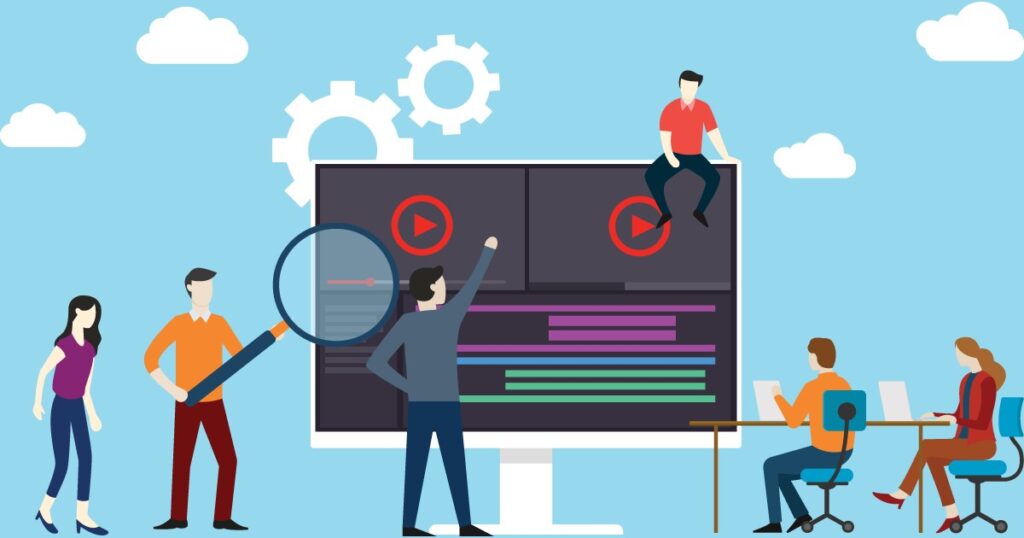 A tool that would make the process of creating video content easier for you. In short, get your hands on a useful instrument on which you can rely.
The tools for creating material on your own are also available for this purpose. You can select the sort of video you want to create and the video editing tool, then get to work.
You can choose tools such as Vmaker Author (Animaker + Vmaker) to create a video that is the ideal combination of animation and screencasts if you decide to go with the mixed media video type, which is the type of video that is in the highest demand.
You have the option of recording either your screen, your camera, or both with Vmaker. Creating videos with an instructor leading them is a breeze with this method.
In addition to this, the video suite offered by Vmaker comes with a feature-rich editor that enables you to produce mixed-media videos and edit them in a matter of minutes.
Also, Vmaker is used by most of the YouTube video animation services providers because it's a versatile tool and offers plenty of features that most of the software doesn't offer in the industry.
5. Now create your videos
If you've made it through the first three steps successfully, the fourth and final steps won't be as challenging for you.
After making your selection of the tool to use and the type of video to create, all that is left to do is press the record button.
If you have decided to go with the instructor-led videos, then you will have the ability to record yourself using the webcam as you guide the students through the presentation or screen that you are sharing with them.
So, if you're going to create a mixed-media video, then here's what you need to do.
Sign up for Vmaker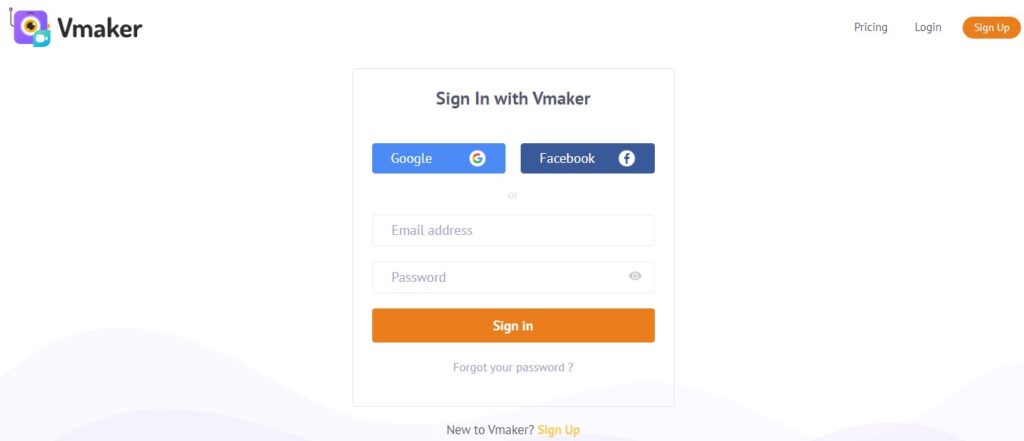 The best online video maker you can go with to create an educational video for your YouTube audience is Vmaker.
Just go to www.vmaker.com & sign up for Vmaker. Once you do, you can download Vmaker for
Mac
Windows
Chrome Extension
Choose your style and begin recording: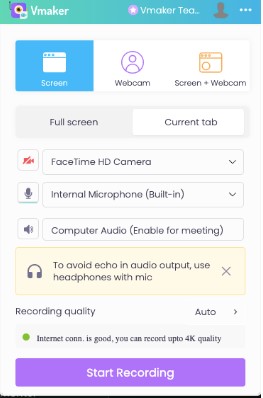 You have the option of recording your video using either your webcam, your screen, or both. Vmaker is able to record both the internal and external audio without any hiccups, which is useful if your instructional video involves the playback of media.
Download, organize and share your video: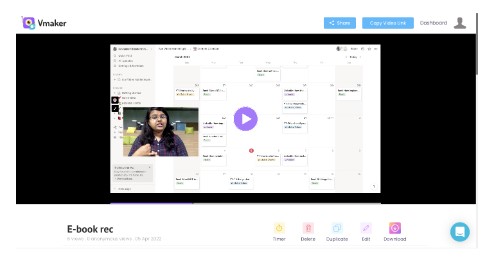 When you're done recording, the video will be uploaded to the cloud immediately afterward.
After that, you can give the project a new name, arrange it in folders, collaborate on it with other people, or even save it to your computer for later use.
In the event that you want to create a video that combines different types of media, you can download the recording that was made with Vmaker and then use Animaker to quickly add animations to the video.
Add some animations: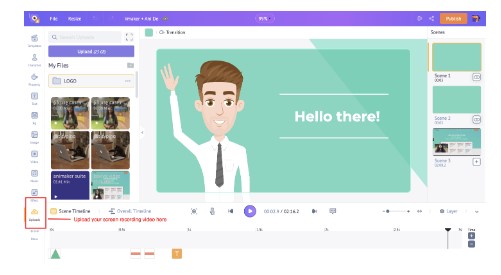 You can now sign in to Animaker using the same email address you use for other services. After that, choose the animation demo that best suits your needs.
When you have it, navigate to the Uploads tab on Vmaker, and then upload the screen recording video you made with that program.
After you have sent the video of the screen recording to Animaker, the final product of your project will appear as follows:
The video will be shown on the Scenes Timeline in the same manner as depicted in the image below.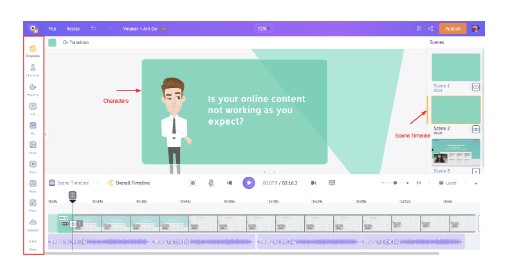 You are free to rearrange the scenes and put together your video in any way that you see fit.
Add finishing touch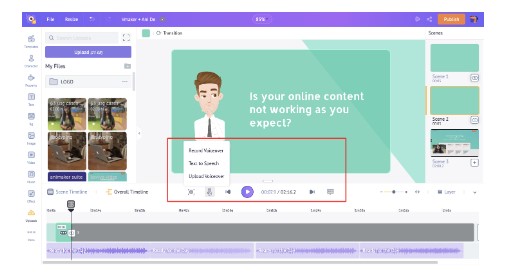 Within ten minutes or less, you'll be able to import videos, create animations, and record voiceovers with the use of a web application.
You have the option of including a voiceover commentary for specific segments of the video right here:
You have the option of either recording the voiceover yourself, having the text converted into speech, or uploading an external file that has a voiceover.
Your video is ready to share
After you have finished making the video, you can either choose to download it and then post it to your YouTube website, or you can choose to share it straight from Animaker. There are many choices available to you, but ultimately the decision is up to you.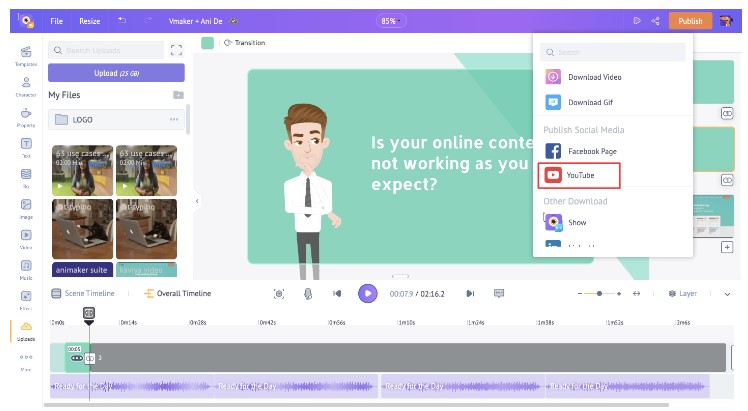 Voila! It is not necessary to prepare a lesson plan that requires a number of hours of hard work and commitment in order to create educational videos.
You can increase the number of people who like and share the videos by utilizing the appropriate tools and planning ahead of time.
P.S: If you want to create training videos, then you can hire any training video production company. We have covered some of the best ones in our blog so ensure to check it out.
In a Nutshell
Creating educational videos for YouTube audiences is quite simple. All you need is to understand your audience properly and comprehend how the information you are providing will be helpful for them.
If you think using an online tool or software cannot deliver quality video, then you can always look for any video production company that offers educational video production services.
Just to inform you, we also create educational videos for businesses. If you have any ideas in your mind, then feel free to share them with us.
Educational Videos for YouTube Audience – FAQs
Which educational videos are most viewed on YouTube?
Following are the videos with the most views on YouTube:
Research-Backed Strategies for Better Classroom Management
Most People Don't Know How Bikes Work
Why are cockroaches so hard to kill?
Why Being 'Environmentally Friendly' is a Scam
The Backwards Brain Bicycle – Smarter Every Day 133
How can you get more views on educational videos?
However, creating a professional video with millions of views is not simple.
Here are some things to keep in mind:
Include a quotation, a joke, or some statistics to make your introduction intriguing.
Just be yourself and act naturally.
Focus on the fundamentals.
Use examples.
Thank the audience for viewing the video.
Can I upload educational videos on YouTube?
YouTube is an irrefutable platform for educational video material, regardless of whether you are a private business, a teacher, or an entrepreneur seeking to educate your audience.
Your videos can be a tutorial, product explanation, explainer, or informative.
How much will an animated educational video cost?
Generally, an animated explainer video price starts from $2,500. The same goes for an educational video. However, if you want to add some characters, then the price can increase.
Other Useful Blogs: