YouTube is home to millions of people, and if you want to grow your YouTube channel and learn how to post a YouTube video, this article will help you out.
Are you thinking to create a YouTube channel? If yes, then let us inform you that it is the best decision you will be going to make to increase your business potential and brand awareness online. YouTube is the most visited social platform after Facebook and its content is totally video based.
According to Statista, YouTube's content was accessed by over 2.56 billion users worldwide by November 2022. Not only this, global YouTube usage is likely to be increased by 263 million users in 2023.
Keeping in mind the significance of YouTube videos, we are here with a detailed guide on how to post a YouTube video. This article will cover all the details you need on how to make a YouTube post using a desktop or mobile. In addition, we will share some useful YouTube video publishing tips to help you grow your channel.
How To Post A YouTube Video: Step-By-Step Guide
Posting on YouTube is quick and easy and there is no rocket science involved. YouTube's UI is really intuitive and you will only require a few clicks to complete the video uploading process. We will discuss how to make a post on YouTube using a desktop and how to post a YouTube video using Android or iPhone in the steps below.
What Video Formats that YouTube Supports
Before you learn how to post a YouTube video, let us inform you about the video formats YouTube supports. YouTube is fairly intuitive and YouTube supports a wide variety of video upload formats making it easy for you to run your YouTube channel. These formats are listed below:
MPG
MPEG-1
MPEG-2
MPEG4
MP4
MOV
AVI
MPEGPS
WMV
FLV
HEVC (h265)
ProRes
CineForm
3GPP
WebM
DNxHR
How To Post A YouTube Video Using Desktop: Step-By-Step Guide
Most video productions take place on desktops, so marketers often use desktops to upload YouTube videos. Here are some simple steps to follow to upload a YouTube video on the desktop if you are wondering how to post a YouTube video:
Visit www.youtube.com in your browser and sign in to your account. Create a YouTube account.
Now sign in to your YouTube Studio.
In the top right corner, click on the "Create Icon" (The icon with a video camera).

The dropdown menu will have options of "Upload Video", "Go Live", "New Playlist", and "New Podcast". Just click Upload a video.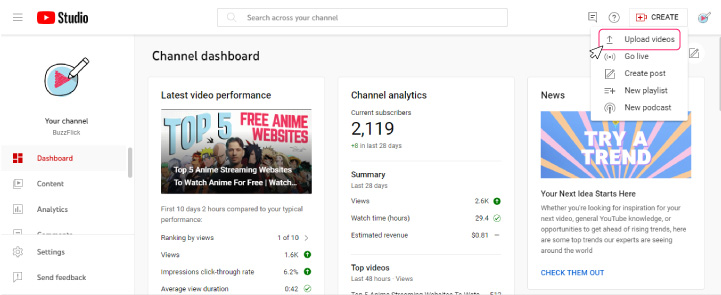 There will be a pop-up menu now on your screen having two options of "Drag And Drop Video Files To Upload" and "Select Files"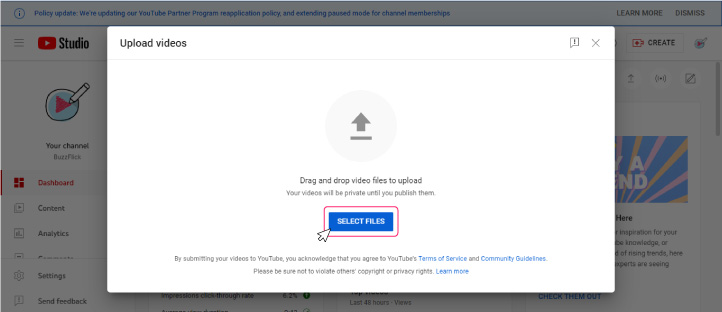 You can use both options to upload your videos. For multiple video uploading, you can use the "Select Files" option to upload up to 15 files. Select the files you want to upload and start uploading.
Do not forget to click "Edit" on each file to set your video details.
While the file is uploading, enter descriptions and other information about the video. Write the video name, video description, or enter the relevant links.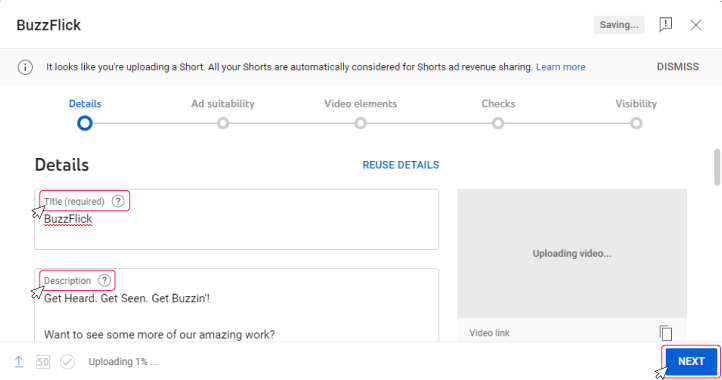 Upload a thumbnail for your video, select your video playlist, and if the video is suitable for children, identify it.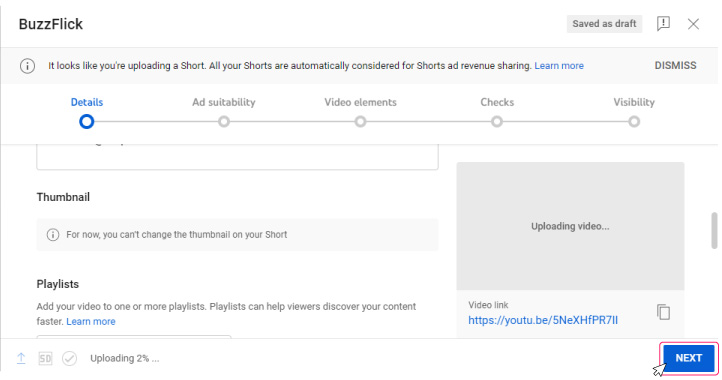 Please click "Next" once your video has been uploaded.
Now add any elements of the video like subtitles, and related content you want to include.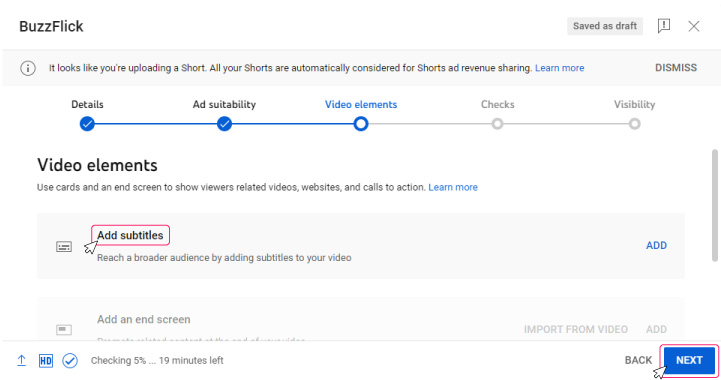 Now click "Next".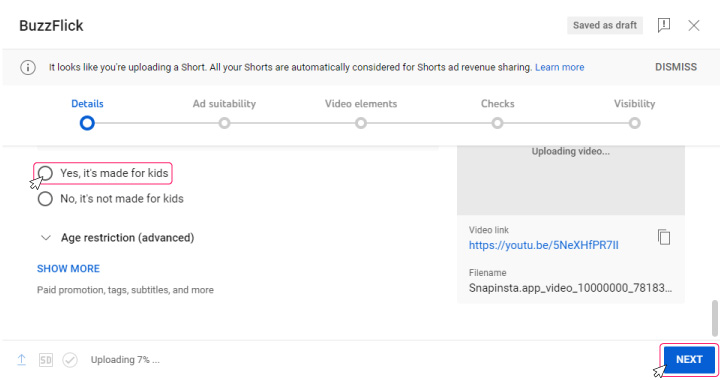 Now YouTube will be checking your uploaded video for any copyright issues. And once the checking is completed with no issues you will be notified through a pop-up that says "Checks complete. No issues found." in the bottom corner.
Now again click "Next".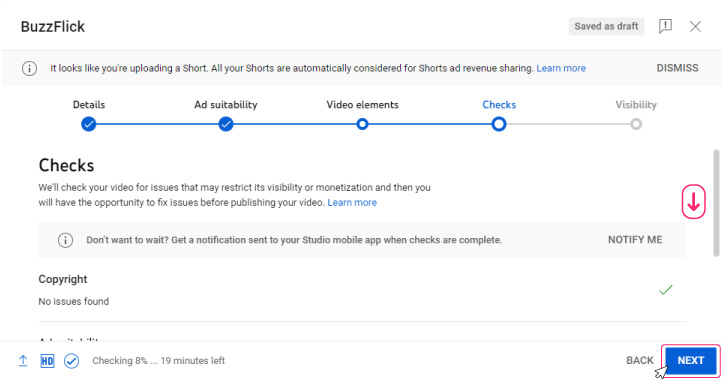 Finally, the process of YouTube video uploading is complete. Click "Public" and then click "Publish"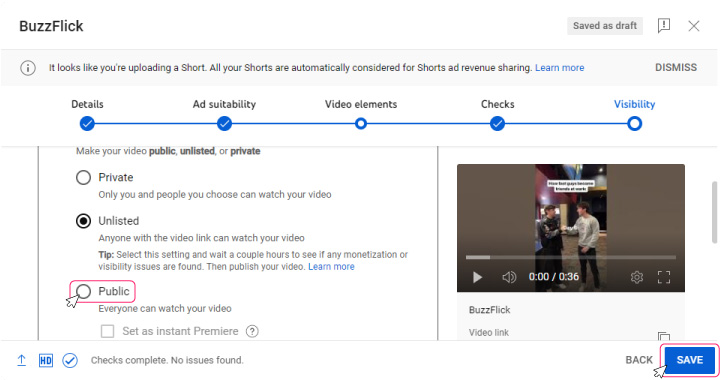 You can also schedule video publishing if want to publish it later by clicking "Schedule" and choosing the time and date.
That's how you post a video on YouTube video using your desktop in easy steps. But if you do not have time and want to outsource your YouTube channel management, BuzzFlick is here to help you out. Get in touch with us to get your problem sorted.
Get In Touch For High-Quality YouTube Videos
How To Post A YouTube Video Through Your Smartphone: Step-By-Step Guide
YouTube facilitates its users in every way possible and you can upload your content or YouTube video on mobile while you are on the go as well. The YouTube publishing process is even easier on smartphones. Here is a step-by-step explanation of how to post a YouTube video using a smartphone.
If you do not have a YouTube app, download it from Google Play Store or Apple App Store.
Sign in to your YouTube account.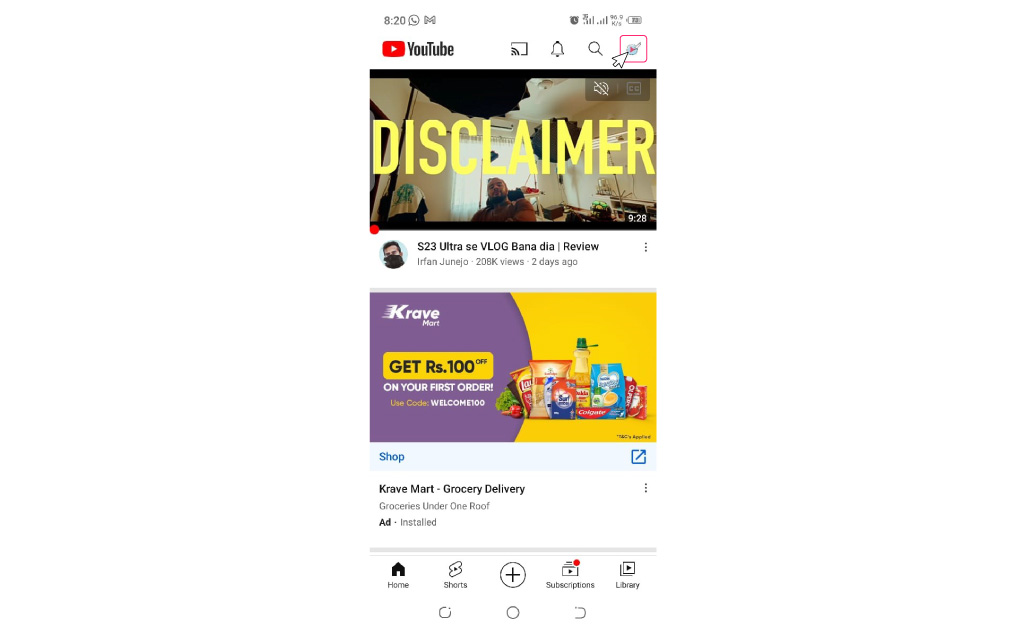 There is a Plus (+) icon at the bottom of your screen, please Tap it.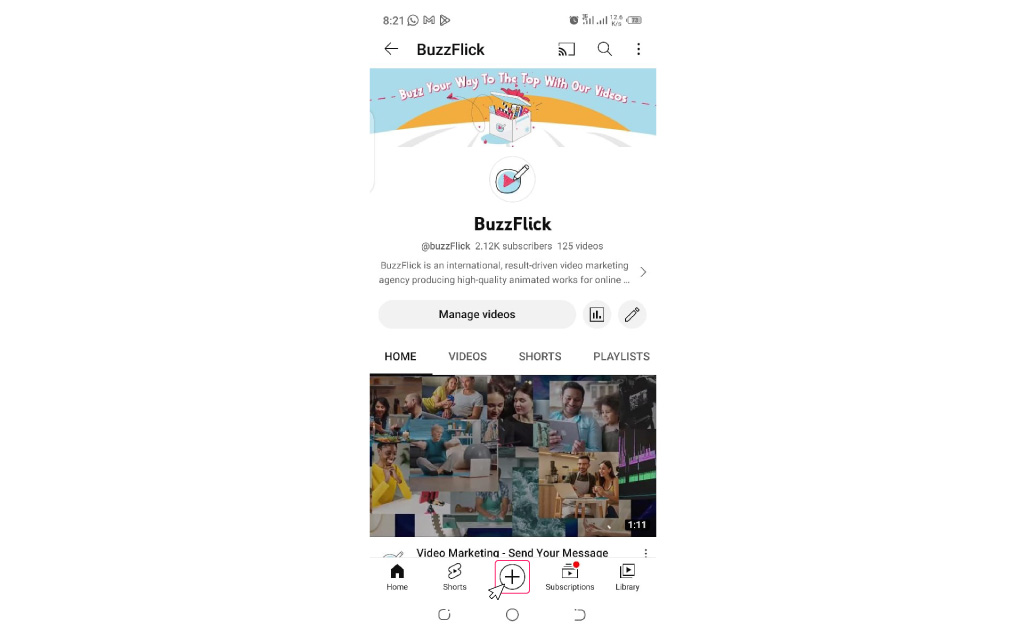 Now click on "Upload a video" in the pop-up menu appearing.
Now tap the "ALLOW ACCESS" button to let YouTube reach your files on your smartphone.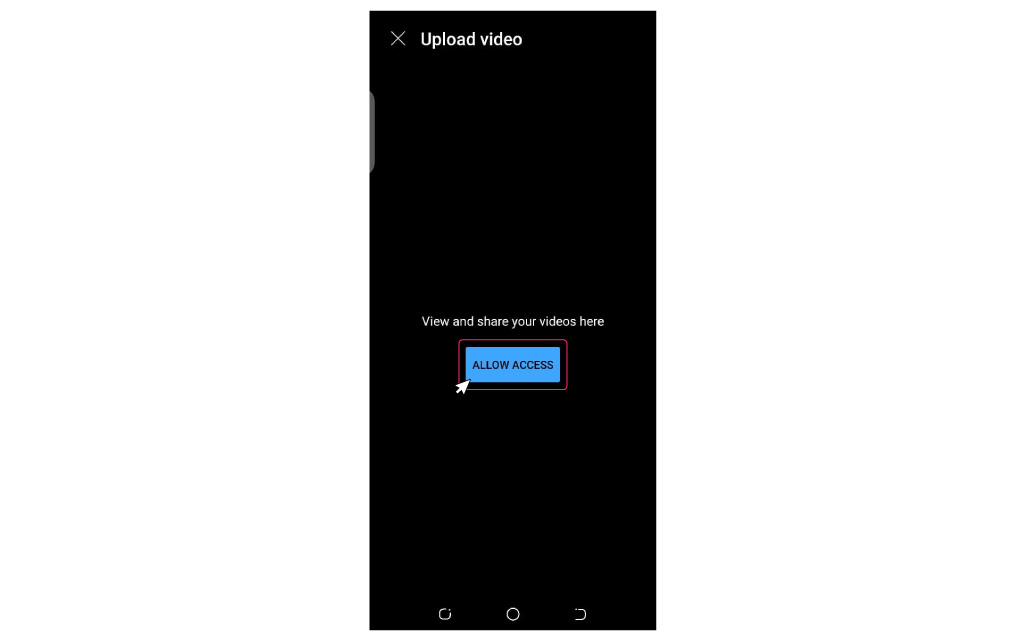 A new message will appear that says "Allow YouTube to access photos and videos on this device?". Tap on the "Allow" button.
Now the pop-up will appear with the message "All YouTube to take pictures and record videos?". You can select from the options given to control the access permission.
Now tap on the file/video you want to upload.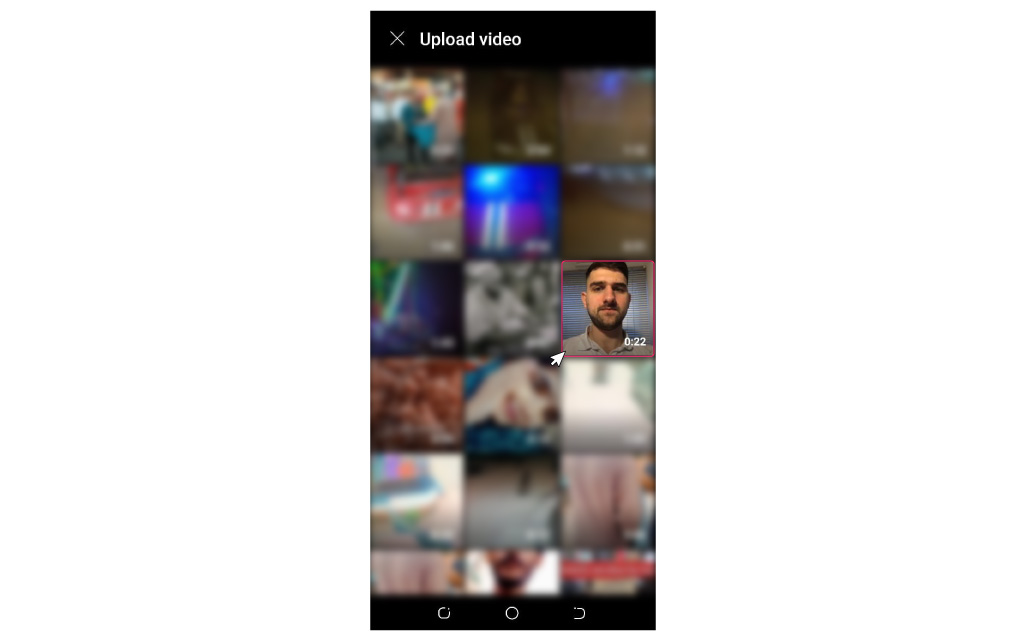 A video preview will start playing. You can trim it down to a Short here too. Now touch "Next".
Now choose the video to upload and in the top right corner, tap "Next".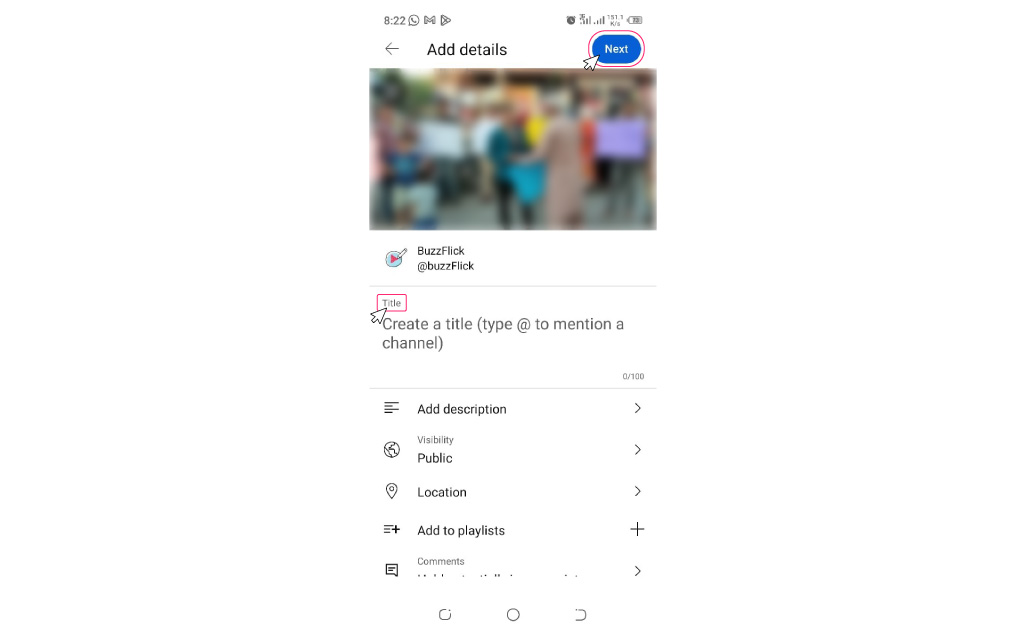 Now the "Add Details" screen appears. You can add your video details here. Tap "Title" to enter a video title. Tap "Add Description" to enter the video description.
Choose your visibility "Public" to set the audience reach of your video on YouTube.
Now tap "Next".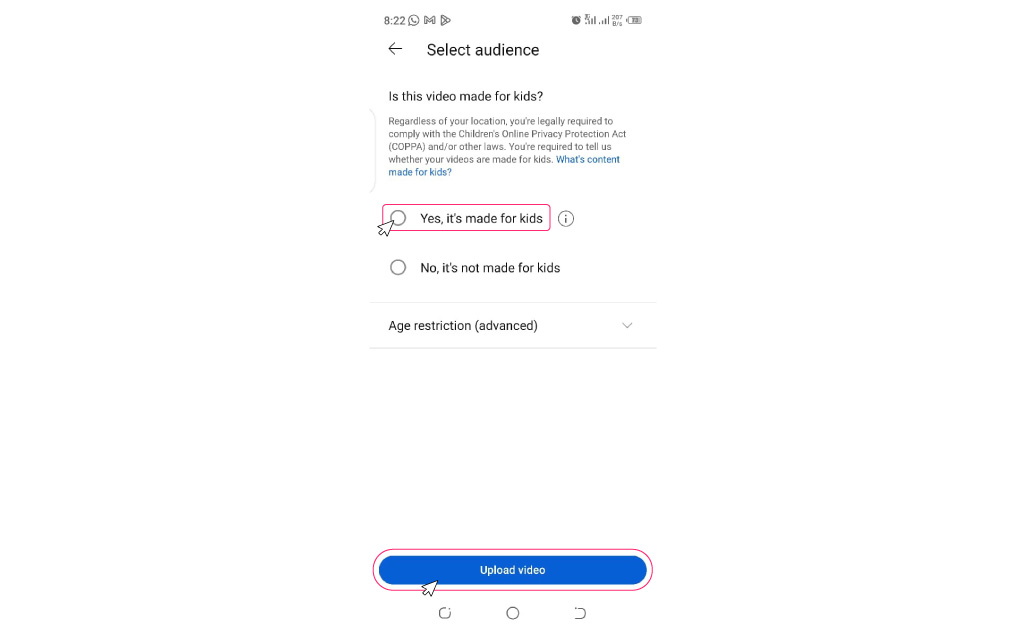 Now if the video is suitable for children, identify it.
Now tap "Upload Video" to publish your video content.
Note: You can set a specific time and date to publish your video. Just tap the "Schedule" option on the same "Set Visibility" screen and schedule your video posting at your desired time and date.
That is how you can use your mobile to publish the YouTube video. It's simple and easy and you can do it while you are on the go. YouTube channel management is easy with BuzzFlick. Get in touch with us to get your channel sorted.
How To Post A YouTube Video For The First Time?
We have curated the very comprehensive, self explanatory video guide for you here if you are uploading your YouTube video for the first time and skeptical about how to post a YouTube video. Watch the video below:
What Important Details To Keep In Mind While Uploading The YouTube Video?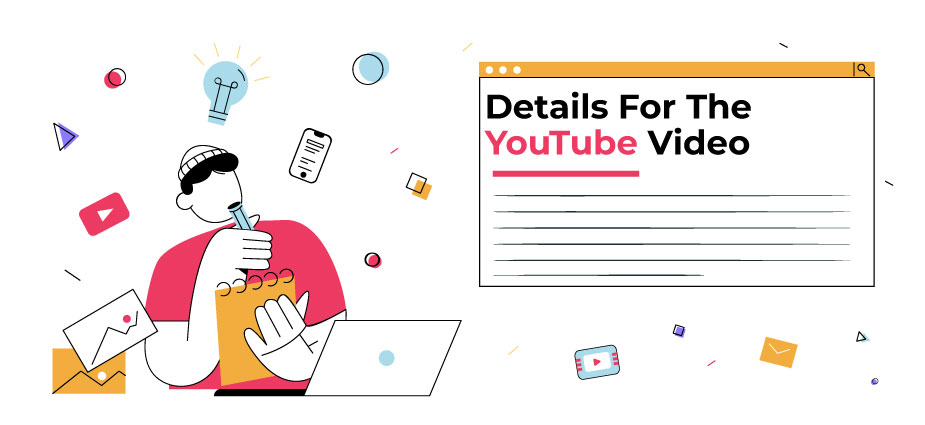 You probably have learned how to post a YouTube video. Now we will focus on details you need to keep in mind while uploading YouTube videos. The following details should be considered while posting on YouTube and help users with the video details.
Video Title:
To get the video SEO on point, your main keyword/topic should be in your title.
Grab viewer attention using a power word in your title and stand out.
The character length for your title must not exceed 70 characters.
Clickbait video titles may mislead viewers. Avoid them.
Proper capitalization should be used.
Video Description:
A piece of detailed information showing below your video is its description.
Use the following format for video attributions:
[Channel Name] [Video Title] [Video ID]
If there are any corrections in your video:
Add "Correction:" or "Corrections:" add the timestamp, and correction explanation. It will appear in your video while your viewer is watching your video as a "View Corrections" info card.
To format your text in video descriptions, use this:
Bold text *Example*
Italian Text _Example_
strikethrough text -Example-
Video Thumbnail
The thumbnail is the image depicting video content before your viewer clicks on the video. It should be intriguing and has elements your video has.
Video Playlist:
The playlist is helpful for your user. You can add your video to a relevant playlist or if it is not there on your channel, you can create one. Creating YouTube Playlist is very easy and it solves your user's problem of searching the relevant content.
Appropriate Audience:
YouTube complies with the Children's Online Privacy Protection Act (COPPA). It helps YouTube to evaluate if your video is appropriate for children or not. You have to select your video visibility wisely.
Age restriction:
You should always age-restrict your videos if there is content not appropriate for every age group.
Location:
Entering the location filming location of your video helps the local audience to discover your video.
Automatic video chapters:
To make your video extremely helpful for users, use automatic video chapters along with titles and timestamps.
Video tags:
Video tags help correct the viewer's search mistakes. They are actually the descriptive keywords you can add to help your video discovery.
Video category:
Always select a video category to help viewers easily find your videos. There is an example of the top animation channels on YouTube. You can go through it. Also, we are giving an example of how to make educational videos here: Please choose according to the following:
Video type:
There are a lot of types of YouTube videos ranging from educational to informational. You can select your video type ranging from how-to, tips, activity, lecture, concept overview, real-life application, problem walkthrough, science experiment, or others.
Problems addressed in the video:
Important information related to any problem, or questions, addressed in the video should be added with the timestamp.
Education level:
Select the video level according to the content. Such as suitable for Grade 10 or even advanced level.
Academic standard, exam, or course:
Search the YouTube database and add an exam, academic standard, or course that is related to your video.
Adding these details to your video is important because these details make your video easy to discover and more helpful for users. You can evaluate your video performance also through YouTube analytics metrics and see that YouTube is recommending these videos more frequently and it results in increasing your views and engagements to grow your YouTube channel rapidly.
How To Improve YouTube Video Publishing?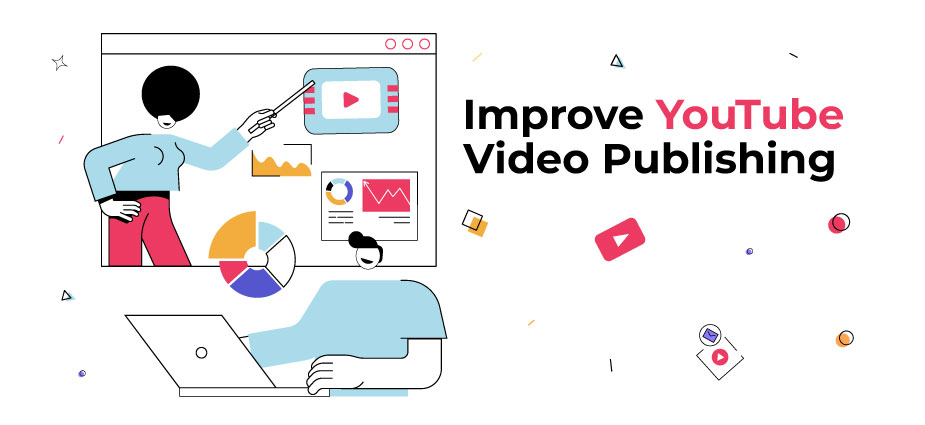 Although now you know how to post a YouTube video, it is still not enough. Uploading on YouTube is one process and there is a lot more to it. That is why we are stating some great YouTube publishing tips to increase your video reach. These tips will help you growing your YouTube channel exponentially and increase your brand reach:
1. Produce High-Quality, High-Value Content
The content that provides some value, and some quality to viewers is definitely the most engaging. That is why this is a no-brainer. Your content should be high-quality, high-value, engaging, and represent your brand really well. Maybe you have great ideas for your videos, but that does not really mean that it is difficult to implement. A simple production with great quality and high value is enough.
Make sure you know what topic you are covering, and how well it is helpful for the audience you are producing for. This will require you to research well before producing content. Just do not post anything that comes your way or you will lose engagement.
If you are facing difficulty in producing high-quality content, for say, you are an animation company and wants to upload videos on your YouTube channel for educational, or informational purpose, you can outsource your video production to BuzzFlick. It is one of the best Animated Video Production Services that will help you a lot in quality video production for your YouTube channel.
2. Know Your Audience Well
Research your audience well before creating your YouTube content. Businesses that keep in mind their audience's needs and wants, conduct proper market research, and come up with personas to prioritize their audiences on top of their mind are likely to get more engagements and followers on YouTube channels than others.
So, ideas for your YouTube videos should revolve around your audience first and see what they need and what they are finding to create personas and come up with content that resonated with them.
3. Compelling, Eye-catching Thumbnails to Stand Out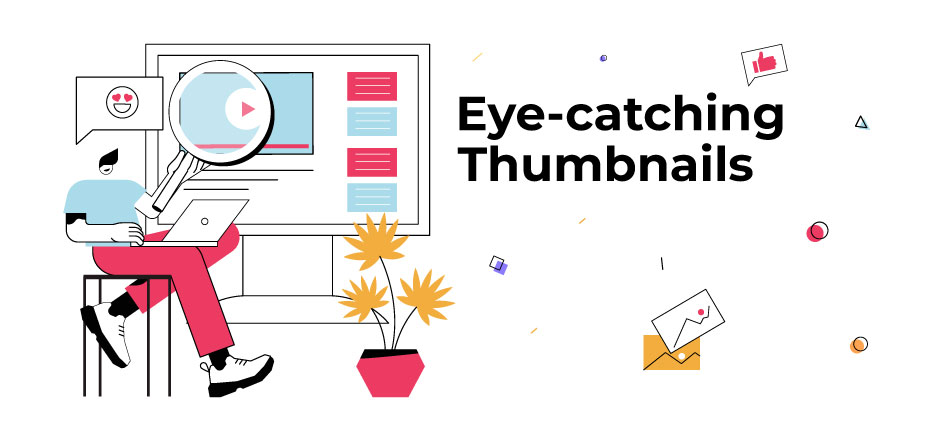 Before learning how to post a YouTube video, you should know that your videos will stand out on YouTube if they have eye-catching, compelling thumbnails. The thumbnails help you grab attention immediately.
Although there are auto-generated thumbnails available and you can fall for them, however, it is not recommended if you want massive traffic. Be creative with your thumbnails relevant to your brand. Video thumbnails are also a good option to use to let the audience go through your video preview to intrigue them.
4. Powerful Video Intro
Before publishing your YouTube video, make sure your video intro is compelling enough to hook the viewer from the beginning. There are a lot of YouTube intro maker tools available you can use to help you out in making a video with an engaging and interactive opening.
5. Use Closed Captions or Subtitles
If you want to make your videos more inclusive and more intuitive, add closed captions or subtitles. Not only it will be helpful for your viewers to understand your video but it also helps in expanding your potential reach. Imagine your video is being watched by people with hearing issues. Will you not make any effort to explain your content?
Also, people with less understanding of English will not watch your video if there are no subtitles in it. Also, some people watch videos in locations where they cannot increase the device volume. So, it is highly recommended to add subtitles to your videos especially education-based videos to make people understand what you are talking about. It takes a few seconds to add them but it worths a lot.
6. Post a Variety of Content Through Different Features
Monotony is the silent killer for your channel. Add some spice to your channel through a variety of content. If you are consistent with your content niche, it's good. But being consistent does not mean being monotonous.
The best way to break the ice while being relevant to the brand is to try different features. YouTube offers a lot when it comes to publishing video content and engaging audiences, including YouTube shorts, and Live streams. Experiment often and get to know what suits best to your audience and find the tempting recipe to grow your channel.
YouTube short is a booming trend and you can incorporate it to increase your audience engagement by learning how it works.
7. SEO Is A Major Factor In Your YouTube Success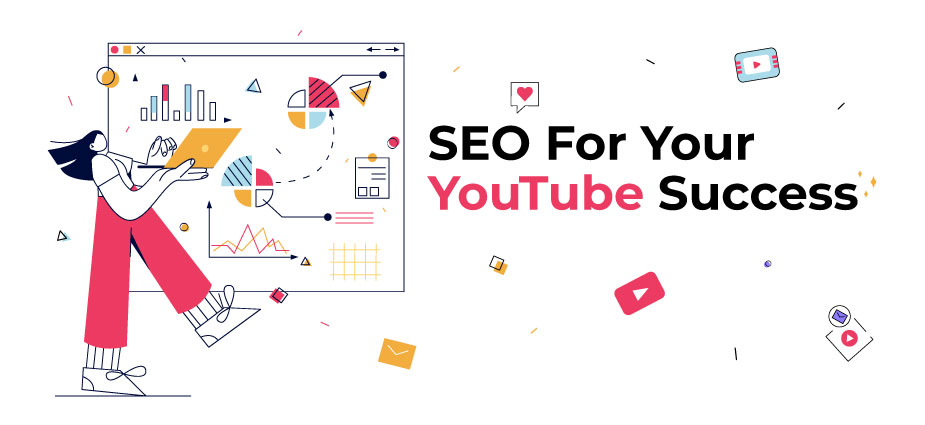 Do you know YouTube videos account for 70% of the top 100 Google search results? Believe it or not, any search query about a product or having "how to" factor in it on Google comes with the result of a YouTube video on top.
In fact, sometimes YouTube video results rank before any blog or website. After Google, YouTube is a powerful search engine and people search for their queries on YouTube just like Google. The difference is only the format.
That is why you should use YouTube to boost your marketing strategy. It is important to think of your YouTube videos as a basic content piece that requires them to be well-optimized with top keywords, relevant tags, and metadata. So, focus on YouTube video SEO by following these practices to increase your YouTube video rankings.
Video Titles and Video Descriptions:
Including targeted keywords in video titles and descriptions is a good practice. It will help to rank your videos better and discoverable for users.
Use keywords in your YouTube video:
If you say your targeted keywords in your YouTube videos, it is helpful for YouTube to understand better about your video, hence increasing recommendations.
Video engagement:
Likes, comments, and views are extensively used by YouTube to rank your videos better. So focus on increasing them.
Video categories:
Always categorize your videos to convey YouTube who to recommends your videos.
Relevant Tags:
Use relevant tags along with categories to provide YouTube with an understanding of your video context. Add as much tags as possible so that your videos don't miss a chance to rank on top.
Pro Tip: please use your keywords wisely and do not overstuff them. Make their use contextual not just for the sake of adding them casually.
8. Social Media Promotion
Your YouTube channel will not market itself unless you do. That is why it is quite essential to promote your new YouTube post on social media to let your followers know about it. Cross-platform promotion is the key to the success of your YouTube content.
Share your new videos on Facebook, Instagram, Twitter, LinkedIn, TikTok, or whatever platform you want. Not only it will increase your traffic, but also helps in growing your brand exponentially. It also increases your audience engagement and builds trustworthiness.
9. Keep An Eye On the Latest Trends
It's really important to give a refreshing treat to your audiences by jumping on to the latest trends. Keep changing your content formats according to the latest trends and see how popular your channel will be. It's all about the biggest YouTube trends, so Adopt the trends in a way that makes sense and resonates well with your brand, channel, audience, and your strategy.
10. YouTube Community Engagement
Although many of you might have eliminated YouTube from the category of the social network, it is not the case. Users on YouTube engage themselves through likes and comments and there is a thriving community ready for you to interact.
Interacting with your subscribers on YouTube may become a game changer for the videos posted on your channel as that's how the YouTube algorithm works. Here are some tips to engage well with your audiences:
Foster for more "likes":
As we have mentioned above that the more people like your video, the more chances are there that YouTube will recommend it to people. That is why it is necessary to ask your viewers to like your videos.
"Pin the top comment" to connect with them personally:
Pin the top comment helps your subscribers see a personal note from you. Do it often to request, or ask a question from your viewers to interact with them.
Reply to video comments:
Replying to the positive comments on your videos helps you build a strong connection with your audiences. Do it often to enhance audience engagement. Also, try to answer any queries in detail asked by your audience to help them.
Like comments:
Although you may be too busy to reply to your audience's comments. However, just liking their comments is also a good practice to engage with your YouTube community.
Keep in mind that just like any other social media, liking and replying to your audience's comments is the best way to rank your YouTube videos and increase your channel subscribers.
Frequently Asked Questions
1. How do you make a post on YouTube?
Follow these steps to post a YouTube video:
Sign in to your YouTube channel.
Select Create icon on the top right corner> select Upload video.
Select the file from your PC > enter the title, description, and other details > select next.
After the copyright check, select Upload to post a YouTube video.
2. Is it free to post content on YouTube?
Yes, posting on YouTube is absolutely free. You just have to create your account and channel to post YouTube videos.
3. How to post a YouTube video with a short length?
YouTube provides an option to trim down your video length when you upload your videos. Also, you can select an option of YouTube shorts while uploading your video.
4. Is there any copyright on YouTube videos?
All of the content on YouTube is copyrighted to the owner of the video. You can mention the video link in your content but cannot copy the content as your own.
5. Are thumbnails necessary for YouTube videos?
Yes, thumbnails are necessary for YouTube videos as they intrigue the audience and explain a lot about your video through an image.
Wrapping it up
In a nutshell, people are spending more and more time on YouTube for entertainment, education, and information. That is why publishing high-quality, high-value, and highly engaging video content on YouTube must be a part of your social media marketing strategy to grow your brand and business online.
That's a wrap on our guide on how to post a YouTube video. We have explained step by step how you can post a video on YouTube using a desktop, or your smartphone. Also, we have discussed some useful tips to follow while publishing your YouTube video. You can ask for further queries in the comments section below.