Are you looking for the best intro maker tool to make a top-class intro for your next YouTube video? Read out our review on 15 best YouTube intro maker tools.
When you're watching the video, what's the first thing that grabs your attention? Any idea? Well, it's the intro of the video.
Since the video intro is the first thing you'll watch, it should be powerful, interactive, and striking. As we all are familiar with the fact that the digital landscape has become massively crowded, and cutting through the noise has become more challenging than ever.
As per our research, 90% of marketers believe the level of competition in the video marketing space has drastically increased.
Every day over a billion viewers watch videos on YouTube. This signifies that in upcoming years the video marketplace will get more and more crowded.
This is why YouTube video creators need to think out of the box and look for new unique ways to stand out. The only way to achieve success, in this case, is through getting a video intro crafted by a professional.
Today in this blog, we'll first see a few examples of YouTube Intros. In the next section of the blog, we'll review some of the best intro maker tools.
So, without any further delays, let's get started.
What is a YouTube Intro/ Video Intro?
To put it in simple words, an intro video, also known as an introductory clip placed at the beginning of the video, gives an idea about the brand and its identity. An introductory clip often features animated graphics, punchy lines, a company logo, and a catchy soundtrack.
A video intro often lasts for a couple of seconds; that is all the time on Earth. You need to grab the attention of your audience and make your brand memorable.
Video intros, in the past few days, have become pretty popular among YouTubers. If you're one of those who're looking for an opportunity to make your mark in that arsenal, then it's creating an interactive intro that helps the audience to connect and relate your content with your goals.
If you think you need help with your intro video you can connect with any YouTube video production company for help as they have the right expertise and create videos with finesse.
Let's take a brief look at some of the engaging and unique intro video examples that seamlessly demonstrate how to get them right. These intro videos will also help you to identify how you can gain millions of followers during this process.
5-Minute Crafts
One of the most subscribed to the world among YouTube channels is 5-Minute Crafts. It nearly has 57 million subscribers. Take a look at how their intro video infuses a unique combination of two different animation technologies (traditional and stop-motion animation) to showcase their innovative credentials.
TED
When you're feeling low or demotivated, which is that one reality video you head to seek inspiration and motivation? Of course, TED. TED Talks have been in the digital market since 1984; pretty unbelievable, right?
Since then, it has gained massive popularity among the audience. If you watch their video intro, it's a graphics-heavy simple yet effectively conveying their popular ethos, 'ideas worth spreading'.
Dude Perfect
Trick shot lovers Dude Perfect convey the dynamic attitude of their videos brilliantly with a video opener that includes some live-action glimpses of their schtick and a futuristic animated logo reveal.
The 15 Useful Intro Maker Tools – A Brief Review
Whether you want to personalize your YouTube content or create a customized corporate introduction video, you'll need the appropriate tools for the task. Thankfully, there are several online introduction generators that alleviate the burden of creating an introduction from scratch.
To offer you an overview of what is available, we have evaluated 15 of the finest.
1. Wondershare Filmora 11
Filmora 11 of Wondershare is a potent introduction creator that enables you to create impressive intros utilizing an assortment of interesting effects, overlays, transitions, and custom titles.

The greatest advantage of Filmora is its enormous adaptability and variety of features. Its user-friendly and straightforward interface lets you drag and drop video clips and effects into the editing timeline.
The 4K resolution, green screen compositing, post-production additions like filters, and sound tools such as background noise reduction and an audio equalizer are among its strongest features.
However, rendering and exporting videos might be time-consuming.
Filmora 11 can be downloaded for free. However, exported videos will have a watermark. If you want to make videos without a watermark, you can pick from a variety of subscription programs starting at $51.99 per year.
2. Adobe Express
Adobe Express (previously Spark) is a desktop and mobile intro maker developed by the software titans behind Photoshop. Express is designed for social media creators who want to make a great video clip without spending hours doing so. The primary advantage of Adobe Express is its speed.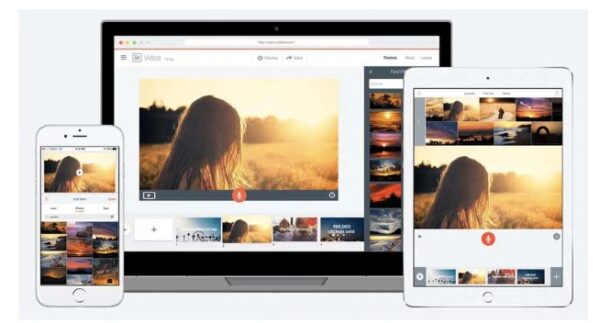 It is simple to assemble your introduction by dragging and dropping clips and icons before adding a cinematic soundtrack or your own narration.
Express does not interact very well with other Adobe products, and the price of the subscription plans can be prohibitive.
Adobe Express is accessible in a free edition, although its functionality is severely restricted. You will not have access to premium video intro templates, you will not be able to use your own logo, and all of your videos will include a watermark.
The premium plan costs $99.99 per year, and Adobe Express is included in its entirety with all Adobe Creative Cloud plans.
3. Animaker
Animaker is a free intro maker used by over three million consumers and over one thousand companies globally. Animaker offers the world's largest animation collection and the ability to generate mobile-optimized vertical videos.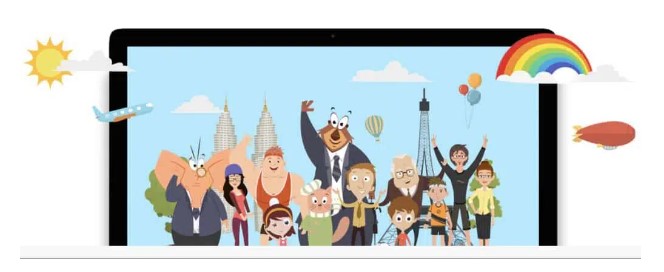 The user-friendly design makes this an excellent intro maker for newbie filmmakers. Included are professional-grade camera and transition effects, an extensive library of background music and sound effects, and the option to record or import your own voiceover or soundtrack.
Animaker is a web-based platform that uses Flash, your editing experience can be sluggish if your hardware is not up-to-date.
The free edition allows you to upload an unlimited number of two-minute videos in SD quality to YouTube. However, you can only export five videos each month, and premium options such as custom fonts are unavailable. Additionally, all of your videos will include a watermark.
Paid memberships begin at $120 annually.
4. Renderforest
Renderforest enables the rapid creation of high-quality introductions. This video intro maker is fully web-based, which is both one of its finest and worst characteristics.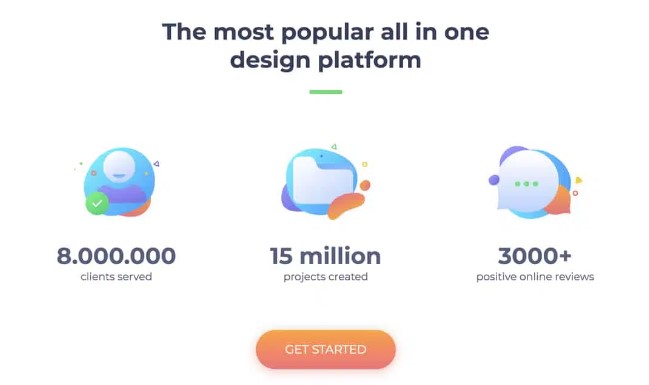 On the bright side, you can construct introductions regardless of the device or operating system you're using. The disadvantage is that you cannot operate without an internet connection.
Renderforest provides an extensive library of over 50,000 video intro templates that can be edited and customized in minutes with fonts, logos, color palettes, and music.
You can build an endless number of 360p videos up to three minutes in length with Renderforest's free intro maker bundle. However, they will have a watermark, and you will only get access to a restricted amount of music songs.
Annually paid memberships start at $5.99 per month. This allows you to create up to seven 5-minute-long, watermark-free HD720 videos every month.
5. OFFEO
OFFEO is a free introduction creator for aspiring designers. Its primary selling point is the sheer amount – thousands – of templates and graphical components that can be used to make your introduction truly sizzle.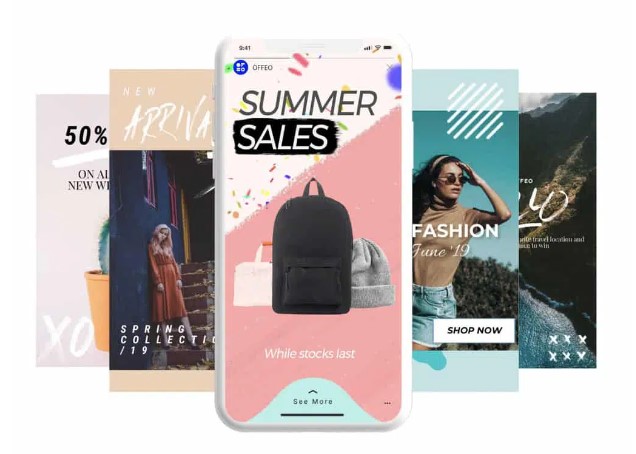 All of their design components, from expressive drawings to high-quality stock pictures, have a distinct visual appeal; you'll find everything you need to create an amazing introduction video.
The categories of OFFEO's templates include intros, outros, and logos, as well as your sector. This makes creating your project clear and easy.
6. Panzoid
Panzoid is an online community and platform for producing personalized content. With a little effort, this free intro builder allows you to create extremely customizable video introductions, despite its low-fidelity interface.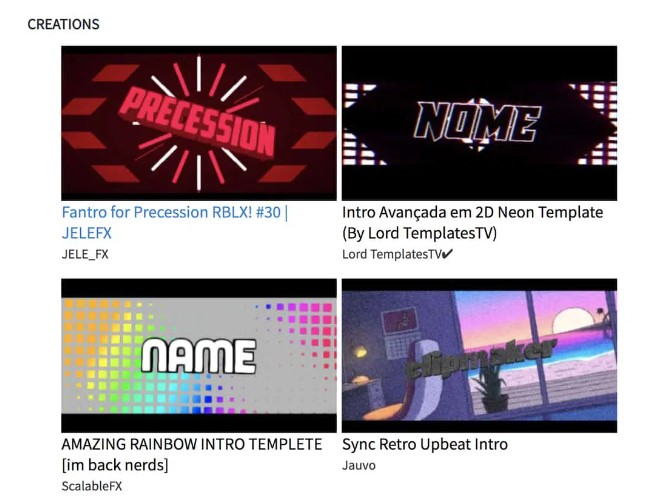 You have the option of starting your project from scratch or using one of a small number of video intro templates produced by the Panzoid community. The editing suite of Panzoid is simple enough to use, but the interface seems and feels old.
Panzoid offers a free version with a watermark, but its subscription plans are relatively affordable, beginning at just $1.99 per month for the Starter plan (billed yearly).
You receive 360 render credits per year and three months of video storage at this price. Pro subscriptions, on the other hand, provide 6,000 yearly render credits and unlimited storage for $11.99 per month (billed annually).
7. Wideo
Wideo is an intro creator tool that provides useful features for quickly creating animated introduction videos. The fact that you can store your favorite sequences (such as logo animations) and quickly reuse them across all of your videos is one of the finest features of Wideo.

You can also customize your videos with over one hundred layouts, innumerable fonts, and brand colors. Wideo also allows you to organize your files into folders and download them in full HD and MP4 format.
You must be online to utilize this web-based introduction creator, and the subscription charge is difficult to justify in comparison to other platforms due to the cumbersome UI and restricted templates.
As is the case with a vast majority of software, a yearly subscription to Wideo is more cost-effective, resulting in a monthly price of $19 for their introductory package. This includes ten monthly downloads of one-minute videos and 20 video templates. All of their premium subscriptions provide a free 7-day trial, although downloads are not included during that time.
8. LightMV
LightMV is a cloud-based intro maker that converts images and video snippets into an intro video of professional quality.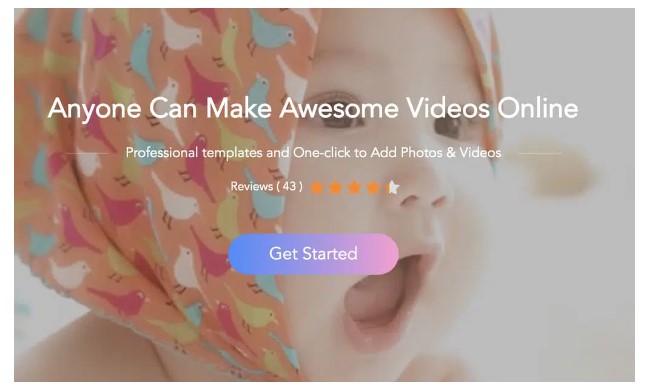 LightMV's simplicity is its greatest asset. Its gallery of colorful, vibrant, and striking professional video templates is organized by industry or event, making it incredibly simple to choose the ideal template for your project.
You can simply create videos in full HD definition on all of your devices and submit them with a single click. Similar to other web-based introduction builders, LightMV requires an internet connection.
LightMV is a free introduction creator with limited functionality and a watermark. VIP memberships begin at $179 per year. This not only removes the watermark but also enables you to download your videos in HD 720p, create two videos at once, and add up to 100 images.
9. MotionDen
MotionDen allows you to make unique animated intros using their collection of pre-made professional video intro templates, which is unquestionably their greatest strength. These are organized into logical categories, such as eCommerce and YouTube, so you can quickly choose a design that matches your niche.
10. Flixpress
Flixpress is another cloud-based YouTube intro-making tool that enables you to produce a video introduction fast and with minimum effort. One of the primary benefits of Flixpress is that you will not be required to download a large file in order to use its capabilities.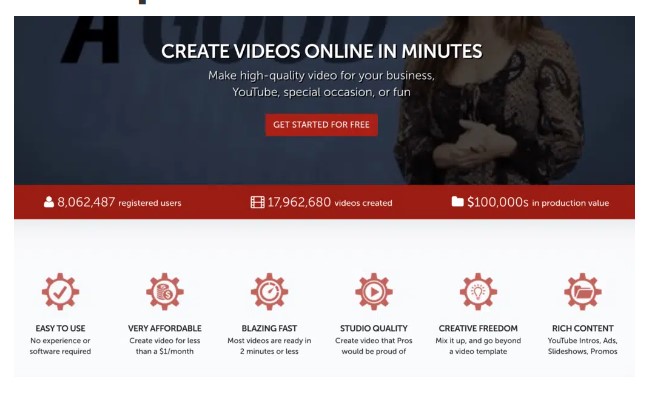 It is possible to get started online in minutes and is simple to use. This connects you to an internet connection, but it allows you to utilize it on a variety of devices and operating systems.
Flixpress enables the creation of video previews that can be layered with royalty-free music from their vast audio collection. The general appearance of their templates and website is quite old.
Flixpress is accessible as a free intro maker, although the free edition is severely feature-limited. You have just two minutes of monthly video time, a watermark, 15 templates, and 360p video quality.
Plans range from $0.83 per month for an annual Personal plan to $79.99 per month for an Enterprise package. Each removes the watermark, enables 1080p video quality, and offers a sliding scale of video minutes and video intro templates.
11. Biteable
Biteable claim its YouTube intro maker tool can help you 'make a masterpiece in minutes.' This is a big assertion, yet four million people support it.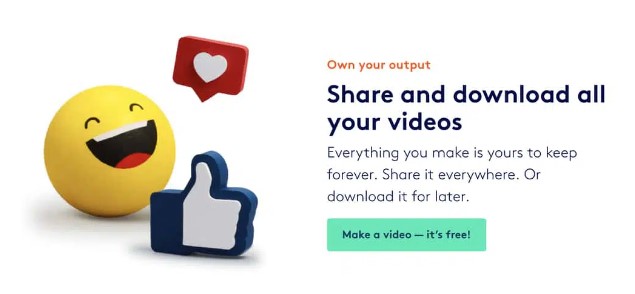 Biteable provides a variety of video templates, all of which are organized thematically based on the sort of video you wish to create and where you intend to submit it (YouTube or Instagram, for example).
Their primary selling points are speed and simplicity, with an interface that even absolute beginners can rapidly understand.
On the negative, templates are not updated as regularly as you'd want, and there are no square format layouts available for Instagrammers.
With a watermark and no monthly downloads, Biteable's free introductory video creator provides incredibly restricted possibilities.
Their Plus package starts at $228 per year for subscriptions. This eliminates the watermark and grants you the ability to download one HD video each month, as well as access to 850,000 Shutterstock clips and commercial usage rights.
12. Tube Arsenal
Tube Arsenal is exactly what you need if you intend to produce a top-notch YouTube video intro. This online video intro maker does not need users to sign up for a premium subscription service. Herein lies the greatest benefit of Tube Arsenal for the intro maker.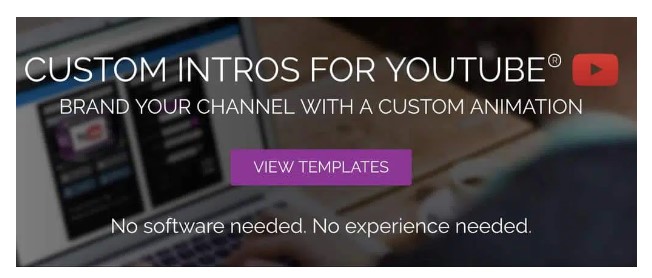 It also offers an excellent selection of templates for usage. Some of which bore more than a passing resemblance to popular culture introductions, such as the man-in-the-moon entrance from DreamWorks. Their templates are clearly categorized and filterable, allowing you to quickly choose your preferred option.
Tube Arsenal's relative lack of customization is a downside. In addition, if you intend to establish frequent introductions, these pay-as-you-go fees will mount up. Moreover, a customized 720p introduction video costs an average of $9, plus an additional $4 for HD 1080p resolution. This is one of the few intro makers without a free version.
13. Placeit
Placeit is an intro maker tool powered by Envato, the biggest marketplace for digital assets in the world. Consequently, their video intro maker delivers a creative punch, with a library of over 20,000 categorized templates to customize and a vast selection of audio tracks to accompany your video.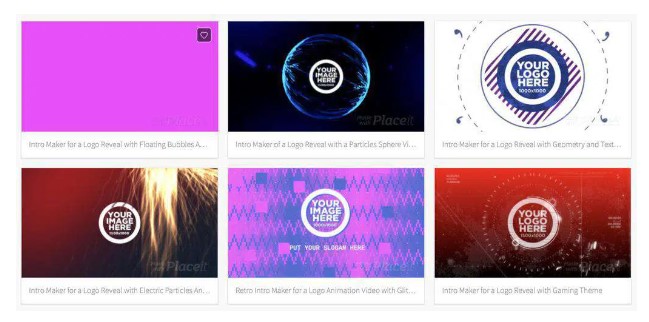 Each design template allows for the addition of your logo, presentations, music, photos, and video. Placeit has built an intro maker with a simple and logical interface that requires little to no prior video editing skills to generate great video intros.
Unfortunately, there is no free choice available. Simply $9 per introduction video. Or, for $89.69 per year, you can obtain access to all of Placeit's templates and receive unlimited downloads.
14. Ivipid
Ivipid enables you to create quick and amusing intro videos for your social networks. You won't be able to produce a highly polished, professional video using Ivipid, but you do receive a variety of wacky and kitsch video templates — many of them imitate the intros of major Hollywood film studios, such as MGM's roaring lion.

The three-step procedure consists of selecting a template, customizing the text and logo, and downloading your finished product for distribution. However, if you're trying to establish a legitimate brand identity, this is probably not the introduction generator for you.
There is no free Ivipid version. Instead, it utilizes a somewhat perplexing credit system. Essentially, the greater the resolution of your entrance video will be, the more credits you purchase.
For $1.99, you can purchase 200 credits, which will get you access to a 270p video — the lowest available resolution. If you are prepared to pay $6.99, you will receive a 1080p resolution.
15. IntroCave
IntroCave is an introduction creator that allows you to choose from hundreds of video templates to which you can add your own content and render for download.

These templates are well-designed and resemble the conventional style of logo unveiling videos. They are classified by either common industry sectors or duration.
You can either input simply your logo, text (if you don't have a logo), or both, depending on the basic video. IntroCave layouts have a pre-existing backing track, which you can alter by selecting an audio track from their collection or by uploading your own MP3 or WAV file.
Unfortunately, it must be said that IntroCave's website lacks the polish of some of its competitors. The pricing scheme is based on a pay-as-you-go model, starting at $5 per video. Alternately, you can enroll in one of their plans, starting from $19 per month.
Free Intro Maker
In all honesty, none of the free intro makers are that useful if you want to make a watermark-free intro.
They intend for you to pay for their services. Who could blame them? But if we had to choose, we would choose OFFEO. Yes, the free version is restricted, but the UI and creative tools are really appealing.
This video intro maker is really hip to popular culture and creates stunning digital assests for Instagrammers and YouTubers.
Useful Resources:
Paid Intro Maker
While it may not be a product of one of the major software houses, Tube Arsenal offers some excellent templates that can be simply modified into a fitting introduction for your branded promotional videos or YouTube channel.
We appreciate that you are not obligated to a monthly membership plan; you merely pay for each intro video that you create, and the cost to upgrade to full HD is minimal. If you need a quick, basic, and inexpensive introduction video, Tube Arsenal is an excellent paid solution.
A Reliable and Affordable Alternative
Okay, so if none of the options we have discussed above seems viable to you, then you have another one: hiring an explainer video production company to make an engaging and vibrant intro video for you.
Despite the fact that you may have started out with the best of intentions to develop something on your own, it may be easier, in the long run, to hire a professional to accomplish it.
Thus, you are certain of getting a professional video made by industry experts. You will not have to worry about watermarks, subscriptions, or hours of manual editing. If so, we can build a professional introduction video of which you can be proud of.
If you're looking for a reputable video animation agency, then get in touch with us. For the past 6 years, BuzzFlick has been in this industry, serving numerous clients every month.
We make different animated videos like explainer videos, whiteboard videos, demo videos, medical videos, and educational videos; you name it.
Also, we offer different animation and video production services like:
2D and 3D animation services
Cel-animation
3D Modeling services
Video editing services
Video Post-production services
NFT design services
If you feel you have a spectacular idea for your video intro and want to get it done by professionals, then ping us!
All Things Considered
Creating an intro video and promotional videos for your YouTube channel may do wonders for company marketing. As 87% of marketers now utilize YouTube to advertise their businesses, it is vital to make a video with a professional appearance to compete. Your intro video, if executed effectively, may aid in building vital brand recognition and familiarity.
Ensure that the intro maker tool you use allows you to create an introduction that reflects your company's character and brand values. With all these tools at your disposal, it won't be long until your YouTube videos reach the next level.
Check out more of our articles if you're a YouTube creator seeking additional inspiration, including: