The world is in a chaotic situation, especially after the pandemic. People lost their loved ones. Some lost their jobs and were forced to evacuate their homes and live on the streets.
However, we are fortunate enough that even in this fast-paced digital world, people still care about each other. When the world was collapsing, it was all of us who stepped out and helped and supported our friends, relatives, colleagues, acquaintances, and underprivileged.
To date, many nonprofit organizations are working to make the lives of less or underprivileged people better.
Previously, these organizations used to conduct seminars, visit people door by door, and distribute flyers in the crowded streets just to spread awareness 🔊 about the special cause they are working for and how others can support it.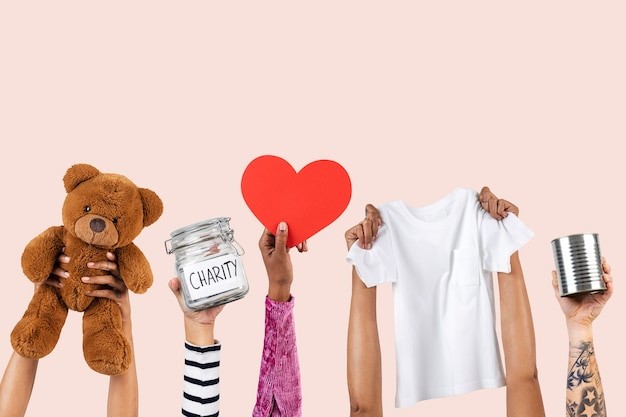 Unfortunately, those flyers, visits, and seminars didn't catch much attention because people used to forget about them but today, when everyone is turning towards digitalization, so are these nonprofit organizations.
After the arrival of YouTube, the situation has improved drastically. People have become more connected. Every day you'll find someone being vocal about a certain issue and motivating people to join hands. 🧑‍🤝‍🧑
But here's a question, what changes has YouTube brought to the surface? Well, it's not YouTube. It's VIDEO! Yes, you read it right.
People spend approximately 1 billion hours⏲️ watching videos on platforms like YouTube. The excellent combination of heart-warming images, powerful dialogues, and soothing/energetic music makes it the most influential medium of communication that can pique the interest of people by stirring emotions.
Today, nonprofit organizations are frequently leveraging video to be vocal about their cause and gather supporters and donors.
If you just go to YouTube and type in 'Nonprofit Videos,' you'll be thrilled when you'll see the results. There are many, or it's better to say the number is infinite.
If you're a nonprofit organization that has not jumped on this bandwagon yet, then you should hurry, my friend.
If you're here looking for some inspiration, then continue reading because today in this blog, we'll be featuring some of the eye-opening, heart-warming❤️, and our favorite nonprofit videos that will bring tears to your eyes, and we can assure you won't be able to hold them for long.
So, let's dive in.
But if you're ready to make a video yourself and have no clue how to begin, then first read our insightful blog, Fundraising Videos: A Walk Through The Video Creation Process & Finest Examples.
Not keep you waiting anymore. Let's get to the business.
Inspiring Nonprofit Videos That Assures World Can Be A Better Place
If you think that this world has come to an end and humanity has died, then you need to wake up. Hundreds and thousands of people are stepping forward every day trying to make a difference in the lives of people who're suffering in any way.
But still, there are many who are still crying 😢 for help and support.
The videos we have featured in this blog will be eye-openers, inspirational, and though-provokers. If you're wondering how you should make your best nonprofit videos, then sit back, and pay attention to each of them because they will teach you a lot.
1. Still The Most Shocking Second A Day – SaveTheChildren
This nonprofit video is a sequel to a video that was released a couple of years ago. The heart-wrenching opening of the video immediately brings tears to the eyes. It's a short video of a refugee girl 👧 who is forced to leave her country.
The video covers her journey, where she faced abuse in different forms. The sadness in her eyes and the dreadful situations she goes through clearly gives the message that when wars break out, how much these innocent lives suffer and how it traumatizes them for the rest of their lives.
SaveTheChildren is one of the most popular and hard-working organizations that is working day and night to save children trapped in war zone areas and provide them with a better and secure life.
2. We Are Pencils of Promise – Pencils of Promise
Getting an education is the basic right of every child. Unfortunately, there are many children living in underdeveloped countries who are still suffering. They don't have access to education 📚 which is very alarming because getting an education helps you to learn skills and knowledge that will help you to survive and live a good life.
Many nonprofit organizations are working for such children, and Pencils of Promise is one of them. Their primary goal is to ensure that every child gets the equal educational opportunity.
They are being very vocal about this cause and doing a lot of work. They are not just raising their voice but actually making a difference by offering a scholarship to financially unstable children, building schools, and offering teacher support in the areas like Guatemala, Ghana, Nicaragua, and Laos.
If you watch this nonprofit video, you'll realize they chose a pretty straightforward approach for this one. They primarily focused on being vocal about their vision and mission.
However, they choose a different video style, i.e., motion graphics explainer video. It's the video style that is making their messaging more engaging and creative, which makes your feet wet.
Like them, you can choose a different video style to create an inspirational nonprofit video. If you are really interested in getting a motion graphics explainer video, then get in touch with of these companies we have listed in the top motion graphics agencies blog:
We are pretty sure you'll find your best solution through this.
3. Breath in, Breath out – Greenpeace
As we know, the climate of our home, Earth, is drastically changing. Ozone layer depletion is one of the major contributors to this adverse change.
Greenpeace is an organization that is working to spread awareness regarding environmental changes and how we humans mistreat our homeland.
Thanks to our deep ignorance, mother Earth is suffering. 🌍
This sweet and short yet inspirational nonprofit video highlights the changes that are taking place after the new inventions and technologies came to the surface.
They have used minimal yet quite striking, powerful imagery and words to spread awareness about their cause.
4. Alternatives 4 Children – Child Care Center
I hate to break this to you all, but child abuse has become very common these days. It's so shocking that 2 out of 10 children face abuse in different forms.
How sad! At the age at which children explore, learn and grow, they are going through such traumatic things as abuse.
It's high time that each one of us, like the Child Care Center, should raise our voices and help such children.
This nonprofit video is a soul-stirring piece. The sweet voice-over of the child and the psychedelic animation in the video spikes the viewers' attention and sucks you in.
It's so trembling to hear such harsh words like exploitation, abandonment, and abuse from the mouth of a young child.
The touching approach they used is very appealing. It evokes emotions like empathy and sympathy. The children in the video are showcased as plants that need water, sunlight, and air to grow properly.
Next, they show a small plant dying 🌱, and then you'll see a small unhappy child, and it looks like he's trapped and confined in a small space.
Overall, the video not only pulls our heartstrings but also provokes us to give thought to it.
If you're interested in an animated explainer video but have no idea about the cost, then give a read to our below-listed guide:
5. Macmillan Cancer Support – Macmillan's Online Community
Over the past 10 years, a drastic increase in cancer cases has been witnessed across the globe. Every year hundreds of thousands of people battle cancer, and some of them lose.
I feel most of them lost this tiring battle because of a lack of support from their families, partners, and friends.
Macmillan Cancer Support group is an online community that connects people who are diagnosed with diseases like cancer. It's an online platform where people diagnosed with cancer can share their experiences and emotions with each other.
This nonprofit video show pretty familiar settings to use, like; as a living room, a park, and a coffee shop.
The video is quite straightforward. As soon as the video starts, they straight talk about the main points and encourage people not to feel alone and depressed 😔 if they are in a similar situation but instead join their cancer support community.
Please note: If you want an animated explainer video like Macmillian, you can take a look at the list of reputable animated explainer video production agencies.
6. End Cyberbullying – Official ETCB
After the arrival of social media, a new issue came to the surface, i.e., cyberbullying. Unfortunately, people started misusing technology, and in the past few years, the rate has drastically increased.
This nonprofit video, End Cyberbullying focuses on driving the attention of the viewers by stating eye-opening facts and figures regarding the increasing rates 📈 of cyberbullying.
Even though the video is not full of eye-catching images or beautiful video footage, however, it still delivers the message it needs to deliver to the public properly.
7. Will You Stand with Eva? – ONE
Clean water is a basic necessity. We all need it to live a healthy life. Unfortunately, there are many who struggle every day to get access to fresh, clean water, which is very alarming.
Eva is one of those girls who live in an underdeveloped village where every day she has to struggle to get clean water.
This nonprofit video highlights the story of Eva, an adamant young woman who is waiting to get a positive response to her request. She not only talks about her issues but persuades the viewers to understand what role they can play in making her life better.
The video ends with a petition form, encouraging you to take a stand and raise your voice. 🔊
8. Santa Forgot from Alzheimer's Research UK – Alzheimer's Society UK
All these nonprofit organizations that work day and night to make the life of less and underprivileged people better depend upon the act of giving and generosity of people; they work as the lifeblood for them.
You might be shocked and get upset at the same time if you get to know that even on festivals like Christmas🎄, Easter🥚, Thanksgiving🦃, and many more, some people don't even have good food to eat or they don't wear nice clothes.
To help such people and bring some happiness to their lives, Alzheimer's Research UK decided that the best time to solicit funds was around the holiday that is most closely associated with these things: Christmas.
Alzheimer's Society UK produced an emotional video that almost seems like a Christmas movie in itself by leveraging Christmas and the concept of Santa Claus 🎅 to make Alzheimer's more relevant for viewers. The video has lovely animated characters and fairytale narration.
How BuzzFlick is Helping Nonprofit Organizations in Making This World A Better Place
Although we are a Houston video animation studio, we also make fair donations to make the world a better place.
Apart from helping people in need directly, we offer help to organizations by producing excellent, high-quality, emotionally invoking videos.
When nonprofit organizations contact us to avail of our video animation services, we ensure we pay additional attention to them. We instruct our script writers ✍️ to create a powerful, emotional, and thought-provoking script that can encourage people to support noble causes.
As nonprofit videos are often connected with sensitive topics like child abuse, cyber-bullying, women's health, and hygiene, we ensure to create visuals that don't hurt anyone's sentiments and deliver the message properly simultaneously.
If you're interested in getting a compelling video for your nonprofit organization, you can connect with us.
If you have no clue how video animation works, don't worry. Our video experts will guide you. They will help you determine which video service, like 2D animation service or 3D animation service, is suitable for your cause.
In the past, we have worked with numerous nonprofit organizations and contributed a little to make a difference in the lives of people who NEED us.
All Things Considered
Not all heroes wear capes, which is absolutely right! These nonprofit organizations are those heroes who are serving humanity day and night, trying to make our world a better home for people.
To spread their message in a new, engaging way, video is the best approach to go with.
We hope the nonprofit video examples not only pull the strings of your heart 💖but inspire you too. You can take ideas from these heart-warming videos and produce one for your organization.