Videos have become an important marketing medium. Read our comprehensive guide on video marketing and how to make a successful video marketing strategy.
You're here because you understand the value of video marketing. Consumers are bombarded with live streaming, augmented reality, interactive 360 videos, and more, so brands can no longer rely on textual content and visuals to engage them.
An estimated $135 billion is spent each year on digital video marketing in the United States alone. As a result, businesses worldwide are discovering how important it is to produce and distribute video content.
As a result, if you don't release branded video content on a regular basis, you're falling behind. However, if you've never made a video for yourself, it might be challenging to get started. We're here to help!
This comprehensive guide will teach you all you need to know about video marketing, from how to choose the right style of video to how to get the most out of it. You can get all the information you need right here!
How To Create A Prolific Video Marketing Strategy?
You all must be quite familiar with the term video marketing strategies. It's not an alien concept. Just like you won't create an advertisement without proper research, you cannot create a digital marketing video without making a robust video marketing strategy.
A video marketing strategy will eventually lead you regarding your budget, schedules, production procedures, and conversion metrics, among other things. Thus, documenting and finalizing this should be the first stage in your video-making process.
Before we get into the details, here is a high-level summary of the steps.
How To Build Your Video Marketing Strategy
Focus on your video goals
The first step in developing a video strategy is defining the video's objectives. In an ideal world, you'd create a video for each level of the marketing funnel. However, you must first determine which step is the most critical to target.
Awareness
Here, a problem or opportunity is defined, and the audience becomes aware that they have one. This stage's videos should engage viewers and introduce your business to a new audience.
Consideration
The audience is now pondering how to resolve the issue at hand. They're conducting research, soliciting recommendations, monitoring product evaluations, and attempting to identify cost-effective solutions.
Decision
As soon as you have a solution, you want to keep your name in the public eye. Prove to your potential consumer that your product or service is superior to the competition by showing them testimonials from happy customers.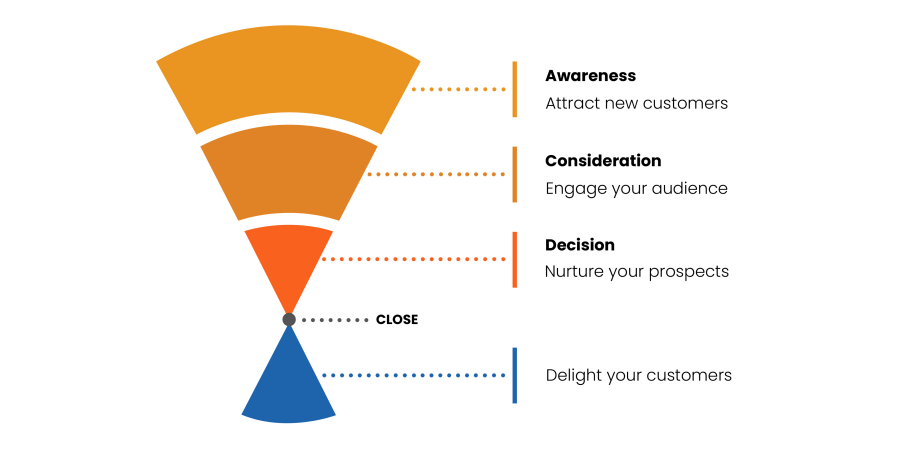 You'll need to make an awareness stage video to attract new clients to your company. You'll need a contemplation stage video if you want to keep your audience interested. As soon as you're close to sealing the deal, you'll want to prepare a decision-stage video.
Create a video for your existing customers to thank them for their business or a video for your staff to recruit new members.
Look for your target audience
Next, find out who your target demographic is, based on how far along in the marketing funnel they are at this point. If you don't know your target audience, your video is more likely to fail than if you do. Neither those who should see it nor those who see it will be converted. There are several ways to determine the demographics of your audience.
Developing a buyer's persona is the most crucial step. A good thing if you already have one! When a business creates new products or services, it is common practice to create buyer personas. A large portion of your target market is likely the same folks you hope to reach through your video.
In order to identify your ideal customer, you must have a clear picture of your buyer's identity.
Think of content ideas
Now that you have a good understanding of your audience, it's time to think about easy and fun content ideas to create a video for your business. You have to determine what should be the video about; should it be about a product/ service? Or should it be about your customers or brand?
It's difficult to come up with compelling ideas for your videos but that heavily impacts the success of it.
You can either make a whiteboard animation video, conduct corporate interviews or create a time-lapse, that's totally your call. All you need to keep in mind your idea should be captivating enough to grab the attention of viewers and keep them hooked.
Choose the story you want to tell
This is the most fun yet the most challenging stage. When figuring out the story you want to tell your customers, you need to make an outline of it and add the following four elements in it:
A protagonist with ambition.
The conflict faced by the protagonist.
The quest.
The resolution/solution.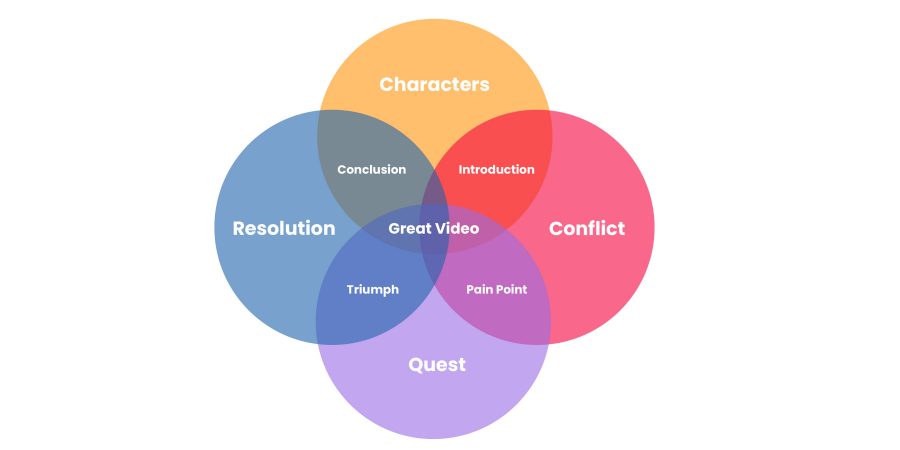 Using these elements in your tale should lead the viewer on a trip in line with your brand's objective.
As you write your story, think about how you want the audience to feel. Do you want them to laugh out loud? Should they get inspired or feel joyful, it's up to you.
Write your script while keeping in mind the feelings you want your audience to experience. It will be communicated in every element, from the props and the setting to the colors and the costumes, so select wisely!
Don't overlook the creative requirements
Consider who will approve your script. I (your boss, the founder of your firm, a representative from your content marketing department, etc.) and how long it will take to include their comments while writing your story. Script, message, and objective modifications, among other things, might throw the entire production into disarray. However, these modifications are all too prevalent.
Always follow the timeline
While planning your complete production, you should adhere to a schedule from creative concept to final video release. You should have many timelines – one for the whole project, one for production, one for distribution, and so on. Your timeline acts as a guide, reminding you of what you've accomplished and what remains to be accomplished.
Every team member must adhere to strict deadlines. Marketing often has a separate timeframe, production may have a separate timeline, and your social media department may have a separate timeline.
The good practice is to keep everyone in the loop to avoid conflicts.
If you don't know how to schedule your video production process, take a look at our process below to have a clear idea.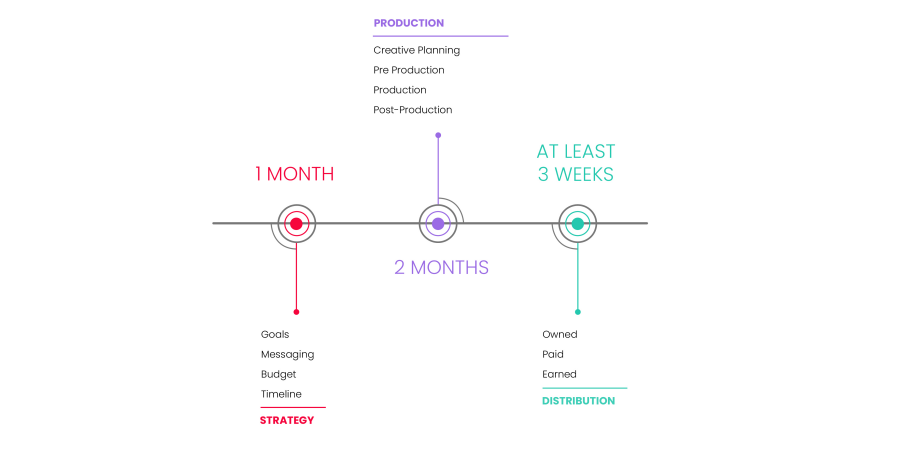 Go with a pragmatic budget
Cash is king! While innovative planning and strategy are critical, let us be realistic. Without a sufficient budget, getting what you truly desire will be tough.
Keep in mind all the available money and resources while planning your video marketing strategy. Determine what you will produce or shoot in-house vs. what you outsource to a video production agency.
Plan which items you can afford to spend on and which you may choose to preserve.
And constantly shop around – not literally, but metaphorically. Ask around how much the industry experts are charging for different services such as scriptwriting, social media distribution, post-production, etc.
Now it's your job to determine whether you should hire a freelancer for the job or a company if you're planning to outsource.
The majority of agencies are more than pleased to provide you with whatever information you require or to refer you to others who can assist you more effectively.
Sometimes some videos can cost you a lot more than regular ones, so do your homework before deciding on the type of video you want and how you'll create it.
Which Type Of Marketing Video Should You Make?
After you've developed your approach, it's time to consider the actual video you're going to make. Simple as pie, correct? Not quite…
Each type and style of video has its own set of advantages and disadvantages. Certain varieties may be more advantageous based on your unique marketing objectives, while others may be more advantageous if you just want to save money in the long run.
If you're unfamiliar with the distinction, you're not alone. That is why we have broken down some of the most popular genres and styles of video to help you get started with the video-making process!
Popular video types you must know about
From instruction videos to explainer videos to brand videos and more, there are numerous video types available that you can use to promote your brand.
Even though there are so many types of videos, a few are more suitable for your marketing goals.
Once you have aligned your video marketing goals, start learning which type suits your business.
1. Explainer Videos
The primary goal of an explainer video is to teach your audience about your product, service, brand, and company. What distinguishes an explainer video from other videos is they showcase how your brand solves a particular problem.
We believe explainer videos are great to use when you're planning to introduce your brand to the industry. They effectively explain what your company is all about, why people should care, and how it can solve your problems.
The optimal length of an explainer video is between 60 to 120 seconds. Link of optimal video length.
Also, there's a catchy CTA button at the end of the video.
Ensure to answer the following three questions in this type of video:
What are the pain points of your audience?
How your solution solves their problem?
Why should the audience choose your brand?
2. Commercial Videos
Commercial videos are short, captivating, and attention-grabbing videos. These videos are made to highlight the best offering and features of a company with a lively scene, stunning imagery, or rundown of stirring characteristics and end with a vibrant call to action.
You must have watched a ton of commercials on television or platforms like YouTube because this type of video is commonly used in the market.
The primary goal of creating a commercial video is to tap into new markets, appeal to customers in a new way, and offer valuable information.
Moreover, commercials are pretty memorable. There are plenty of commercials that you still remember because the intent was to create such video content that sticks with the audience.
If your commercial video is dynamic, lively, and engaging, then even new customers won't be able to forget it for a long time.
Video commercials are very short, between 30 seconds to 60 seconds. This type of video content is distributed on paid channels. You can also incorporate your commercial videos on the homepage of your websites as it gives a general overview of your brand.
If you're looking for some inspiration to make your commercial video, check out creative commercial product video marketing examples.
3. Product Videos
If you want to talk about the spectacular features of any of your products/services, using a product video is a great idea.
A product video showcases your product in action, which makes it easier for you to boost your audience's confidence.
The main goal here is to target the audience in the initial stages of product hunting. All you need is not only to show the beauty of your product but its necessity and utility.
You need to highlight all the necessary points to prove how your product is better than the rest in the market.
Since there will be many similar products in the market, it's a great idea to showcase your product through a video.
Generally, product videos are 30 to 40 seconds long. You can share this type of video on all your social media pages, websites, through paid advertisements, and via email.
Use great sound and high-quality production; be it dialogue, music, or voice-over, the quality should be excellent.
4. Social Content Videos
Social content videos are short-length videos that are created for social media platforms such as LinkedIn, Facebook, Twitter, and Instagram, to name a few.
These videos are usually playful, fun, engaging, and created to be shared.
They might be a montage of scenes, lifestyle shots relevant to your product or service, brief sound bites or quotations from interviews, or simply a stunning photo of your goods.
If you haven't seen a television ad, you have almost certainly seen a video on social media. Social videos can be about nearly anything and are often used at any stage of the buyer's journey. They frequently assist in attracting new and current consumers because of their humorous, engaging character and shorter length.
Keep videos for social media under 30 seconds in length. Take note of different social media features such as video looping and muted auto-play. You can benefit from these features by experimenting with quiet audio and generating infinite cycles.
Additionally, emphasizing good client feedback in your social videos builds your trust and promotes encouraging word of mouth.
5. Customer testimonial videos
One of the robust videos you can create to promote your brand is a customer testimonial video. This video aims to show all the current and past customers sharing their positive experiences with your brand.
A customer's honest feedback is more powerful than anything you might say about your business. With 90% of consumers citing internet reviews as a factor in their purchasing decisions, leverage these reviews to boost your brand's credibility and encourage customers to buy.
In general, client testimonials are between 30 seconds and two minutes long, and they might focus on one consumer or several. These videos are incredibly adaptable, allowing you to distribute them in a wide variety of ways.
Take your time and select the right individual to video a testimonial for your business. You don't want a forced or fake-feeling testimony that will harm your brand.
Types Of Styles You Can Choose
Choosing the right video style is crucial to its success, but picking the right video style is pretty challenging.
The term style refers to the messaging and tone of your video. These elements have a massive effect on your story – how are you telling it? Who are the main characters? Specific locations? Dialogue? Graphics? All these elements, when put together, create your video's style.
If you want to keep your audience engaged, it's essential to pick the right video style.
There are numerous video styles available at your disposal. Below we have listed some of the most commonly used ones:
Animation
Your viewers will be captivated and engaged like never before through animated videos. You can use animation in any type of video since it can be employed as a stand-alone style, regardless of the topic of the video. However, animation is very effective when it comes to conveying difficult-to-understand topics or technologies.
It can also be used to mix and match with other fashions. Animated graphics or animated cutaways can be used in your lifestyle video as a supplement, or you can use it as a stand-alone video. It's adaptable and can liven up just about any video you put together.
Keep in mind that animation might be less expensive to produce (time-effective, less equipment, etc.) but takes a lot more technical talent. Before choosing this video style, make sure to go through its set of pros and cons thoroughly.
P.S: There are various styles of animation which you might not know about, if you want to explore different styles of animation, do give a read to 8 different types of animation styles with examples.
Narrative
In addition to animation, narrative videos are the most well-known type of video. When it comes to presenting a brand's narrative, they employ storytelling techniques such as character development, conflict, and resolution.
They provide a story that is easy for your audience to follow and understand.
Narrative videos tend to be most effective in the early stages of the buyer's journey since they are designed to convey a story.
You want your story to be memorable, whether it's the tale of how your company came to be, the story of a dissatisfied client finding you for the first time, or the story of a fictitious hero character.
Keep in mind that your video should be enjoyable to watch, so have fun composing, filming, and distributing it. Make significant use of branding and keep in mind your brand's objective while you create your story.
Mini-documentary
A documentary-style mini-documentary is less about your brand's visual aesthetics and more about articulating your company's fundamental philosophy or mission statement. Interviews with significant company representatives, such as founders, workers, or pleased customers, are typically used to get this information.
Your mini-documentary must be concise and to the point, if you want to create an impact. When promoting yourself, you want to use catchy soundbites to draw attention while keeping the audience engaged.
Mini-docs don't have the time to tell a whole three-act tale as a feature-length documentary does. They must swiftly answer the three most important questions: what, why, and how, in order to construct their story.
In this video, what is the subject matter? What's in it for the viewer? What is the nature of your subject? This is a fun and creative approach to provide important information to your audience.
Mini-docs should not exceed one minute in length; however, they can be a little longer. After the one-minute mark, viewers' attention spans begin to wane, so do your best to deliver your tale in that time.
If you want to know about more video styles, read out the inspiring styles of videos.
The Video Production Process – The Three Stages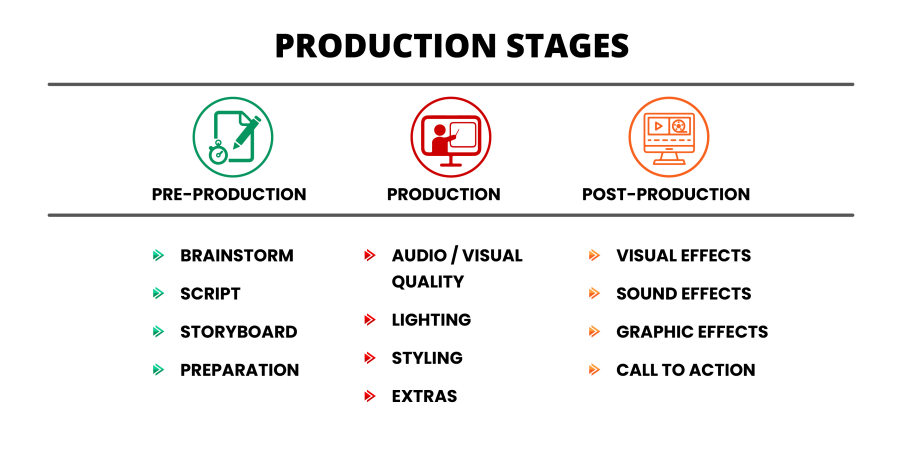 Now let the real show begin. Now that you have a unique strategy in your hand and know the goals you want to accomplish through your video, you also know which video style is right for you. So, it's time for the big show – the video production process.
When starting, bear in mind that 4 significant steps plays a substantial role in the pre-production of the video process.
First comes the scriptwriting process, then searching for a suitable video production agency, reviewing and editing the video, and finally getting your hands on a well-crafted, stunning video.
We believe the whole process approximately takes up to 2 months if you're working with the right agency. However, you need to plan on each stage carefully, so you don't fall behind.
The Pre-Production Stage
Everything you need to plan for your video is covered in the pre-production phase. Since it starts your video in motion, this is a vital step in your production process. After defining the subject of your video, getting feedback from all key team members, and arranging your shoot, you'll be ready to go forward.
Do all of your background checks, artistic calls, and final approvals here if you're looking to hire a production team or agency.
Now let's take a look at the 4 significant steps involved in pre-production.
Brainstorming
Whether you are going to produce the video yourself or hire a video production company, it's essential to do some brainstorming sessions. Sessions like these help you to come up with exciting ideas for your video story, plot, characters, messaging, length, and even length.
You might come up with some craziest ideas, and you'll feel they are not right but believe us, no idea is too crazy. Do a brainstorming session; sit down, jot down all the crazy ideas and determine what might work for you and what might not.
If you're working with a company, don't worry about these minor details as they take care of it. At BuzzFlick, we communicate with our clients, ask them for their creative opinions, and provide you feedback.
In addition, we can provide fresh ideas and point you on the right path if you so choose. In order to make your brand video memorable, you must agree on a creative approach that expresses your business's identity.
Script
Scriptwriting is the second important step. Included in this is a detailed outline of your story's dialogue, sound effects, music, voice-over, and images. Alternatively, you can hire a freelance scriptwriter \to write your script for you, or if you have a knack for it, you can do it yourself.
Keep in mind that the average reading speed is two words per second while you type. About 120 words should be all you need for a one-minute video.
Even yet, don't forget that you don't always have to cram your video full of words. Movements or silence might sometimes be better than narration in telling your tale. Consider which is the best way to deliver your message.
Storyboard
Once you have outlined all script visuals, it's finally time to give them life. Although they aren't always necessary, storyboards play an important role in developing your video's visual style. Project coordinators and camera operators will also benefit from their guidance.
In order to produce a successful storyboard, you don't need to have to be a Leonardo Davinci. Use it as a reference; even stick figures depicting your characters can assist your team get on the same page regarding the feel and look of your video.
Preparation
After that, it's time to take things to the next level: hiring talent, setting up production schedules, appointing employees, and more. If you're doing something all on your own, things can become a little crazy.
If you're filming in public places, you'll need a single point of contact for all of your production assistants, cast members, and even licensing, so hiring a production company to manage all of these technical concerns may be beneficial.
At this point, documents are a blessing. Keep track of everyone's schedules by putting together shared contact sheets, calendars, and more. Keeping track of deadlines and setting reminders for yourself can ensure that you don't miss any important elements.
It might be a full-time job to set up pre-production, so be sure that you balance what you want to achieve with what you're capable of doing.
The Production Stage
It's finally the production day! It could be hectic and crazy or totally organized and cool. It's the day when your video finally comes to life – you will feel proud.
There is still a lot of work ahead of you if you want your video to be as good as you want it to be.
To avoid losing sight of the following, be sure that neither you nor the production agency you're working with does.
Visual/Audio quality
Visuals and audio are the two most essential parts of any video. Make sure both are up to your requirements on production day. Make sure to test all of your equipment and work with an expert producer to obtain the most refined sound and picture possible.
Onset, make sure that your visuals are consistent with the storyboard and brand identity. The sound and camera equipment (booms, mics, etc.) should be thoroughly inspected.
If you're unable to make it to the set, make sure to stay connected to ensure everything is going as planned.
Lighting
A beautiful, high-quality video can be distinguished from a sloppy, low-budget one simply by the quality of its lighting. Lighting establishes the mood, sets the tone, and sets the overall look and feel of your production; therefore, it's essential to pay close attention to it. It's best to leave this to the pros, but make sure you approve the final product before handing it over to them.
Styling
Physical styling can improve the mood of your entire video production. It includes elements such as wardrobe, makeup, set decors, and props.
Whether you go small or big, this is where the meat of your narrative will be conveyed. Specifics and purchasing can be worked out once you've finished the creative planning step. It's important to keep in mind that the aesthetics of your video have a significant impact on how well it performs, so be mindful of this while making your selections.
Extras
Complete the task at hand! Producing content onset will only help you in the long run. It might provide your customers with greater long-term value and provide you additional material to present on your website.
To learn more about what an agency can do for you, speak with them. Consider your own requirements and discover what you're capable of! So that you can continue to edit and repackage your video for future usage, you can even ask for raw footage.
The Post-Production Stage
In most cases, you don't need to be concerned about the post-production process unless you are a production manager or creative director.
Even while being aware of what goes on is useful, you will probably not be doing any hands-on work at this time.
Post-production is primarily dependent on video editing and graphic development. Therefore, you'll either have hired an agency or expert editors.
Keep an eye on the deadlines and acquaint yourself with the post-production process, but don't think about doing all this work by yourself.
Visual effects
Editing your video footage is a critical element of post-production. Naturally, this requires editing and combining your interviews, b-roll, lifestyle footage, and interviews to make your story.
However, it also entails changing other visual components, such as color, white balance, and clarity, to effectively depict the story you're telling.
These changes will determine your video's overall look and feel, which has a significant impact on its branding. After all, an Apple shop is not synonymous with low, romantic lighting, so ensure that your color tweaks fit your creative vision.
Graphic effects
Visual effects should be used with visual editing in your branded video. Many other types of visual components may be used, such as motion and text graphics, fades in or outs, and lower-third overlays.
You'll be able to create a video that represents your company well if you make good use of these design aspects.
Sound effects
In addition to your visual effects, your audio effects are just as vital. It's a combination of sound mixing, conversation, narration, and music to generate viewers' audio when they watch your video.
The difference between a low-quality video and one that sounds high-quality can be as simple as adding ambient sound to a calm scene. A competent audio mixer will ensure that the Foley effects, sound levels, and dialogue volume are all in the correct ranges.
Call-to-action (optional)
It's essential to have a clear goal in mind for your video's call to action. For example, you insert a "Click Here" button or thumbnail of another video, social icons or nearly any other sort of CTA in the video.
If you're going to use these aspects, you'll need to think about your video's objectives and how you want the audience to accomplish them.
Remember to keep in mind the user's experience and how you can minimize any disruptions with your call to action.
How Does Video Marketing Improve Your SEO
You might not video marketing offers plenty of benefits. At the moment, we're focusing on one of them, i.e., improving the SEO (Search Engine Optimization).
SEO is one of the many advantages of video marketing that we'd like to emphasize here. Sixty-four percent of people search online while they're in the "I want to purchase" stage, and seven out of 10 people go to the store's website or app to make their selection. Because of this, your website must rank well on search engine results pages (SERPs).
That's why video is so useful.
Search engines prioritize websites containing video content, and videos feature 55% of all Google keyword searches. With video, your snippet will be more prominent and more eye-catching, increasing the likelihood that searchers will see it before they view other results. This will help your website rank higher for related searches.
How can incorporating video content improve website ranking?
Search engines prioritize sites with video content because they perform better overall than those not. SEO is all about doing the right thing; therefore, search engines will reward websites that engage visitors, answer inquiries, and give a pleasant overall experience with a better rank.
Even though there are several ways to boost your search engine rankings, video is one of the most effective.
Boosting your click-through rates. There is a 157 percent boost in organic traffic from SERPs when you include video on your website.
Increasing the number of visitors who return to your site. People spend more time on a website with video content than those that don't.
Acquiring high-quality backlinks for your website. Backlinks are more likely to come from content that is of high quality.
How can you improve your SEO?
You must know SEO is a crucial part of a website. If you want to improve the SEO of your website, there are plenty of ways to do it. One of the best tips is to produce high-quality, informative content that offers some valuable insights.
You must be wondering which form of content can offer more information to the audience; it's video content!
If your video is ready, it's high time you should flex it. By nature, videos are super informative, and they can drastically improve your website's SEO.
Add videos on your website
Most marketers prefer to share their video content with the audience through social media platforms, which is the best practice. However, you should not forget to share your creation on your website as well.
Embed your videos on your homepage. If you have made a product video, share it on your product pages or embed it into a blog to give more value.
Upload videos with consistency
To get the most out of a video, it's best to share it frequently. Every day or endeavor may not be possible to upload videos but allocate some resources to video production for large campaigns or initiatives that might benefit greatly from video. Even if you only add some text to a stock image, you'll be able to attract more organic visits to your site.
Promote your video on quality pages
Unfortunately, adding a video to a blank webpage will not help your SEO. It's a good idea to embed your videos on pages that offer valuable information. Using this practice, search engine crawlers will see that you have a lot of relevant and useful content on your site by looking at your multimedia. Don't forget to include the video's transcript if it's available, as they can be of great help.
Don't overlook the finer points
The technical aspects of SEO are just as important as the great content itself. The same is true for video. Make sure that you include your video's tags, description, title, and annotations when you submit it to your website so that search engines can find it. Editing these things is possible on most video hosting systems.
How To Choose Video Distribution Channel For Video Marketing?
Everyone on your team is in awe of the video you've put together. What's next? How do you encourage people to really watch and share it? That's all about distribution!
Your video's success depends on distributing it through the correct channels. While each distribution channel has its advantages and disadvantages, leveraging the perfect combination of them can help your video soar to new heights, increasing brand recognition and converting consumers at every level of the marketing funnel.
So, without further ado, let's go through each distribution channel in detail.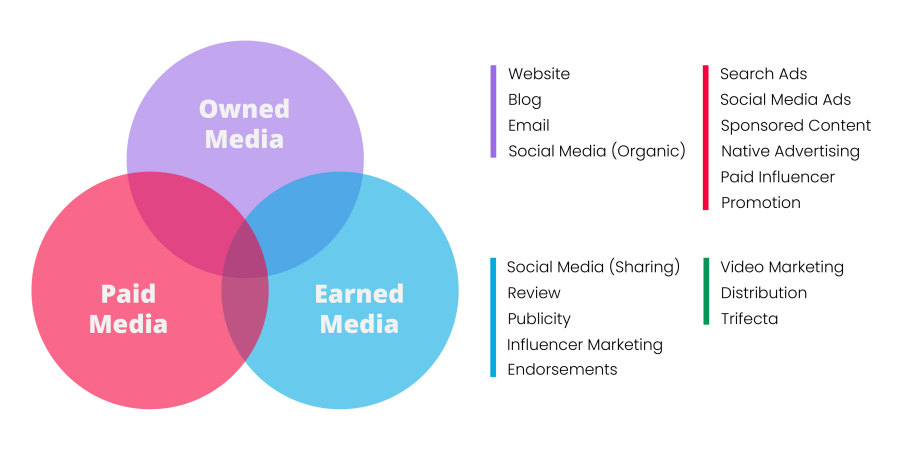 Own distribution channels
In terms of distributing your video, posting it on all of your owned channels is the simplest and most effective technique of doing it. Your website, email list, digital documents and PDFs, and e-commerce pages are all included in this. Your firm and brand are the key sources of information; therefore, make use of every one of these channels to your advantage.
Use these owned distribution channels for your video to spread the word.
Website
Put your video on as many sites as you can, from your landing to your e-commerce pages. This will help you attract more people and engage them once they arrive. Adding more than one video is the best thing because this is the most important spot to collect the most impactful views.
Email
People who have interacted with your brand or provided you with their contact information prefer email. A good video marketing strategy is to incorporate your video in an email sequence, newsletter, promotional email, and automated email.
Blog
People often find it boring to read long texts. If you want your visitors to enjoy reading your piece, try embedding videos in your blogs. Visitors expect your blog to offer all pertinent product news and informative marketing content. Better still, someone viewing your site is eager to invest time in it.
Social media (organic)
You'll want to promote your video many times on all of your social media networks, including LinkedIn, Twitter, Instagram, Facebook, and more, since social algorithms are progressively favoring video content. To have your video seen by as many people as possible, you need to put it in front of as many people as possible using social media.
Using these channels to distribute your video content shouldn't be a problem because you can control them. With a simple change to your website or email campaign, more people can see your video and deliver your brand's message to those who most need to hear it.
Paid distribution channels
Paid or paying for video distribution via advertising has become practically crucial to video marketing success. Platforms charge a significant amount for advertising because charging for distribution is the only option to make money, which means video makers like you have to pay extra to get their content noticed.
That's fine! A tiny advertising investment can go a long way, and a mix of non-paid and paid distribution can get your movie in front of the right audience.
Here are some paid distribution channels you can take advantage of:
Social Media (Paid)
Previously, we talked about the organic distribution of video content on social media. Now we're taking a different approach, i.e., paid distribution of video content on social media platforms.
The paid distribution also helps to promote your content on a larger scale. Paid campaigns help you showcase your video content to the exact type of audience you want to watch your creation.
With organic distribution, you can only reach your top fans, but with paid ads on social media, you can target all sorts of locations, demographics, interests, income level, gender, and beyond. Plus, it ensures only those people see your ads who will actually buy your product.
Sponsored Content
This type of content is paid for, typically by a firm supporting a different company or brand, such as a product or service endorsement. Unlike native advertising, it isn't technically an ad – it's a useful piece of visual or text content intended to educate the audience about a specific topic.
Typically, sponsored posts are shared naturally on social media, so they get an added boost in dissemination.
Native Advertising
Video content may be integrated into third-party websites without disrupting the user's experience, using native advertising. A video showcasing your bakery's cakes can be organically incorporated in an article on baking on a food website.
Due to the specificity of the content, this type of advertising is more expensive than search and social advertisements, but it has a higher return on investment.
Influencer Outreach
For both paid and earned distribution, influencer outreach is the best option. Influencers are people that have a lot of followers on social media and are willing to promote or share your video content.
However, the proper influencer may require a more substantial financial incentive to provide this service for free. Create a video together that will benefit both of you.
Earned
In terms of distributing video, earned distribution is one of the toughest. It's impossible to control the dissemination of earned media, but there are specific steps you can take to increase your chances of success. Because earned media is free, it's just a question of making an effort and not being scared to follow up.
There are a few techniques to boost your earned media distribution, even if it can be a little unexpected.
Influencer Marketing
This includes anything from product evaluations, social media shoutouts, mentions, endorsements, and more, done for free by an influencer.
Many influencers are eager to assist you in promoting your video content in exchange for anything, such as free service trails, reciprocal mention, or a long-term connection.
Take a moment to think about how much you're willing to give up to have your video seen. It may be worth it if they can significantly increase your visibility.
Traditional PR
A press release or posting on a trade website can be appropriate for your video, depending on your industry and the sort of video you make.
However, it's a good idea to contact site administrators directly on specialty websites that are relevant to your industry, such as wellness and health or fitness websites.
You can also ask them to feature you in their newsletters or add your video link in their press release to make your campaign more official.
Product Reviews
Online reviewers like YouTube influencers are a great source of content for your business. You can also solicit feedback directly from your consumers and encourage them to write or record their reviews. This can help to boost your brand's trust and improve brand recognition.
Which distribution channel is suitable for you?
We cannot emphasize this enough: Your video approach depends entirely on your video objectives.
Ideally, you'll employ all three methods of video distribution. Ideally, you understand your audience and how they will react to your video. Concentrate on the distribution approach that will yield the highest profit.
Concentrating your efforts on paid distribution may be the wisest course of action if you're in the film industry. Earned publicity can be a way to go if you're in the field of brain tumor research.
If you are an entrepreneur who recently founded your own business, distribute information using your methods. It indeed varies, so conduct some study and determine which option best matches your circumstances.
Owned distribution channels are a must because you own the channel and have the complete freedom to control these channels. There are pretty low chances of failure because you can always try other options if one channel doesn't work for you.
Moreover, having such distribution channels is necessary to capture leads and boost your conversion rate.
Paid distribution channels are also equally important. But how much benefit you can gain from each paid channel depends upon the available capital resources.
Before choosing a paid channel, you need first to determine where your high-converting prospects reside and invest majorly in that channel.
Since there are plenty of paid distribution channels, you should try out each one in order to determine which method is more suitable for you.
Earned distribution, like ownership, is entirely free. You have nothing to lose but your time and effort if you want to use it, but the payout might be substantially more unexpected than if you own or pay.
To get the most out of your SEO efforts and create connections with influencers, the return on investment (ROI) might be enormous, or it can fizzle out at any moment. But don't forget to distribute your earned revenue! You need to carefully determine which channels will help you achieve your video goals.
How To Measure The Success Rate Of Your Video?
At BuzzFlick, we are pretty particular about our metrics to measure the success rate of our videos. We all know people love viral videos, and they become popular in a flash, but here we're more interested in videos that bring business to us.
We highly recommend you adopt a results-oriented mindset. Make sure you're keeping a close eye on metrics that truly help you achieve your video goals rather than being blinded by the big impression count alone! Get a million views and a lot of purchases by learning how to use particular analytics in your video marketing strategy.
Key KPIs to measure the success
We know view count is important, and it's a crucial metric to measure success. However, there are other metrics too that you must be tracking.
We all know metrics differ from goal to goal, company to company, and so on. However, we have enlisted some of the important metrics below based on where a viewer falls into the marketing and sales funnel. We suggest you track each metric we have classified below.
We understand you might have limited data, platforms, resources, and reporting capabilities. If you're unable to track all of them, try to determine which metrics align with your brand goals.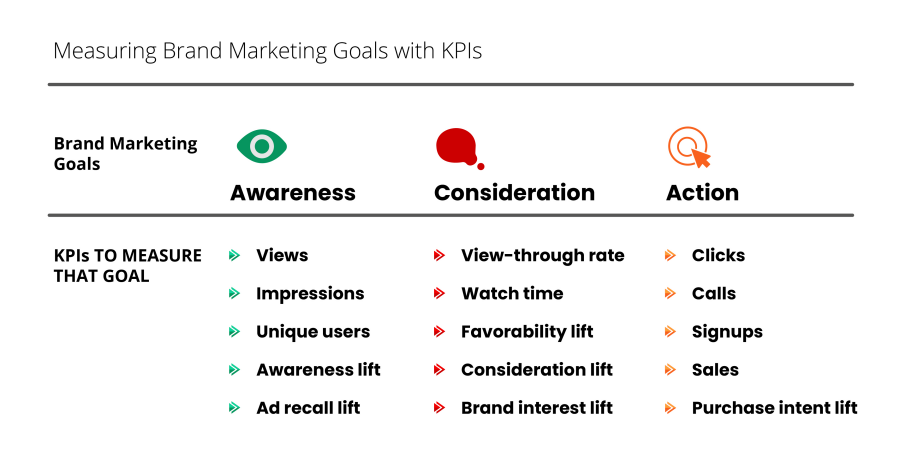 1. Attract
The question is whether or not you wish to expand your customer base. At the top of the funnel, goals are the widest and simplest to track. In order to get people interested in your brand, you need to offer it as the answer to an issue that has just been brought to their attention. You want to create a good impression on them because this is likely to be your first encounter with them.
View count is crucial, but so are brand awareness, unique visitors, and memory raise. Fortunately, most video hosting services disclose this information, making it simple to locate. Surveys and brief quizzes on social media sites like YouTube and Facebook are commonly used to track changes in user perception.
Ensure to consider the following key metrics:
Views on video(s).
Number of impressions received.
Count of new users.
Ad recall lift.
Awareness lift.
2. Engage
Do you wish to pique your audience's interest? Given that you've already introduced yourself, the next step is to keep your audience engaged.
As we have already discussed above, video is one of the most engaging forms of content capable of bringing more conversion. Suppose you want your video to keep your viewers engaged. In that case, your video should be compelling, informative, entertaining, and fascinating – in short, make it so captivating and eye-catching that your viewer gets hooked in the first few seconds.
To measure the viewer engagement rate, determine the view-through and watch time rate, as these are two critical metrics you should never miss out on.
Ensure to consider the following key metrics:
Watch time.
View-through rate.
Brand interest lift.
Consideration lift.
Favorability lift.
3. Nurture
Now it's finally the time to nurture your potential customers! If your audience has progressed this far in the marketing funnel, it means that your marketing efforts have been successful.
We know nurturing is difficult, but it is also the quickest and easiest to quantify. If you've done a good job at nurturing, you'll notice an increase in conversions. Which conversions you desire are entirely up to you – you may want social shares, sales, or contact information, for example.
However, the completion of the desired action indicates that your movie is achieving just what you intended.
Because your concept of a "conversion" is subjective, the metrics to track here are also subjective. A strong video will often generate a large volume of hits, calls, signups, or purchases.
A successful video may also result in more brand engagement, indicating that your video captured the viewer's interest, but they also require more information in order to make an informed decision.
Ensure to consider the following key metrics:
Calls.
Clicks.
Sales.
Signups.
Purchase intent lift.
4. Delight
Now you've got a paying customer! Keep them engaged in your brand for future purchases or extra value, which is your aim here. The longer people watch, the more likely they are to be charmed by the video.
Here, the tone of your video will have a significant impact. It's unlikely that your clients would be as delighted by a long, dull instructive film as they will be by a quick, amusing social media video.
When analyzing your data, keep this in mind: A 15-second video will likely have a substantially greater view-through rate than a two-minute video.
Consider indicators like return visits and repeat purchases in addition to the traditional watch analytics (such as click-through rate, views, and impressions). These metrics will demonstrate your video's ability to please customers after the sale.
Ensure to consider the following key metrics:
Favorability lift.
Social engagement.
Return visits.
Measuring Return Of Investment (ROI)
Your KPIs are in place, but they won't be enough to make your video successful on its own. However, you must still convert all KPIs into dependable and accurate numbers.
Despite the importance of this phase, it is crucial to keep in mind that not all metrics are directly linked to income. Brand favorability and consideration are examples of measures that don't pay off right away.
Be patient and make sure you have in-depth tracking enabled so that you can better link your video stats to the eventual sales of your product.
However, there are a few ways to determine how much money your video brings in.
It's easy to get a sense of how many people have seen your brand, product, or service using your watch analytics, such as views, impressions, and unique users.
Assuming you know how many top-funnel people convert, you can use this calculation to your unique user count. A cost-per-view calculator or an actual conversion rate may also be used to determine how many views your video needs to be profitable.
People who view your video, explore your site, and subsequently make a purchase may be tracked via behavior monitoring.
Once an individual is engaged, it's difficult to be compared to cold, hard sales. As long as they don't plan on making a purchase, visitors to your site can view your movie, get some knowledge, and go without ever returning.
If you want to have a clearer picture of how your video or website is being used, you should drop cookies and trace the journey of every individual that sees it or visits it. Then, you'll be able to observe how many of your visitors end up making a purchase.
In order to cultivate a relationship with potential customers, you need to provide them with a specific action they may perform.
A simple way to measure your return on investment here is to create tracking links that immediately provide you with that data.
You should be able to see exactly how much revenue you've gained by increasing the number of people who do your desired activity. Lifts in signups, for example, should immediately correlate to increases in revenues, all other factors being equal.
Having this user information on file will allow you to keep tabs on their progress and monitor their eventual conversion.)
Finally, since you already have a customer's purchase information, you should measure the money that comes from making them happy. You'll probably have a user profile for each client or some type of contact information from them, and watching their activity will give you an indication of how many return visits convert.
Apply this proportion to the number of repeat visits to your website, and you're good to go: There is a significant chance that your sales staff will also know how many first-time customers return.
Choosing Your Right Data Platform
There is a plethora of analytics tools available. Is there a video platform that is perfect for your team or organization?
Your budget will play a significant role in determining which analytics platform you should choose. A robust paid video platform may already be in place if your firm has a lot of data and every department relies on precise reporting.
For those who don't have the money, many free solutions are equally as excellent as some of the more expensive ones.
We've compiled a list of the top 13 video analytics solutions that you can use to acquire the most accurate data available.
Analytics platforms
In order to have a complete view of your data, you need an analytics platform. It's great that these systems can connect all of your marketing activities, from advertising to social media postings to referral sources to demographics and everything else in between.
These make it easier to keep track of everything in one location and reduce the amount of time it takes to do so. Here are some of our favorite analytics tools:
Google Analytics.
Kissmetrics.
Social platforms
Your video should be shared on social media sites, but the channels you choose may vary based on where your target audience is most active.
As a bonus, you should also consider sharing your video directly on social media sites rather than relying on third-party links. Your platform-specific data should be a top priority, so post your video content natively wherever you can.
LinkedIn.
Twitter.
Facebook.
Instagram.
Video hosts
Choosing a video host is almost a necessity. If you're sharing your video to several locations, you don't want to confine your data to just one source. Fortunately, most video hosting services provide real-time information and insights.
Wistia.
YouTube.
Vimeo.
Vidyard.
Cincopa.
SproutVideo.
BrightCove.
Optimizing Your Video Content
A clear picture of your accomplishments and areas for improvement emerges once the data is in. Optimize your video's performance by addressing distribution issues, audience targeting, and the actual video content.
There are several ways to make the most of your efforts. To help you achieve your marketing objectives, here are two suggestions for improving your present and future video content.
See if you can improve the quality of your video:
Is there a way to optimize your existing videos? A stronger call to action would be appreciated. Is there a way to distribute it on a different platform? Think beyond the box when it comes to expanding your video's reach and impact.
Sharing your video on a new social media platform might help you gain greater visibility. Try adding an end card with a more prominent CTA, adjusting the description language, or creating an incentive, like a limited-time discount or some contest, if your click-throughs or conversions are low.
Your video content can also be re-edited. The lower your click-through rates, the faster your audience will lose interest. It may be possible to reduce the length of your video so that it is more appealing to your viewers.
Adding visuals to the material would be a good idea. You may not want to alter your original video entirely, but producing different copies of it may improve your results.
Create better video content in the future with these valuable insights:
You also want to leverage your data and insights to change your video strategy in the future. The length of your video, the demographics of your audience, and the most successful distribution platforms should all influence the content, characters, and voice-over of your video.
Next time you plan to make a video for marketing purposes, use this helpful information to craft a more comprehensive approach.
Let's Get Started!
Thanks to video marketing's rapid rise, brands such as yours have a unique opportunity. Consumers have come to expect companies of all sizes and across all industries to communicate with them via video, as video continues to outperform other kinds of content.
New devices like smartphones and tablets are more video-readier than ever before, and platforms favor video more and more. Because of this, you must make full use of this powerful marketing tool in order to remain competitive in the industry. Your business will suffer if you don't act sooner rather than later.
Fortunately, it's now easier than ever to produce a stunning short video. At the drop of a hat, you may employ an agency that will take care of everything for you, so you don't have to worry about anything else. So, you don't have to worry about breaking the money to make a branded video that you'll adore.
If you are looking video editing company, do give a read to the top video editing companies. But we highly recommend you to consider BuzzFlick, a video animation and production agency that offers plenty of video production and video editing services, including 2D and 3D animation, whiteboard animation, explainer video animation, and post-production services, to name a few.
By the time you've finished reading this comprehensive guide, we hope that you'll be well on your way to transforming the way your brand views video.
Video Marketing Strategies – FAQs
The term "video marketing" refers to the practice of distributing information about a product or service via the use of videos. Your audience will learn more about your brand, and you'll be able to connect with them in a new way.
Why is video marketing important?
Video marketing is essential because it improves:
Traffic by 51%
Brand awareness by 70%
Sales by 34%
What are the types of video marketing?
The following types of video marketing are commonly used by companies:
Product videos.
Educational videos.
Work culture videos.
Testimonials videos.
How to make the best video marketing strategy?
You can make the best video marketing strategy by following the steps mentioned below:
Set your goals.
Consider your target audience.
Choose the story you want to narrate.
Plan your budget.
Choose the video type and style.
Select the right video distribution channels.