Thinking about investing in TikTok video marketing for your business? Read our blog to learn how to establish your business on this social media platform.
Tell me honestly. How many hours do you spend lying on your couch, sipping coffee, and watching TikTok videos?
2 hours? 3 hours? Maybe the whole day. Don't be embarrassed. I am in the same boat.
TikTok has become the undisputed king of video content. TikTok's influence cannot be understated. In addition to being the preferred method of procrastination for many adolescents.
The app has had a tremendous influence on music and culture in the modern world, and corporations are eager to join in on the activity and money, of course via TikTok marketing.
The video app might not be suitable for every company, especially if the demographics of your target audience and TikTok users do not align. Chipotle, Crocs, and the N.F.L. are just a few of the firms that have found success after marketing on TikTok.
Many of the most prominent brand moments on TikTok are accidental. After Nathan Apodaca initiated the #DreamsChallenge on a longboard commute to work in the Fall of 2020, Ocean Spray sales and Fleetwood Mac streams exploded.
But do not fret. You can still establish a profitable presence on the platform, even if you're not one of those lucky firms that fall into TikTok stardom by mistake.
Today in this blog we'll teach you how to set up TikTok for the company and how to approach TikTok influencer marketing. So, make sure you read till the very end.
What is TikTok marketing?
TikTok marketing is the technique of promoting a brand, product, or service using TikTok. It involves influencer marketing, TikTok advertising, and the creation of organic viral content.
TikTok marketing can facilitate:
Increase brand recognition
Create involved communities
Sell merchandise and services
Obtain consumer and audience feedback
Provide client service
Promote specific products and services to certain populations
Here are the three primary marketing strategies used by businesses on TikTok.
TikTok influencer marketing
Influencer marketing is a significant component of the app's ecosystem. Charli D'Amelio, Addison Rae, and Zach King are megastars that can have a significant effect on the success of a firm.
But why? Because Billions & Millions of TikTok users watch their content every day.
However, you do not need a high-profile influencer for successful marketing; instead, look for budding stars or professional influencers. For instance, a tiny Vancouver-based cosmetics company can use the hashtag #vancouvermakeup to reach influencers like Sarah McNabb.
Pretty good idea, right?
Creating one's own TikToks
This choice provides the most flexibility. Start creating your own organic content by creating a Business TikTok account for your company. To learn how to do that, keep scrolling for full step-by-step instructions.
Here, the sky is the limit; you can literally upload anything. From product demonstrations to daily life videos to dancing challenges. Spend some time perusing your For You page in search of ideas.
If you're searching for a starting point and have some money to invest, this is it: TikTok's website is filled with success stories from firms who began advertising on TikTok, such as Little Caesars, Aerie, and Maybelline. Similar to Facebook and Instagram, TikTok advertisements are priced via a bidding system.
How to Set up TikTok for Business
During the pandemic in 2020, TikTok rolled out a new TikTok hub specifically for businesses. A few months later, the popular social media platform rolled out another version, the TikTok Pro.
Initially, there were some minor differences between the two versions of this social media platform. One was dedicated to businesses, while the other one was created to support the tech-savvy content creators.
Nonetheless, both the hubs were facilitating the audience in the same manner, so later on, they were combined.
If you're a business owner, the only TikTok hub useful for you is TikTok for businesses. Using a business account can be beneficial in many ways since you can add additional information to your profile, analyze your videos' performance on real-time metrics and get your hands-on audience insights.
How to create a TikTok business account:
Step 1: Head to the profile page of your account.
Step 2: Go to the Settings and Privacy section located in the top right corner of the page.
Step 3: Click on Manage account.
Step 4: Now go to the Account Control section and turn the toggle to Business Account.
Step 5: Now, choose the business category that fits your business niche perfectly. There are various categories available, from Personal Blog to DIY to Fitness to Art & Craft, and so on.
Step 6: Now, you can simply add your business website link and email to your profile. That's it, and you're ready to roll.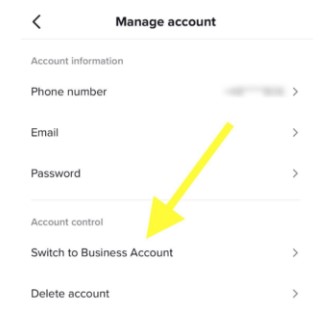 How to Advertise on TikTok
Creating an official advertisement on TikTok (i.e., paying TikTok directly for marketing) is a particular strategy to increase the number of people who view your content. You are not taking the chance that a collaboration with an influencer may fail.
Types of Ads available on TikTok
This is the first time we are shedding light on TikTok and the types of advertisements running on it. Let's take a brief look at them.
In-feed advertising is self-made advertisements. In-feed advertisements include picture advertising that resembles billboards, video ads that resemble television commercials, and spark ads that promote the content you already have so that it appears on more users' feeds.
There are also pangle and carousel adverts, which are exclusive to the Audience Network and News Feed applications, respectively, on TikTok.
Advertising for managed brands may resemble in-feed ads, but those who deal with a TikTok salesperson have access to extra formatting options (you may contact them to determine if you're a good fit).
Topview advertising is another common type of TikTok advertising. They play when the software is opened and cannot be skipped, similar to YouTube ads. Next are branded hashtag challenges, such as brand-related, actionable hashtags, and branded effects, such as stickers and filters.
This is an example of a Microsoft-sponsored hashtag competition. While some of the videos under the #StartUpShowUp hashtag were sponsored by the business, other people, such as the one we highlighted above, quickly jumped on the bandwagon to promote Microsoft for free.
How to make a TikTok Ad Account
If you intend to run adverts on TikTok, you must register a TikTok Ads Manager account.
To do so, go to ads.tiktok.com, click Create New, and fill out the form that appears. The only information included in the nation, industry, firm name, and contact information.
How to Create a TikTok Marketing Strategy
TikTok trends can appear random; recall the Adult Swim craze that dominated the platform in the summer of 2021. Furthermore, there is no such thing as a foolproof marketing approach. Nonetheless, there are actions you can do to assist your firm in dominating the app market.
Here is how to establish an adaptable TikTok marketing approach during your TikTok experience.
Acquaint yourself with TikTok
It would be inappropriate to approach TikTok marketing in the same manner as Instagram or Facebook. TikTok is an altogether new social network with its own trends, characteristics, and user behaviors.
Spend some time being taken in by TikTok videos (beginners, start here). Explore the many features of the TikTok app and take notice of the trendy filters, effects, and songs.
TikTok's variation on user-generated content, Branded Hashtag Challenges, consists of a song, dance steps, or an activity that members are challenged to reproduce. Do not ignore the Duets function on TikTok.
Additionally, study the TikTok algorithm. Understanding how TikTok displays and ranks videos on the For You tab can help you to comprehend how to create your content strategy, use the right hashtag, and boost your engagement rates.
You can also take classes at the TikTok Business Learning Center to brush up on all things TikTok.
Define your target audience
Who do you wish to connect with on TikTok? Learn about the TikTok demographics and find folks who may be interested in your business before you begin making content.
TikTok is most popular among teenagers. However, it would be incorrect to categorize it as a teen app. In the United States because the 20-to-29-year-old demographic follows the app closely after adolescents.
In China, "glam-mas" demonstrate that style only improves with age. Interested in expanding your presence in India? Perhaps you should rethink. Since June 2020, the video sharing app has been prohibited there.
Research your audience on other social media platforms and seek overlaps on TikTok. But don't rule out new or unexpected audiences.
Your present audience may not be on TikTok, but there may be subgroups on the site with similar or somewhat different interests. For instance, a publisher of children's books may target authors on LinkedIn, readers on Instagram, and artists on TikTok.
Once you have identified your target audience, investigate the type of content they enjoy and interact with. Then, begin to generate content concepts for your brand.
Conduct a competitive review
Are your rivals using TikTok? If so, you may be missing out on the excitement. If they are not, TikTok may provide an opportunity to obtain a competitive edge.
Find at least three to five comparable companies or organizations and observe their activity on the app, regardless of whether your rivals are present.
Try to learn from both their successes and their failures. If possible, use the S.W.O.T. framework to identify the strengths, weaknesses, opportunities, and dangers of each competition.
Because TikTok is a creator-driven platform, do not exclude TikTok celebrities and influencers from this experiment. Find individuals that specialize in your field of expertise, such as cosmetics, medicine, education, or literature.
Establish objectives that fit with your company's aims
You may produce TikToks for pleasure, but it is preferable to have goals in mind that align with your overall business goals.
Whether you intend to reach a new audience, boost brand image, promote product awareness, or strengthen customer connections through interaction, it is essential to justify your efforts.
Consider using the S.M.A.R.T. framework or similar template to establish goals that are Specific, Measurable, Attainable, Relevant, and Time-Bound.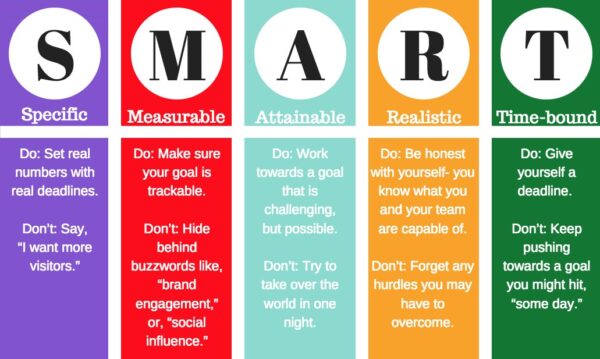 Source: Hydrate Marketing
Similar to the majority of social networks, TikTok offers statistics for Business accounts.
To view your TikTok analytics, follow these steps:
Tap the three horizontal lines in the top-right corner of your profile page.
Next, choose Creator Tools, followed by Analytics.
Explore the dashboard and locate the metrics that may be used to measure your objectives.
Post frequently
Creating and adhering to a content calendar is the key to a successful social media strategy.
Your TikTok content calendar will resemble a traditional calendar, except that instead of 'Dinner with Dad' and 'Dog's Half-Birthday', you will schedule 'Go Live' and 'New Video'. There are several resources available to help you get started.
Monitor your progress
Not only are analytics the ideal beginning points for marketing on TikTok, but they also make it simple to determine whether or not your ideas are effective. At least once every month, evaluate your progress towards your goals.
If you aren't, consider experimenting with different types of posts; perhaps an obvious advertisement for the Arkells isn't as engaging as a video of a musician hitting another member of the orchestra with a drumstick; these TikTok videos have less than 600 and more than 1.4 million views, respectively.
In short, you can evaluate your progress through a social media report.
Managing Your Brand's Presence on TikTok
You can easily manage your presence on TikTok with your other social media platforms using the app Hootsuite. Hootsuite is compatible with almost all the social media platforms, including Facebook, Instagram, Twitter, Facebook Messenger, LinkedIn, Pinterest, and, of course, TikTok.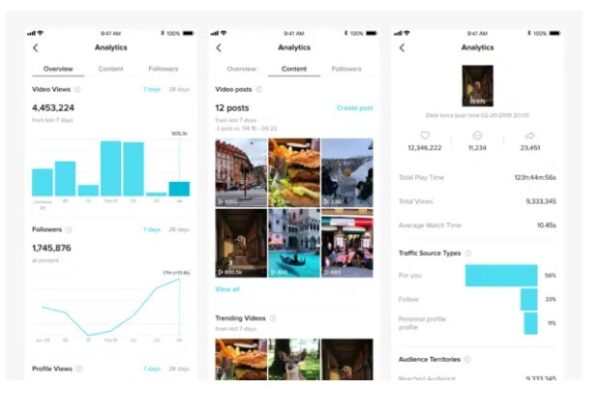 Through a single dashboard, you can easily do the following things:
Schedule TikToks
Evaluate and reply to comments
Assess your achievement on the platform
Their TikTok planner will even suggest the optimal times to upload your content for optimum and unique account interaction.
Need Help with Your TikTok Videos? – Consult BuzzFlick
Yes, we know making TikTok is a piece of cake. Plus, there are so many video editing apps you can use to give an oomph to your video.
However, if you want to use this social media platform for your business video marketing, then you need amazing and quality video content in order to grab the viewer's attention and motivate them to take the needed action – make a purchase.
If you don't have those spectacular video editing skills or have no idea how to go about it, don't worry BuzzFlick is here to help.
As one of the prime video animation companies, BuzzFlick is now offering social media video marketing services as well. Whether you want a striking Facebook Video Cover or get your TikTok video edited, we do it all.
We have the best like-minded visionary animators who craft beautiful animations. We believe in creating timeless and valuable products. We also have a team of editors who have microscopic eyes, and they know how to add sparkles and glitters to your video content to make it look enticing and enthralling.
Apart from social media video services, we offer other various services including educational video production, medical video production, and custom whiteboard animation services.
If you're looking forward to investing in animated video content, ping us today!
In a Nutshell
To put it in simple words, like other social media marketing platforms, TikTok's market is also booming. More and more companies are investing in this platform on a regular basis because of its ever-expanding consumer base.
If you are looking for a new platform to increase your engagements and conversion and haven't started on TikTok yet, it's high time you should start investing in this platform because one thing is certain, you'll never regret it.