If you're planning to start your video marketing campaign, read our blog to learn about the best video distribution channels every marketer must consider.
Okay, so you've done everything – developed video ideas, shot some footage, purchased a video editor, and edited your heart out to create the finest video possible.
What comes next?
Without a good distribution strategy in place for your videos, you will be squandering all of the efforts you have put into creating that material.
This post covers all you need to know about choosing distribution channels, and we've included a list of the top 12 platforms on which you can begin promoting your video.
So, without any further ado, let's get started!
Why Choose Video Marketing?
Before we delve into the specifics of video production tactics, it's essential to understand why you should pursue video marketing.
88% of marketers are happy with the ROI their video marketing efforts generate through social media.
However, the question is why they believe that. Therefore, let us investigate the sources of this belief.
Improves ROI
If you're concerned about the expense of your marketing videos, you can choose low-cost yet effective options such as pre-made templates. Additionally, marketing videos ensure a high return on investment, making them well worth the expenditure.
Ascertain that your videos contain sufficient information about your business. Viewers are primarily looking for these, and failing to provide enough of them might be a complete turn-off.
Boost sales and conversion rate
According to data offered by Unbounce's landing page specialists, including video on your landing page will raise your conversion rate by 80 percent.
According to Wyzowl statistics, explainer videos convinced 74% of viewers to purchase the product, implying that these videos can boost your sales as well.
Google loves video content
According to Video Explainers, A business has a 53x more chance of appearing on the first page of Google if they have a video on it – it improves SEO and ranking.
Additionally, because YouTube is a Google product, your marketing videos will undoubtedly improve your search engine ranking and enhance your business.
Now that you understand the value of content distribution in video marketing, it's time to plan out your strategy.
The first thing to consider is the type of video you wish to broadcast to your audience.
Consider the video's content and approaches to increase its visibility.
Helps in building sound relationships with the audience
One of the most successful methods of capturing the viewer's attention is to incorporate the emotions of your target audience into your marketing videos. If your video strikes the appropriate chord with them, it will pique their interest.
Additionally, some viewers distrust the legitimacy of any company's services. As a result, you must choose an efficient online video marketing plan that enables you to earn the trust of your viewers.
You can opt for a conversational style of advertising, which, according to a survey done by the e-commerce group, has earned the confidence of around 57% of consumers to purchase the goods online.
Types Of Videos You Can Use For Video Marketing
Video marketing can be of various types. Before you create video content for your brand, consider your target audience.
Below we have categorized marketing videos into two categories:
Videos with a tang of wit and humor
As we have mentioned previously, videos invoke emotions for the viewers, which increases the engagement rate of the audience and grabs their attention in a flash.
Over the years, video marketing campaigns have incorporated these two emotions and attained favorable results.
Educational/Information videos
If your business aims to solve your customers' pain points, then making an educational/informational video is an excellent idea. You can tell essential tips and tricks to help them achieve their goals.
If your video contains valuable and insightful information, your viewers will undoubtedly follow them, plus they will encourage others to view your content.
Doesn't it sound like a free brand promotion?
Also, you can create videos of many styles to explore some checkout the inspiring styles of video.
Now let's talk about the core point. Once you have created a stellar video, you need to look for channels to distribute your creation.
If you search the Internet, you'll find plenty of them, and it might be an overwhelming discovery for you.
So, to help you out, we have listed below the 12 best channels for video content distribution so let's explore them.
Best Video Distribution Channels For Promoting Video Content
Well, you must know there are two categories of digital marketing channels – paid and organic platforms. Let's take a closer look at each of the channels.
A) Paid video distribution channels
1. Paid Ads
Platforms like Adwords and AdSense are also used for content distribution. You can target a specific audience on these platforms and analyze the promotion campaign results to find the weak points and improve them.
Pro tips:
Ensure to keep the video precise and to the point.
Make multiple videos and do experiments to determine what works for you.
2. Paid promotion of content
There are numerous platforms like StumbleUpon, Outbrain, and Reddit Ads to pay to promote your video content.
Pro tips:
Categorize your videos to target a specific audience.
Don't forget to add the geographical location.
You can also promote your video content on distribution channels like social media.
Red Bull is one of the most popular energy drinks, and they frequently use Facebook to promote their brand through video marketing.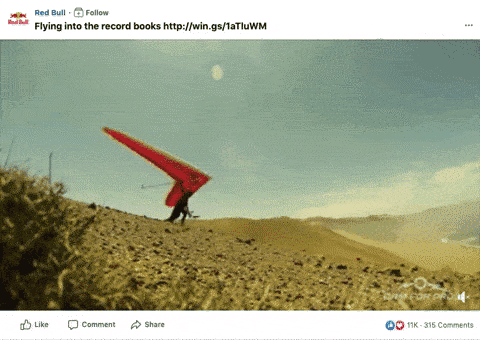 In the next section, we'll discuss video marketing on social media platforms in depth.
B) Organic video distribution channels
Another distribution strategy for your videos is to share them on social media.
Social media is one of the current phenomena sweeping the Internet, and it has collectively garnered a great deal of attention from people of all ages.
If you upload your video content to any of these sites, it will probably be watched by a large proportion of your target audience. Ensure to choose the platform that perfectly aligns with your business goals.
3. Facebook
One the first, we have the true antique of social media, Facebook. The user base of this popular social media channel has become more extensive in the past few years.
Currently, it has around 8 billion users across the globe. This makes it a perfect channel for your video distribution.
Generally, people use the platform to post pictures and text. If you want your brand to stand out, make sure to make a gripping video.
Learn from the expert example:
Airbnb is a travel-based company that routinely updates its Facebook page with travel videos of various locations, travel advice, unique experiences offered by hosts, and videos connecting followers with compatible hosts.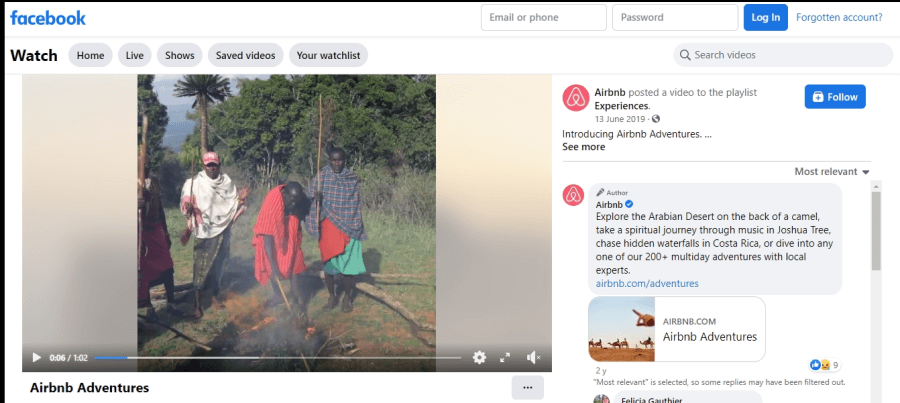 Pro tips:
Stand out in the market using vibrant themes, images, and colors that reflect your company's theme.
Ascertain that the video's format adheres to Facebook's specifications. The aspect ratio should be 16:9, the resolution should be 720 px (minimum), and the file size should not exceed 2.3 GB.
Use short, catchy captions to attract your perspective.
Tag the individuals featured in the video so that you can connect with their buddies as well.
4. Pinterest
This emerging social media platform is now widely used for video marketing. The platform's specialty is connecting all like-minded people, making it much easier for businesses to connect and communicate with their target customers.
According to vidooly.com data, 83 percent of Pinterest viewers are females between the age of 25 to 54, and the most popular categories are DIY crafts, cooking, beauty, health, and travel.
Learn from the expert example:
Omggdealz is one such online trade brand that uses short video postings on Pinterest to highlight its product and new deals.
Pro tips:
Don't forget to add the word 'video' on onboard titles and pin descriptions.
Add backlinks in the description field.
Incorporate your Pinterest CTA on your site's landing pages.
5. Instagram
Compared to other social media platforms, with approximately 1 billion active users, Instagram (also known as 'Insta' and 'The Gram') has become a visual paradise for users.
The social platform allows you to post a 60-second video. One of the newest trends on Instagram is to post a preview of the video and link visitors to the official website to watch the full video.
Moreover, Instagram offers plenty of useful features like IGTV and disappearing stories. Plus, you can also upload vertical videos in a flash. Isn't that great?
Learn from the expert example:
The eCommerce industry giant Amazon often uses Instagram for marketing videos. If you look at some of their videos, you'll see amazon boxes, kids playing with cute toys, and celebrities' cameos.
Nowadays, they're using animated videos to promote their marketing offers and products.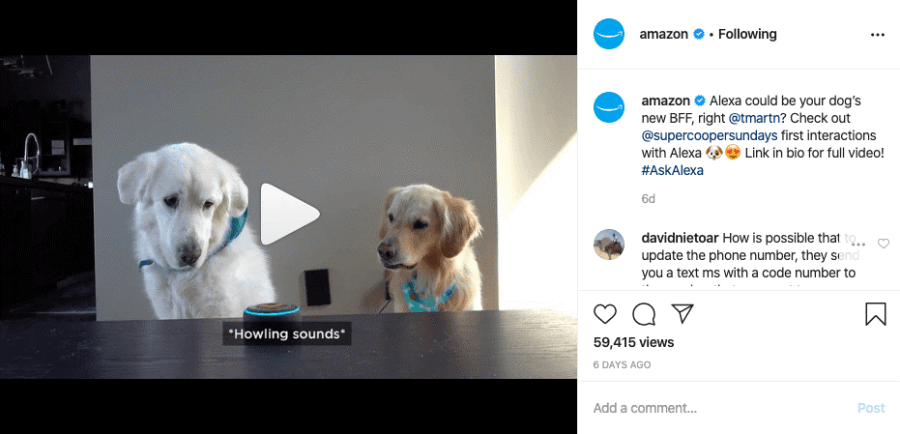 Pro tips:
Add a minimal but complete description to the video.
Ascertain that your video format is compatible with multiple displays. Preferred Video Format: 1.91:1 aspect ratio, the maximum file size of 4 GB, maximum video duration of 60 seconds, minimum resolution of 600 x 315 pixels (for landscape videos).
6. YouTube
YouTube is the most popular site for uploading video content. This channel has a viewership of over 2 billion, a colossal figure that every business may find its target audience here.
When naming and describing your video, remember to use the appropriate keywords since viewers frequently become disoriented while browsing other people's recommended videos.
According to Cloudways CEO, "Make videos which are relevant to your niche. Also, make sure you change up the content every now and then. Your videos should provide value and respect your viewers' time."
Pro tips:
Ensure to add a small transcript or description to your videos.
Incorporate interactive CTAs to improve conversion rate.
7. LinkedIn
LinkedIn has now become one of the popular video distributions channels. It's a little different from the rest of social media because it's geared for sharing professional-quality media.
LinkedIn users prefer explainer videos that give them a sense of what the company is about. You can now broadcast corporate events and roadshows on LinkedIn with the help of the newly integrated live-streaming feature.
If you want to give a twist to make your explainer videos more engaging, check out the power of animated sales explainer videos.
Learn from the expert example:
Insurance business, Travelers routinely upload videos on LinkedIn, situated in New York. It's easy to see why they've become so popular. Isn't it great that an insurance firm has 267,000+ followers?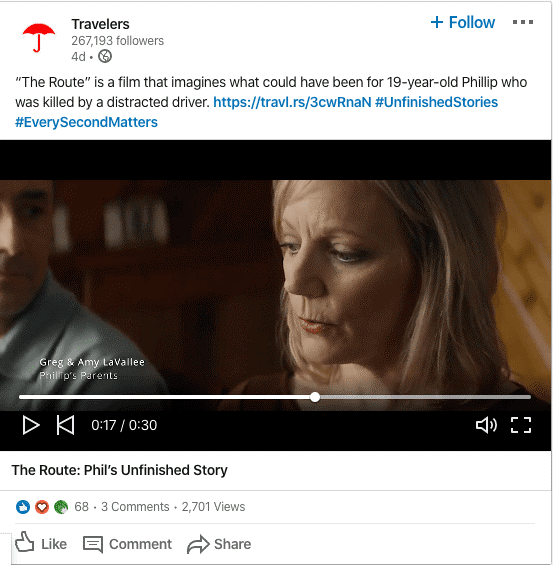 Pro tips:
Add subtitles in your videos to make them sound-independent.
Ensure to keep your video length to 30 seconds if you're creating a brand awareness video, while educational videos can be longer.
Don't forget to add an emotional factor to your video content.
Incorporate relevant hashtags to increase post visibility.
8. Twitter
Apart from Instagram, Twitter is considered one of the social platforms that are not only frequently used by celebrities but also industry giants.
We believe it is one of the best launchpads to upload your video content. Twitter users have a limited attention span, so producing short videos is essential.
Learn from the expert example:
Starbucks, the most popular coffee brand known for its amazing taste, often shares creative videos on Twitter.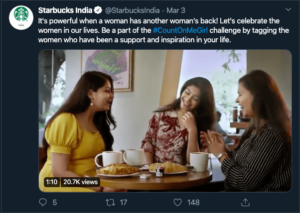 Pro tips:
Captions and the beginning of the video should be enticing enough to lure viewers.
Twitter users have a shorter attention span than those on other social media platforms, making your video content more comprehensible.
For best results, keep video files under 1 GB in size and no more than 2 minutes and 20 seconds in length.
9. Landing pages
It's a great idea to put videos in different places on your website. The first a viewer encounters when it lands on your site is called a landing page.
Incorporating a video on your landing pages will increase your site's engagement and improve CRO.
Pro tips:
Place your video above the fold.
Keep the video nice and short.
Use an eye-catching thumbnail.
Don't forget to add a CTA (Call-to-action).
10. Email
When an email subject line includes "video," there is a 19 percent rise in open rates, a 65 percent increase in reads, and a 26 percent decrease in unsubscribes, according to recent Syndacast research.
The video should be between 30 and 90 seconds, and you can utilize marketing automation technology to produce HTML email templates and track your video email campaigns.
Learn from the expert example:
BuzzFlick, a leading animation agency, uses GIFs and teaser videos in their email marketing campaign.
Pro tip:
Add the auto-play feature to your videos to decrease the number of clicks.
11. Video hub
Another great content distribution strategy for your videos is to create a video library/page on your website and upload all your videos chronologically.
You can create these videos on industry knowledge, product guides, customer testimonials, social work, etc.
Your visitors can directly go to the video section on your site and view all your video content.
Learn from the expert example:
Fox movies have a dedicated section where they showcase the trailers for their many forthcoming videos.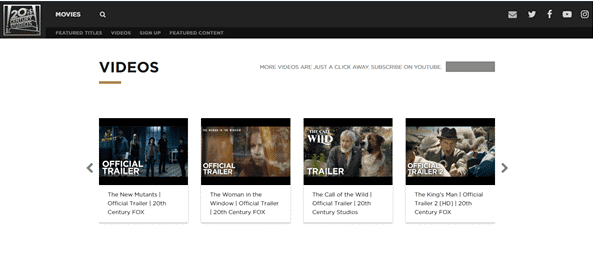 Pro tips:
Use proper keywords to boost your SEO rankings.
Keep the video short but engaging.
12. Blogs
Another strategy for content distribution in video marketing is to promote your video content through blogs,
Videos can add a little more oomph to your writings because they're engaging, catchy, and easier to watch.
According to Animoto, about 96% of consumers prefer to watch a product video before making a purchase.
Remember that search engines like Google don't consider your video content. Also, don't forget to add a brief, comprehensible description of your video.
Learn from the expert example:
Vidyard is an excellent example of a company using videos in blogs to promote its brand. They routinely provide "how-to" videos, advice from experts, and examples from the most influential people in the field.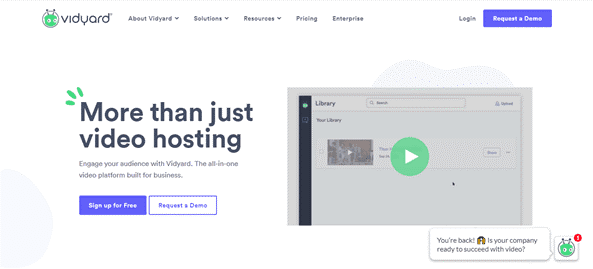 Pro tips:
Be careful to include the right keywords in the description.
Your blog entries should consist of YouTube videos instead of video files.
Promote your video by sharing your content with relevant, high-ranking companies.
In closing
We know the list of distribution channels we have listed in this blog was pretty comprehensive, but after going through them in detail, you'll have a better idea of which distribution channel is more suitable for you.
Also, you need to consider the factors that determine video production cost and don't waste your time just by posting your video content on one or two platforms when you can take advantage of many.
On the other hand, if you are in search of a video production studio that can produce quality and engaging video content for your company, consider BuzzFlick – a popular 2D animation studio that offers profound services. Be it 2D/3D animation or post-production services; we do it all!
Video Distribution Channels – FAQs
Which are the best platforms for video distribution?
Here are four of the top distribution channels for marketing video content:
Your existing network
Social media platforms
Paid ads
Blogs
What is a video distribution platform?
A video distribution platform allows users to upload video content to promote their brand.
How many types of video distribution channels are there?
Primarily, there are two types of video distribution channels:
Paid video distribution channels
Organic video distribution channels